💥 This has been an extremely eventful month. First of all the new and improved version of Poool dashboard has been launched which is more intuitive, more powerful, more consistent more. . . Secondly this month marks my 1-year anniversary as Head of Design at Poool 😊🎉. So what better way to celebrate it than by sharing with you the design process of our star product, Poool's new dashboard, a product which we are really proud of 🙌.

For those who don't know Poool 🙈
Poool is a startup that facilitates financing and access to digital contents. Our main product is a dynamic paywall which allows digital media companies, mostly on-line newspapers, to maximize the value of their audience by means of effective compensation choices. Our solution is made up of two digital tools: The dashboard and widgets.
We are going to center our attention on the design process of Poool's new
dashboard, a tool used by technical and marketing teams of digital newspapers to effectively drive their digital monetization strategies.

---
But before we start 👇
In the digital industry, the dashboard has become a key and fundamental tool to monitor business, therefore:
A dashboard is a super powerful marketing tool that allows organizations to have a global vision of what is happening in order to make better business decisions as well as
to optimize their strategies.
Designing a dashboard requires special care especially when it puts business
decisions on the line. When we design a dashboard we have to take into
consideration different disciplines and a wide range of factors.
Key performance indicators (KPI's) that allow us to make good business decisions.
Usability and UX to guarantee that there is an optimal experience and that the users are able to achieve all necessary tasks in a dashboard.
Engineering in order to build this super tool and to optimize data
performance.
Data science to understand, conceptualize and analyze data.
Data visualization to graphically represent all the information and data in a way that it can be easily contextualized, compared and understood…
Dashboards are complex tools and these factors and disciplines can vary according to each company's organization and objectives. In our case, Poool's dashboard helps us follow up the fulfillment of our business objectives and optimize our own business strategy. For our clients, Poool's dashboard is a vital tool which helps our customers drive their digital content monetization strategies. With Poool's dashboard our users can: create customer journeys adhering to their digital strategies, segment their audiences, configure widgets, carry out A/B tests, collect data and of course, view the metrics in order to make the convenient business decisions👊🏻…
. . . The latest version of Poool's Dashboard 🔥
With the arrival of new needs from both our clients and our market niche, we had to add new features to our dashboard as well as new products that will be out soon 😋. So, we urgently needed to redesign our dashboard that permitted all these improvements and evolutions.
The redesign of a startup's principal product has a great impact in different areas, one of which is of course, in its corporate vision. For this reason, it is important that the whole team should be involved in the design process. Along with my co-worker Yuna Orsini, Head of UX at Poool, we decided to organize a 2 day collaborative design workshop to determine all the points concerning the redesign of Poool's dashboard with the team. Our key to overcome this challenge was:
Using a Design Thinking approach and working with a team in which many disciplines converge.
Adopting the Design Thinking methodology helped us and still is helping us focus on our business objectives, but also on our final users in a more accurate way by understanding their needs better, detecting problems more efficiently, defining design challenges and finally, finding better solutions 💪.
---
Team Poool in action! 🙏
Once we determined when we were going to have our collaborative design session, the team save 2 days holding off on other appointments in order to be able to participate in these workshops without any interruption. Before this, my co-worker Yuna and I had to meet up to plan these 2 collaborative design days.
We prepared and sent surveys to the team in order to find out what each team member's worries, problems and expectations were regarding the product. The survey was sent before the collaborative design session and gave us needed insights in order to be able to choose the appropriate workshops in accordance to our colleagues' issues.
Workshop preparation where we would choose the most adequate workshops which were determined by the insights given and our own intuitions, seeing how we undoubtedly had a perception of the existing problems considering we were already part of the product team. The main goal of these workshops was to DEFINE THE PROBLEM that we must face and to FIND SOLUTION(S) to that problem.
Planning for the days of the sessions, creating the framework and preparing materials (post-its, paper, pencils, markers, stickers etc. . .) planning the catering and of course we need to plan some team building workshops 😉.
Once the day came, and during these 2 days, nothing went as planned… It went much better! Despite all the disagreements, the feeling of being blocked, the emotions running high and the extreme exhaustion, this collaborative session was successful and we were able to create a new dashboard more efficiently.
The following disciplines played part in the workshop: engineering, visual design, UX design, marketing, communication, strategy and sales.
We are going to take a look at how a 5 stage design process was developed in the creation of Poool's new dashboard beginning with this collaborative design workshop.
🔑 1- Determining and defining the problem
Or problems 😅. This is a key stage because if we don't detect the real problem the rest of our work and effort would be done in vain. To determine the problem, we carried out a number of different types of workshops which allowed us to explore and detect transcendental information. As a result, the problems that we needed to solve were much more than simply "redesigning" or adding more "features". We had to re-think more implicit things ranging from our product vision (Where are we heading?) to dashboard performance (What do we really want to offer?).
The workshops* we achieved to detect these problems were:
Boogie forward
Two truths and a lie
…
*The workshops carried out were based on existing methodologies, even though many were adapted according to our needs. Others were created to cover specific needs.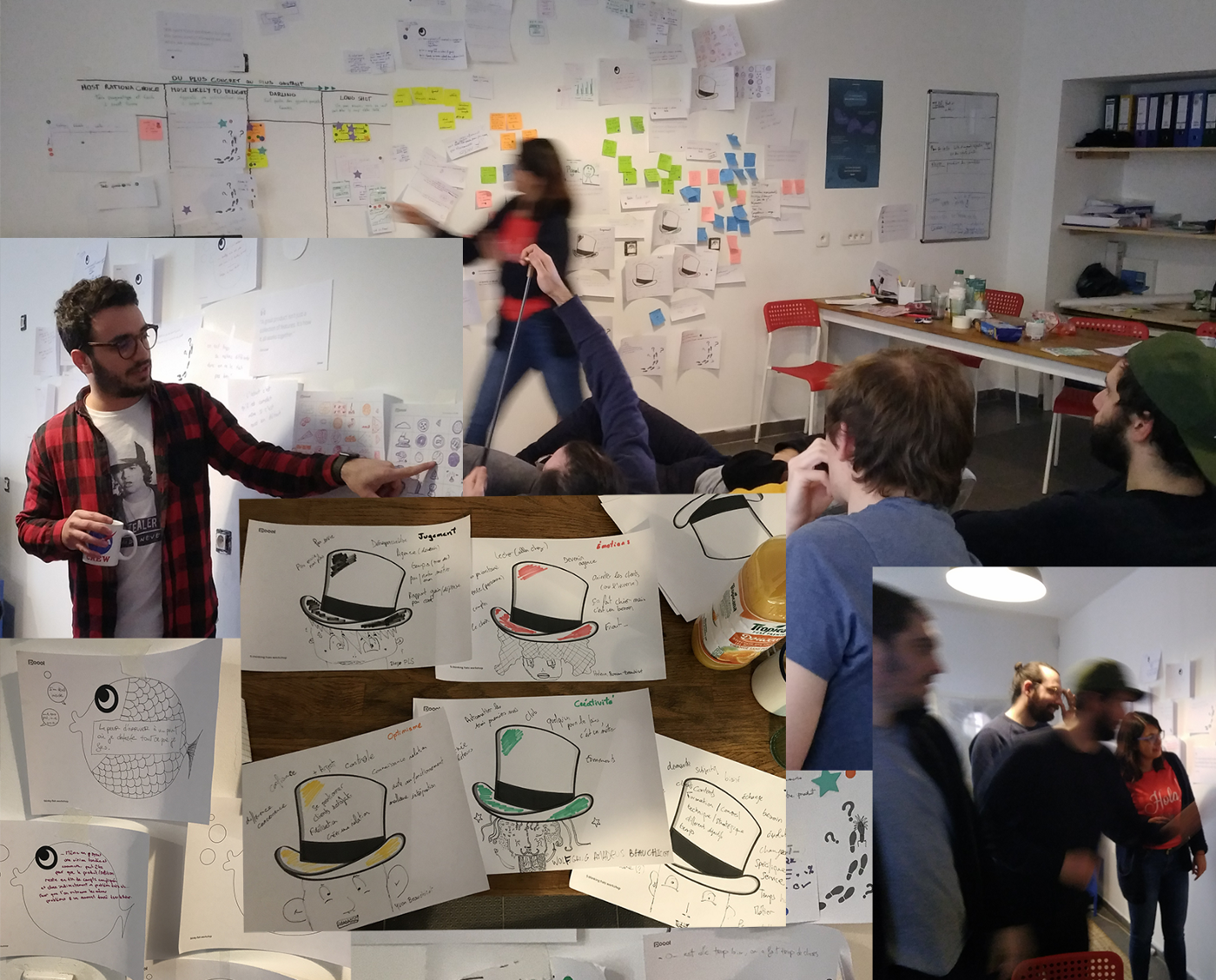 Teamwork was key during this stage. By concentrating every discipline and by
allowing everyone to express their ideas, fears, their expectations of the product and their point of view regarding the business's vision, was the secret in unlocking the truth about the "real problems" that we needed to face.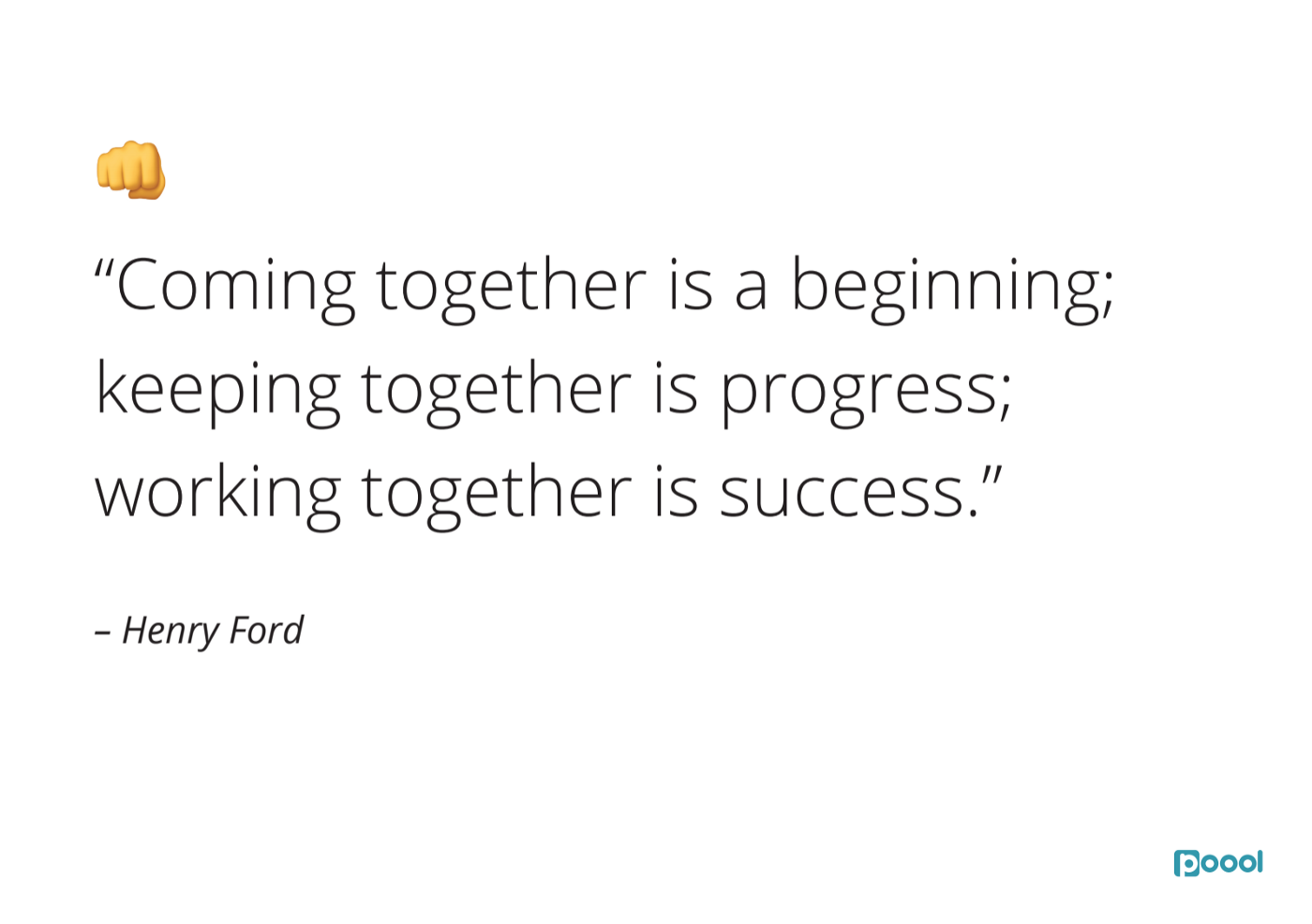 💡2- Finding solutions
Now we are on our second day of our collaborative design workshop. At this stage the most important thing is to have our problems identified in order to find solutions that meet our team's and business's objectives and those of our clients and the market. In order to resolve problems we used methods such as Worst possible idea, which looked for the wackiest ideas so that they can be converted in to "good ideas", or Dotmocracy, deciding which solutions seemed the most adequate by means of a democratic vote.
These different methods used allowed us to express ourselves in our way doing away with prejudices of each participant. For example, there are people who are more timid than others that prefer writing their thoughts down instead of saying them, or others like myself, that prefer to draw or think alone. That is why we used various playful games which mixed storytelling, drawing, writing, and even team or solitary reflection. This allowed everyone their own space to express their ideas.
Some of the workshops* used were:
Post-it war
Bitch better have my answer
…
*Like in past workshops of the latter stage, these were also based on existing
methodologies and many were adapted to our needs while others were created specifically for our needs.
Absolutely everything served us to create a super wall full of problems and
SOLUTIONS. This wall helped us visualize better where we wanted to go! 👌… and even helped us create: An action plan! 🤣(Inside joke for our cofounder Maxime Moné)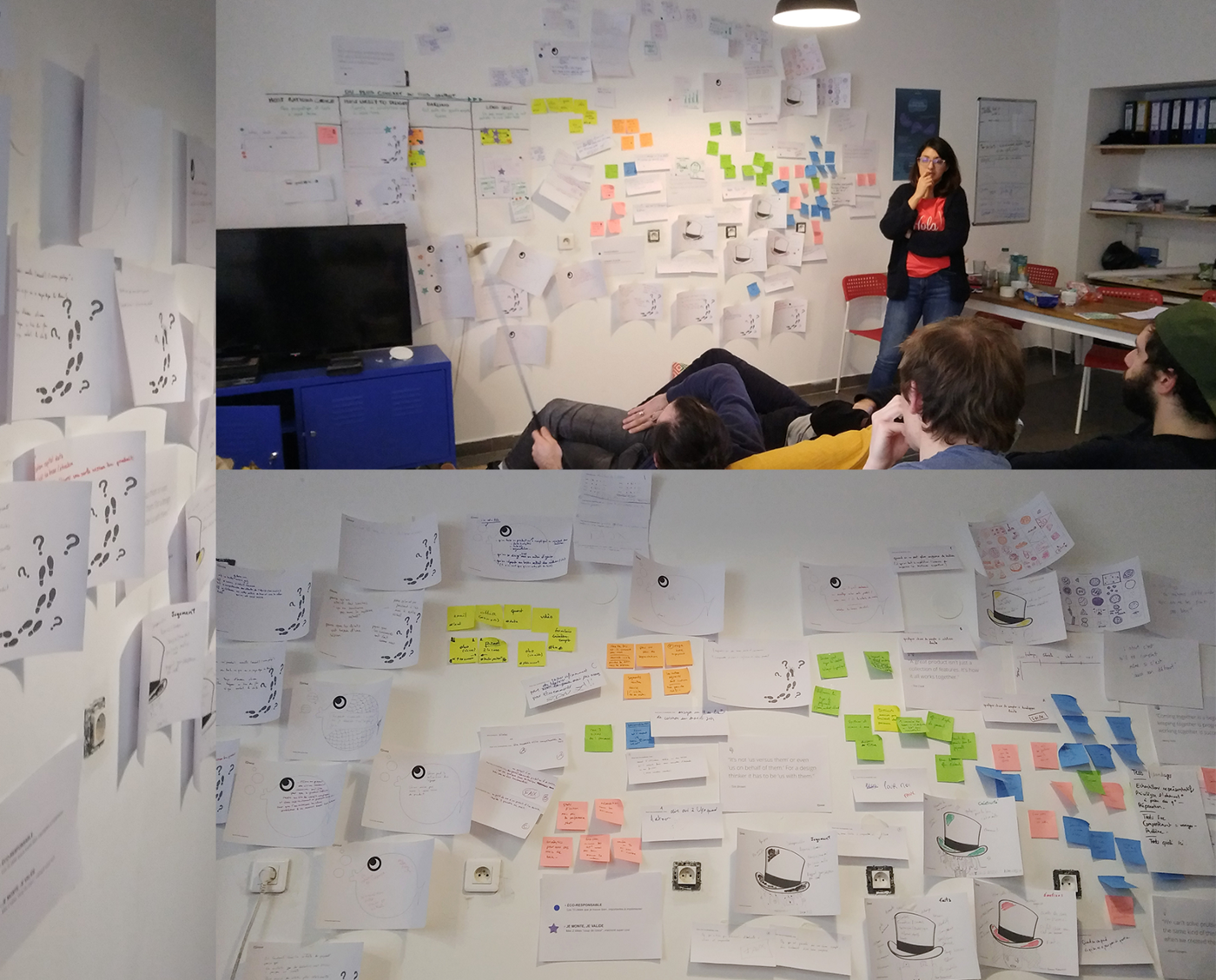 The key for us in this stage was to define and prioritize the design problems. Solutions started to arise in a more naturally and intuitively way when we knew exactly what we needed to solve and, the direction we wanted to head in with our product.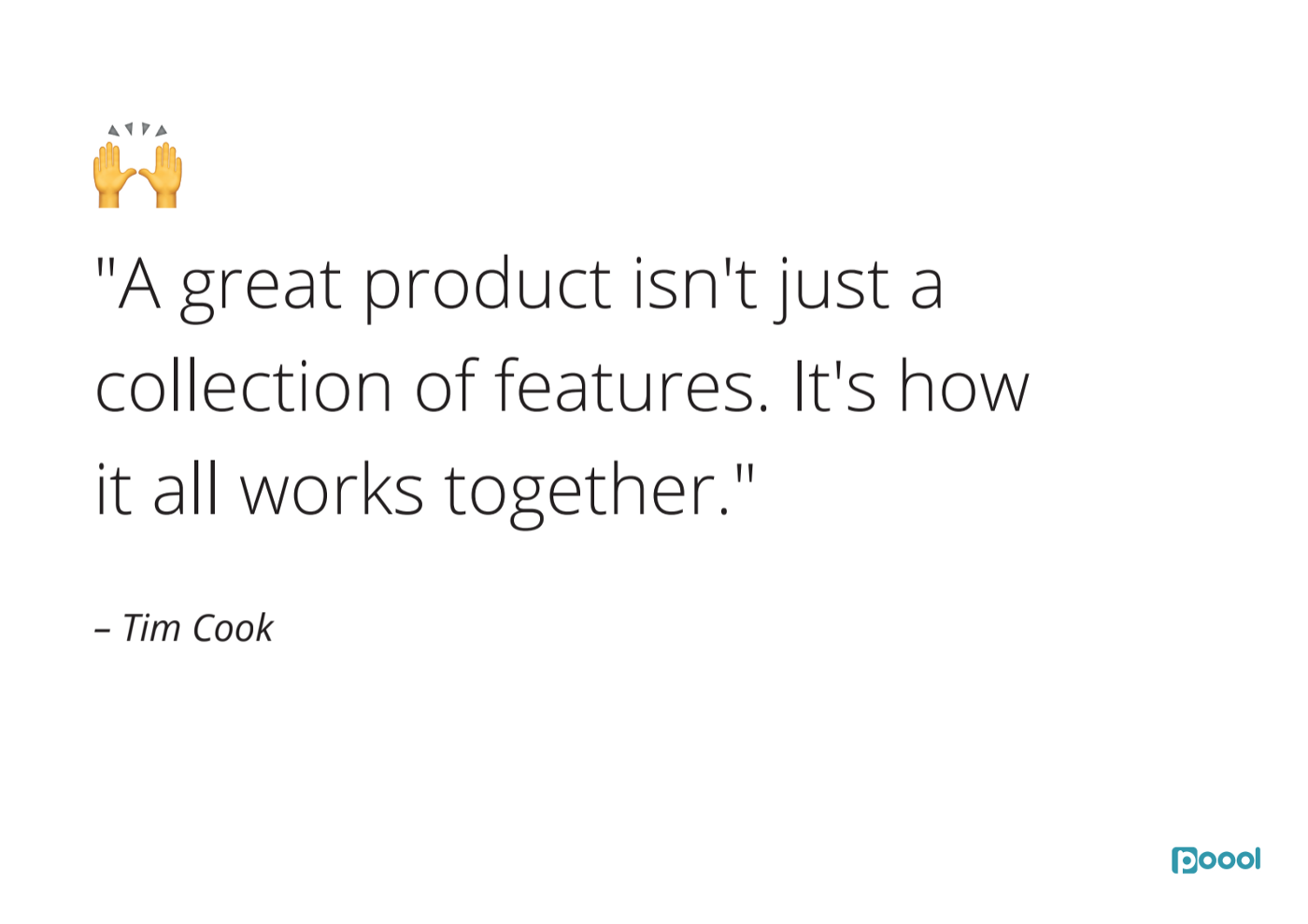 💻 3- Creating wireframes
The principal challenge in creating wireframes of Poool's dashboard
was to materialize the results obtained during the workshop. It is
extremely important to have a profound understanding of the needs and
new product requirements in order to convert all these new ideas in a
palpable product.
For this we had a mini workshop to highlight all elements and necessities that need to be tackled in order to create wireframes.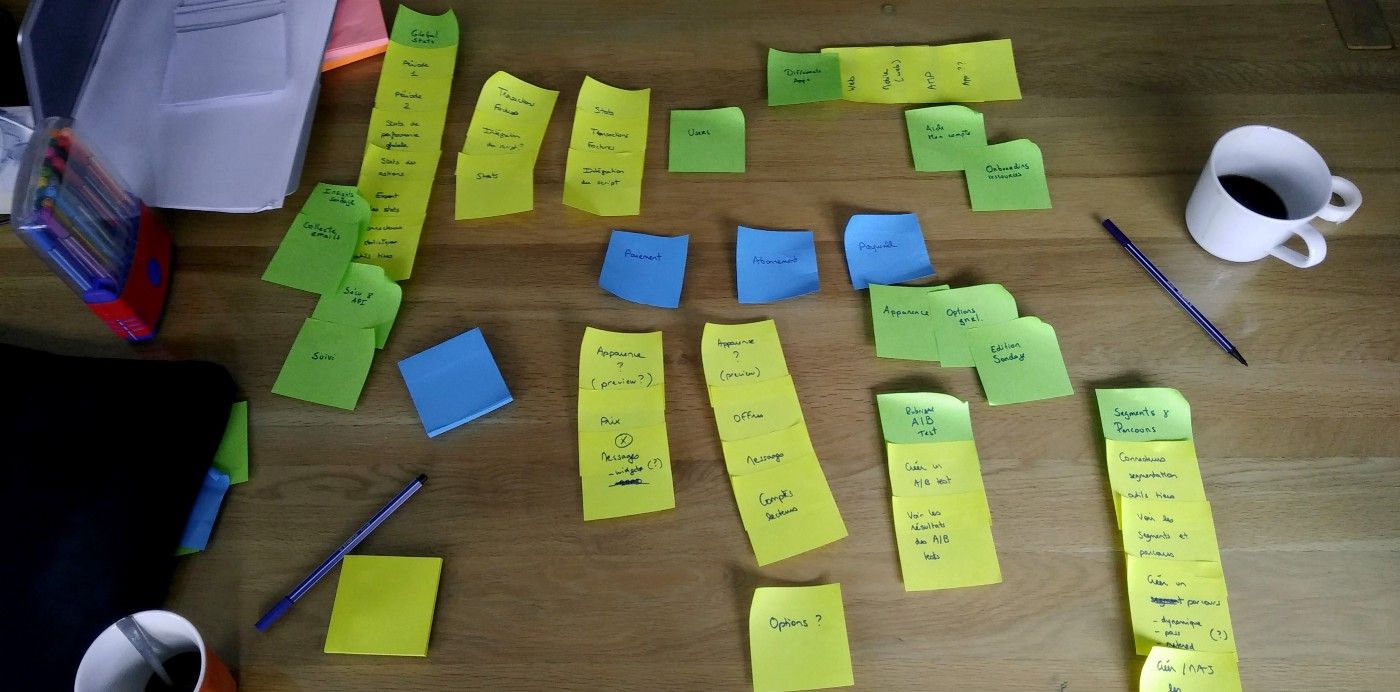 The redesign of Poool's dashboard should allow for new sections, features and new Poool products. That is the reason why we needed to reorganize absolutely everything and even eliminate elements that weren't useful from the interface.
This document would become the collaborative framework that put into practice every idea given in past stages: from revising navigation, adding new sections, creating new user journeys, converging all features and permitting future evolutions 🚀.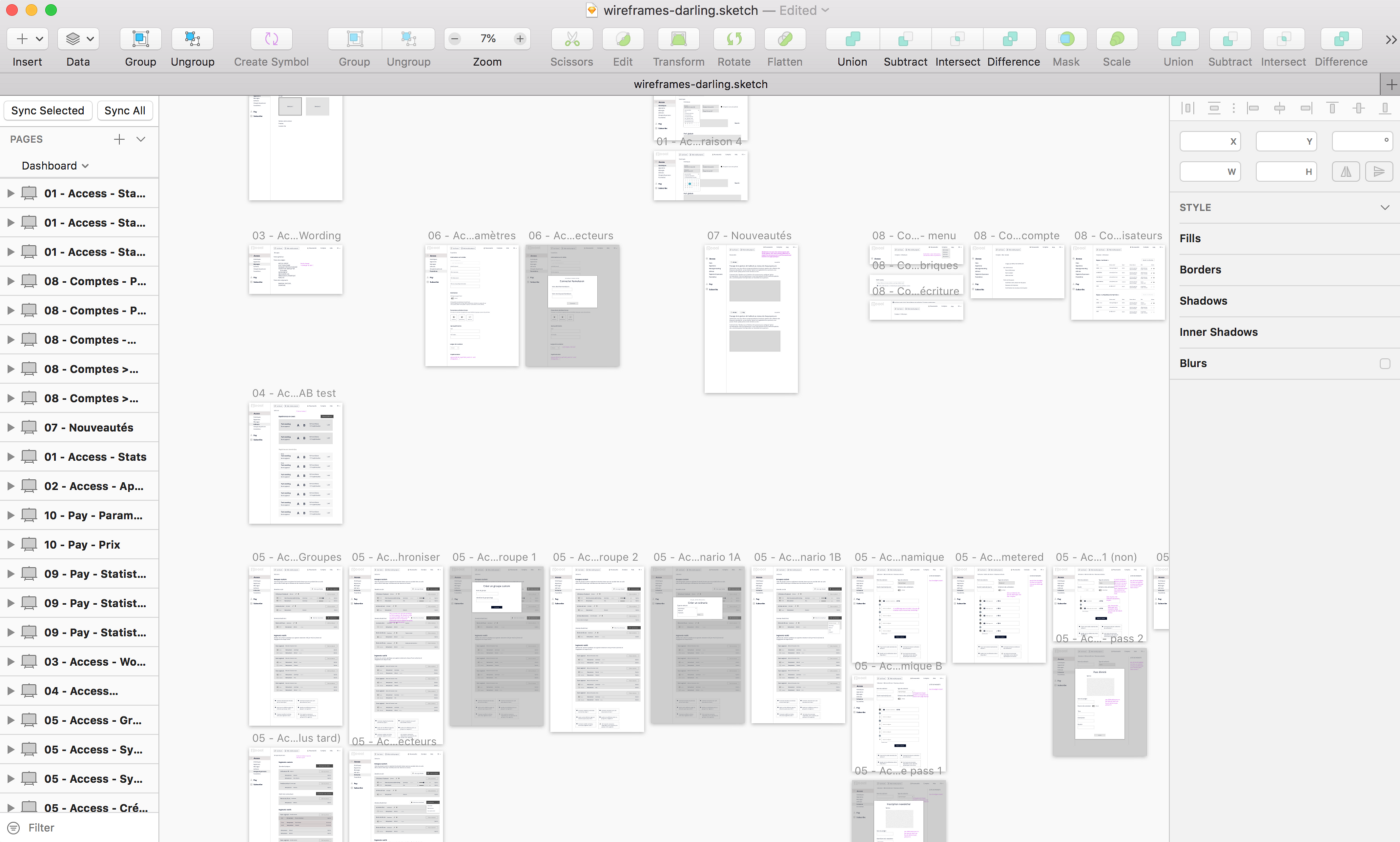 Wireframes help us project ourselves and visualize where we still have problems. And to be honest, we still had some questions needing answers in this stage, however, this document gave us more precision when in came down to finding solutions.
This was an important stage because it showed us that we were creating a
logical and consistent redesign. It validated that everything was possible, that
usability and UX were optimal and, it verified that we were covering user and
business needs. This document was also important within Poool because it served
as a way for members, in their respective areas, to verify that the work was going
smoothly.
🎨 4- Designing the graphic interface
Poool's dashboard had already established itself with our users, and to be honest, the strength of our redesign wasn't in its form but in its content. Therefore we had to pay close attention to not making and extreme visual changes especially since we had had positive feed back from our clients concerning the dashboard. The most important thing at this stage was no to forget the main task of visual design when creating a dashboard is: to facilitate quick user comprehension of all data and information as well as of all actions/tasks user can achieve within the interface.
What we redesigned visually for the new dashboard was the navigation,
incorporating new sections and icons that represent Poool's new products and we also got rid of all graphic elements that were illogical within the interface. Other graphic styles such as the typography, colors and principal components were only visually optimized. New interactions were also created and optimized under the same UI style guide.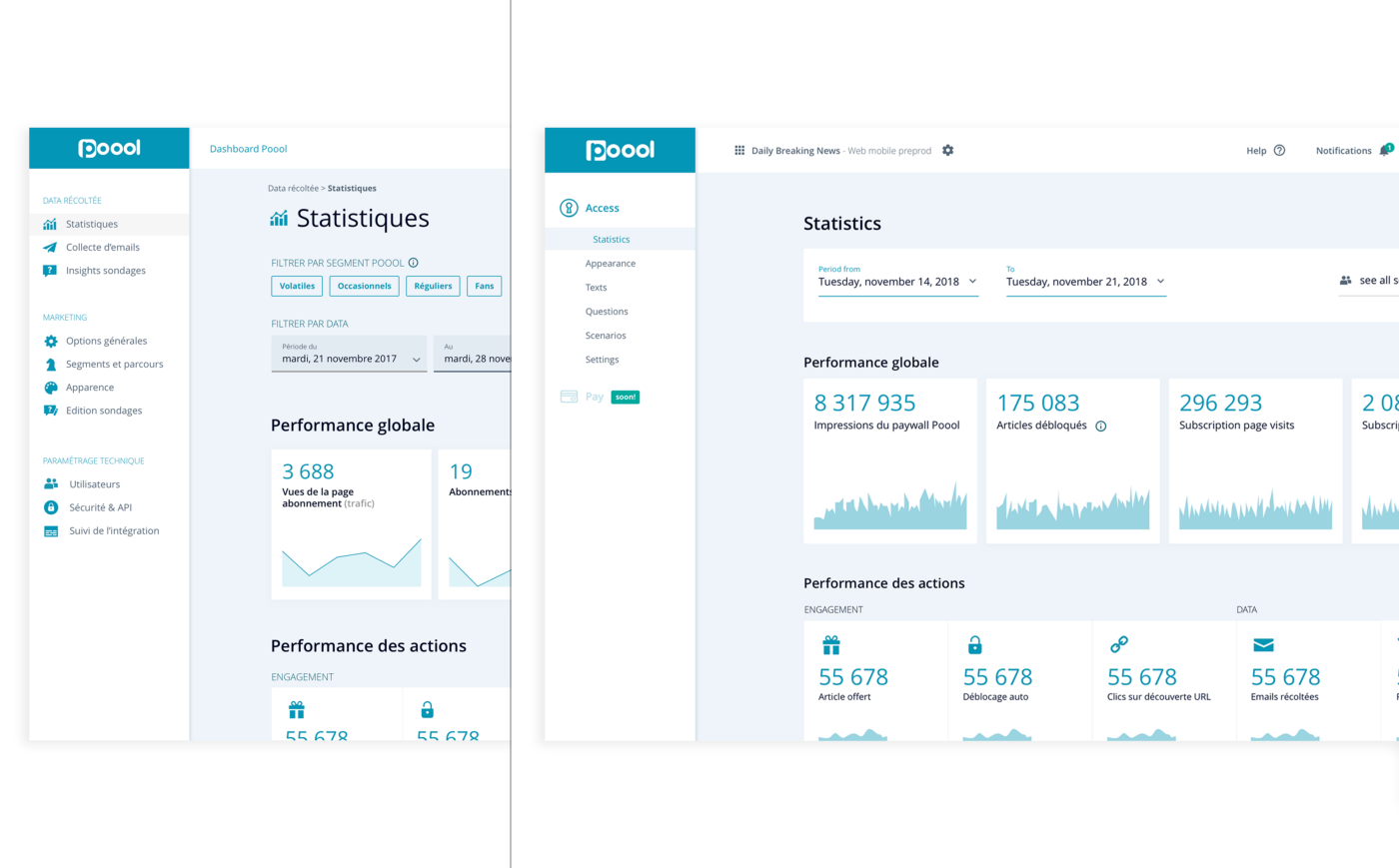 The product already has form in this stage of the process 👏. The key for us is to take care of all information that is being graphically communicated clearly, efficiently and attractively while at the same time solidifying our brand. Interaction design is crucial, to achieve this, working together is a must to create a good interaction design.
👽 5- Developing the dashboard
Once all interface's and wireframes graphic elements have been defined and
validated, we would go onto the integration of the new dashboard. The most
important aspect in this stage is that the engineers have a complete
understanding of all functional aspects, including emotional (UX,UI) , of the product.
We use the preproduction phase of the dashboard (where the product is getting closer to end product), as a kind of functional prototype in order to run tests and validate every point of view: ergonomics, design, UX, performance and usability as well as to verify that the technical performance is optimal before launching the product.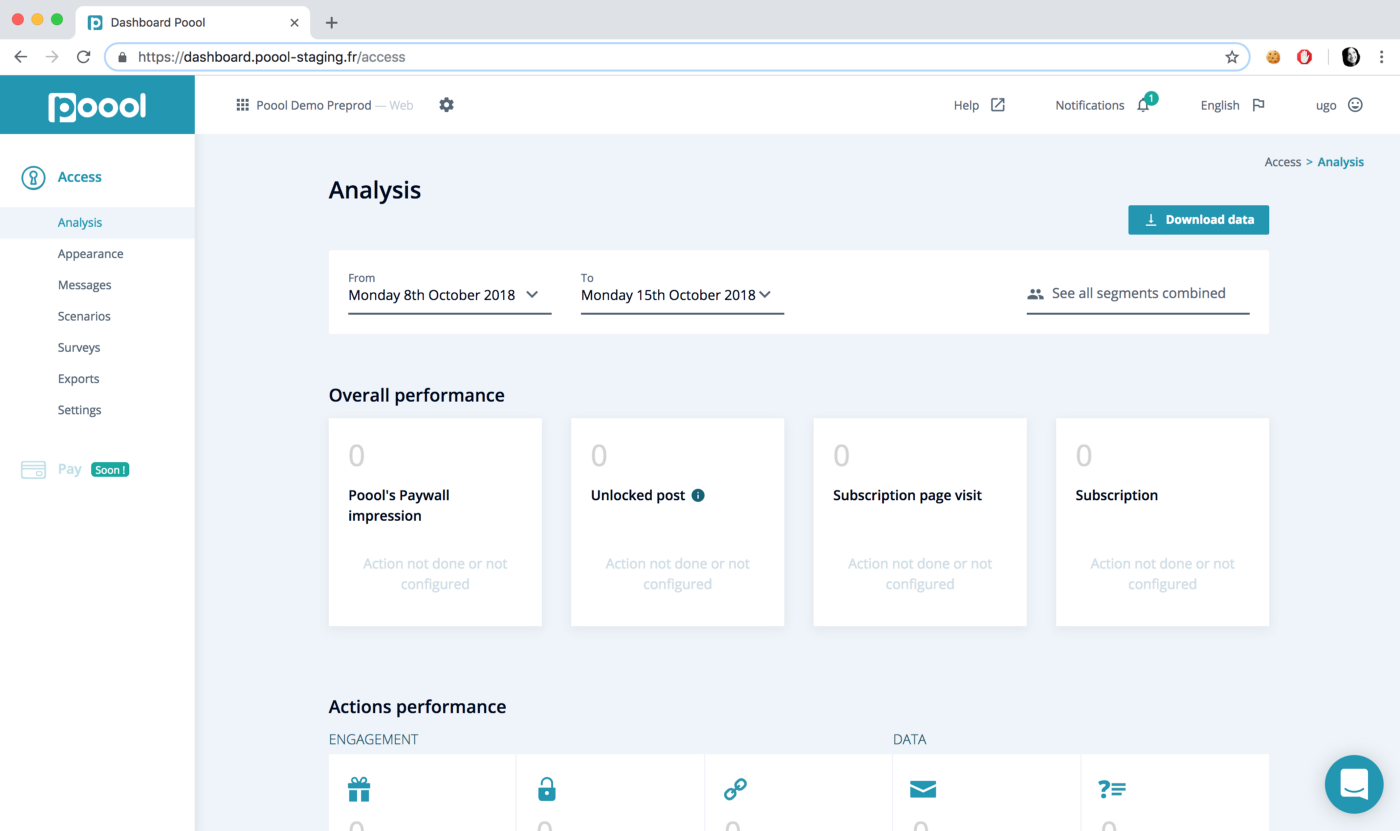 This is one of the longest stages of the process and can be full of many eventualities. The key for us was that everyone on our team verified that everything was working and deploying as foreseen while the engineer develops the product. If problem arises in this stage the people whose expertise best fit the problem come up with solutions. A design thinking approach helps us continue finding solutions until getting the result we were searching for.
---
It is true that no design process or team or startup is perfect. However, thanks to this design collaboration session Poool has a much more defined product and we have more focus on our promise: simplifying the access to digital content and access rules management.
I would like to fill up a little space by thanking everyone at Poool for this year full of setbacks, challenges and the many things learned. A cool team that never gives up 💘: Ugo, Nico, Max, Gab, Alex, Yuna and Jean.
---
What you should know:
👉 Dashboards should support user and business aims and objectives.
👉 Dashboards are complex interfaces. If we build them as a team and we incorporate different disciplines, the result is going to be much more potent.
👉 Dashboards are vital marketing tools and should provide the adequate metrics and the specific data in order to allow users make the best decisions for business.
👉 When we design a dashboard, we have to keep in mind not to flood users with too much information and that all information needs have to be clear and easily processed.
👉 Tasks or actions that can be done within the dashboard have to be intuitive and fluid. That is why UX is so very important.
👉 Understanding data and information is key to really know what's going on in a business.
Thanks for reading! If you liked this article don't forget to clap and share
with someone who might find this helpful. 👏 👏👏👏👏👏👏👏
---
Initially published by Daniela Penarenda on our former Medium platform "Poool Stories".