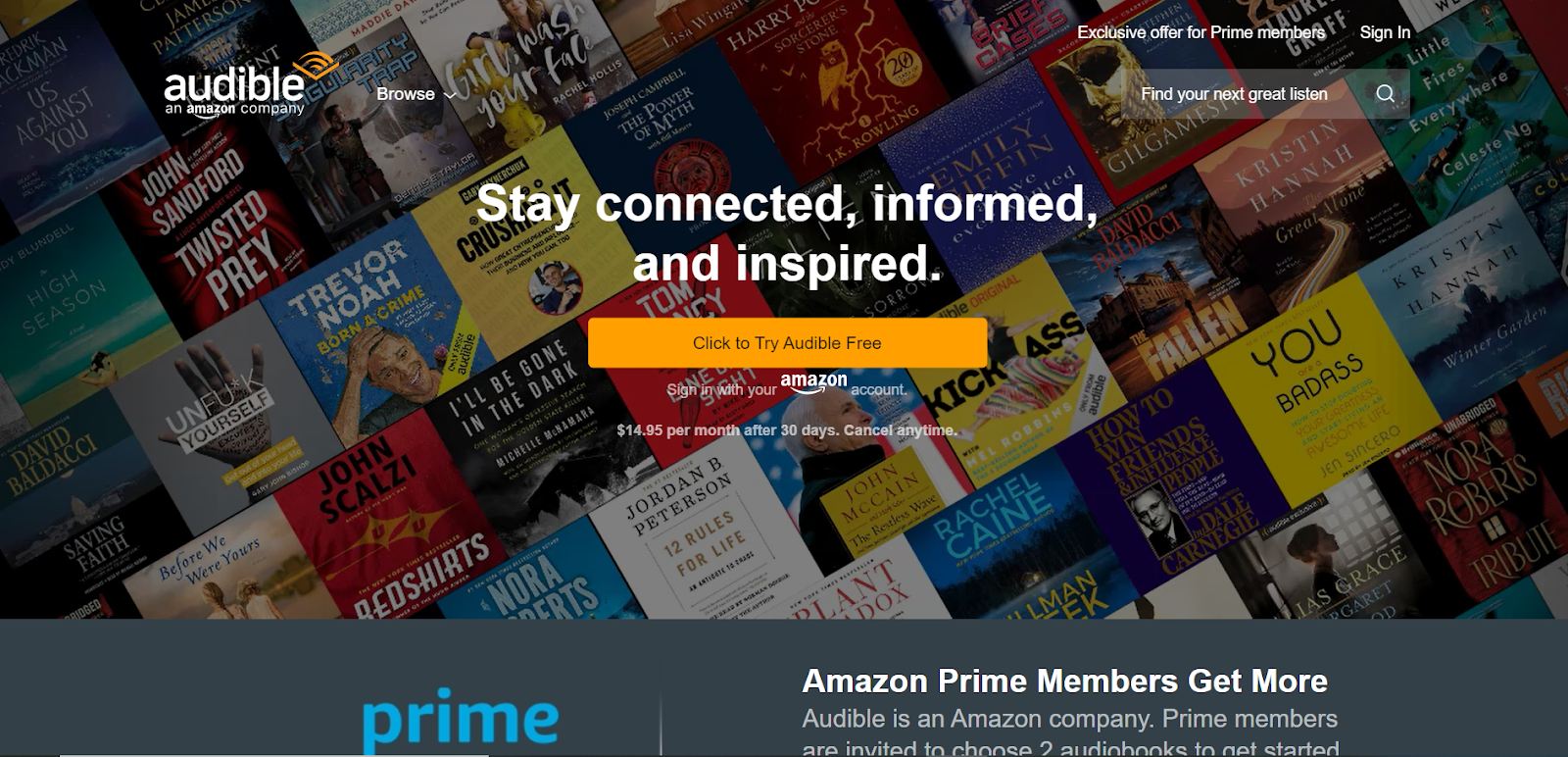 Wording on a paywall is hugely important and will have an impact on your reader's experience. A lot is at stake here - on the one hand, optimized wording could persuade a user to subscribe and help you to monetize, but, alternatively, a badly worded paywall may turn readers away, frustrate them and even make them leave the site. This article will give you some guidelines to follow in order to optimize UX writing on your dynamic paywall.
---
The paywall experience, a real challenge
Since 2010, increasingly more publishers, and other online businesses, are integrating walls into their website, blocking premium content and asking for a value exchange from the reader in order to gain access.
Find out more about different types of walls on our blog, coving paywalls, registration walls and cookie walls.
A lot is at stake here. Paywalls, which require a user to pay for content, most often promote subscription offers which lie at the heart of a publisher's business model. However, the reasons behind using a paywall and their importance to publishers aren't always understood or accepted by readers.
What does "premium" mean?
What is the difference between "registration" and "subscription"?
Paywalls also raise deeper questions for readers regarding access to information and paying for content:
Why should I have to pay for information online?
Why should I subscribe to a single publication when I want to read articles from a variety of websites?
What's more, the wide variety of paywall types can destabilize readers who are often comforted by familiarity and ease of access.
The wall therefore represents the unknown to your readers. This box appears on their screen and stops them from using your site as normal. As you can imagine, this can cause many users to turn away and negatively impact the business model of many publishers.
BUT, don't fret. The optimization of a user's experience, particularly through wording, can overcome these obstacles and hugely benefit a publisher.
It's definitely worth it to reap from the benefits of a wall, trust us! Have a look at some of our case studies to see paywalls work their magic for Capital, La Croix International and more.

What is UX writing?
UX (User Experience) writing means choosing words for reader-oriented interfaces. For example, expressions that you find in action buttons ("buy now"), title sections of a navigation menu ("contact us") or confirmation messages after having bought an item ("thank you for your order").
The aim of UX writing is to write not only for the design, but also to serve a definite aim. This could be based around anything from content strategy (marketing aim), concept writing (storytelling context, brand content) and Web writing (SEO aim).
The art of UX writing is to take the user's context into account - their expectations, problems and feelings. You need to deliver them the right message at the right time and with the expected effect.
---
UX writing for a Wall: Some guidelines
Be concise
Each word must fulfill a definite aim. Readers are put off by big blocks of text, so you should prioritize quality over quantity. Short but sweet.  
The Wall Street Journal, for example, chooses a single sentence that directly addresses the user and gives them ownership of the article ('your') which gives them more desire to continue to have access to it. They also shortened their name to WSJ, cutting out words and creating informality, putting the reader at ease.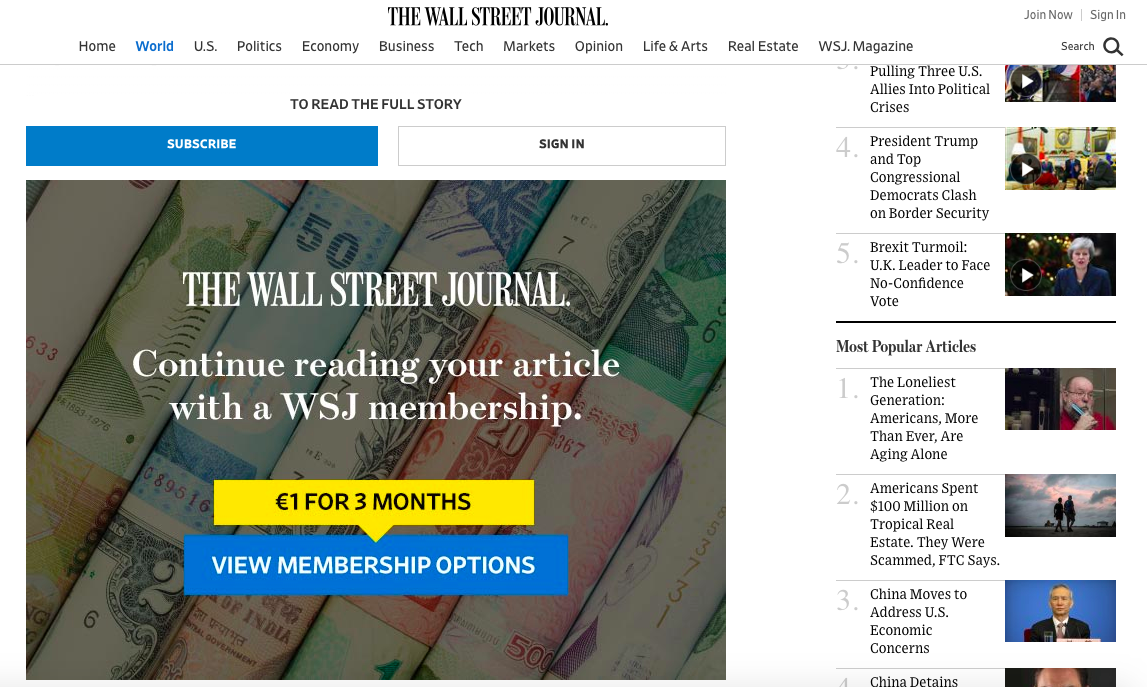 Be clear
UX writing must facilitate understanding. Certain writing techniques are useful here to strengthen clarity, such as using specific verbs, not using technical terms or double negations, using numbers rather than letters…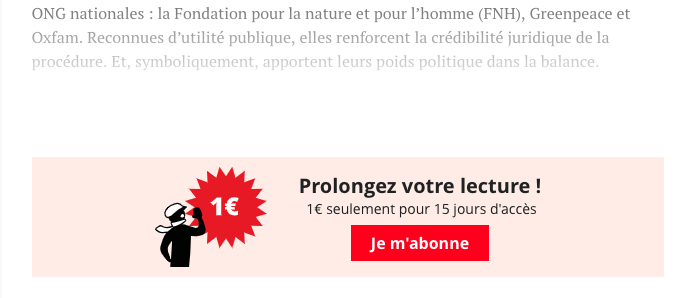 Mediapart uses numbers over letters, making for an easier read and better UX.
L'équipe's simple layout and choice of the symbol '+' rather than spelling it out, combined with the recognizable logos over names, catches a reader's attention and is clear to understand.
Be emotional
UX writing is a means to convey a message, and any human message involves emotion of some sort. The choice of which emotion to use depends on your brand and style, but let's look at some examples...
The Guardian choses a very informal and honest tone, asking for 'support', 'contribution' and being thankful of any money it receives. They also directly address the reader and include little pieces of information which suggest that the Guardian knows them ('readers like you joining us from Spain'), creating personalization and a feeling of belonging.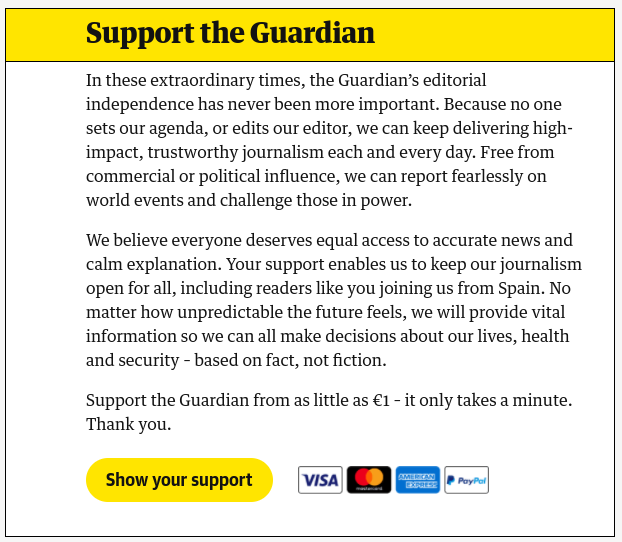 Here, The Telegraph are asking a user to turn off their ad-blocker. The pop-up is laid out like a letter, describing to the user that their ad-blocking technology is preventing them from providing 'quality' content, creating a feeling of guilt and desire to help the publisher. This is enhanced in the cartoon image (MATT is a well known comic cartoonist) that adds a humorous edge.  
Les Echos takes a more direct approach by stating that content must be paid for, either through subscription or advertising. Therefore, the reader is required to either subscribe or disable ad-blocking.
Be useful
UX writing must benefit the user in someway: a value exchange. If you're asking a user to complete an action, you must highlight how you will reward them for doing it. How will they benefit from helping you? How will you tell them about this benefit in order to persuade them to do something?
Sud Ouest ad-blocker pop-up defines the problem (ad-blockers), the solution (deactivation) and the benefit (free access to the article).
Challenges here informs the reader that they have unlocked the article and now have access to it, acting as a reward for completing an action.
Be consistent
UX writing on a paywall contributes to the creation of consistency in your brand where similar actions have similar wordings.
However, paradoxically, ensure you differentiate wording based on context. For example, ask a user to 'swipe' on a cell phone and 'scroll' on a computer.
The Washington Post uses black for the free version of their site and blue to show subscription (note that a brighter and more noticeable color is assigned to the WP's prefered option). There is also consistency in the wording on these buttons.
(MailChimp created their own list of UX writing features on their dedicated website "Voice and tone")
Overall
Don't forget about UX writing for paywalls and the impact that wording can have
But also don't worry too much as paywalls are actually only a small part of a user experience
Test, test and test again - continue to optimize and try out different wording. (pst, Poool's dynamic paywall lets you A/B test on different percentages of your audience! Try now for free).
If using a dynamic wall, make the most of the fact that you have different journeys for different types of readers. One style of wording might be optimal for 'fans' but not as much so for 'volatile' readers.
Be concise. Be clear. Be emotional. Be useful. Be consistent.
---
Poool's Dynamic Wall
A/B test
Segment your audience and design different walls for each
Personalize wording, colors, branding, etc on every single step of the user journey
Employ any wall that meets your goals, from registration wall to paywall
Take a look at our dynamic paywall solution, Poool Access, read articles on our blog giving more wall-related advice and try out our free demo!