Publishers need money to hire journalists and support great journalism. The whole advertising model is broken. Readers have to pay for premium content.
The media market shift
Subscription is the new publisher business model.
And we think it's a good thing. To us, journalism needs to be funded more by readers, and less by advertisers. However, more and more users read from different information sources. The problem is that they don't subscribe to ONE publisher because they want diversity, and they can't subscribe to multiple publishers because of the price.
Poool is solving this issue with two new products. The first one, Poool Pay, will be launched in the next few weeks and the second one, Poool Subscribe, will be launched in 2019.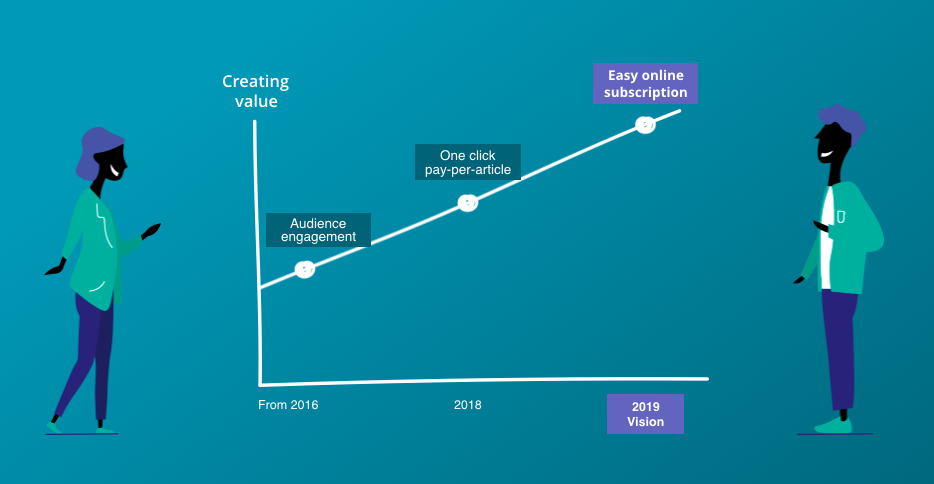 Pay as you read with Poool
First, we are glad to introduce Poool Pay, a pay as you read solution.
It allows readers to simply pay per article from any publisher site involved from only one account. It simplifies access to premium content and it allows publishers to increase their paying readers then engage them with premium content.
Mock-up — Poool Pay
The goal is to increase the number of paying readers in the market by simplifying payment per article and also the access to premium content.
But how are we planning to turn paying readers into subscribers?
And soon… make online subscription easier with Poool
After that, Poool will launch Poool Subscribe, a one-click subscription solution.
The goal is to simplify the subscription funnel on any publisher's website with the Poool account. Readers will be able to subscribe to their favorite(s) publisher(s) and still easily access premium content among other publishers. And it will allow publishers to turn the most engaged readers into subscribers.
Changing the way people consume news.
We truly believe readers are ready to pay for news. They just want a fair value proposition.
We think than if readers can easily access premium content with a pay per article solution and a subscription solution, thanks to a user-friendly single account, more and more readers will pay and subscribe for news.
And that means more and more money for journalists, better content, increasing value proposition, yet more paying readers… and hopefully a sustainable media ecosystem.
Are you ready to change the way readers pay for news with us?