L'Avenir, one of the largest media groups in Belgium, publishes 9 daily regional papers as well as digital content on their website, covering regional, national and international news stories.

For 5 years, L'Avenir trialled various paywall strategies, including freemium and metered, with the goal of increasing conversion rates and ultimately diversifying their revenue streams by monetizing from subscriptions as well as from print and advertising.

However, after much time spent working on their paywall with fairly limited results, they turned to Poool's solution. In particular, the user centric approach, including reader engagement analysis and optimization of ARPU, is what convinced the Belgian media to move to our dynamic paywall solution.

In order to truly understand their audience and work out how we could help them achieve their goals, the teams at Poool and L'Avenir decided to spend 2 months observing user behavior.

This proved hugely valuable - we now knew how readers reacted to the paywall and the typical behavior of a user who was about to subscribe. Most of all, it highlighted how readers had extremely varied levels of engagement depending on their profile.

Concretely, our study revealed:

👉  That there was a substantial difference between the number of paywalls displayed and the number of views on the subscription offers page.

👉  That 94% of L'Avenir's online audience was made up of fly-by readers who weren't very engaged.

👉  Premium articles (which were blocked mid-way by a paywall) weren't highly consumed.

👉  Whilst the number of articles read prior to a user subscribing was very high.


Unfortunately, even after reading a large number of articles, the majority of readers were simply leaving the site.

Engagement and perceived value of premium content were therefore the issues at hand.
---
So, what did we do to solve these issues?

👉  Segment L'Avenir's audience based on level of engagement in order to offer the most adapted compensation choice for the user's profile

This involved the 4 native groupings on the Poool Dashboard: Volatiles, Occasionals, Regulars and Fans. L'Avenir were able to build alternative journeys for each of these user segments as well as A/B test within these groupings when and if desired.

👉  Implement a progressive paywall to gradually engage users who aren't yet ready to subscribe, such as the trialled journey below for volatile users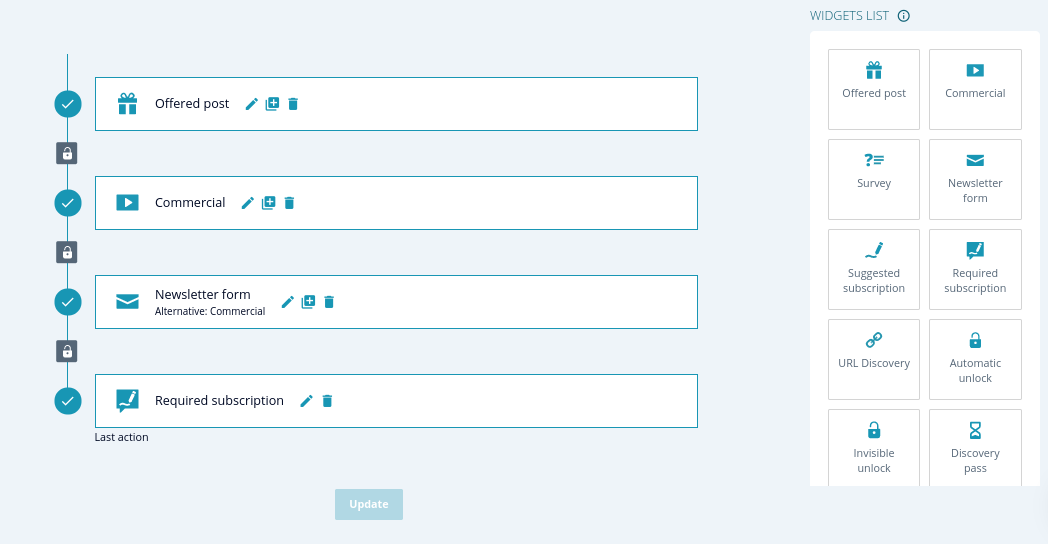 👉  Test out alternative wall types (available on the Poool Dashboard) that create value for L'Avenir, such as survey walls, advertising walls, newsletter walls and ad blocker detection

For example, their registration wall offered users access to 3 premium articles for free if they created an account on L'Avenir's site. This enables a volatile or occasional user to discover the value in the publisher's premium content, gradually increasing their level of engagement and their likelihood to subscribe.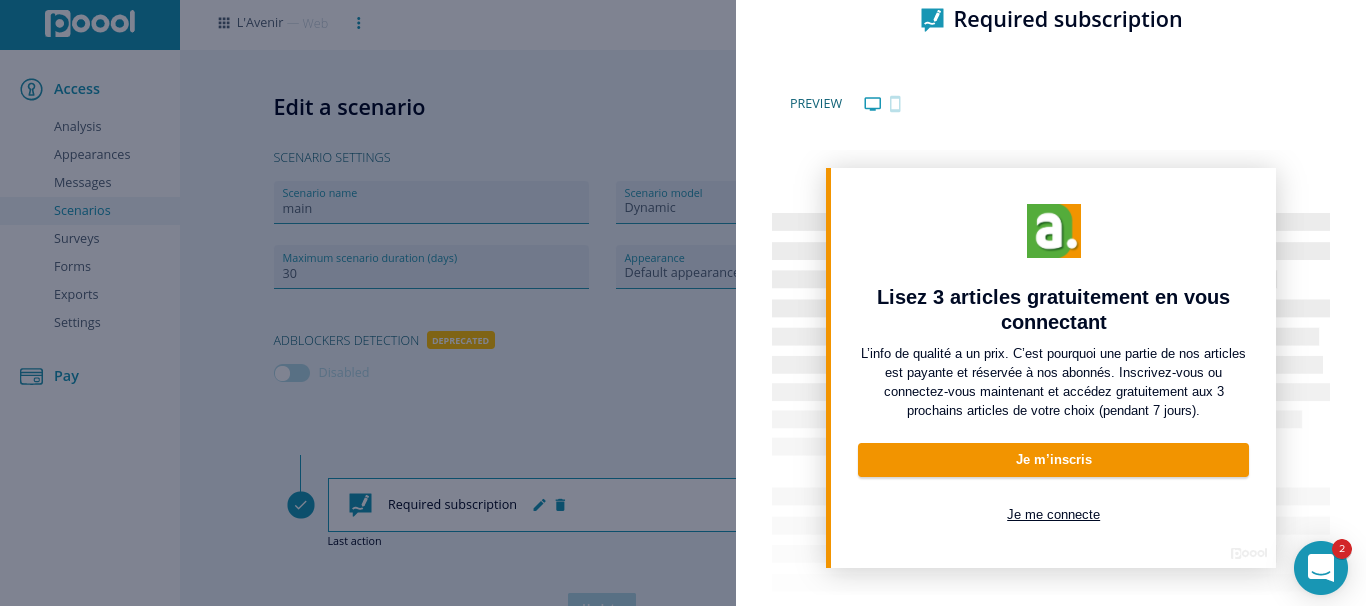 Whereas survey walls allowed the team to gain valuable insights into their audience's interests to inform their strategy whilst simultaneously increasing engagement.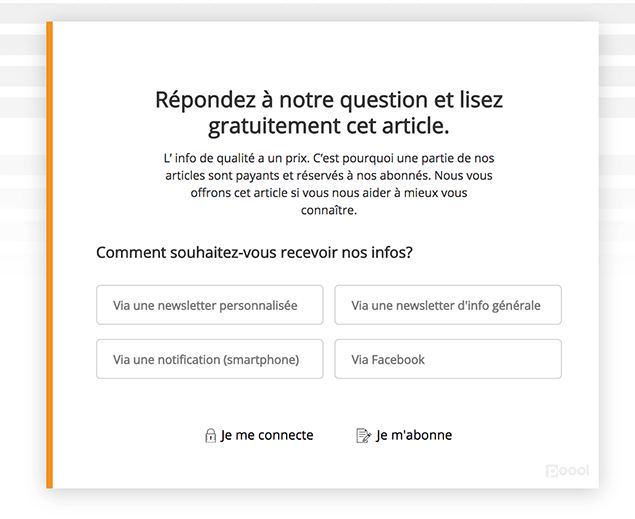 👉  A/B test all potential strategies to prioritize knowledge over faith

This was very simple to achieve in the Dashboard where the marketing teams at L'avenir could build two alternative user journeys within a single segment, configure what percentage of their audience will see each version, launch and analyze, all without support from the tech team!

To see how you can A/B test scenarios with Poool, have a watch of this video demonstration!


👉  Promote subscription through limited-time reduced offers (below they presented this '3 months for €3' offer for one week, from 1st-7th February)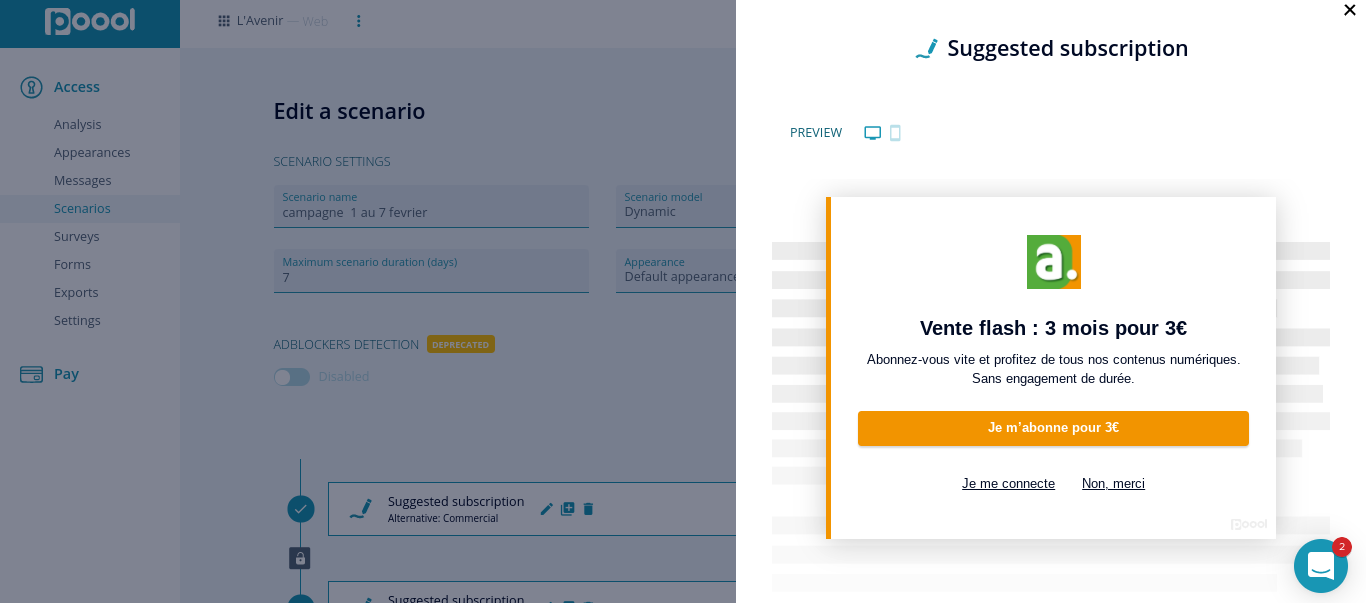 Through seeing the impact of these changes, L'Avenir decided to slightly increase the number of premium articles on their site to highlight the value of their content and convert more users into subscribers without pushing fly-by readers away.

Since then, with the support of Poool's product team and insights from the study, L'Avenir were able to implement adapted scenarios for each user segment that were truly customized to their needs and nurtured engagement. This was something that their old paywall could never offer, leading to some huge results for the Belgian publisher.

👉  Increased conversion rates and growing subscriber base
👉  KPIs for engagement and advertising revenues also saw a significant increase
👉  More than 150,000 responses to their initial surveys
👉  No negative impacts seen on engagement
👉  Ad-blockers were disabled thanks to the use of Poool's ad blocker wall
Poool's dynamic paywall was extremely simple to use, giving us the agility needed to quickly test the benefits of personalized journeys for each of our different audience segments.

The fact that this tool could integrate into our DMP meant that we could optimize client journeys based on our objectives - from our most volatile readers, enriching our understanding of clients through a Datawall, to our regulars and fans who we aimed to convert into satisfied subscribers.

We strongly recommend the expertise and support that the team at Poool brings.
-Laurent Charles, Manager of strategy and data @Editions de l'Avenir.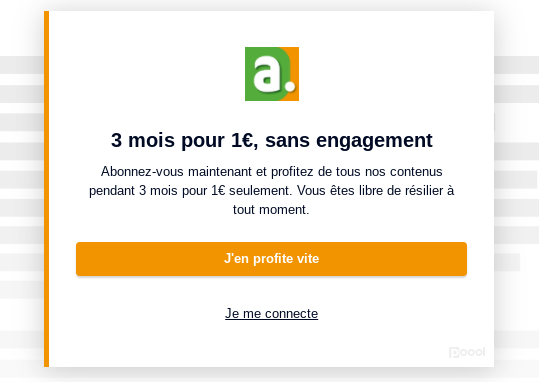 ---
We've been lucky enough to call L'Avenir our client for a long time now and we're very thankful for this! It's been a pleasure to see how their strategy has developed over the years and support them in their journey.

Interested in doing something similar and taking control of your subscription and registration strategies to increase revenue? Book a free demo now!