Poool Access, our dynamic paywall solution, allows you to personalize every aspect of your wall to integrate it seamlessly into your site. This is all possible from the publisher Dashboard.
This customization allows every one of Poool's clients to seamlessly integrate a wall into their site, aligning its design with their brand colors, wording, layout and more.
Fancy seeing the Poool Dashboard for yourself and trying out its features (for free)? Get in touch to book a demo!
---
What does Poool Access offer?
Poool's dashboard allows two central graphic themes, the Panorama Model and the Compact Model, which can both be personalized in terms of font, colors, branding, etc. There is also a CSS function which gives the publisher more freedom in how the wall looks.
1 - The compact wall model:
The compact model gives the paywall increased visibility as it will appear midway through content, a type of 'visual break'. It's more of a pop-up style than integrated into the text which helps the wall to stand out more to readers.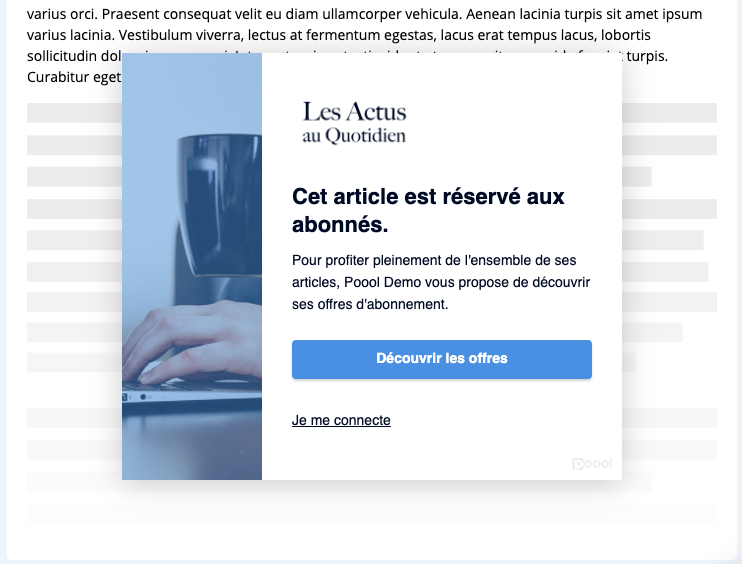 2 - The Panorama wall model:
This model has been designed to blend as much as possible into the media's site. The wall integrates itself into the article itself, adapting to to the column aligning. It's larger than the compact model and is less of a pop-up style design.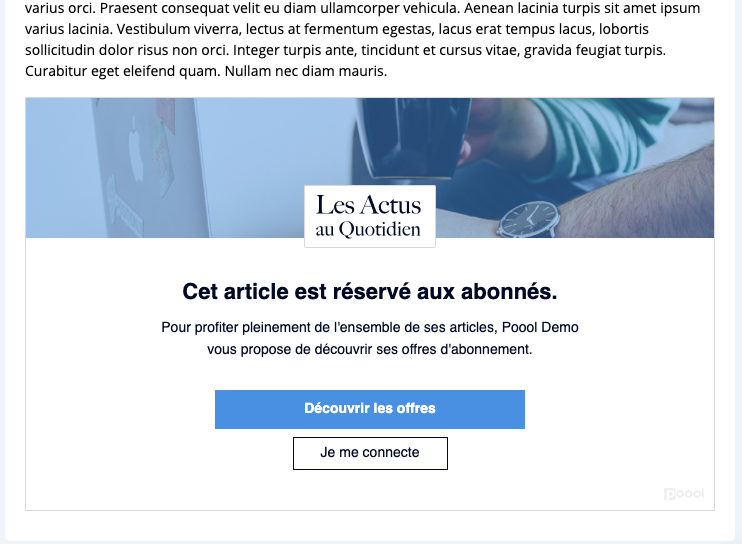 3 - The CSS function:
Nevertheless, some publishers choose to use the CSS functionality within our dashboard to completely adapt their paywall to their brand. They have many reasons for utilizing this function over the last 2 models:  
To have a paywall which matches with the brand content
To give more information to the reader regarding their offer
To highlight subscription offer benefits
---
4 of Poool's clients and their paywall designs
Today, we're going to show you 4 of our clients who are successfully using Poool Access on their site and have adapted the wall to match their brand.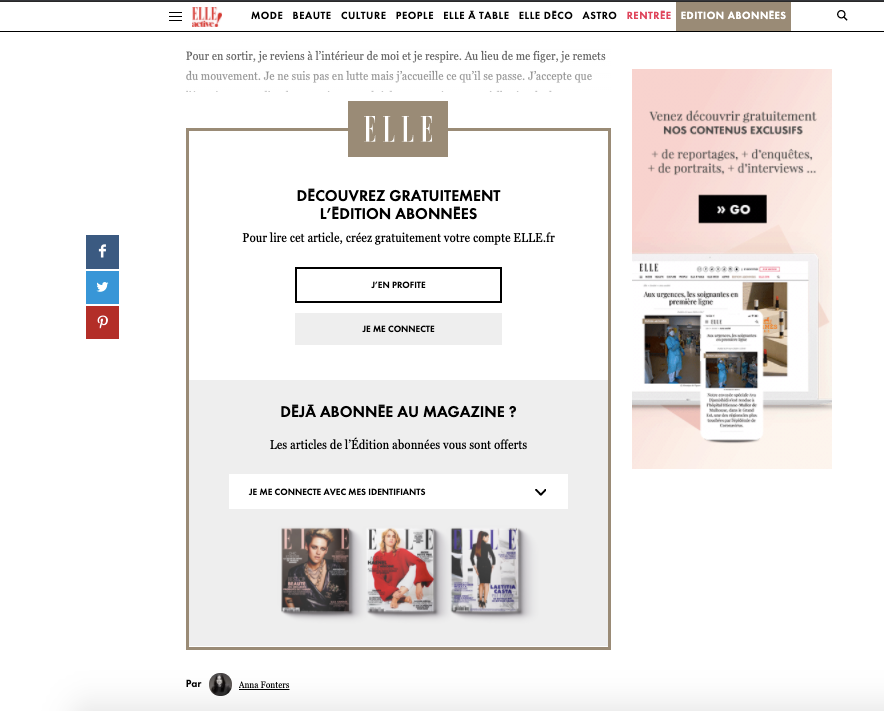 The editors of the famous "Elle" magazine have customized the paywall in their own way, adding their a color from their house chart as a border, font that's used throughout the site as well as a sleek transition from text to wall. Overall a very classy and simple design that embodies Elle's brand.

Le Journal du Dimanche has employed a completely different strategy to instead use the paywall to inform the reader about their subscription offer. The text fades out and this wall appears asking for subscription. This is a great technique to help encourage the reader to pass onto the next stage in the subscription funnel and their use of yellow for the button, a bright color infitting with their brand, helps it to stand out, further encouraging a reader to click on it.
Find out more about JDD's Registration Wall in our 'From Content, to Registration to Content' article!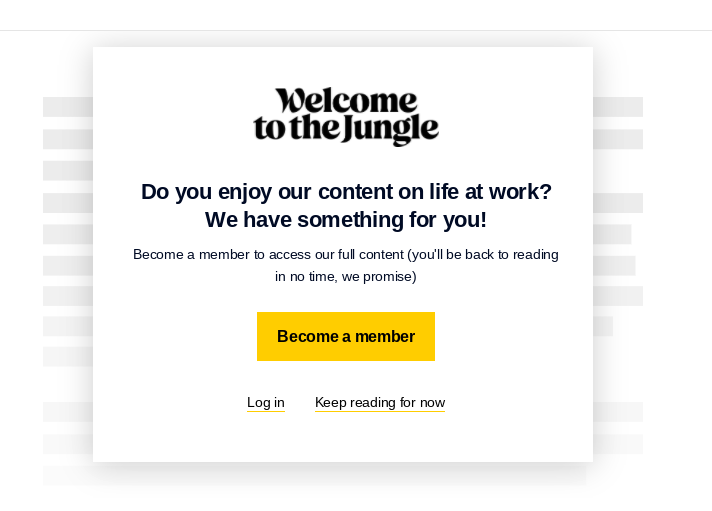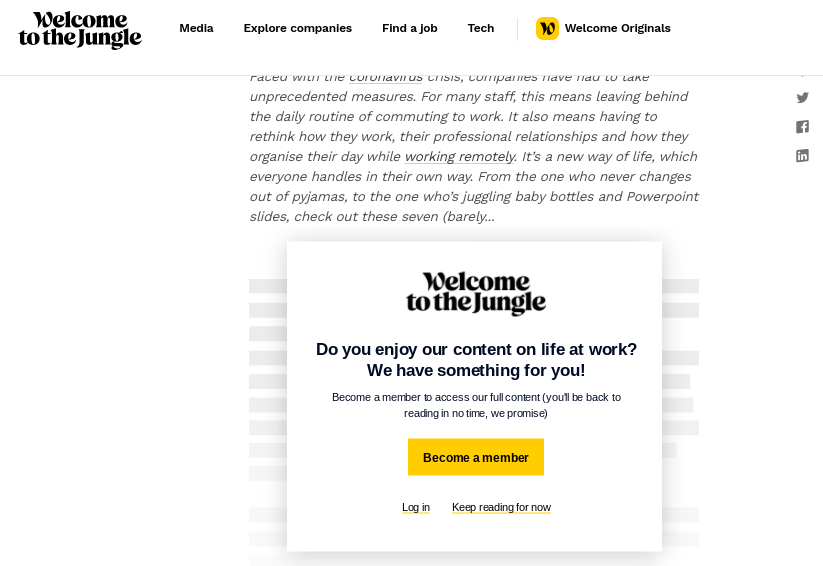 Welcome to the Jungle have a really informal style which is reflected in their registration wall. It blends seamlessly from the article to wall and frames 'creating an account' as a benefit for the user by stating 'we have something for you', directly addressing them. The yellow and black is part of their house style and helps the 'register' button to stand out.
The friendliness and aim of building a closer relationship with their audience is perhaps more evident in the French version of their registration wall.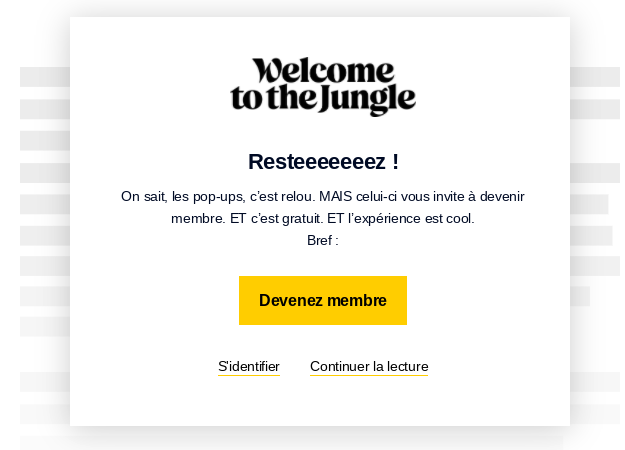 "Staaaayyy! We know, pop-ups are a drag. BUT this one is inviting you to become a member. AND it's free. AND the experience is cool. In short: Become a member."
WTTJ use a registration wall instead of paywall, which asks a user to create a free account on their site in order to access content. Find out more about registration walls, with examples and best practices, in our blog article.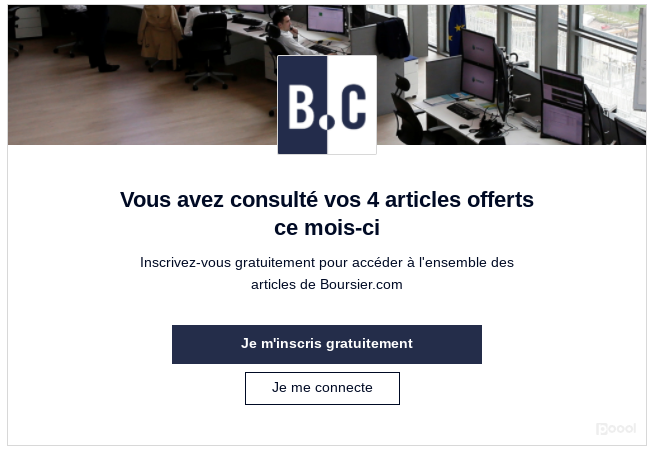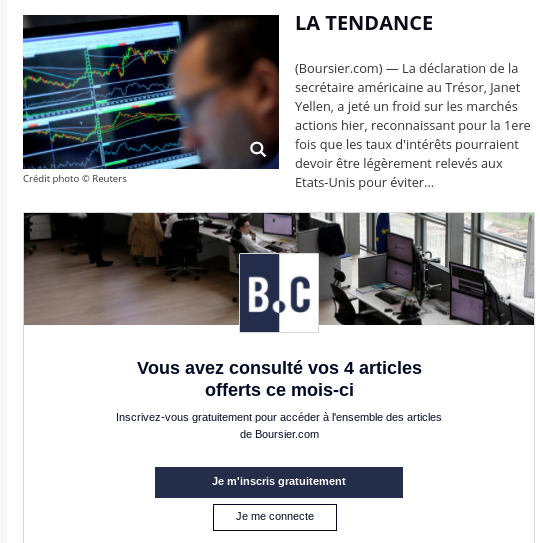 Boursier use a metered wall (find out more about what type of walls exist in our 'What is a Paywall' article) and, after reaching the article limit, an article that a user wants to read is cut off after the first paragraph. Their design fits nicely onto the page and fits with their simple, professional and blue/white theme. They repeat 'gratuitement' (free) to emphasize this fact to a user and encourage them to create an account rather than leave the site.
Read more about Boursier's success with Poool on our case study page!
---
Curious to see how it looks like in our dashboard ? Get a closer look through this video:
---
To see more of our client case studies to see what's possible with Poool's wall solution, have a look at the 'Success Stories' section of our blog and the 'References' page of our website!