Given the value of 1st party data, it's becoming increasingly popular for publishers to ask users to register on their website. A registration wall does just this, blocking access to content and requiring registration before continuing.
Once a reader has created an account, their behavior can be analyzed across devices, providing important and actionable insights to the content producer. What's more, registration brings a user one step closer to subscribing, so it can also play a huge role in a paywall subscription strategy. For readers, having an account on a site means more personalization, ultimately improving their user experience as a whole, and so encouraging them to subscribe.
This is why we're back with a new article series! Our first one covered the user journey to subscription (including The Washington Post, Netflix and Audible) whilst this one will analyze the journey of an anonymous reader into a registered user. We aim to see what motivates readers to become members and how the different publishers employ a regwall.
By now we hope you're aware that the most important aspect to turn readers into members, and even subscribers, is your value proposition and content. This is what our series is all about, understanding the number of clicks, scrolls, amount of information and time taken for a reader to create an account, but also to understand the value proposition and why the publisher wants users to do this action.
Remember, any online content-producer can employ a registration wall, including editorial publishers, broadcasters, e-learning platforms and more. To highlight this fact, our 'From content to registration to content' series includes a wide range of different publishers.
We'll cover:
To find out more about registration walls, see our blog post on 'What is a Registration Wall?'. You might also like our other article series on the subscription conversion funnel, with a white paper to summarize our findings, available here.

---
So, let's start.

Today: Spotify
Spotify is a Swedish audio streaming service with more than 158 million subscribers and 356 million monthly active users across 178 markets around the world (spotify, 2020). They employ a hard registration wall and also have a paid subscription offer, but there's no paywall in use.
We'll analyze:
The user journey to register
Spotify's value proposition
Why Spotify uses a registration wall
The user journey to register:
4 clicks are needed to register and return to content
1 scroll is needed to see the registration form in its entirety on desktop, 2 scrolls on mobile and no scrolling on the app
6 fields need to be filled out to create an account
So, step by step.
STEP 1 - The user arrives on the website
Someone who wants to listen to music or podcasts arrives on the Spotify website and decides they want to access their content.
On the landing page, the user is informed that they can access the content without needing to pay because of their free version that simply requires account creation. They click on the button 'Get spotify free'.

STEP 2 - Creating an account

The user is then taken to a page dedicated to registration. They are required to fill out a form which asks for the following information:

Email
Password
Name
Date of Birth
Gender

A user is also offered the option of signing up with Facebook which saves them time in the registration process.

Spotify constantly reminds us that we're signing up for free, a great way to encourage a user to continue with the registration process and reassure them that no payment is needed.


STEP 3 - Download the Spotify App

The user is then taken to a page where they're told that they have to download the spotify app in order to access content.

Their goal here is likely to promote the app (on various platforms) as well as make it easier for the user to listen to their content more often.


STEP 4 - The user logs into their account

The user is now logged into their account that they've just created.

The user now has access to content for free!

Although a free version is often appreciated by users, creating a premium Spotify account comes with a greatly improved listening experience. Not only are ads removed in the subscription offer, but a user can shuffle music, skip as many songs as they like and listen to music or podcasts offline.

Note that many of the ads on Spotify free are from Spotify themself, promoting their subscription offer.

---
Value proposition

It's very important to analyze the publisher's value proposition too, as it shows what a registered user is or isn't entitled to.

Spotify's value proposition isn't actually that clear or explicit when we register. At no point is the value proposition explained, nor are we told what we have access to as a registered (compared to subscribed) user. We don't even find out that subscription means Spotify is ad-free until we hear one of their promotional ads in between songs.

However, a user can assume the value proposition as they go through the process:

Users can listen to music for free
Users can use the platform without ever being forced to pay or leave, but they're continually reminded of the subscription offers
---
Why does Spotify use a register wall?

There isn't just one answer here and we can only assume, but we imagine that integrating a regwall meets several goals simultaneously.

Collect first-party data
Gather possible leads to sell subscription offers via email if a user doesn't subscribe on their first visit
Improve the user experience - account creation allows users to personalize their Spotify, create playlists, save songs/podcasts and add friends
Bring the user a step closer to subscription
---
And what about mobile and app?
The mobile version (on browser) is the same as on desktop but more scrolls are required to view the form in its entirety.
However, Spotify promotes their app over using the browser version on mobile. The app has been hugely optimized for use on the smaller screen and with a phone keyboard.
The form is separated into different screens so each form section has its own page, one for name, email, age and gender. There are more options to sign up with an existing social account (such as Apple or Google) and, interestingly, there's an added personalization feature where a user can choose artists and podcasts that interest them.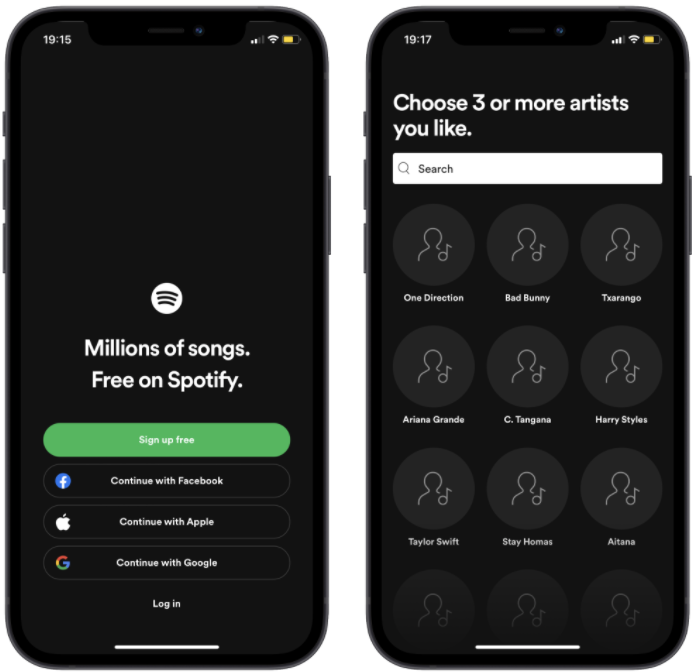 ---