The dynamic registration and paywall solution, Poool Access, used by over 150 publishers in 12 countries is now available on iOS mobile apps.

Since 2016, Poool has provided digital publishing professionals with the tools to segment their audience and build, test and optimize dynamic conversion journeys to monetize their audience on desktop and on mobile AMP.

Today, these same features are now available for iOS mobile apps, and Android coming soon.

Book a demo to hear more about how you can benefit from Poool on iOS mobile apps.
Book a demo
Why have we extended Access to apps?
Apps are one of the most valuable engagement tools for publishers. And, as engagement directly correlates with high conversion and retention rates, we understood the importance of supporting publishing in developing an optimized, dynamic conversion strategy on apps as on desktop.

Thanks to this development, you'll now be able to benefit from all of your Access features to build high-performing walls on app - from basic appearances and journey building, to A/B testing, surveys and third-party integrations!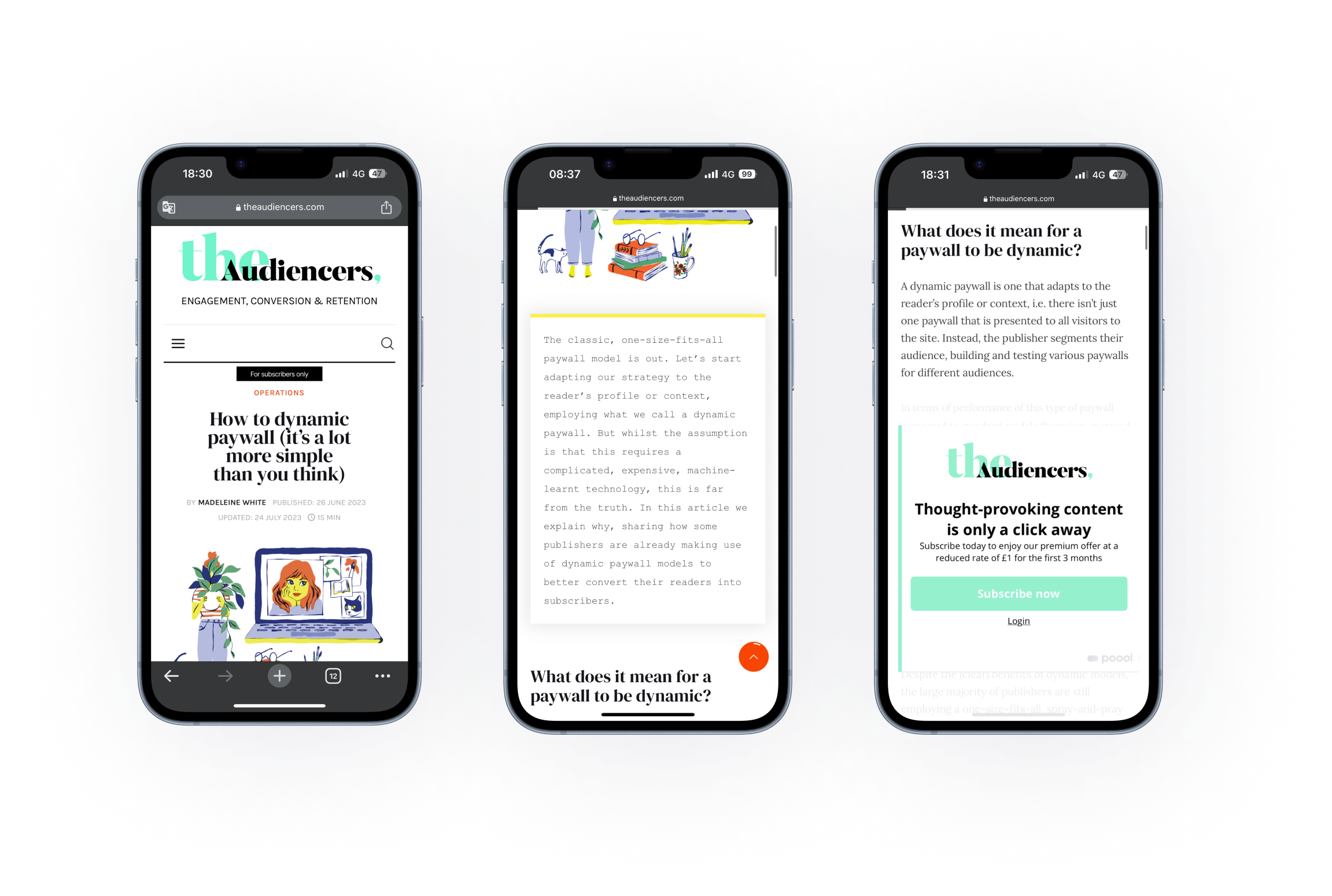 Poool's iOS SDK - what is it exactly?

Installing Poool's iOS SDK is a piece of cake, and can be completed very simply thanks to Swift Package Manager or manually by integrating our framework into your project via Project Navigator. Either way, everything that your tech team needs can be found on our devHub and our team is always available via the Intercom bubble in your Dashboard, ready to answer any questions you may have!

Once installed, your marketing team will have the autonomy to segment audiences on your app, build adapted conversion journeys, run A/B tests and continuously analyze and optimize performance.

In fact, the Dashboard will be exactly the same as for your desktop conversion model - there's nothing new to learn, but a lot of reader engagement, conversion and retention value to gain!


Why Poool over an alternative dynamic paywall solution?

Poool is France's leading dynamic paywall and subscription solution for digital publishers, chosen by over 150 medias in 12 countries around the world.

Our Membership & Subscription Suite equips you with the operational tools built for growing consumer revenue through targeted conversion strategies, rapid testing and continuous optimization.

But we're more than just a solution - our team brings together experience of working with over 150 publishing brands to provide expert consultancy, one-of-a-kind benchmark reports and the industry-leading B2B media, The Audiencers.

> Launch, test and continuously optimize your dynamic registration and paywall journeys on desktop, AMP and iOS mobile apps
> Segment audiences, wall design editor, A/B test, analyze performance…
> Easily integrated into your tech ecosystem with 3rd party connectors and webhooks
> Go live in under a month, return on investment in less than 90 days
>Unparalleled expertise from our consultancy team, supporting you at every step of launching and developing your reader revenue model

If you're not yet a client, book a no obligations call with our team to hear about how our operational tools and proven expertise will help you achieve your goals.

Book a demo
Already a client and interested in hearing more about benefiting from Poool on iOS mobile apps? Book a meeting or contact your account manager.