Originally sent on February 8th, 2022. Receive our next B2B newsletter by subscribing here.
This month we've got so much to offer you...
👉 Discussions about industry news & how it impacts you
👉 In-person events
👉 Ask The Experts Linkedin Live
👉 A top tip from Marion Wyss, co-founder of our consultancy offer  😍
Let's dive in!
🤓 Pocket-sized Poool top tip 🤓
"Continuously modify wall design to reduce habituation and increase click-through rates"
After providing audience conversion strategy consultancy for digital publishers for over 10 years, it's become clear that continuous optimization is essential for wall success. This is particularly the case for paywall designs, where even a slight change can reignite click-through rates and avoid reader fatigue, as the graph below (from real data) demonstrates.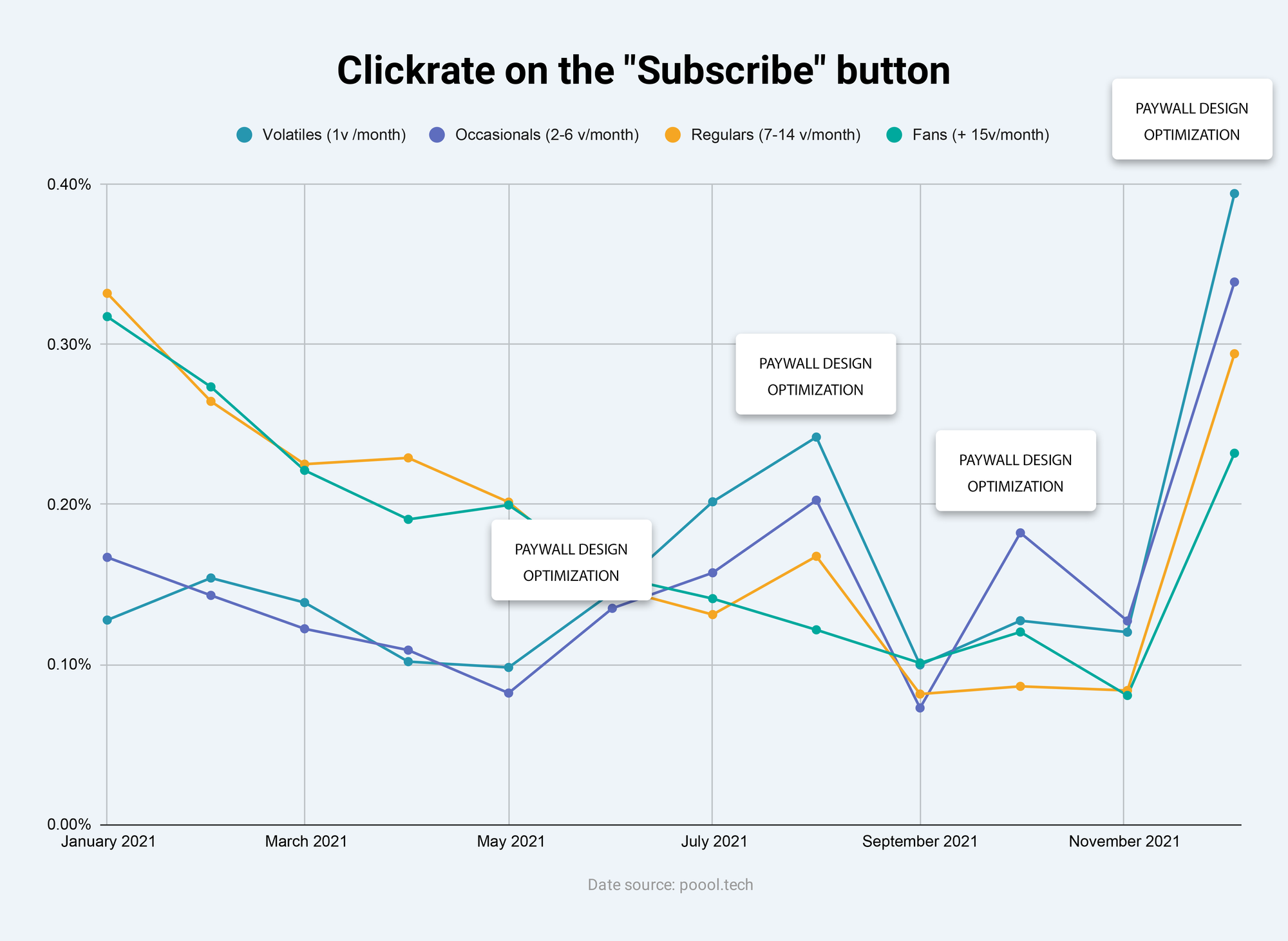 So, what can you optimize about your paywall design?
👉  Modify colors, CTA button placement, wording and key value proposition points
👉  Adapt to different seasonal events, sales or national holidays, such as Christmas
👉  A/B test designs to discover the best performing versions
🗞️ Industry news we're talking about 🗞️
Only one month into 2022 and a lot has happened already...
💵  The New York Times acquires both The Athletic and Wordle
The successful subscription publisher has been a huge talking point over January with their initial acquisition of The Athletic and more recent announcement that they've also purchased Wordle, the online word game company, telling us a lot about the growing popularity of more interactive engagement strategies.
In a recent podcast episode, our CRO, Stéphane Père, discussed the sale of The Athletic with founder of State of Digital Publishing Vahe Arabian, covering what this tells us about the industry today and how publishers can succeed in 2022.
The key takeaways for this acquisition:
👉The Athletic's losses prior to this acquisition were certainly not down to a lack of a clear value proposition or niche subscription model (both of which are vital for success)
👉Focus on forming habits to increase engagement and loyalty
👉Diversifying revenue streams has never been more important, especially for those who have previously been reliant on advertising monetization alone
Read the full podcast summary here
🔎  Google updates their search engine ranking algorithm
The recent Google update means that user experience will be taken into consideration when ranking search results. But how is this being measured?
👉 Largest Contentful Paint = the load time of the largest content
👉 First Input Delay = the time between arriving on page and the first click being available
👉 Cumulative Layout Shift = the visual stabilization of images when loading has finished
SEO is hugely important to bear in mind when employing conversion strategies, such as paywalls and registration walls, but where do you start?
We've got your back! Discover how to employ a paywall without putting SEO at risk in our white paper, available in both English and French.
💬 Ask the experts 💬
This is not a webinar. This is your conversation!

Instead of simply presenting some slides, we thought we'd make use of Linkedin Live to get a conversation started, giving you the chance to ask our experts consultancy team anything you fancy!
Our first event will be in French, on February 16th at 11am CET, focussing on how to launch a subscription strategy.
With a mix of experience from publishers such as The Economist, Yahoo!, Canal+ and Prisma Media, our hosts, Stéphane and Ludivine, will be able to provide you with expert advice to lead your strategy to success!
For our English-speaking audience, don't fret, we'll be running an English version on this same topic in March, so keep your eyes peeled!
Sign up to the event here, and don't forget to add it to your calendar!
🎟️  Meet us IRL 🎟️

We have some exciting news... with Covid restrictions easing and travel becoming easier again, Poool have decided to pack their bags and head across the channel to attend an actual, non-virtual event, in real life (it's about time)!
Goodbye Zoom, hello London 🇬🇧
Yes, we're going to be attending The Publishing Show on March 8th & 9th. And we'd love to take this opportunity to meet with you in person.
Stéphane, Parker, Guillaume and I (Madeleine) will be representing Poool at stand B9PS for this 2-day event, the UK's first for B2B and B2C publishers, newspapers, content providers and suppliers. It's really not one to miss!
We also have a discount code for you lucky readers, giving you 100% (yes, 100%) off a 2-day delegate pass, normally priced at £299!
Register here and use the code POOOLVIP
Interested in meeting us there? Us too! Reply to this email and we'll arrange a time:)
👀 Worth checking out 👀
Some extra links that our team have been sharing this month:
How publishers are growing subscriptions with newsletters, insights from WAN-IFRA
SODP x Poool Office Hours: How to Optimize your Hard Paywall Strategy. Join Stéphane and Vahe in this discussion-based event on February 18th at 4pm CET.
More on Google's new 'page experience' metric
The New York Time's annual reports are out for 2012-2021 as they hit their goal of 10 million subscribers: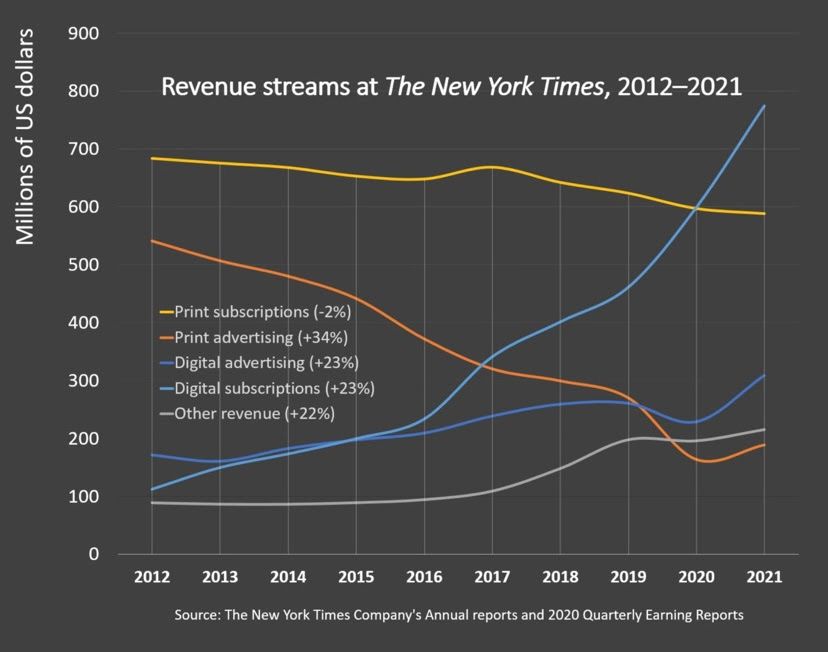 That's it for now, we'll be back next month with more content treasures for you!
Madeleine.