Life used to be simple…
more traffic = more page views = more ad impressions = more money 🤑
But this advertising machine, based on impressions, is a bit broken in today's internet environment
You're now more likely to...
be admitted to Harvard,
get a full house in poker,
or have twins
than clic on an ad banner

Click through rate on ads is now at an average of 0.05%

And that's not all...
👉 More than 35% of readers use adblockers
👉 33% of users find ad banners intolerable (meaning engaging user experiences are threatened by advertising)
👉 And the digital ad trust laid the foundations for less intrusive ads (which means it was pretty bad before…)

And then things got even more complicated...
👉 The duopoly took it all (or almost). Thousands of digital medias are fighting for the remaining 20% of Google and Facebooks digital ad market
👉 Up to 80% of traffic is now on mobiles, putting added pressure on advertising inventories and revenue
👉 Cookie consent rates are falling due to tightening data collection laws, with France leading the way and others set to follow
👉 Third-party cookies are phasing out. Chrome may have delayed this until 2023, but it's still going to happen and publishers need to prepare themselves
What does 'no cookies' mean for advertising?
Cookieless inventories are being sold at a 2x lower cost (or even not at all)
Cookie consent rates are expected to fall by 20% every 6 months
"A non-consent audience is valued -80% RPM less than a consented audience." David Folgueira (Prisma Media Solutions)

If left as it is, the future has a deadline. Without any action, ad revenue will decrease by 10% every 6 months...
So, let's switch our revenue focus
Publishers have been selling advertising instead of journalism for too long
Let's make readers pay!
Reader Revenue through Subscription is the new buzzword, but it's a little crowded out there...
👉 Legacy publishers have been doing this for years, but new players (not just publishers) want to get on the bandwagon
👉 COVID has accelerated the digital subscription trend and yet more content creators than ever want their share
👉 Household budgets are limited, divided between publishing, music, VOD...
We're competing for attention and share of wallet.

There are plenty of challenges out there for digital publishers.
But what's the solution?
Stéphane Père: "Every challenge is an opportunity" 😉
Let's start by understanding one thing. Traffic is often considered to look like this:
But, in fact, it's more like this:
👉 Roughly 80% of users are volatile, who aren't engaged and only come to your site about once a month
👉 30% are non-consented audiences, which means no tracking, no analytics and ads that are a lot harder to sell
👉 90% of audiences are anonymous. These users don't have identifiers and, without third-party cookies, they can't be targeted for increased ad revenues
👉 Members & subscribers, however, are your most valuable users. They have an email ID, are consenting, can be targeted, have higher RPMs and subscribers pay directly for access to your content

Therefore, the first step is to analyze your user's behavior:
*data taken Poool client averages
You'll notice the correlation between engagement metrics (frequency & volume of visits) and conversion rates - the higher engagement in your content, the more likely they are to subscribe in the future and provide greater ARPU.
We can then translate this into money talk:
*ARPU = (Sessions/User)*(Pages/Session)*(RPM/1000)
Note how subscription is actually additive to the advertising strategy - many publishers worry of the negative impact a paywall can have on ad revenue, however it in fact either the inverse or subscription allows for significantly more revenue than just advertising alone.

What can we learn from these tables?
👉 A Fan user is worth 45 times more than a Volatile User.
👉 A Member is worth 2.5 times more than a Fan User.
👉 Just a single Subscriber brings as much monthly value as 20 members or 300 anonymous users

So, clearly, by engaging a user step by step, you increase your global ARPU
Their journey should therefore translate into: Engagement > Soft conversion > Conversion
Now comes the 3-step strategy to put this into practice.
---
N°1 The Short term: To maintain your ad-based revenue, cookie consent rates need to be immediately won back through a Cookie Wall with alternatives.

💡 What is a cookie wall? 💡
A cookie wall is presented to users who decline the use of cookies. The wall is presented at the content level and gives the user a choice - accept cookies or choose an alternative, cookie-free way of accessing content, such as subscription or registration.
Cookie walls & CMPs complement each other
👉 CMP for compliance
👉 Cookie wall inside the content for conversion and marketing opportunities

Examples:
Melty - inform users of the benefit of cookies for your business whilst requiring that they consent or subscribe (or leave).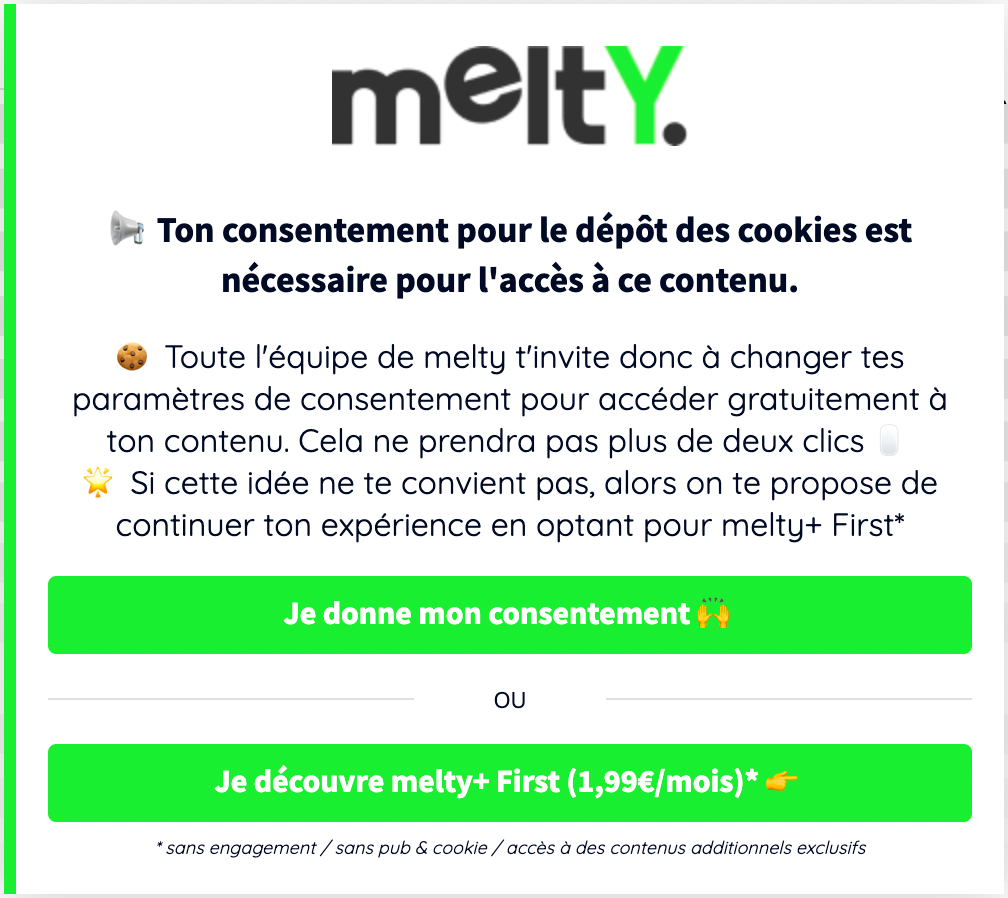 ---
N° 2 The Mid term: Build a strong Membership base to foster strong relationships, increase engagement, identify your users and ARPU for developing long-term revenue streams.

Why is a Member more engaged?
Newsletters
Access to specific content but, moreover, exclusive services
'I'm part of the community' effect
To convert an Anonymous user into a Member, you need a Registration Wall.

💡 What is a registration wall? 💡
A registration wall asks or requires that a user creates a free account in order to access content.

Examples:

ELLE employs a registration strategy as a soft-conversion step prior to the paywall, increasing engagement to gradually lead a user to subscription
WTTJ is an example of a registration wall utilized by a brand to collect leads & data, increase engagement and boost monetization in other forms, such as through targeted advertising and selling services.
Poool's blog even uses a registration wall to collect leads for marketing campaigns.
---
N° 3 The Long Term: Establish a recurring and predictable revenue stream through Subscription.
Target your most engaged users with a paywall and start making real money, collected directly from your subscribers' regular payment.

💡 What is a paywall? 💡
We're sure most of you know what a paywall is by now, but, in short, it blocks users and asks them to pay to subscribe in order to access your content.
Just like any wall, there are a hugely wide range of different paywall types:
The standard wall types are Freemium, Metered, Hard & Dynamic, but they can also differ depending on how they block (a banner, pop-up or mid-article wall) as well as what's included in the wall itself (such as payment, data collection or perhaps subscription offer selection).  
Examples:
Moneyweb includes the subscription offers in their paywall as a way of reducing the steps in the conversion funnel as well as persuading users of the value in subscribing.
ELLE is very attentive in continuously optimizing their paywall through modifying wall design. For example, they've employed a summer wall, Black Friday wall and one for Christmas. This technique reduces habitation and maintans high CTRs.  
---
Let's recap:
👉 To maximize ARPU, you need to employ different strategies at each stage of the engagement funnel.

👉 Volatile readers can be left to discover content and your value proposition to increase engagement whilst still monetizing them through a cookie wall.

👉 For engaged readers, who are still anonymous, you can convert them into members via a registration wall.

👉 Members are identified but monetization is limited and they aren't directly paying for access to content. This is where a paywall comes in to ask that they pay to subscribe.

But what about users who don't convert anywhere?
Dare to be bold like The Washington Post, who blocks non-consenting users entirely.
One last word:
Stop obsessing over Traffic as your first KPI in reports and dashboards.
Traffic does not pay the bills.
You don't want your team to believe this anymore.
ARPU does.
---
Interested in employing this 3-step strategy with ease to monetize every type of user?
👉 2 day tech integration & launch in under a month
👉 One Conversion Platform for any type of wall you desire (including cookie wall, registration wall and paywall)
👉 Complete autonomy for marketing teams to build, launch and continuously optimize your conversion strategies