Originally sent on July 7th, 2022. Receive our next B2B ex-newsletter via email by subscribing here.
It feels like only yesterday that I was writing June's ex-newsletter for you, but here we are again! Hopefully you've booked some well-earned time off this month but, to make the most of your working hours, I've got plenty of insights and advice to share with you…
Content attribution model insights from our webinar with Chartbeat (and free download of our slide deck)
A/B testing benchmark and analysis from ELLE Magazine
What we've been reading this month
Retention strategies to steal
Final note on newsletter best practices
---
Content attribution models from Chartbeat
How do you measure the value of content in convincing a user to subscribe?
Do you attribute a conversion to the last touch that a user makes before subscribing? Or rather the first touch they make? Maybe you attribute it to the most engaged touchpoint?

Last week I had the pleasure of joining Chartbeat (experts in content analytics) in a webinar covering engagement and reader revenue strategies, where Chartbeat shared valuable insights into content attribution models.
Despite a slight technical glitch (for once it wasn't my fault), we ran a survey asking the audience which attribution model they were currently using. Interestingly, the most popular response was last touch.
And this seems to make sense - last touch refers to the final content consumed before the reader decides to subscribe.
However, this doesn't take into account the importance of engagement prior to this final touch, something that counterbalances the frustration created by the paywall to just the right point to encourage conversion.

What should you track instead?
The 5 metrics from our revised framework that combines engagement and conversion
ARPU of soft conversion steps (I explained how to do this in the webinar)
Engagement levels on all content to produce more content that your users find valuable

I'd highly recommend watching the webinar replay or downloading the slides to hear more about this topic that's so essential to your reader revenue strategy!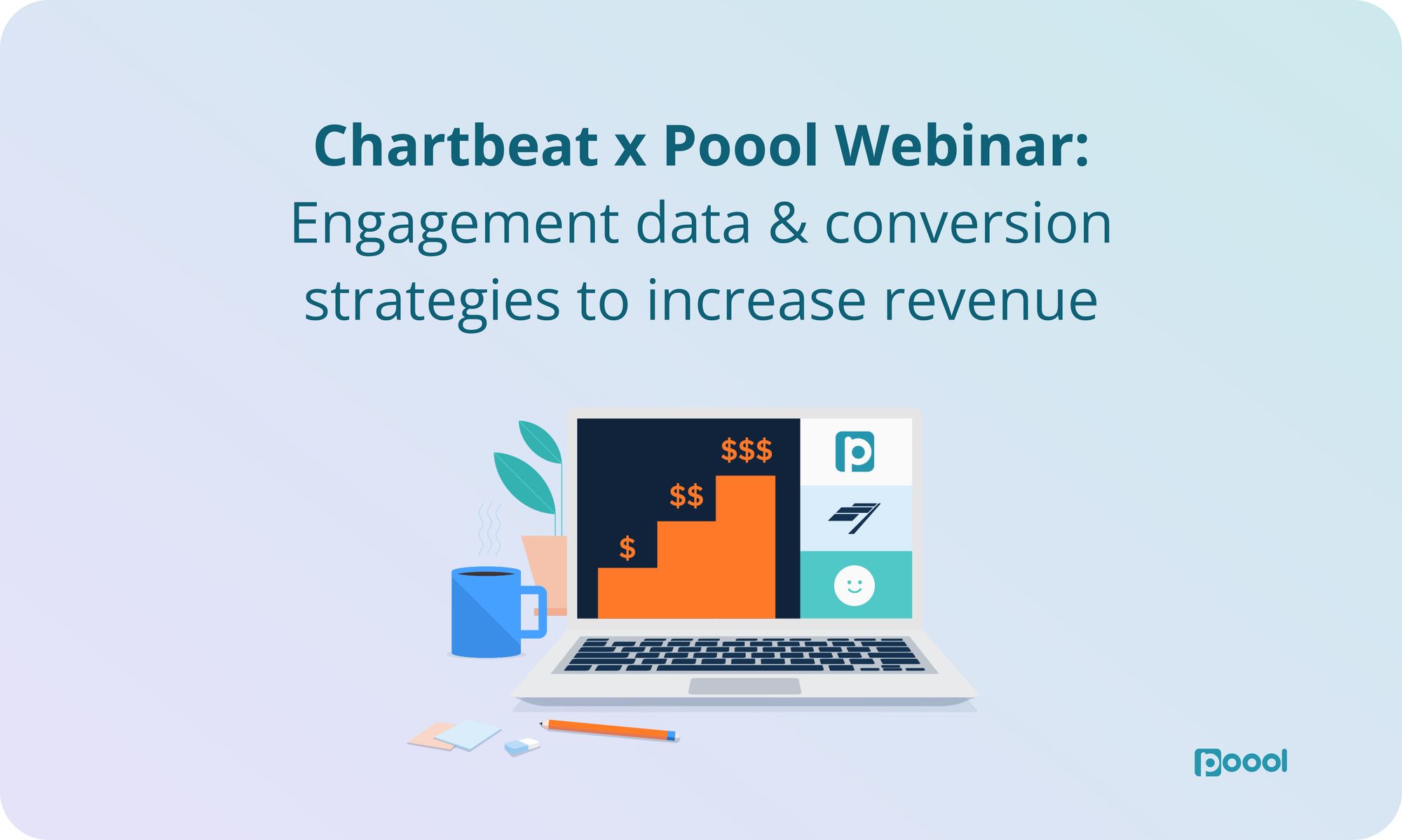 ---
A/B testing benchmark & analysis from ELLE
The fashion and beauty magazine launched its digital premium strategy with a two-step conversion journey consisting of a registration wall followed by a hard paywall. This proved hugely valuable for increasing engagement and informing their audience of the concept of paying for access to content, but the team wanted to test a more direct approach to see if this led to higher conversion rates.
Hypothesis: A hard paywall will lead to higher conversion rates compared to a soft engagement journey.
Variable: User journey.
Goal: Increase conversion rates.
Control (version A): A two-step scenario with a soft conversion registration wall followed by a paywall.
Treatment (version B): A hard paywall alone.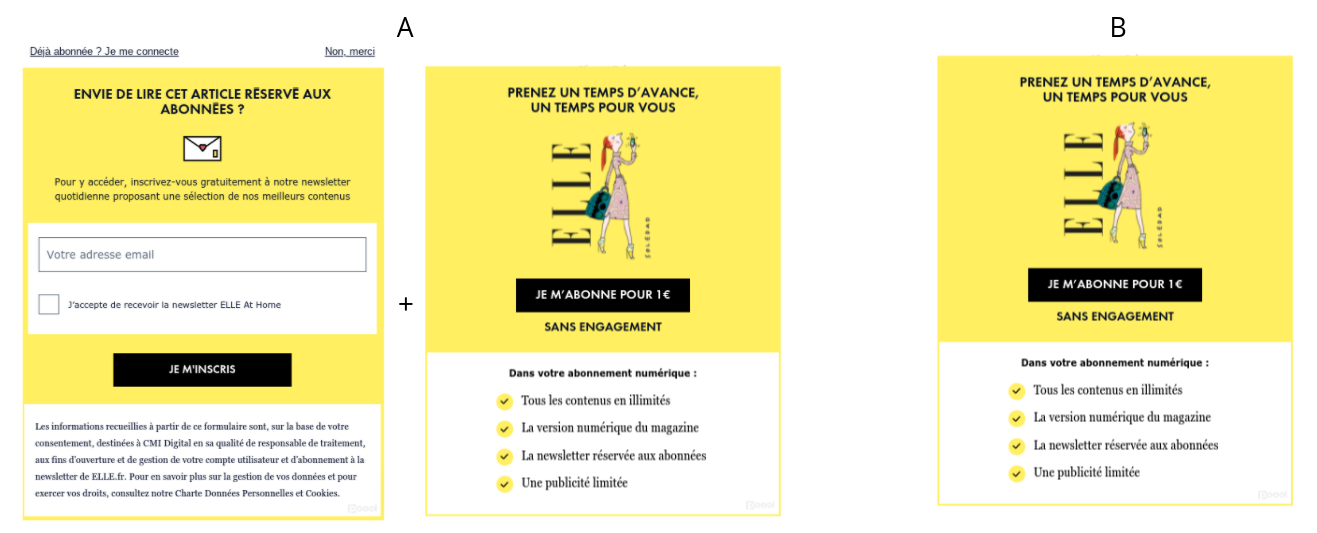 Results: Version B led to slightly higher conversion rates than version A. However, these results have to be taken with a pinch of salt…
Firstly, it's important to consider the stage of your subscription model. For ELLE, although version A worked extremely well for launching their strategy, collecting data and increasing engagement prior to subscription, version B performed better when this test took place, meaning their audience was perhaps more qualified and less likely to be frustrated by a hard paywall.
You also have to consider more than simply conversion rates as a metric when altering your user's journey, namely ARPU (average revenue per user). Considering engagement has a direct correlation with revenue, and that soft conversion steps such as registration walls increase user engagement, it is arguably more beneficial in the long term to employ a user journey such as version A, despite what these test results suggest.
Specifically, de-anonymizing a user through registration increases ad-based revenue thanks to targeting as well as boosting propensity to subscribe and retention rates.
The takeaway: When looking at benchmarks, don't forget to consider the context surrounding them, take overall ARPU into account and remember that it's not only the paywall that influences conversions.
---
What we've been reading this month
How to continue growing subscribers post-pandemic, by the brilliant Faisal Kalim at What's New In Publishing
Why you should stop focussing on paywall-types and start putting your audience first, a shameless self-promo of an article providing a strategy that's highly recommended by our consultancy team
3 strategies for making the most of the subscription economy, from Harvard Business Review
---
Retention strategies to steal

Don't let all your acquisition, engagement and conversion efforts go to waste - here's 5 ways to retain your subscribers.
Onboard new subscribers: we'd recommend a mix of on- and off-site communications that span across a few weeks. Encourage newsletter sign-up, say thank you, offer support, remind them of what they now have access to…
Study user behavior: understanding what your users are interested in will allow you to produce engaging content that they want to read
Fix credit-card expirations and actively encourage renewal: France Guyanne are currently testing out a wall that's presented to subscribers whose trial is about to end, supporting high renewal rates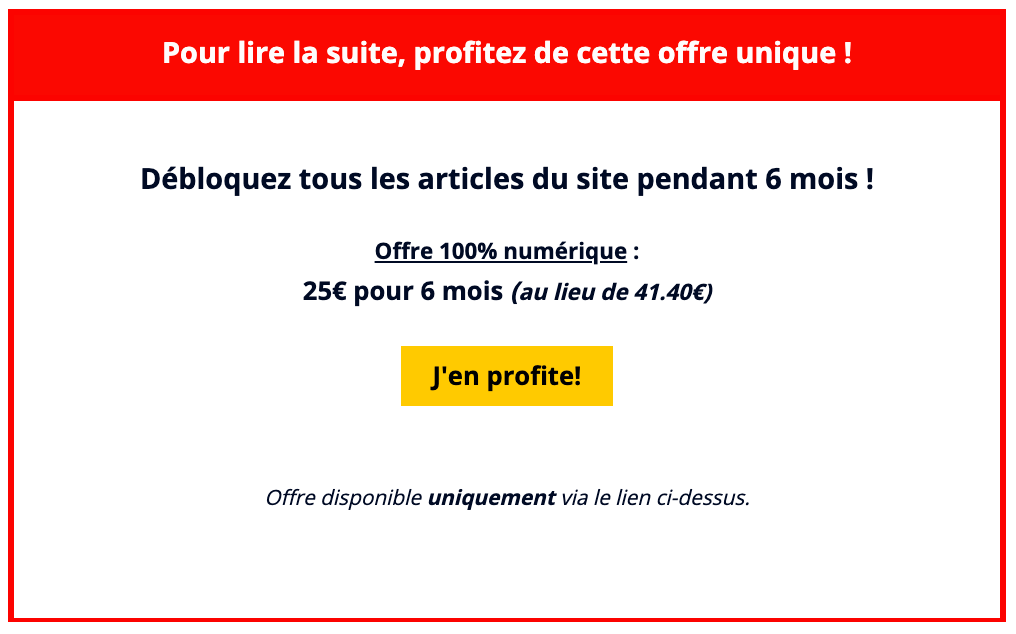 Develop deep relationships: establish a conversation with subscribers, get to know them, build a community and make sure they feel part of something worth keeping
Continue to add and show the value of subscription: remind users of what they now have access to, continuously to innovate and add value
Added extra: if you don't manage to prevent churn, create a user segment of ex-subscribers to personalize their experience and make them a premium offer they can't refuse
---
A final note: This month I had the pleasure of speaking to Andy Griffiths, expert and consultant in newsletters for publishers. You can find the full podcast episode and summary on the blog, but here are 3 key takeaways that I took from the conversation…
Your newsletter is a product in itself: give reasons for your readers to sign up, create a value exchange (you get their email and they get X value in the newsletter in exchange) and clearly define your proposition, goals and editorial style
Give a voice to your newsletter to establish close relationships. Your newsletter arrives in your readers inbox, a fairly personal space that directly addresses them as an individual, so talk to them as such. Be a human rather than a publisher
Craft journalism is the upcoming trend, where additional value is provided in the form of opinions on news stories, looking at a different angle or presenting the story in an easy-to-digest format.
Please feel free to send me an email with feedback, questions or simply to say hi! I'd love to hear from you:) - madeleine@poool.tech
Have a great July,
Madeleine