With over 70 editions around the world, Le Petit Journal publishes quality content on their website targeted at French expats, covering national and international news stories as well as general information for French people living anywhere from Bangkok to Barcelona.

This unique, very targeted audience, accompanied by high quality content, gave the publisher great potential for establishing a premium strategy.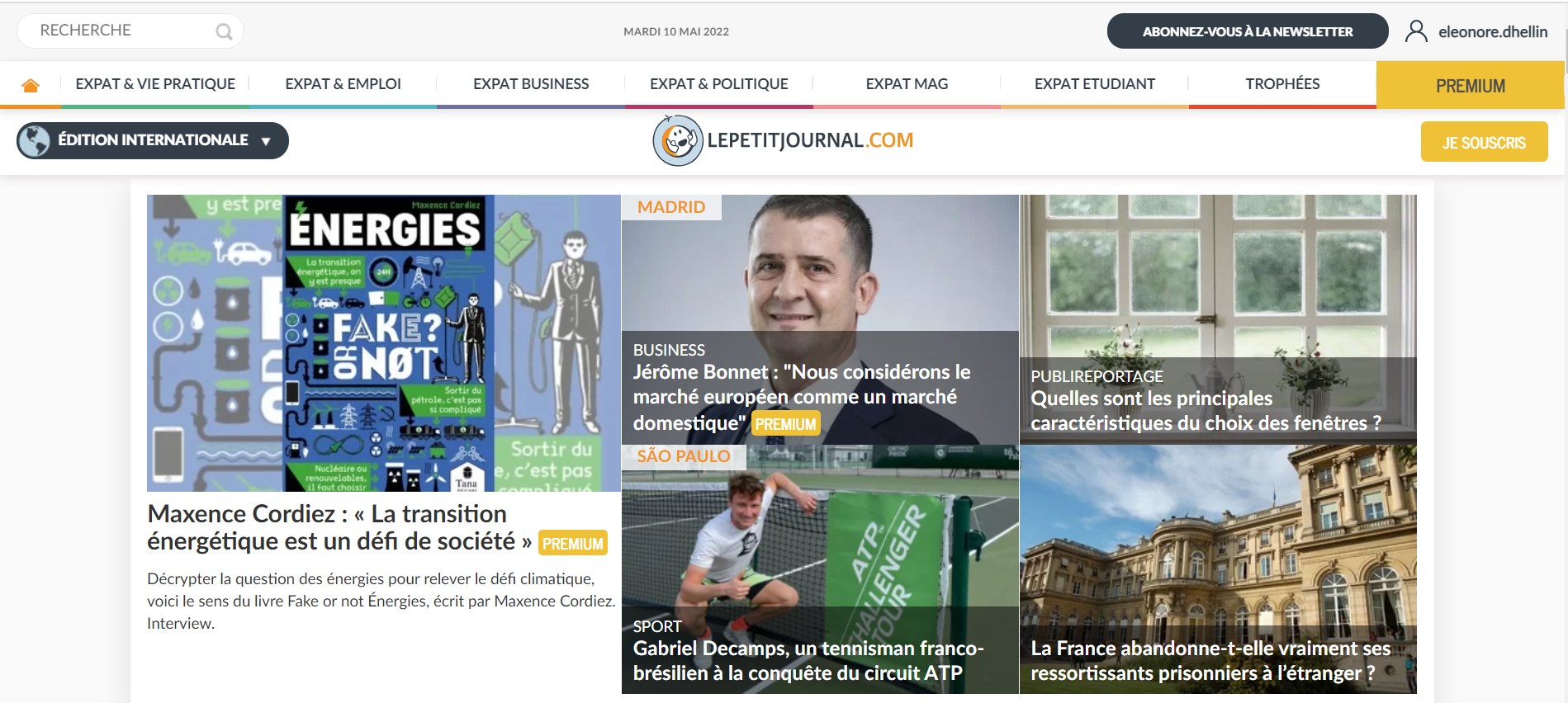 Until July 2021, their monetization model was centered around advertising and reader contributions. These worked well for LPJ's business model, but the team wanted to increase their reader revenue further by establishing a predictable, recurring stream through subscription. This decision was confirmed after a successful crowdfunding campaign, proving that LPJ was producing content that their audience were willing to pay for.  

It was here that the team turned to Poool's solution to support them in establishing this revenue stream, continuing to collect donations, increase engagement through soft conversions such as registration and eventually convert these users into subscribers!  

There were a few things in particular that persuaded them to integrate Poool:
Considering that LPJ have a small external dev team, they couldn't afford to spend time on integration. They therefore appreciated Poool's speed of integration and autonomy that their marketing team gained following this
The range of conversion walls available for LPJ to employ, including donation walls, registration walls and paywalls
Poool is built for growth - our Dashboard allows publishers to start small and gradually develop their strategy over time, both reducing risks to traffic and ensuring LPJ can build on their user journeys when needed
---
Step one: The launch
The first step for Le Petit Journal was to work with our consultancy team to audit their existing strategy and for Poool to provide actionable insights on how to prepare for the launch of a premium strategy.

From this audit, LPJ worked on improving the user experience, on both desktop and mobile, clearly defining their value proposition (essential for giving user's a reason to subscribe) and working on increasing reader engagement, particularly via email which was found to be one of the most engaging channels for their audience.  

After this, the team started to put their conversion steps into practice, dividing content into free and premium.

For premium content, the goal was to collect reader contributions and de-anonymize users to gather first-party data and learn about their audience. Users arriving on premium content would first be presented with an optional donation wall (note the 'no thank you' option at the bottom) before being asked to create a free account on the next article that they try to access.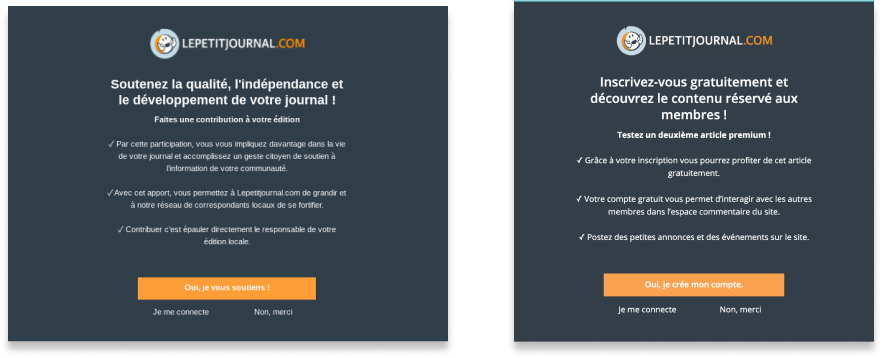 This engagement journey and optional wall reduced risks to traffic whilst informing users of the need to give something in exchange for access to quality content.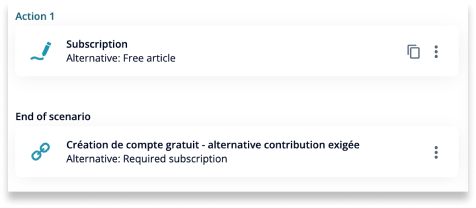 Interestingly, LPJ are also planning to establish a club for those who donate, a brilliant strategy for developing a community and providing additional value in exchange for donating. In the same way as subscription, their donation wall will create a value exchange with users - contributors get access to premium content and added benefits such as vouchers, concert tickets, etc whilst LPJ gets monetary support to continue to produce content.

For free articles (non-premium content), the same journey as on premium content but all walls were optional (with a 'No thank you' button at the bottom) and a final step of a survey wall. This gave LPJ the valuable opportunity to learn about their audience and discover why they chose not to donate, asking for this information in exchange for access to content.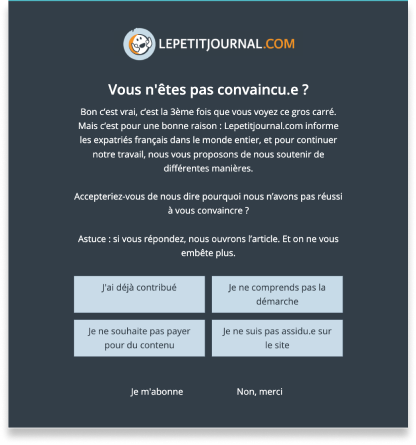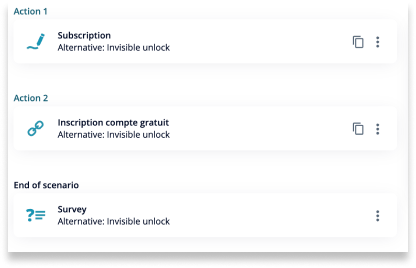 ---
Step two: Learn and adapt
After launching these user journeys in July 2021, the team spent a few months analyzing the results and learning about their audience to understand what was working well and what needed improving.

By October, they chose to alter their strategy based on a few clear learnings:
The user journey on premium content was too complex and led to a value proposition that wasn't as clear as it could be. The journey was therefore simplified to a paywall alone, leading to a huge increase in click-through rates across different editions - LPJ Bangkok, for instance, experienced an increase of 432%!
Design proved to be something that needed updating regularly in order to re-optimize CTRs and reduce paywall habituation. The marketing team therefore worked on a lighter version of the paywall with a bold CTA button, still sticking to their house style
The Poool consultancy team wondered whether the wording on the wall could be optimized, so it was decided that LPJ would run an A/B test through the Dashboard, comparing the performance of the current wall to one with a shorter text and percentage of the article left to read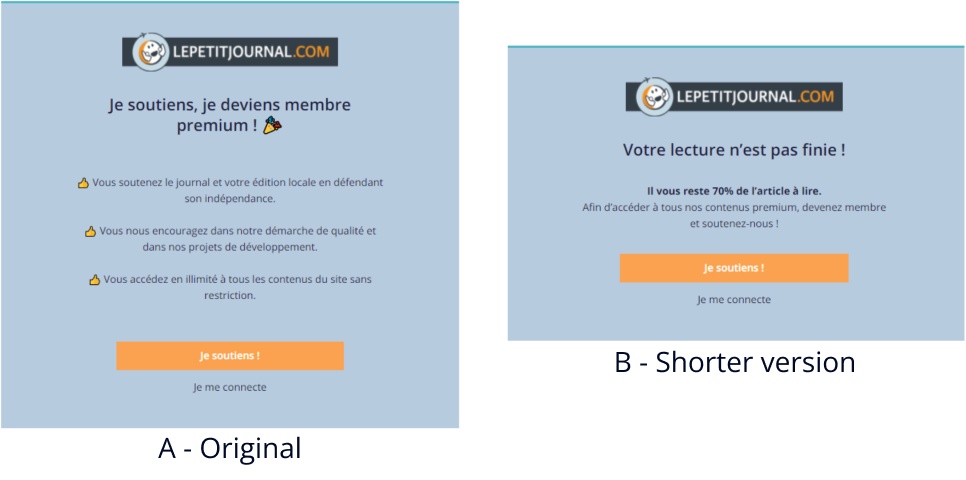 This test was also run on free content, where their new strategy involved an optional paywall with an "I'll continue reading" button at the bottom to offer users the chance to pass through the wall without subscribing.

In both contexts, the shorter value proposition wall (version B) out performed the original (version A) - for free content, click-through rates were 59% higher, whilst premium content click-through rates were 23% higher for version B.
💡 A/B testing in the Dashboard couldn't be simpler! You'll just need to create your two variations in your chosen context, activate both and slide the circle along the bar to configure the audience distribution! Results come straight into the dashboard ready for you to analyze and put to use to inform your strategies.

Considering that 60% of Le Petit Journal's audience accesses their content via mobile, alongside the fact that user experience plays a considerable role in conversion rates, it was decided to segment audiences based on device and build an adapted paywall for mobile users. This led to an impressive 200% increase in CTRs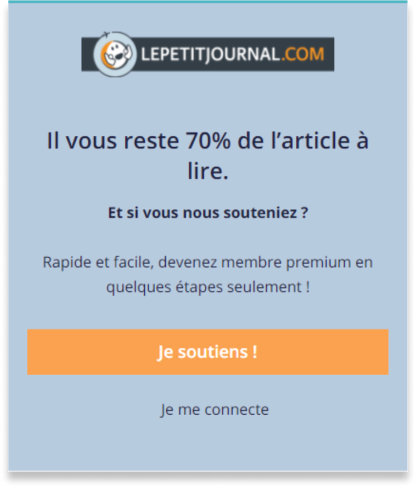 ---
Step three: What's next?
Continuous optimization:

To ensure conversion rates don't dwindle, the LPJ team has well understood that continuous work needs to be put into their paywall and conversion strategies.

For instance, they recently optimized their paywall design to reignite conversion rates and integrate the subscription offers into the wall, reducing a step in the conversion funnel. This was achieved in our no-code design editor which gives complete autonomy to non-tech teams to build each section of the paywall, brick by brick.

Their next goal is to also integrate payment into the wall with our Stripe integration which has led to a 40% increase in conversion rates among some of our clients, including Alternatives Economiques.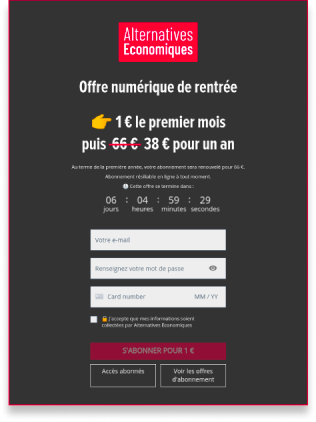 Personalize the paywall:

Given that LPJ have individual editions around the world and have already segmented audiences based on device, level of engagement and anonymous vs known, there's a lot of personalization potential, a technique that's hugely effective for increasing CTRs. This is therefore one of the team's next steps now that they better understand their audience.


Integrate soft conversion steps:

There are currently no walls on free articles - although this does allow for content discovery, the LPJ team want to optimize their engagement strategy further by employing soft conversion steps such as Newsletter Walls or Registration Walls.
---
Acquiring subscribers and optimizing conversion rates is, above all else, about test&learn. It requires patience, almost continuous testing and analyzing of results, to ensure you try out all the possibilities!
- Eléonore Dhellin, Head of Marketing at Le Petit Journal
---
Overall the LPJ team have made use of much of what the Dashboard has to offer, integrating various wall-types into their content to achieve multiple goals. More than anything, this strategy allowed the team to learn about their audience and what makes them more likely to donate, create a free account or subscribe.

Since then, they've been able to refine their subscription model, only employing a paywall on premium content and working hard on continuously optimizing click-through and conversion rates on this wall.


Interested in doing something similar and launching a premium strategy with putting traffic or user engagement at risk as well as having the space to develop your strategy as you grow?

Book a free demo with the Poool team today!
---
You may also be interested in: