Earlier in 2021, Poool were delighted to hear from Mediacités, the French, member-funded investigative publisher, who were looking to increase their subscriber base, take control of their wall strategy and improve CLV (Customer Lifetime Value).
As a digital native with very high quality journalism, covering local stories across France and on a variety of issues, Mediacités articles provide great value to their users, enough for them to ask for payment in exchange for access.

Before Poool, Mediacités employed a hard and static paywall model with the goal of maximizing the number of subscribers for monetization. However, this wall had multiple issues:
Static walls don't adapt to the user. For a localised, independent journal, personalization is hugely important for developing strong and lasting relationships but this wall just didn't allow for this at all.
A/B testing was difficult. This is obviously an issue. Testing should be a continuous process in order to understand problem points and find more optimized alternatives.
The wall was very tech-dependent. For any content producer, this isn't ideal, but for Mediacités, who use an external dev team, it made alterations and optimizations very difficult, costly and time-consuming.
So, in May 2021, Mediacités turned to Poool's Paywall solution to overcome these problems, optimize conversion rates and ultimately convert more of their users into business!
After only 3 months, the Mediacités team have taken control of their subscription strategy and are utilizing every feature of the Poool Dashboard to their advantage!
Thanks to the autonomy that they now have, Mediacités have segmented audiences, employed multiple walls to different users, carried out A/B tests and more, all without needing to call upon their external tech team.
To really make the most of the dynamic nature of Poool's solution, Mediacités have segmented their audience based on 'content', i.e. which city is being discussed in the article (Lyon, Toulouse, etc.). Within each of these segments, they've created different journeys depending on the user's propensity to subscribe (Volatile user, Occasional, Regular or Fan). This allows the publisher to target and personalize experiences to the visitor, maximizing the chances of converting them to a subscriber.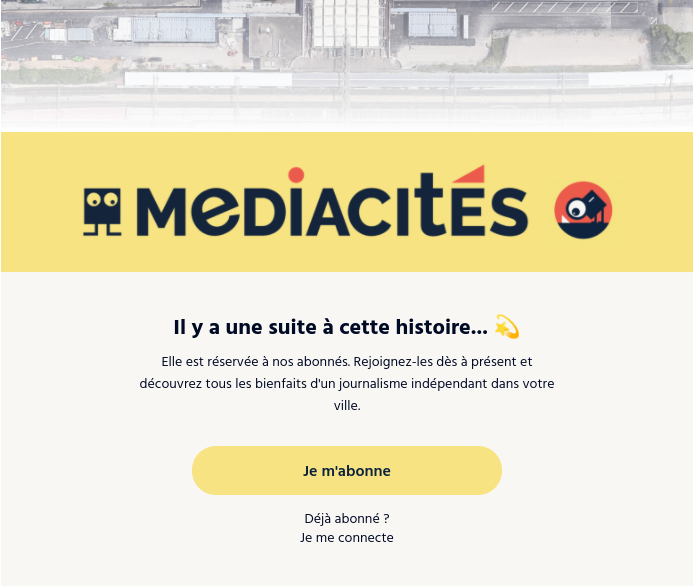 Mediacités have also made use of the A/B testing possibilities within the Dashboard to simply and efficiently run tests on a regular basis. We really love to see our clients harnessing the full potential of the Dashboard, in particular the A/B tests which are essential to an optimized wall strategy!

For their 'Fans' segments, they've utilized the 'URL Discovery' widget to encourage users to support the publisher with a donation. This provides Mediacités with another source of revenue from 'super' fans who are the most willing to help fund the production of content. First time visitors, however, are presented with a newsletter wall to increase user engagement and collect first-party data.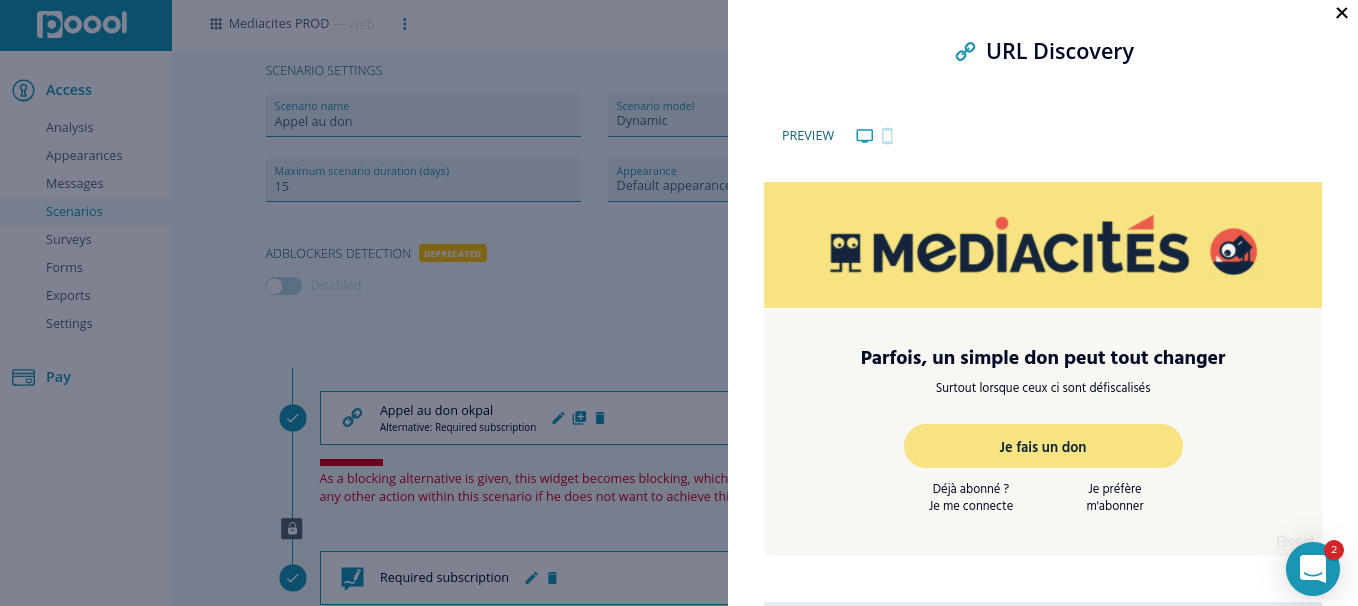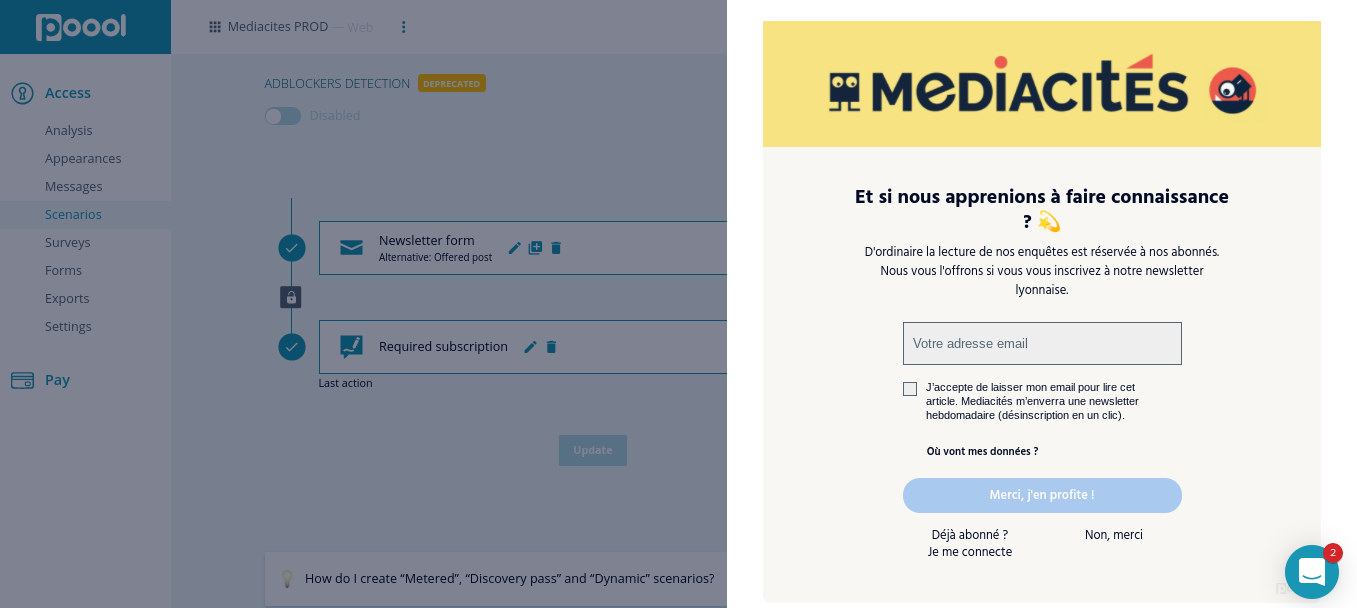 What's more, the team at Mediacités trialled a survey wall to gather valuable data to inform their subscription strategy. They decided to present it to users who had been shown a paywall on a few occasions but hadn't yet decided to subscribe. It asked them why they had chosen not to subscriber, with 4 options:
Mainly because I don't have the budget
Mainly because I don't have the time
Because I don't live in any of these cities
I'm not sure whether I'd actually make use of it
This survey wall was very easy to implement with Poool - appearance and survey options configured, slotted into user journeys (in your chosen audience segment) and results sent straight back to you, all in the Dashboard control center.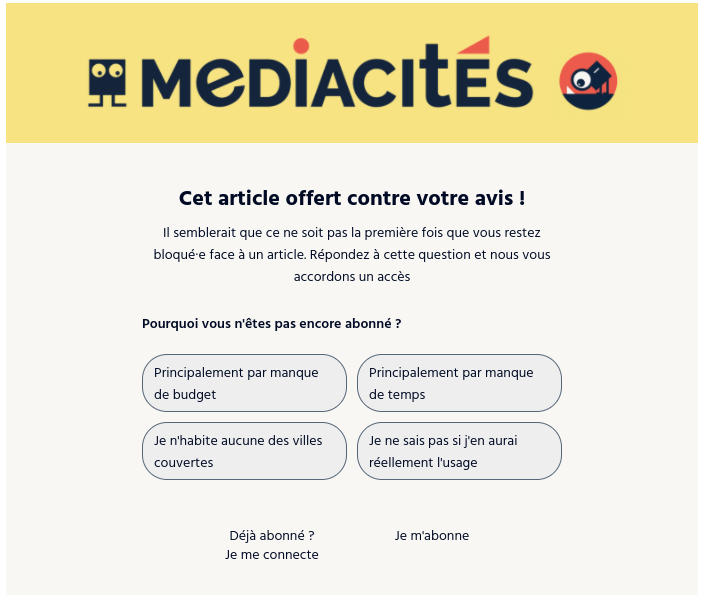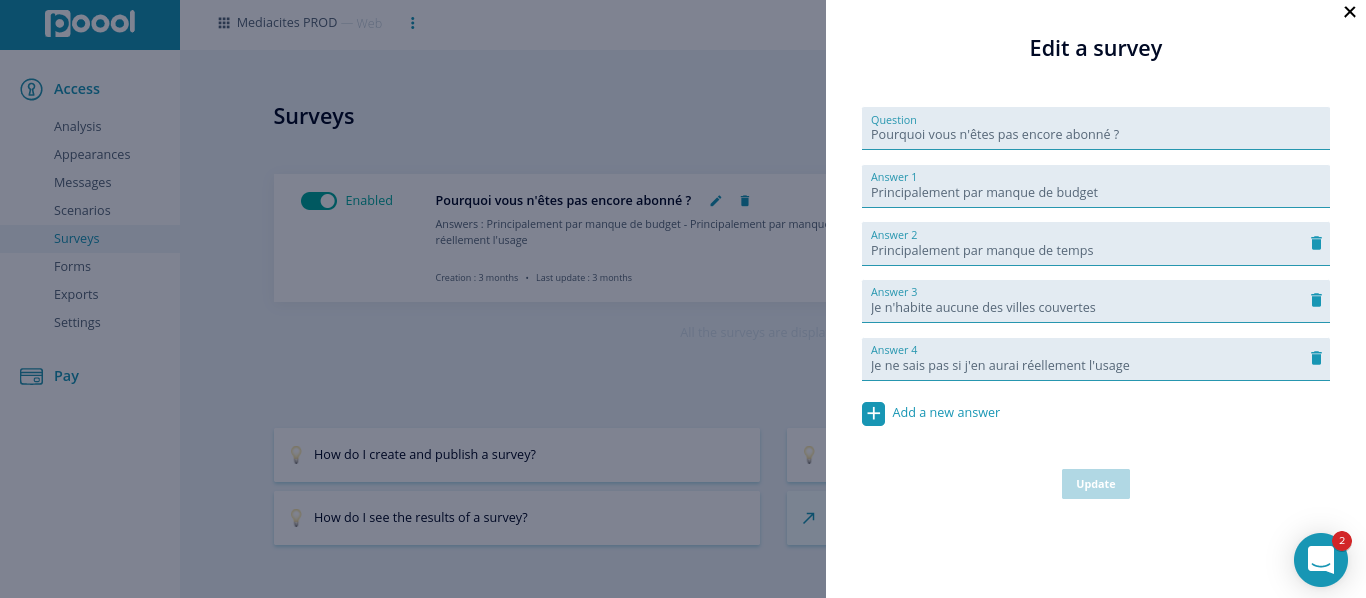 If this is how they've used Poool in just 3 months, we're hugely excited to see what's to come. So, we asked Kevin, marketing and communications manager at Mediacités 'What's next?'
He told us that they want to take the personalization possibilities even further. The fact that Mediacités provides localized news from independent journalism means that they have the opportunity to build very close relationships with their readers, connecting with them on a more personal level than the big, international publishers. The ability to segment audiences and target user journeys is therefore a huge asset of Poool's solution and Mediacités want to exploit this even more than they already do (which we love to see).
Kevin also added that he'd like to experiment with wording and UX more in the future as well as adapt the wall based on source, such as Facebook or newsletters.
Every individual who visits our website has their own reasons for clicking on a link and reading one of our articles.

Poool allows us to understand these reasons, all the whilst achieving our goals of increasing conversions of users into subscribers.
- Kevin Arquillo, Marketing & Communications Manager @Mediacités
---
We're so happy to call Mediacités a client and are excited to see where they go from here with our Poool Access solution!
Interested in doing something similar and taking control of your subscription and registration strategies to increase revenue? Book a demo with the team!