La Croix International, the world-wide version of the French Catholic publisher La Croix, has integrated Poool Access dynamic paywall into their site. Since then, we've had the opportunity to interview Solène Gasser, marketing director and editor from La Croix International about their experience with Poool's paywall.

The issue at hand.  

Before integrating a paywall into their site, La Croix International had three separate aims:
increase traffic.
increase engagement.
generate subscribers.
But, increasing traffic and engagement are seemingly opposed to introducing a paywall, which can reduce the number of active users.
Therefore, the challenge was how could they make discovery, engagement and conversion compatible?

A solution for every problem.
Thanks to Poool Access, and after many tests, the La Croix International team realized that the solution that best suited their goals was to create a conversion funnel with several steps.
Readers who were not yet reader to subscribe would be offered free articles at the beginning of the funnel.
Once the free articles are read, they are given the opportunity to subscribe to the newsletter to access more articles.
Then, after consuming these articles, the reader is invited to subscribe.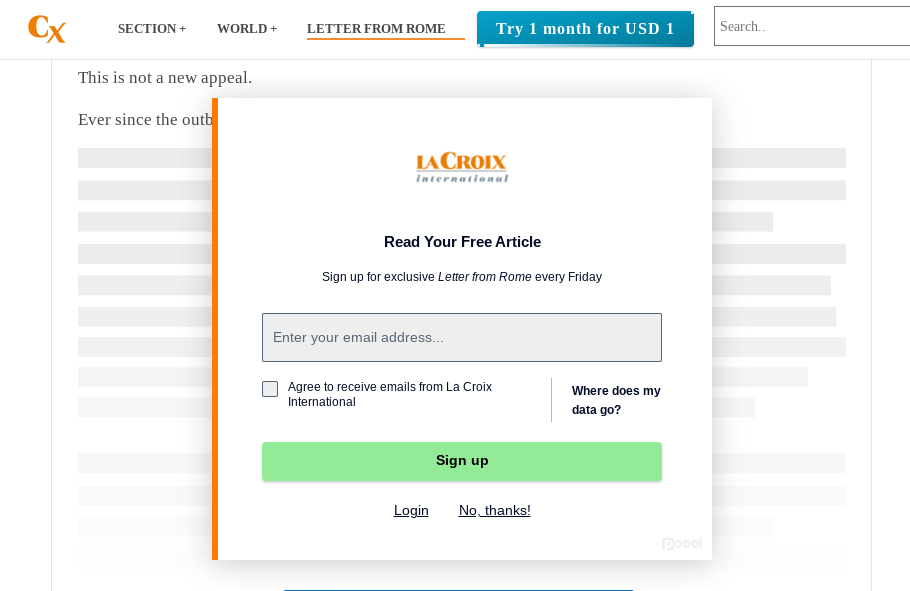 A/B testing facility within Poool's dashboard was particularly useful here and allowed La Croix International to test several variations quickly, simply and with no risks. Try out our free demo here to see for yourself.


Satisfying results:
Results were very fast and promising. La Croix International reached seemingly contradictory goals: traffic, engagement and conversions. In just a few months, they grew traffic on their website and collected five times more email addresses for their newsletter. But that's not all… since this funnel was implemented, their conversion rate rocketed with the number of subscribers doubling within a year.

The secret? A good content strategy correlated to a good marketing strategy and a good paywall strategy.  

Today, La Croix International has an excellent loyalty rate and an active subscriber base that is constantly growing. Notably, they saw a peak in March/April with a 7% rise in their customer base.

And you Solène, what do you think about Poool Access?

As in every interview we make, we'd like to find out what people think about our paywall Poool Access. So, we asked Solène for her view:
She told us that the use of our paywall was very simple and that the designs were intuitive and enjoyable.
Concerning the improvement, Solène wanted the emails collected by Poool to fall directly in her CRM.

This is hugely valuable to us and matches what we have just improved on our product. If it suits you, all emails collected can now be sent directly into your CRM. Thanks Solène for your feedback!
Take a look at our blog for more Success Stories, paywall tips and tricks and more!