Today, the internet gives us access to any type of content that our heart desires. We could learn a language, take fitness classes, listen to podcasts of any genre or read about the latest news stories. It's an amazing world of opportunities for both content consumers, and for the publishers themselves.
Of course, publishing is traditionally associated with news and magazines, but there's an emerging trend of brands turning to publishing to reap in the benefits of content.
Whether you sell software, holidays, food or insurance services, likelihood is that a content marketing strategy would work wonders for your business model.
In this article:
Why should brands be publishing content?
Why should brands be using a paywall or registration wall?
What content types are included in this brands category?
How to monetize your brand's content
---
Why should brands be publishing content?


Become a source of knowledge - reassure your audience that you know what you're talking about, that you don't just create these products but are experts in the field, putting you at an advantage above competitors
Sell and upsell your products - share information about your product benefits, how they solve certain problems, give tips on how to best use them and show your understanding of this market area (however, don't talk too much about yourself - the best strategy in brand publishing is to be brand agnostic)
Improve marketing and sales efforts - from understanding your audience, increasing engagement, personalizing campaigns, etc
Decrease acquisition costs - gain notoriety and credibility within your industry
Collect first-party data to develop an understanding of audiences - get in direct contact with your users, collect data-points about their profile to understand exactly what they're interested in, what will convince them to purchase, etc.
Increase engagement - engagement directly correlates with revenue
Build trust - let potential clients know that you're reliable and dependable, that you can help them achieve an objective or provide a solution to one of their pain-points - this (alongside high levels of engagement) means increase CLTV
Increase traffic to your website - increase the size of your audience at the top of your funnel, engaging them through content and later converting them into a client
Monetize from subscription/premium strategies - an additional revenue stream

The advantages are endless.

However, in order to reach the full potential of a publishing strategy for your brand, 3 things are required:
You need to produce quality content and give value to your users (this is on you)
You need to bring traffic to your content (again, you)
You need to transform these audiences into business (using a tool)
A conversion wall of some type, whether it be a registration wall, paywall or other, is the ideal tool to fit the job. By integrating one into your content, you establish a value exchange with your audience, converting them from anonymous users to consented leads, members and clients.
---
Why should brands be using a paywall or registration wall?


Inform your strategies with first-party data - collect owned, high-quality and relevant data from your users as they create an account and interact with your site. This is an even more important point considering the end to third-party cookies. By gathering data in a consensual way, you can inform every aspect of your business strategies
Better understand your market - this data means you develop a deeper understanding of your target market for your whole brand. It's every company's dream to know their audience needs, wants and interests. Well, by requiring users to create an account to access your content, you'll have this information and be able to put it to use!
Target advertising, product sales and upselling - obviously, your ultimate goal as a brand is to sell a product or service. By employing a wall on your content, you can better achieve this goal by targeting advertising and sales to the right person, in the right place and at the right time. What's more, with the right tools, you can segment your audience and test different experiences/targeting in order to find the most optimal one to reach your goals
Optimize your site - learn, analyze and adapt as your users interact with your content. This information will not only allow you to optimize content but also feed back into improving your main brand site and understanding what's really going to turn leads into sales
Improve the user experience - by doing all of the above and personalizing a user's experience on your content you can help a user to be loyal to your brand and retain them not only as an audience but as a customer. For example, you can allow them to save content, resume where they left off and provide personalized recommendations.
Paywalls and registration walls therefore represent a huge opportunity in a number of ways and are a feature that is yet to be discovered by the majority of brands. We're slowly starting to see a shift by some, but asking users to register or pay for content is the innovative future for content marketing strategies.
Given all this, with the right first-party data collection and subscription strategy tools, any brand can turn content into a valuable resource to not only grow audiences and increase engagement, but, importantly, to convert leads and increase sales.
---
What content types are included in this brands category?


The companies who are jumping on the brand publishing bandwagon come from every possible industry, including:

E-commerce
MyProtein (discounts, premium content)
Tesla (subscription offers and Tesla Clubs with registration walls)
EA Sports (subscription)

B2B Saas

Sport clubs
Barcelona FC (for these football clubs, registering includes premium content, competitions, early-bird ticket access, discounts and more)
LTA Tennis (registration is needed to book tickets to events)

Banks, insurance companies and listing sites (such as house listings)
Online services of some form
Dictionaries and online translators, including Reverso and SpanishDict
Job advertisements/directories, such as Welcome to the Jungle (registration wall on their articles), Glassdoor (registration wall plus requirement to add an opinion or salary to continue), Indeed (need to register to apply to jobs)

Hotels and travel companies (often allow users to save content to a 'holiday' in order to plan):

Supermarkets (usually recipes. By registering, a user might have a better experience on the site or get rewards to use in-store, for example):
Note that not all of these companies employ a wall (yet) but may simply provide a login portal, which gives a user the choice to register or not, or even just a pop-up that asks for newsletter registration, increasing engagement and collecting data points.
---
How to monetize your brand's content: deciding on which wall to employ including examples from successful publishers
Walls, including paywalls and registration walls, have one important thing in common - they create a value exchange. And, as we're sure you know, no great business was ever built on giving things away for free. This isn't to say that the 'value' needs to be a payment (although this is the case for paywalls) but it could be in the form of first-party data and a better understanding of your audience, or even asking for users to contribute to your site (like Glassdoors, who's content is based on visitors' contributions).
The best bit? Not only will a wall on your content allow you to increase profits and value from your audience but they do so without compromising your existing revenue streams. Win win.

So, what's the best type of wall to employ as a brand?

Firstly, it's important to note that there's no one-size-fits-all magic formula that will work for every brand. Just as your business is different from others, your paywall and registration wall strategy should be too. Work out which model will work best for achieving your goals for your customers and your content.


Registration Wall for brands:


A registration wall is probably the most popular model for digital brand publishers. This wall, also known as a regiwall, regwall or datawall, blocks access to content and requires a user to create an account for free to get past.

As highlighted, this establishes a value exchange with your audience. Whilst you get to de-anonymize your users, collect first-party data, target advertising and increase propensity to purchase, your users also get value in exchange for creating an account. This depends on your value proposition, but often involves access to additional/exclusive content, an improved user experience, personalization etc.

Perhaps the simplest form of value is an account space that can be tailored to a user's interests, such as by allowing them to save content for later, follow topics or authors, see their consumption history and gain access to additional content or features.
Although not an example of a registration wall, Sainsburys do allow users to create an account in exchange for additional benefits. For instance, the brand allows logged in users to save recipes and create scrapbooks of content. They also connect this to their online shopping website, meaning a reader can add ingredients to their cart. This not only creates an interactive user experience that increases engagement and develops lasting relationships, but it directly supports their brand's customer acquisition.
Just as any wall, it can come in many forms and block in different ways depending on your objectives. There are three main methods of employing a registration wall:

Freemium registration wall - this is where a brand divides content into two, free vs premium, where premium refers to content behind the registration wall. Note that 'free' simply refers to un-blocked content here, rather than without charge - a registration wall only requires account creation and is free for users to pass through.

This approach is quite popular among brands as the 'free' content allows users to discover what the company has to offer, whilst the premium content (among other account benefits) provides an incentive to register.

A good example of a brand using a registration wall is Reverso, a free online dictionary and translator. In the image below, a user has searched for a word in French and Reverso provides examples in different contexts. However, after a couple of examples, we're blocked and asked to create a free account to view more examples. The blurring of the content is effective in showing users that there are plenty of other examples, and the wall itself is very clear, highlights the benefits (free, simple, allows users to see more content) and only requires email and password.


We're also given the option of signing up using an existing social account (Facebook, Google or Apple) which further facilitates the registration process. They also emphasize the value for a user in creating an account, which is a hugely important aspect to remember. You're blocking off some of your content and asking for a value exchange from users - they provide you with first-party data, among other things, but you have to highlight what they get in return. Reminding the user of these benefits along the whole registration process will help to improve click-through and conversion rates, as well as positively impact the relationship between you and the user.

Metered registration wall - this method blocks a user after a certain amount of time or number of visits to the site within a set time period (e.g. a week or month).

This is less common for brands, but is employed by Glassdoor, a website that provides job listings, salary comparisons and information about companies, as well as allowing businesses to post job offers. Visitors are free to browse through job listings, but if we go to the salary section, we're blocked off after a few searches and asked to create an account to continue. The wall appears at the bottom of the screen and allows us to create an account directly on this page, saving time and reducing the number of clicks required. They also facilitate the process by adding the option to sign up using Facebook or Google.


However, even once registering, we're blocked again after a few searches and asked to contribute to the website by adding an 'opinion or salary'. This is due to the fact that the brand works on the contribution of professionals to provide a wide range of job offers and insights about salaries and companies. By requiring users to add an opinion or salary, they can continuously build on their content and provide useful and insightful information to visitors. However, this is fairly frustrating after having registered.

Therefore, for Glassdoor, registration provides not only the ability to collect first-party data and understand user behavior, but also develop their content and improve it thanks to user contributions.

Hard registration wall - it's important to mention this registration wall type, but it's rarely used by brands online (in fact I can't find any examples to demonstrate). This is because a hard wall blocks all content and asks visitors to create an account before gaining access.

The reason for its unpopularity among brands is because it doesn't facilitate the concept of using content as a marketing tool for selling another type of product or service. If your central business was to produce content (like The New York Times), then a hard paywall might prove useful, but for brands it's not the case.

However, this technique could work for brands who wish to reserve all content for registered members as part of the benefits of creating an account. The closest example I can find is that of a Tesla owners group who are built off the Tesla brand. As a visitor, we can see the discussion groups available but aren't able to click on them and view the content unless we register an account. This is likely to prevent spam and unwanted comments but it also provides first-party data for the company to understand what interests their users, better target them with products as well as send offers/advertisements by email.

Note that this site also has paid subscription offers which means that it's more of a hybrid model (we'll cover this later) but users are able to access the majority of content with a free membership.

Aside from the wall-type, you can also adapt the registration form, design and wording to match your business goals.

For example, you could simply require a user to provide their email address, the most basic of registration walls, in order to give them access. Atlassian's Work Life, although just an optional login rather than a registration wall, is a good example of a very simple account creation process that requires little effort from a user but can bring all the benefits of a wall to your business.


Welcome to the Jungle, a brand who provides users with job offers and content about professional life, has made their registration wall optional which helps to keep traffic on their content (i.e. users are given a choice) whilst still encouraging registration.
Personalization (such as 'we have something for you') is a great technique to address the user and make them feel valued as an individual reader. It's also very informal (even more so on their French version) which perhaps encourages account creation even more so.  They also highlight the value exchange that we get as a member, namely access to their 'full content'.

What's more, they offer the option of signing up with Linkedin. This not only provides the company with more data from the social account but also fits with their brand image and facilitates the registration process.


What kind of content can go behind a registration wall?
Any content that you publish can be placed behind a registration wall, whether it be individual content (an article, video, podcast, e-learning, etc) or even a whole section of your website (such as all content about salaries, like Glassdoor). There are a great number of possibilities and you can entirely adapt your registration wall to match your business, objectives and audience.

Poool's registration wall solution is entirely adaptable to your brand, audience, content and strategies. With a single-tag integration and the ability to personalize every aspect of the wall, it can be utilized to turn your content into a vital part of your business. With Poool, you can segment audiences, create different user journeys for each grouping, A/B test, analyze and more, all in one place.
---
Paywall for brands:

A paywall blocks content, just like a registration wall, but instead asks a user to pay for subscription in order to gain access.

For brands, paywalls aren't hugely common yet. This is probably due to the fact that content isn't the central business for brands but is instead a marketing tool to increase traffic and grow a loyal audience. However, a paywall can actually solve two huge problems for brands:

Brands need to understand their audiences. It's every company's dream to have the information to know their customers (and potential customers) wants, needs and interests. Well, your dreams can now become a reality...Paywalls require that users create an account to subscribe, meaning their data can be collected and interactions with your site tracked. With the right tools, this can be extremely valuable information and inform every area of your business

Third-party data is increasingly less reliable as a source of information. User privacy is more important than ever, declining cookie-usage has never been easier and third-party cookies appear to be coming to an end with big names like Google's announcements. This means that collecting your own data is vital to the survival and continued success of your business.

So, how are brands starting to get on board with a paywall?

The key is to provide a value exchange of some sort. You get the benefit of an alternative revenue source and first-party data, among other things, but what does your user get?

EA Sports' paywall, for instance, involves a subscription package (EA Play) which allows players to get more from their games, such as early access to new releases, access to The Pro Play List, ability to collect rewards and more.


Although they do have some written content on their main page, which is free to access, the subscription offers are promoted as a way of improving a user's experience with their products. This is where the value in their subscription lies. What's more, subscription creates and encourages brand loyalty as a user not only gets an enhanced experience with EA products (and so making them want to continue to use them) but can also to trial new releases, which ultimately encourages them to later purchase the full version of the game.

A B2B example is that of Answer The Public, a company who allows you to research keywords and find out what people are searching for around that topic. Their approach is a metered paywall - we're allowed a limited number of free searches in a certain time period (this is based on traffic to the site rather than an individual user) before being cut off by this paywall and encouraged to upgrade to the pro version. The subscription packages offer a great deal more than the free content, so their central products are the ones behind the wall. The free content acts as a tool to entice users to subscribe.

They provide a few subscription options to suit different types of clients and list the advantages of each. This is very clear and well presented, highlighting the value proposition and the gain for businesses if they subscribe.
By employing a metered (over hard) paywall, they allow us to discover their content and get an idea of how subscription is worth paying for.
Hybrid wall for brands:

A hybrid approach combines a registration wall and paywall to block content in different ways depending on the company's strategies and create a journey of different walls.

One example is the football club Barcelona FC. On their website, some content is completely open (mainly articles about games, plates, etc), some is blocked by a registration wall and other content requires subscription (a paywall).

The paywall itself is shown when we try to access content. Here, for example, we're trying to view a video but are blocked and asked to subscribe. A great practice that's been employed here is that the benefits of subscription are highlighted on the paywall itself, without a user needing to click 'Subscribe' first. This will have a positive impact on the number of users who move through to the next step of the subscription funnel.

Once we click on 'Subscribe', we're sent to the registration process. Note that this stage is the same for both registration and subscription. This is a clever technique to try to persuade users who plan on simply creating a free account to instead subscribe.
Again, we're given the option of using an existing social account to sign up (definitely a best practice) and are only required to provide our email address and password, making the process very simple and quick to complete. Note that it's only when we specifically select a subscription offer, over a free account, that we are required to provide payment details.

There are 6 offers in total, including the free registration-only option. Each offer has its own benefits, with the more premium offers including access to video content, pre-release tickets, team kit and more. The inclusion of all the subscription benefits is very important to highlight the value in subscribing, but the fact that we need to scroll across the page in order to see all offers means that the most premium options aren't hugely visible. Visibility plays a significant role in conversion rates, so we'd recommend fitting all offers onto a single page view with the most valuable offer for you being placed at the forefront.

It's also great to see them welcome a user after registration or subscription. In fitting with their brand and the football theme, they welcome them to the 'team' with a picture of the players in a huddle, creating a sense of community around membership as well as building a relationship with the user and ultimately retaining them.
A lot of content-producers forget about this stage of the funnel, but it's hugely important to optimize every stage in order to not only convert your audience but retain them.

Dynamic wall for brands:
A dynamic wall can be any of the previous strategies but has the added benefit of being an intelligent version that adapts the journey to the user's profile.

A brand can segment their audience based on any chosen criteria (such as location, where they came from, loyalty to the brand, etc) and present each with a different experience. This ensures that every user gets a journey that is optimized to their profile and for achieving your business goals. This is hugely beneficial because, as we know, everyone is different so what might convert one user and persuade them to purchase products/services from your brand, may not work for someone else.

The Wall Street Journal, for example, although not a brand, has employed a dynamic wall system that learns from its interactions with users to the point that it is now over 90% accurate at predicting whether a visitor will subscribe or not.  The images below show two separate occasions when visiting the site, initially presented with a registration wall and then a paywall.

Unfortunately, there don't seem to be brands applying this strategy yet, despite its great number of advantages. Thanks to the personalization abilities of segmenting an audience, you can target every aspect of your wall, conversion funnel and sales points to the user's profile. What's more, this dynamic wall can be informed by data from both your content site and main website. For example, segmentation could be based around products/services that the user has purchased in the past. Therefore, a dynamic wall can provide an amazing opportunity for you to turn your content marketing strategy into a vital part of your business.

This is where Poool's Dynamic Wall Solution can come in to provide the tools needed to achieve this. Using our Dashboard, you can segment your audience based on any criteria of your choosing, design every aspect of the user journey using our ready-made and fully personalizable widgets as well as A/B test variables to find the most optimal result. One of the huge plus-points of this solution is that it requires very little tech help (only at the integration stage) so that marketing teams can take back control of business strategies to test, analyze and adapt without I.T.

Interested in a free trial of Poool's Dynamic Wall solution? Book your demo now!

---
3) Best practices
Your value proposition is key

A value proposition has (hopefully) already been defined on the main website for your brand. However, does your content play a role in this? Do your content pages (e.g. blog) have their own value proposition? These are important questions to ask yourself.

Before employing a paywall or registration wall, ensure that your content value proposition is clear because, even if your wall strategy is optimized, a user won't make the effort to pass through the funnel if they don't see the value in signing up. Defining this and making sure your audience is aware of it can transform your content into a vital part of your business.


Collect email addresses at an early stage

As mentioned earlier, simply collecting an email address as registration can be beneficial to you. It can allow you collect first-party data as they interact with your site, target advertisements and send personalized emails to promote products, for example.

Not only this, but you can also use an email address collection to begin developing strong and lasting relationships with your audience. This is one of the most important aspects of developing your business and content, when managed and marketed effectively, can be vital in helping you achieve this. A connection with your users will give you an understanding of their needs, desires and interests which can then be used to inform your business strategy in every possible way.

This will therefore turn your content into not simply a way of increasing traffic, but as a method of understanding your target market, informing your business strategies and ensuring your products, marketing, etc. are adapted to your audience.


Personalize user experiences

Personalizing your audience's experiences builds on the above (as this creates lasting relationships with users and an email collection wall can be a tool to achieve personalization) but is important enough to mention separately.

With today's internet developments, users online now expect their experience to be adapted to their profile. Therefore, your website should be no different. By creating personalized experiences, you can better sell and upsell products in the right place, at the right time and to the right people. Even the simple addition of a user's name to messaging and addressing them directly can contribute to building this lasting relationship.
For brands, you can connect your main site and content in this personalization by recommending certain content to a user depending on their purchase history. For example, for a B2B SaaS company who has multiple products, you could recommend certain content to a user who has purchased one of these products in order to help them make the most out of it.  

If in doubt, test and test again

As we've mentioned before, there's unfortunately no magic formula that will lead to the perfect wall strategy. It just doesn't exist. But there's a clear reason for this, namely that every brand is different, with their own business model, audience, products and content. This means that your company needs to discover the wall strategy formula that's optimal for you.

Now, unfortunately, you're highly unlikely to find this straight away and the formula will need to develop over time to adapt to changes in your company and the market. For these reasons, testing is your best friend.

Every aspect of the wall should be optimized, tested, analyzed and optimized again, all the while being informed by your first-party data that's collected through the wall itself. You can test out the wall-types, the timing of when users see the paywall or registration wall, what it looks like, what you ask from users in the account creation form, etc.
---
4) How can Poool help?
This leads very nicely on to how Poool can help! Just as we mentioned at the beginning, it's one thing to create quality content and bring traffic to your site, but it's a whole other board game to turn these audiences into leads and then into sales. In order to achieve this, you need a tool to employ a wall strategy and continually be able to test, analyze and optimize it just as discussed above.

Poool's Dynamic Wall is exactly that. Our solution provides everything you need to drive your content marketing strategy - with a simple, one-tag integration, you can integrate a wall into your site, configure every aspect of it to match your brand, A/B test, analyze and more, all on our Dashboard. This means that it's entirely adaptable to you (which is a very important aspect of the product for Poool). You can choose to employ a paywall or registration wall strategy, or both, and segment your audience to create different user journeys depending on their profile.

Let's look at some examples:  

Once on board, we'll create an account for your team on Poool's Dashboard. It's here that the magic happens and where your marketing teams can have the autonomy to drive strategies without the need for tech help at every turn.

For example, within the Dashboard you can make use of our no code design builder to create the most optimal walls possible without tech intervention!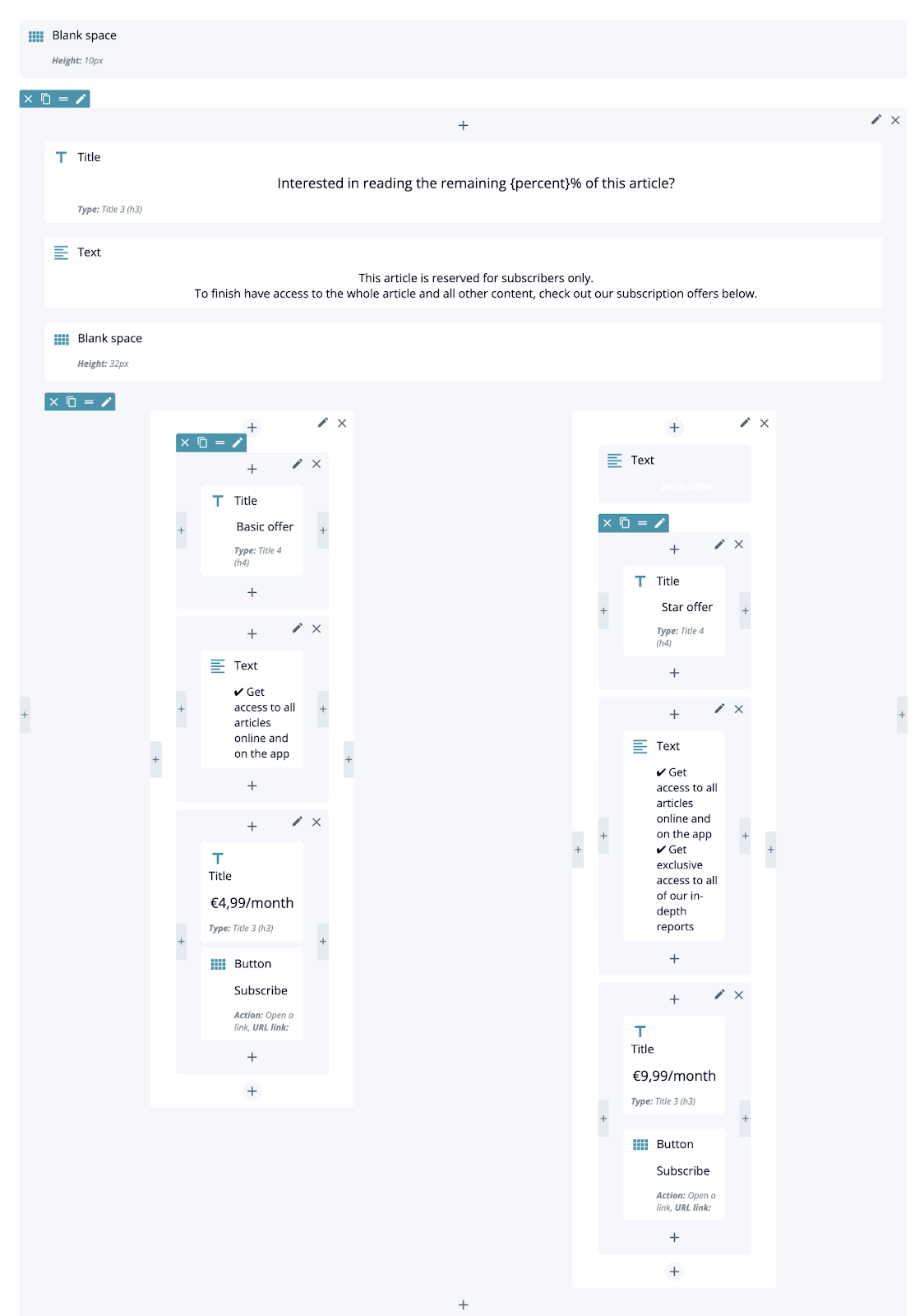 Which results in this wall, presenting subscription offers on the wall itself: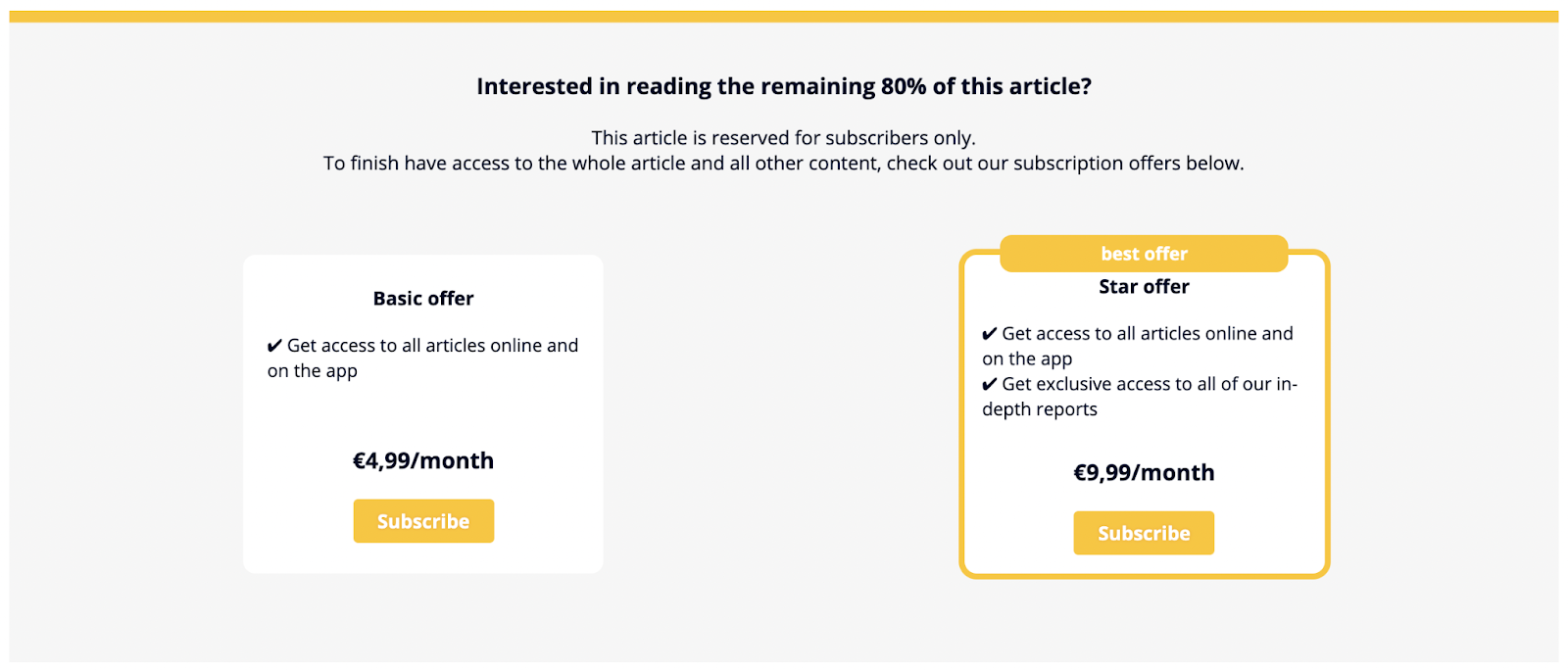 To give you a real-life example, Marianne one of our clients, has made use of our no code design builder to create this paywall, infitting with their brand style and goal of converting users into subscribers.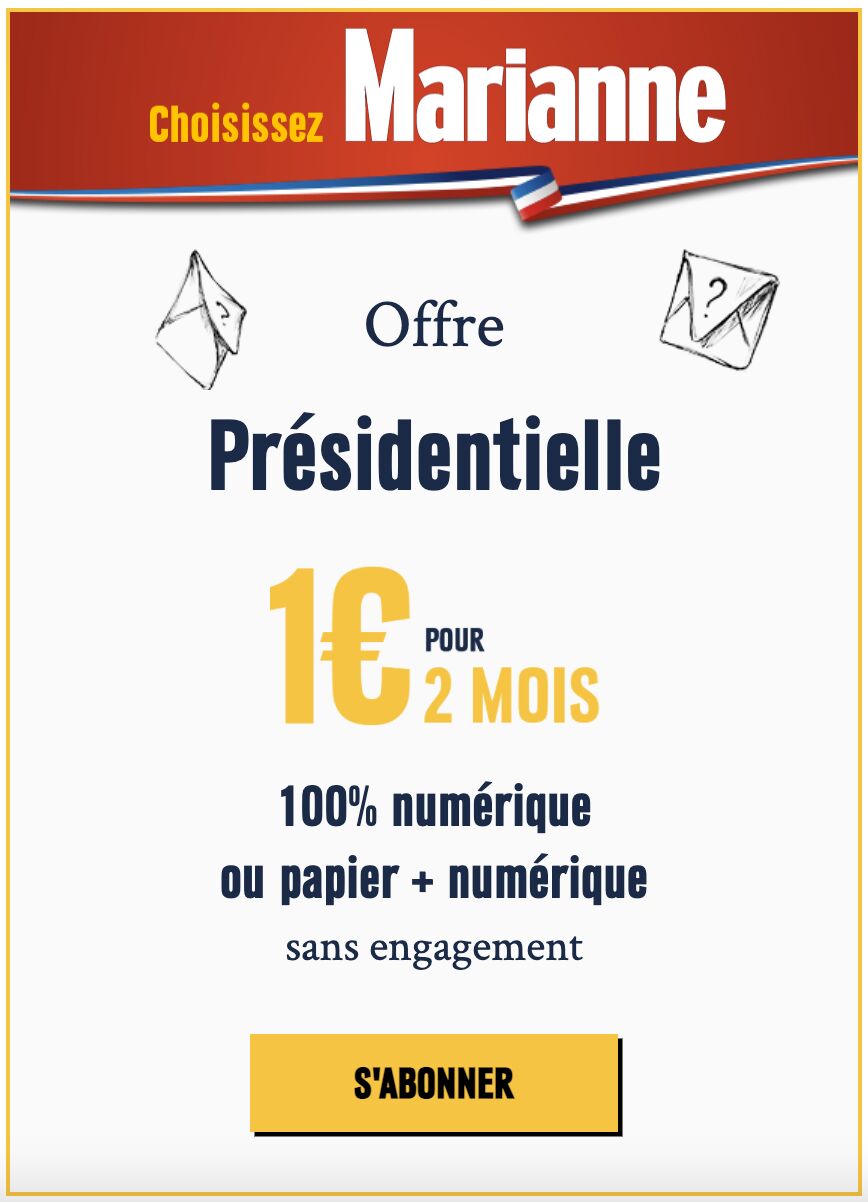 One of the key aspects of our product, however, is that it is dynamic. This means that you can create different user journeys depending on a variable that matches your business goals. In the 'Scenarios' section of the Dashboard, you can create audience segments based on the user's context - such as which content they want to access, their location, the device they're on or any other custom value.

In this example, we're employing a freemium wall strategy where free content is open for all users whilst premium content is behind a registration wall and requires account creation in order to access content.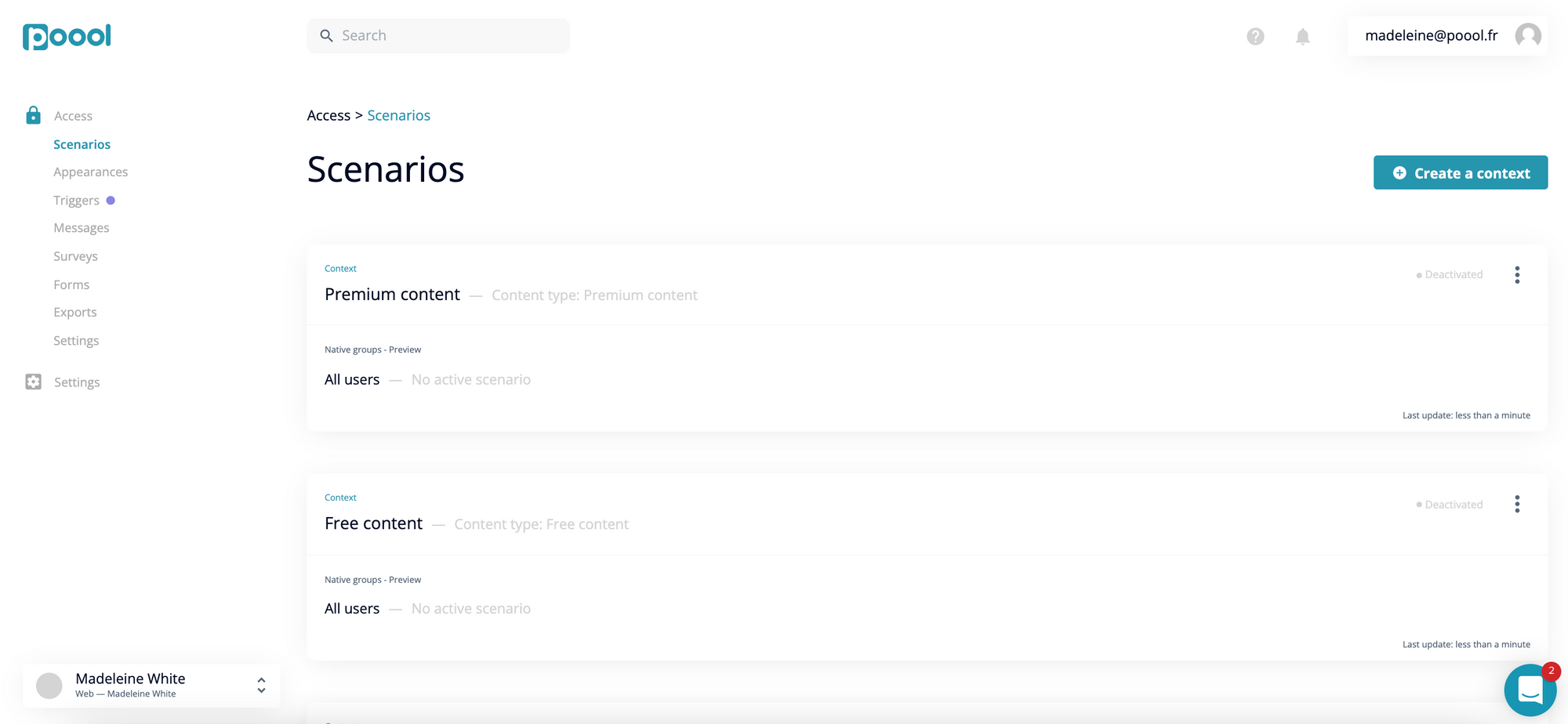 Within these audience groupings, we can test out different journey options (such as altering the messaging) to find the most optimal journey for that context. Here, we've created two paywall versions for the premium content context and can slide the bar to determine what percentage of our audience sees each version. Results are sent straight back to the Dashboard for you to analyze. A/B testing has never been simpler!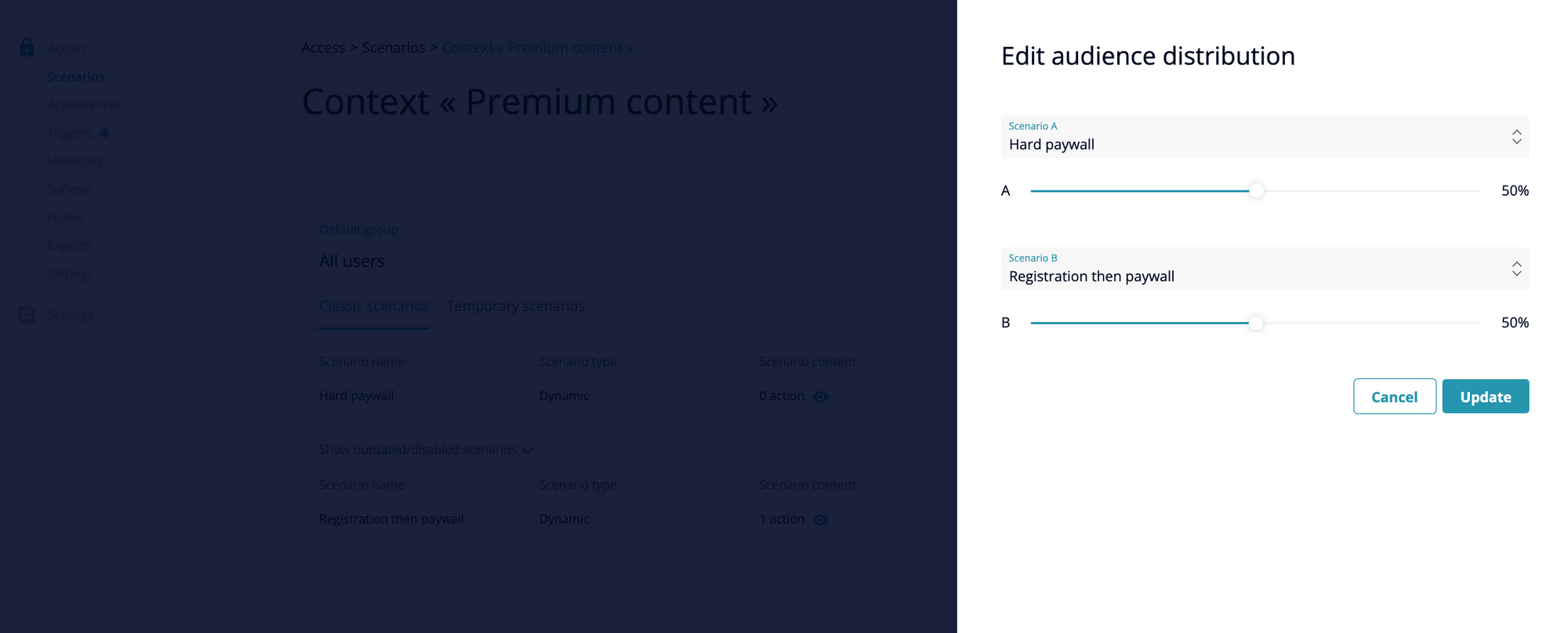 Within each of these scenarios ('Hard paywall' and 'Registration then paywall') we add ready-made widgets (100% customizable) into the user journey, such as 'Form' which is a registration wall or 'Subscription' which is a paywall.
Below, we decided to trial asking a user to create a free account as a first step, giving them access to a limited amount of content, and then we'll require that they subscribe. This allows us to collect first-party data, increase engagement and gradually lead users to subscription.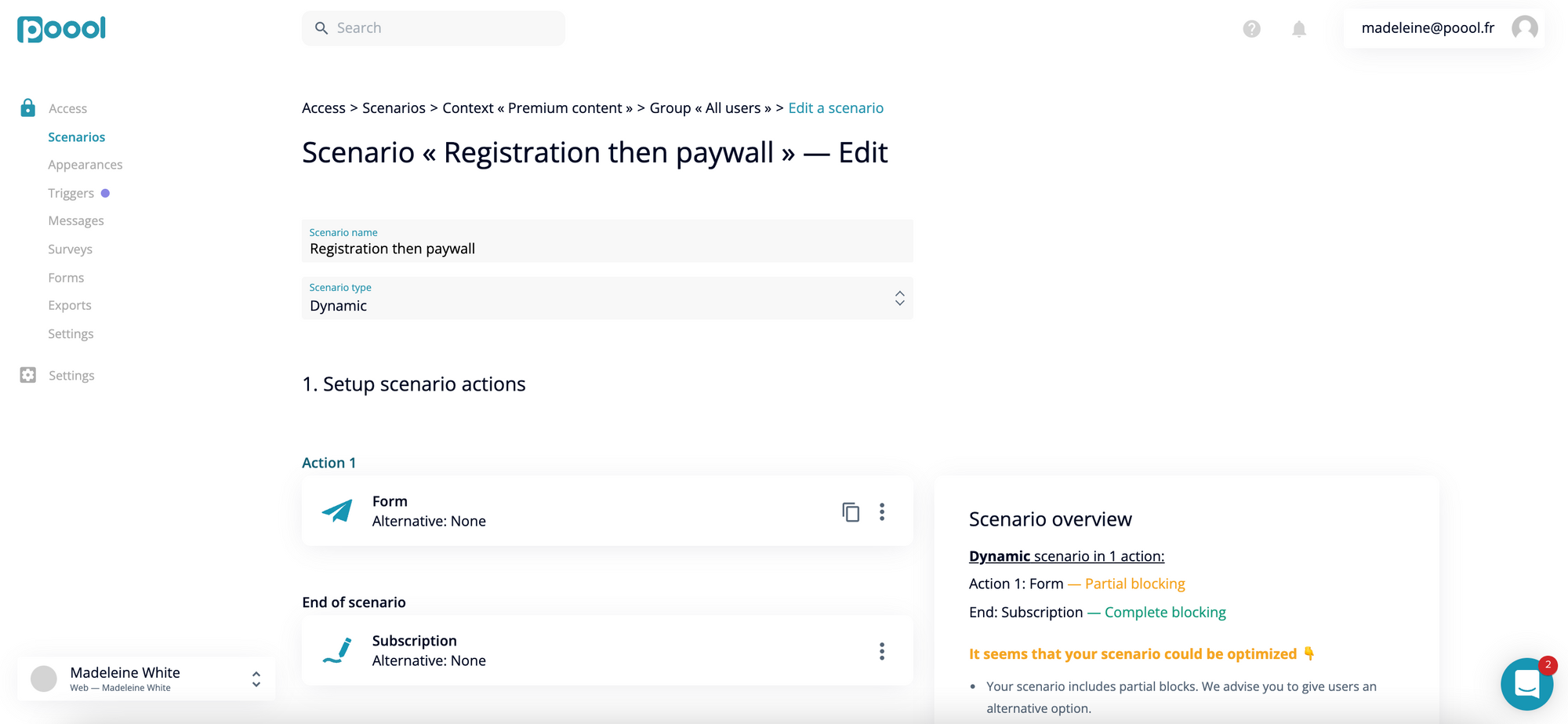 We're also able to design the form itself, used in the registration wall.
For example, we created this registration wall for the Poool blog, which asks for for a user's email address, name, company and phone number: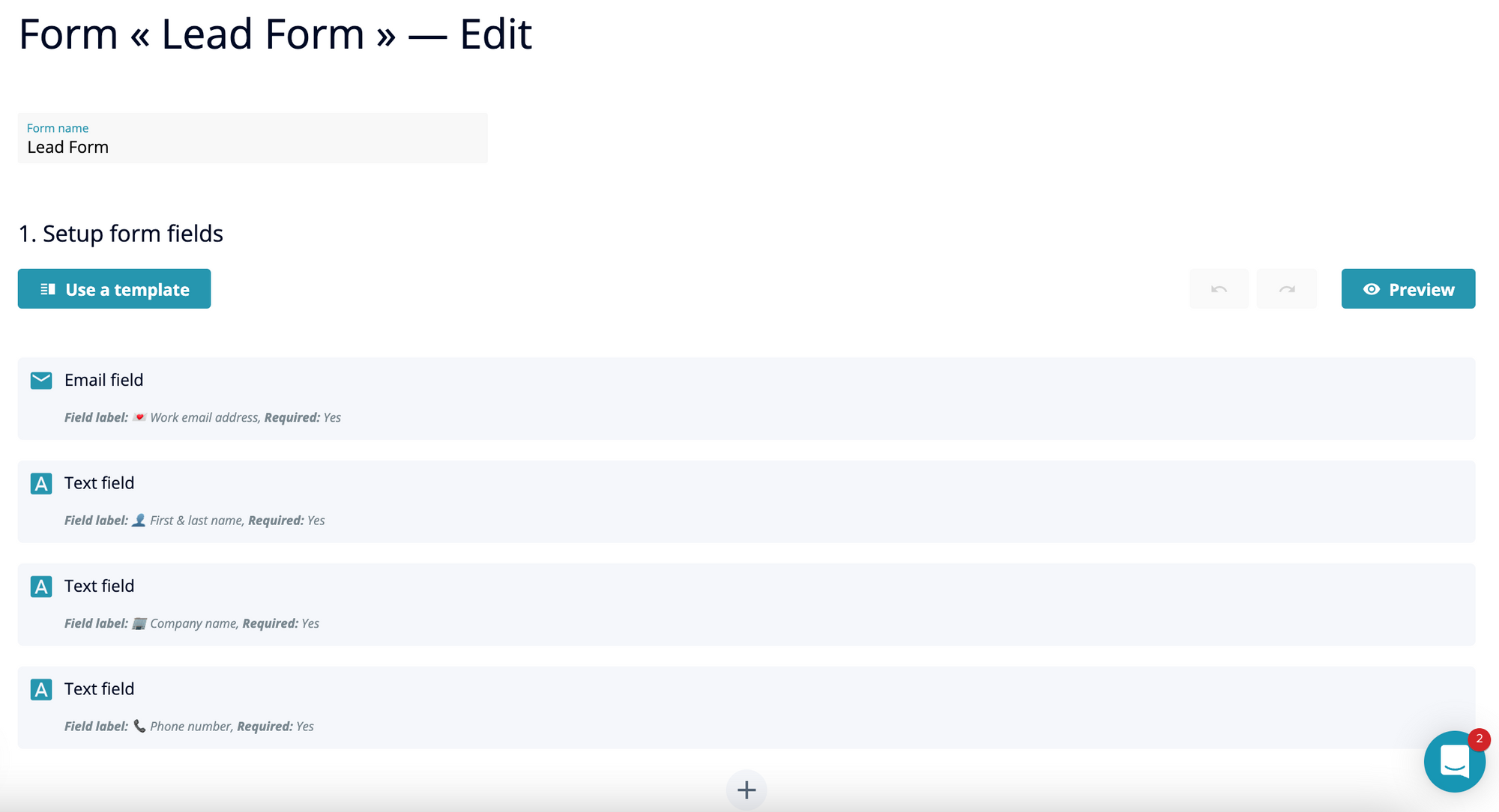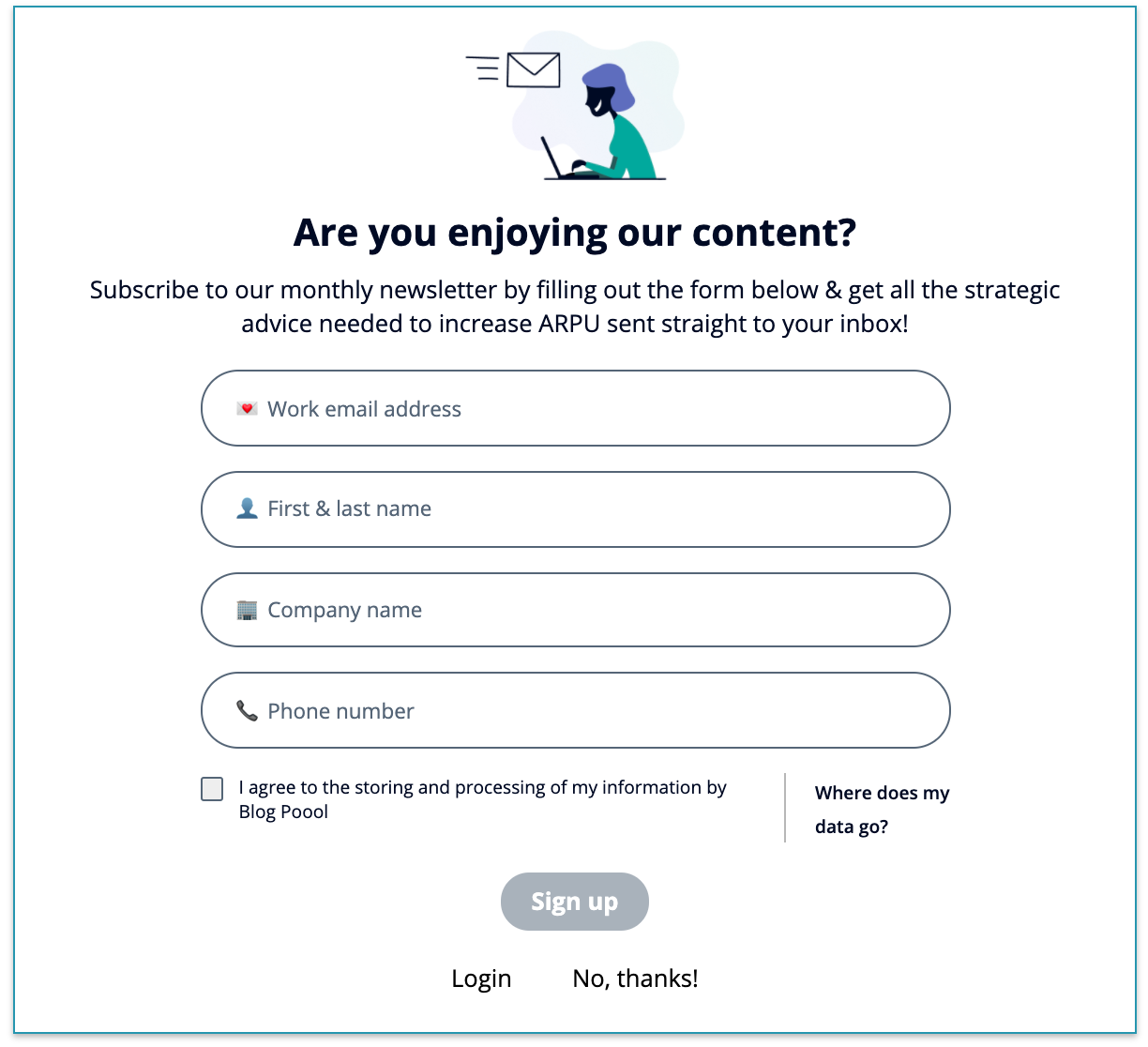 Note that data collected here is sent directly to your chosen data management system (Poool never handles it) which means it's ready for you to use to inform your strategy and optimize the user journey without our Dashboard!

The beauty of Poool for brands is that it's entirely adaptable to your business and, unlike many tools for wall strategies, it's not reserved for new journalism sites. What's more, thanks to the Dashboard's simplicity and ease of use, Poool's Dynamic Wall solution gives the power back to marketing teams to drive your strategy and turn leads into sales.
---
Interested in trying out the Dashboard for yourself? Let's book you in for a free demo!