Poool are excited to announce the launch of 3 new products, joining up with our existing Audience Conversion Platform (Access) to make up The Membership and Subscription Suite.
Prefer to read in French? 🇫🇷 C'est par ici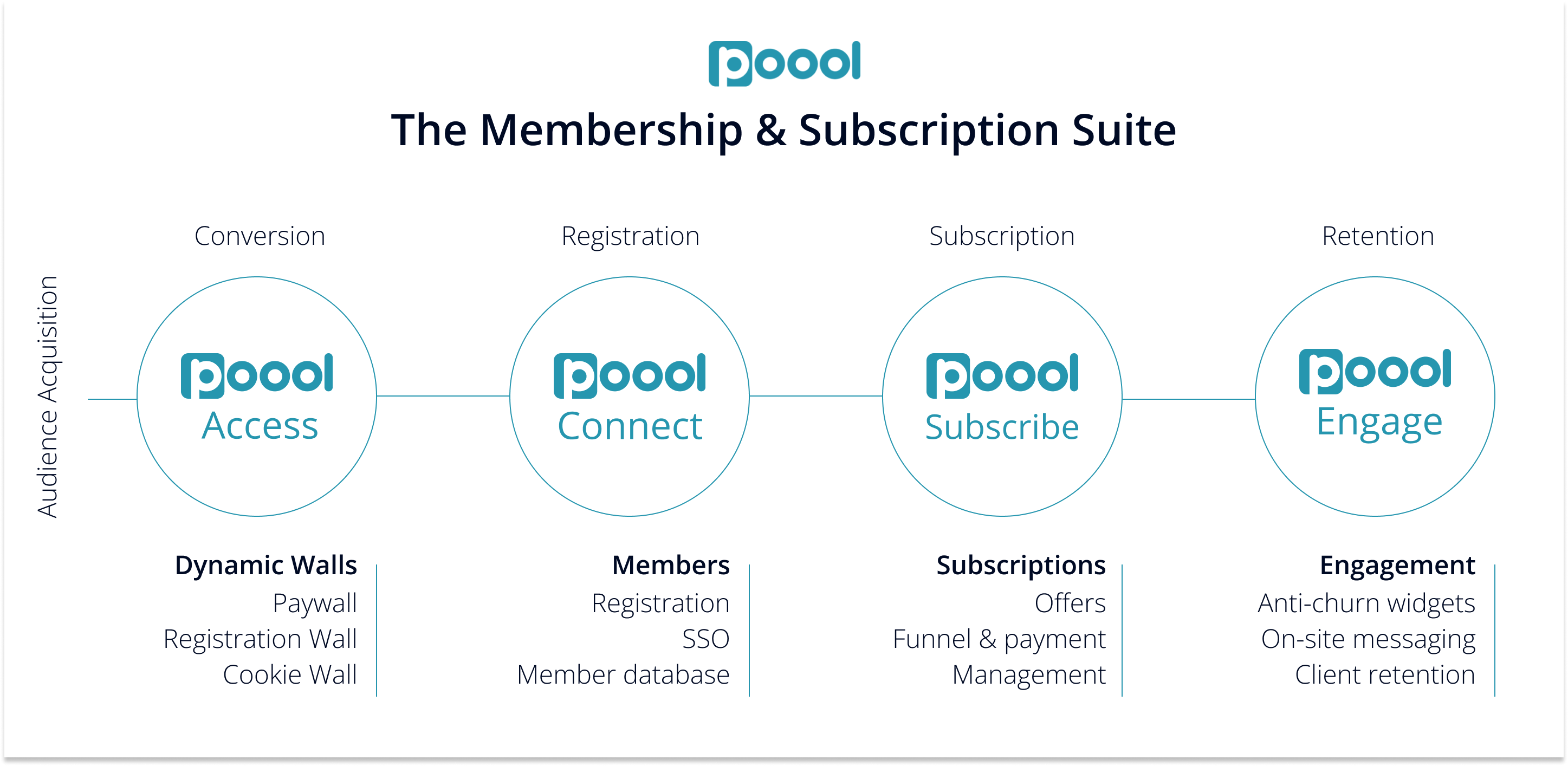 ---
Book a demo with our team!
What to expect in the call:
Qualification of your needs and goals
Presentation of Poool's Membership & Subscription Suite
Decision-making on next steps
---
Until June 2022, Poool solely provided publishers with Access, the Audience Conversion Platform that allows clients to convert their users into leads, members and subscribers by providing Paywalls, Registration Walls and Cookie Walls.

This is a brilliant start to the funnel, but publishers need the next steps to collect payment, manage members and subscribers as well as put work into reducing churn…
But there are some difficulties to overcome:
Building an effective solution in-house requires a great deal of tools and skills, which can be costly and timely for many small to medium sized companies, not to mention the lack of flexibility and independence that this approach results in
But many SaaS subscription management systems are complex, outdated or have been design for legacy publishers moving from print to digital
Even with these tools, marketers are dependent on tech teams for implementation and day-to-day driving of subscription strategies
Of course, this all has an effect on the user experience, which plays an essential role in conversion and retention rates

Which is where our Membership and Subscription Suite takes its place!
---
The Membership and Subscription Suite

Poool is now so much more than just an Audience Conversion Platform. We're hugely excited to be launching a membership and subscription management solution to allow digital content publishers to launch, drive, manage and optimize every aspect of their reader revenue strategies. From the conversion wall (which we already provide through Access) to the offers page, forms, payment, confirmation and member/subscriber management.

---
Poool Access
You're already familiar with our original product, Access - The Audience Conversion Platform to turn anonymous audiences into leads, members and subscribers.
✅ Over 10 different dynamic wall-types to add into user journeys, including paywalls, registration walls and newsletter walls
✅ Segment your audience based on context (e.g. content-type) or profile (e.g. level of engagement) to build adapted conversion journeys

✅ Design your walls code-free using the design builder
✅ A/B test in minutes and analyze results in the Dashboard
✅ Recently optimized statistics section sharing insights into wall success rate and visibility rate

---
Poool Connect
Product 2/4 of the Suite is Connect, a SSO and membership management solution for publishers to build a community of registered users.
De-anonymization, first-party data collection and increasing engagement through membership is becoming increasingly important amongst publishers. Luckily for you, Poool Connect will make this even easier to achieve.
✅  Convert users into members through a registration wall (set up with Access)
✅  Manage account creation and single sign-on

✅  Automated emails for managing user's account
✅  Build adapted conversion journeys for these members to convert them into subscribers

---
Poool Subscribe
Our 3rd product in the Suite provides a Subscription Management Platform for content creators to monetize their audience. No more tech dependency, no other tools needed, no more worries of being dependent on less stable revenue streams... Poool Subscribe is here for you!
✅ Convert users into subscribers via a paywall provided by Access
✅ Build your subscription offers, code free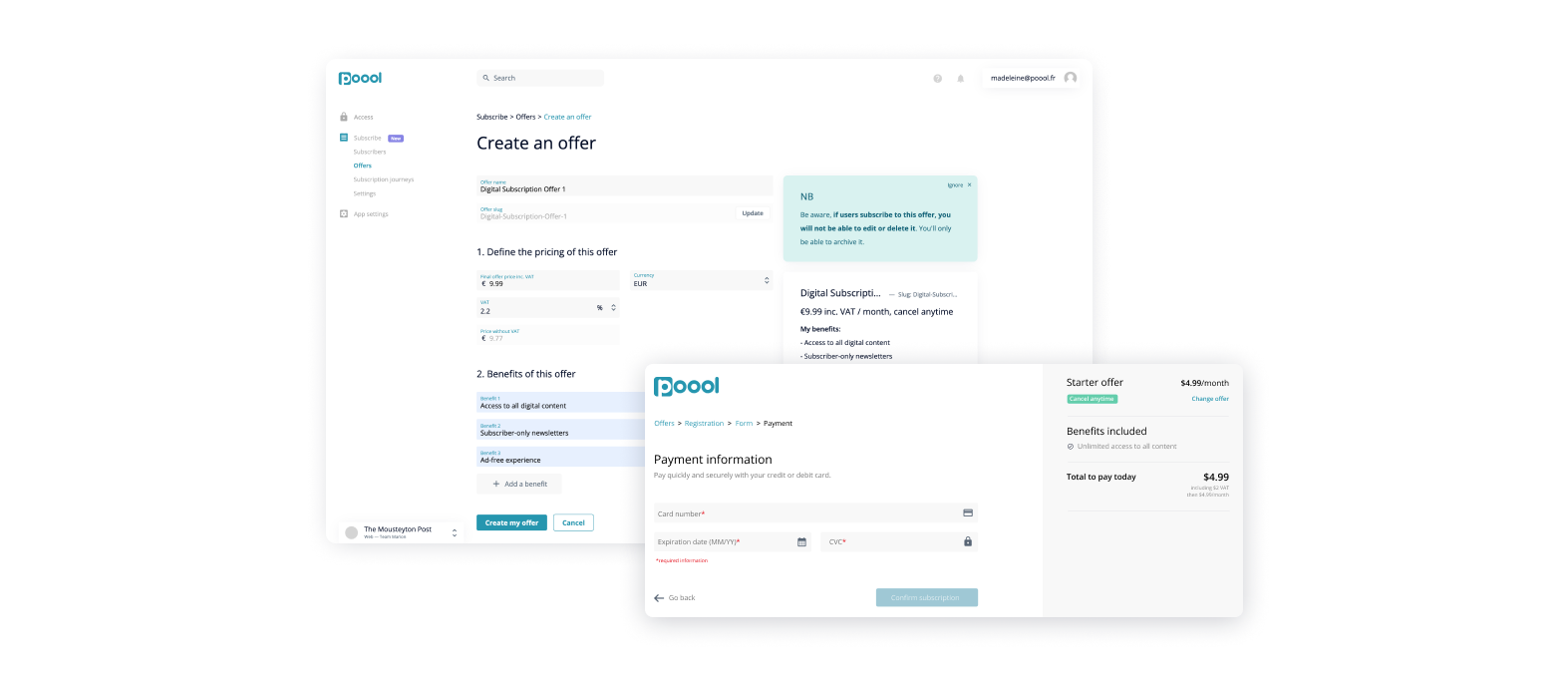 ✅ Construct every step in the conversion funnel, from account creation to payment
✅ Manage your subscriber base and account-related emails
✅ Analyze performance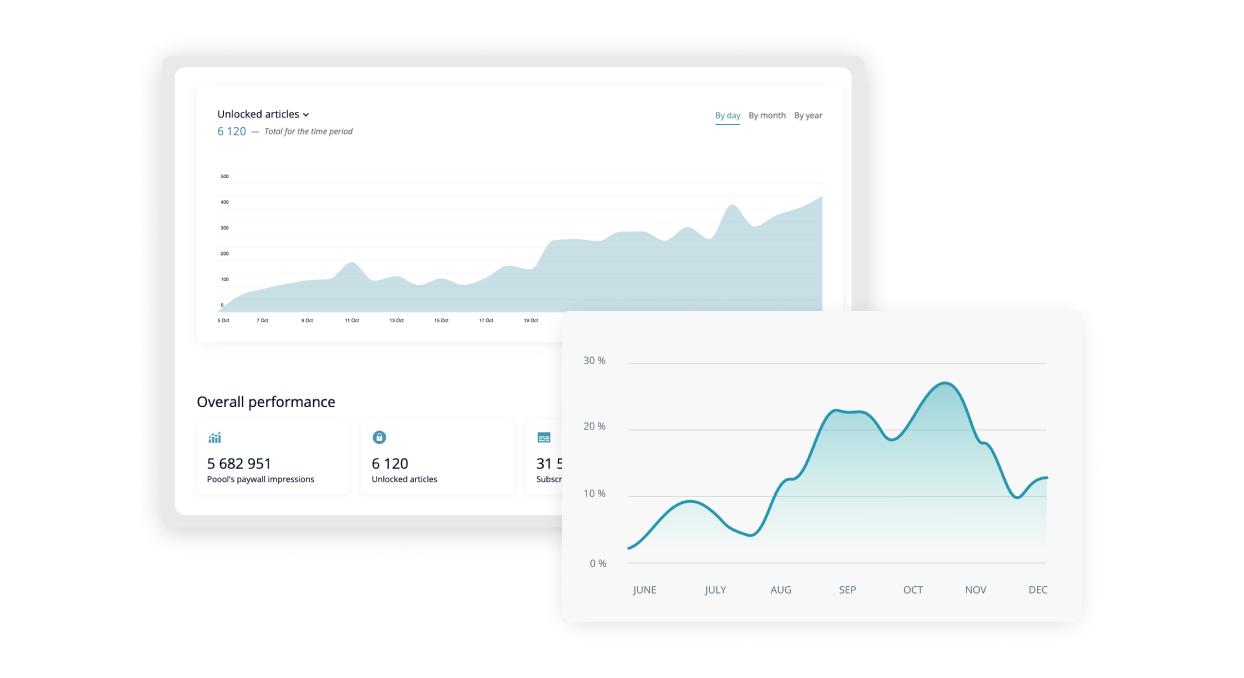 ---
Poool Engage
Coming later this year to provide publishers with a collection of on- and off-site widgets to better retain your members and subscribers.
Watch this space 👀
---
The key advantages of Access, Connect, Subscribe and Engage


An all-in-one solution built for digital-only content producers
Easy and tech-free member & subscription management - autonomy for marketing and revenue teams to create, showcase and easily manage premium offers, subscribers & members day-to-day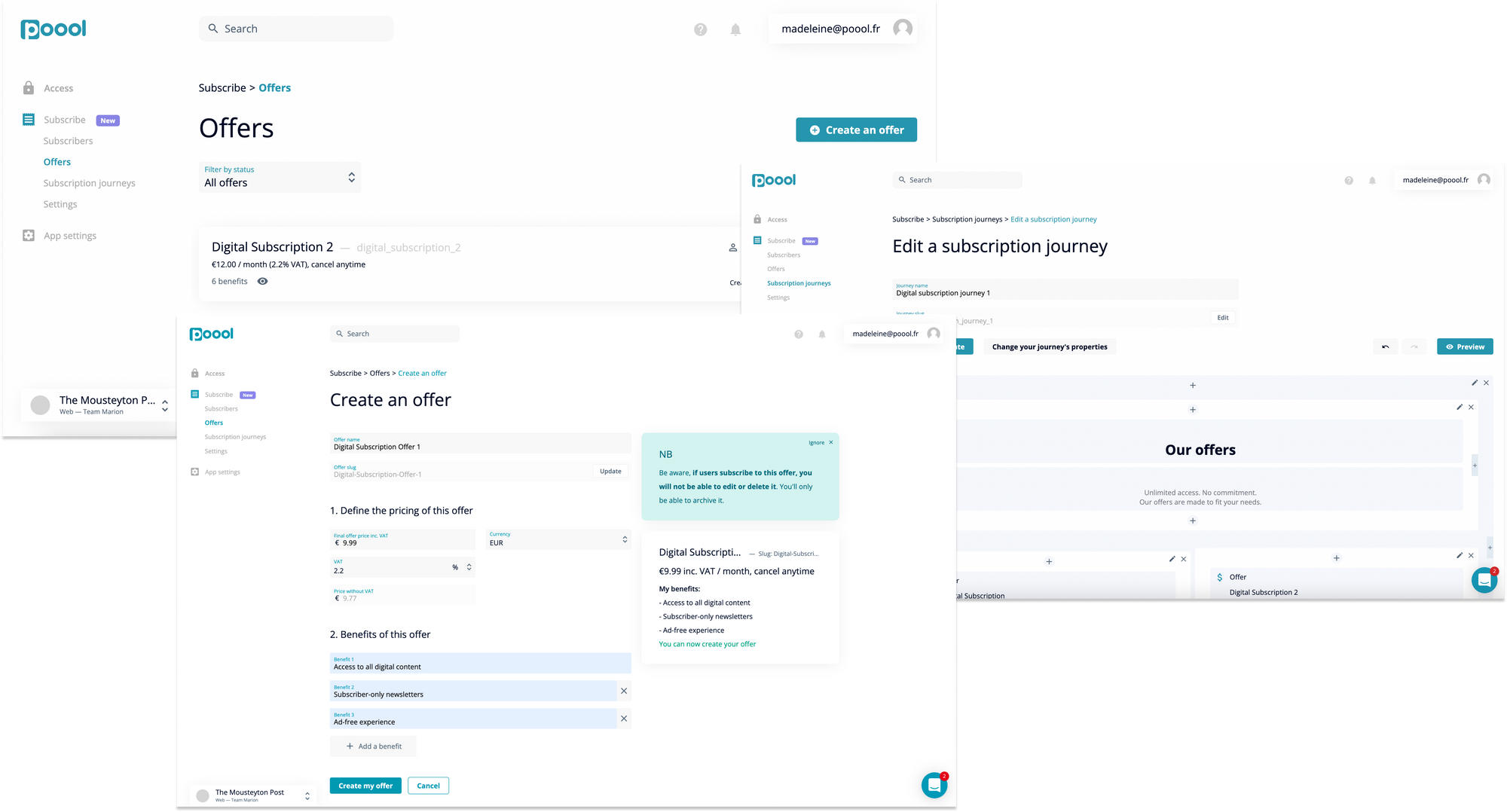 Flexibility: endless customization and personalization options
Performance analytics, with coherent and valuable key metrics to measure the performance of your strategies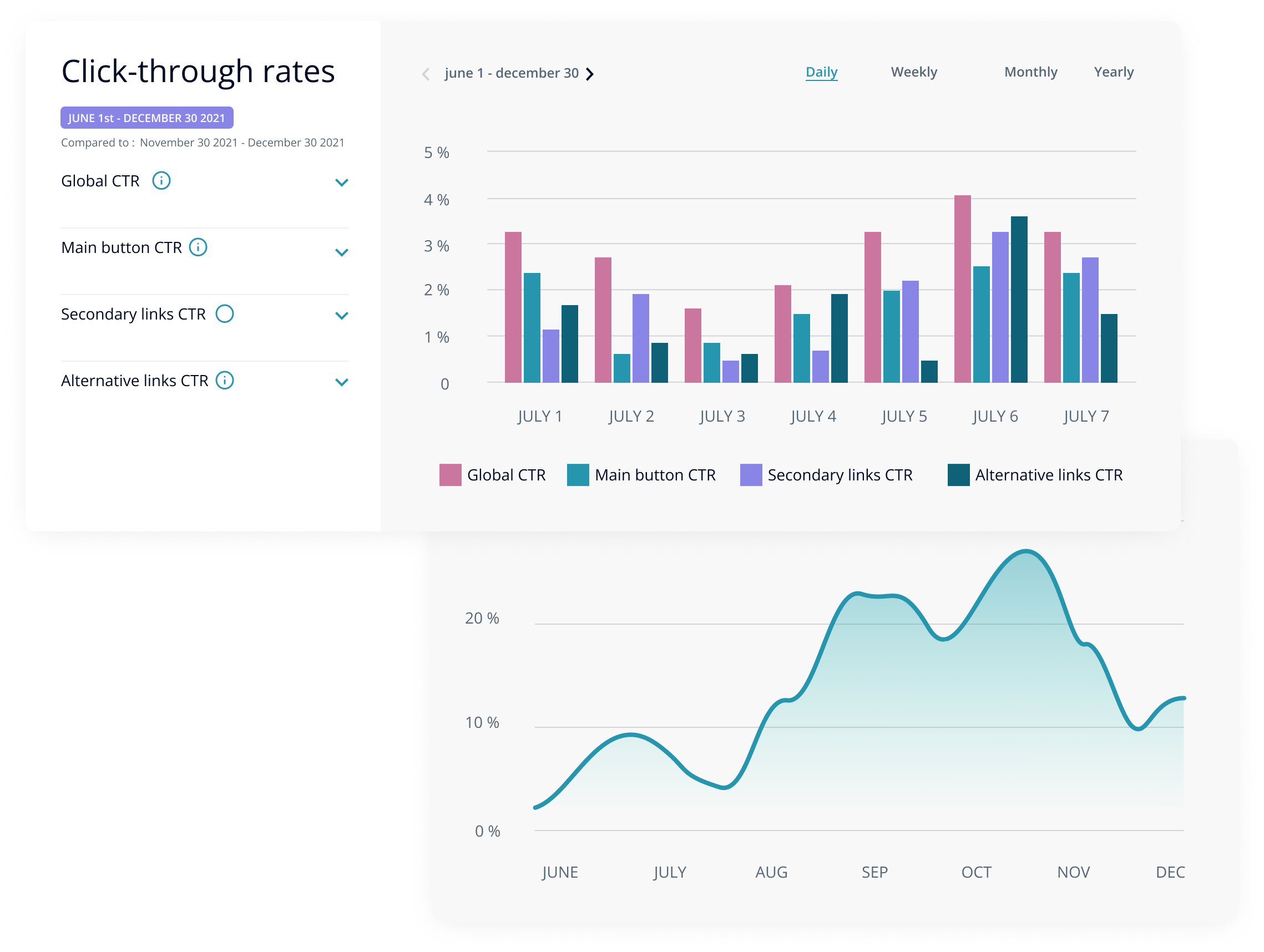 Built with user experience at heart, for both publishers and their audiences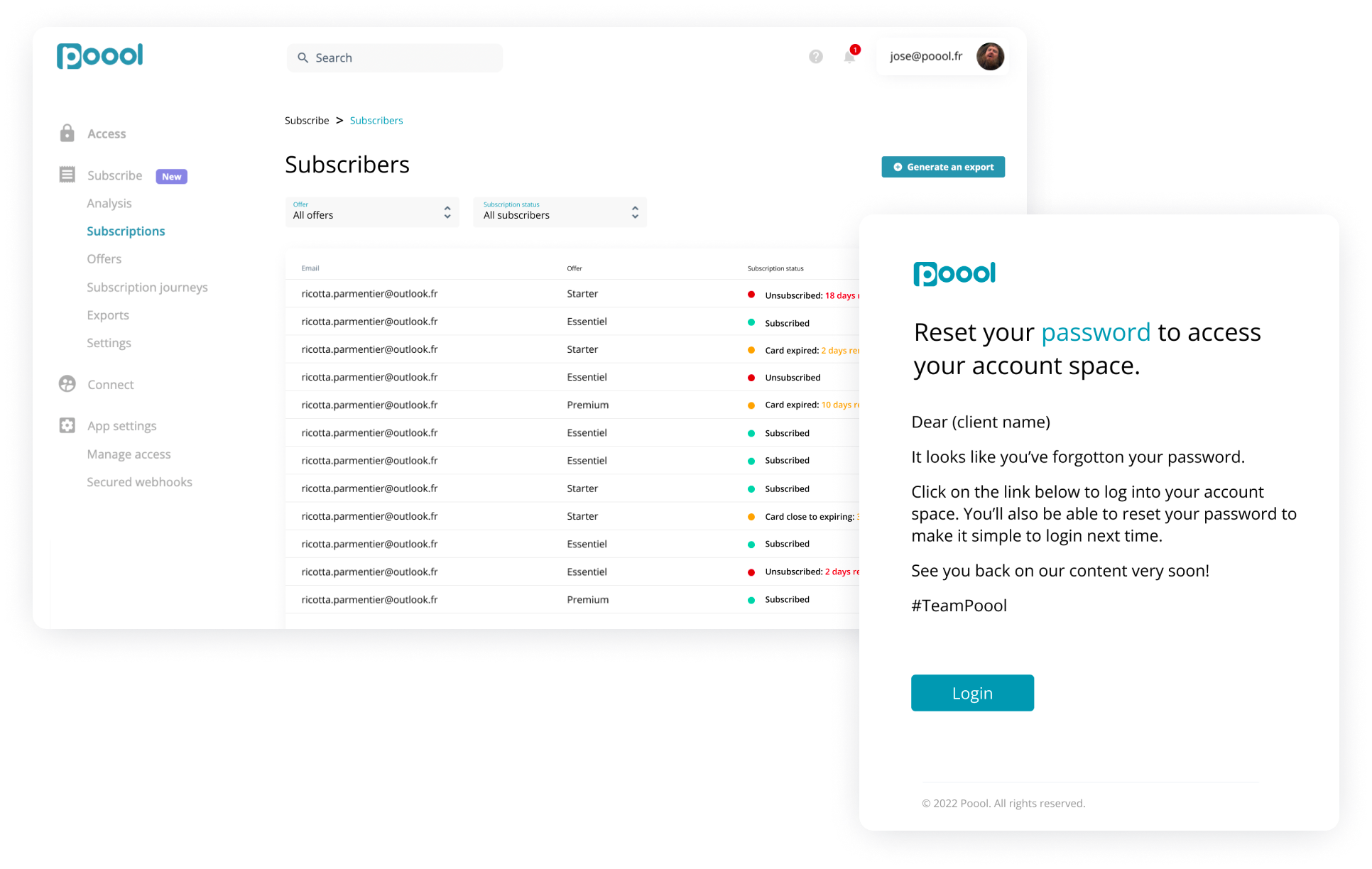 We are Poool - we have business and industry expertise that has allowed us to develop this platform with your needs in mind. Our expert team are also here to accompany you at every step of your strategy, from onboarding sessions to consultancy advice, dedicated account manager and our Help Center
Over 120 clients from 10 countries around the world already trust Poool with their reader revenue strategies, reaching positive ROI less than 90 days after launching.


Interested in doing something similar and leading your reader revenue strategy to success? Book a demo with our team today.