The Africa Report, part of the French Jeune Afrique group, is an English-language magazine and digital publisher, mainly covering political and economical news stories from across Africa.
Although TAR didn't previously employ a wall on their site, the larger Jeune Afrique group had a hard, static paywall blocking 65% of their users unless they paid to subscribe.

With high quality content and a wide readership across Africa, The Africa Report team decided to follow in JA's footsteps and launch a paywall and subscription strategy. However, having seen the limitations of a static wall, they went on the lookout for an alternative paywall solution - which is when they found Poool! After trying out our free demo, they were quickly persuaded by our dynamic solution and decided to integrate it into their site.

In particular, they were interested in the consumer-centric approach that Poool allows for:

👉 The dynamic nature of our products

👉 Ability to segment audiences and customize user journeys (and how easy this is to do on the Dashboard)

👉  And therefore the fact that user's get adapted experiences that react to their profile or context (location, device, content, etc)

Benjamin, Chief Digital Officer at TAR, made an interesting point here - it's become normalized that marketing teams adapt email content based on a user's engagement, profile and context, so why should their approach be any different in their subscription strategy? Clearly static paywalls are out and dynamic walls are in!

So, in March 2021, we were delighted to start working with The Africa Report team on optimizing their wall strategy to turn their audience into business!
After Poool's tech and marketing onboarding process, the teams at TAR got to work on segmenting users and building journeys that convert.

The first thing that impressed us at Poool was their immediate use of the CSS design functionality within the 'Appearance' section of the Dashboard. Just like every section of the Dashboard, this area gives marketing teams full autonomy to configure the wall to match your business goals and strategy, but the CSS functionality allows you to take personalization even further, entirely adapting the wall to fit into your site. Here, The Africa Report's content runs seamlessly into the wall, perfectly matching their branding and house style.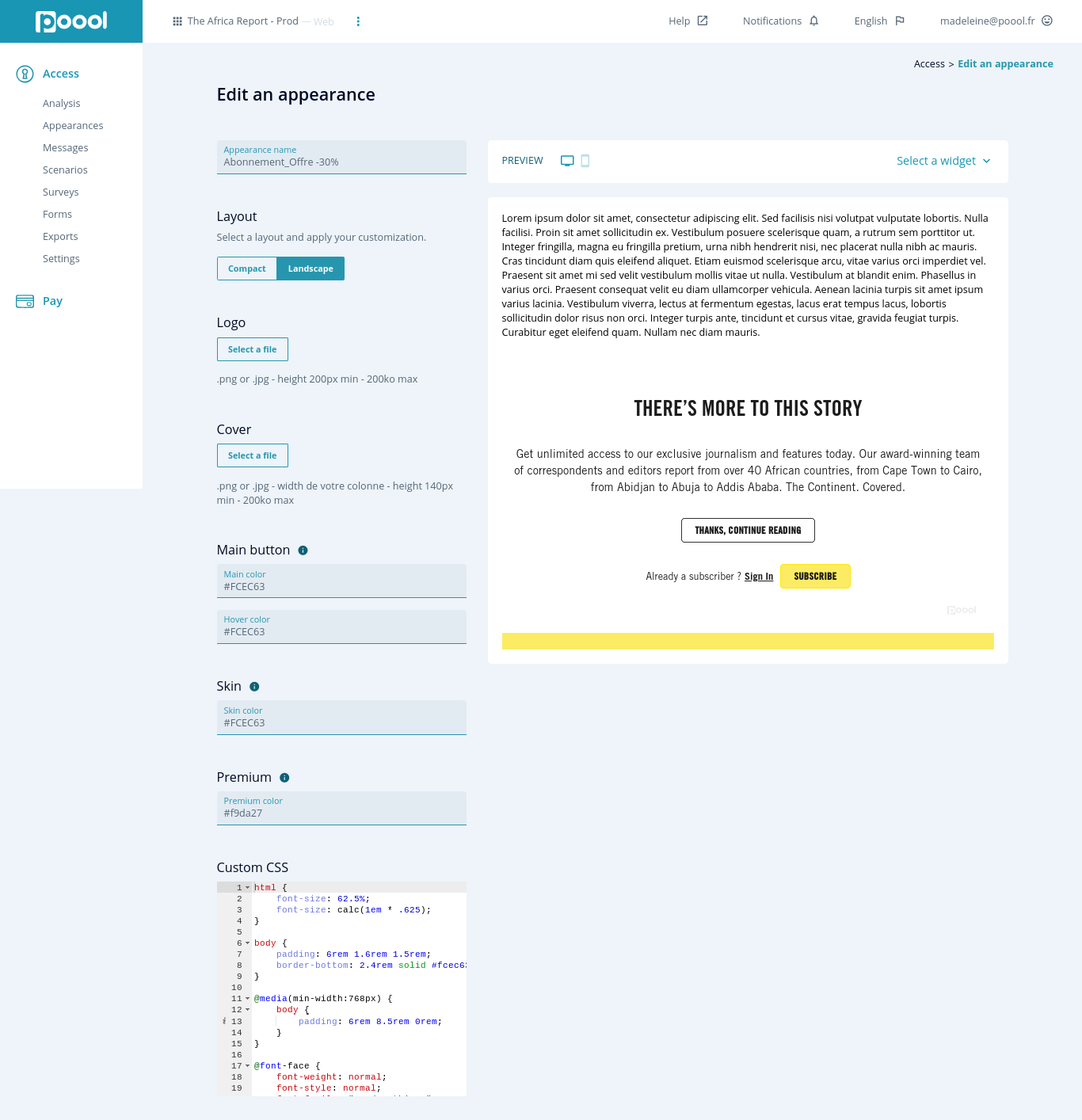 The teams at TAR chose to employ yellow on their wall to match other 'Subscribe' buttons and promotions, allowing for this color to become associated with subscription across the whole of their site.
---
Thanks to the hard work of The Africa Report's marketing team and Poool's efficient 2-day tech integration period, TAR were able to launch their new wall on their site by the 25th March 2021.

Since then, instead of a static, hard wall like Jeune Afrique, they employ a freemium strategy with both registration and paywalls integrated into their content.
Instead of being blocked immediately by a paywall and required to subscribe in order to gain access to content, their registration wall offers content in exchange for the creation of a guest account. This has a dual purpose:

👉 Firstly, it increases the user's engagement in TAR's content and moves them from an anonymous visitor into a lead who can be nurtured and gradually led towards subscription

👉 Secondly, it allows for The Africa Report to collect first-party data and personalize user experiences through analyzing their behavior whenever they login to their account. They've also been able to connect Poool's Dashboard to Google Analytics, meaning they can collect yet more information about their prospects and subscribers. This is hugely valuable for TAR, particularly in a time when third-party cookies are coming to an end, allowing them to understand their audience and provide the most optimal experiences that maximize conversions.

This has already proved hugely successful for collecting leads who have a higher propensity of subscribing in the future.
What's more, in the Dashboard, they've been able to segment their audience based on user engagement, adapting the journey to maximize chances of conversion.

Thanks to the Dashboard's ease-of-use, the marketing team at TAR have also been able to run short-term promotional subscription offers on their paywall.
For example, below they're offering a reduction for their summer sale.  The messaging and design can be changed within minutes on the Dashboad and set to end automatically after a specific duration (e.g. 2 weeks) thanks to the 'temporary scenario' functionality.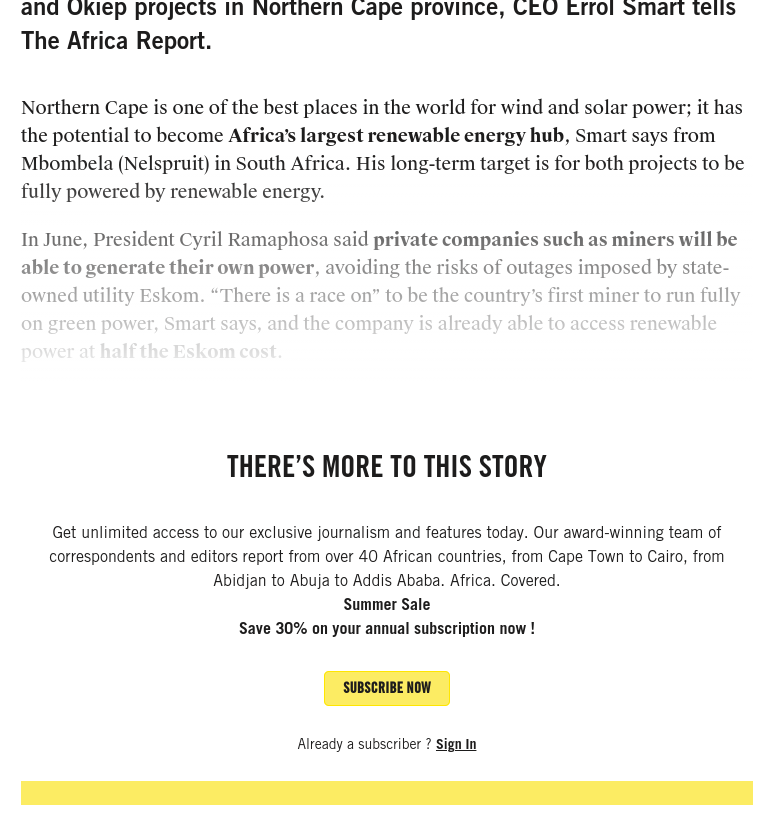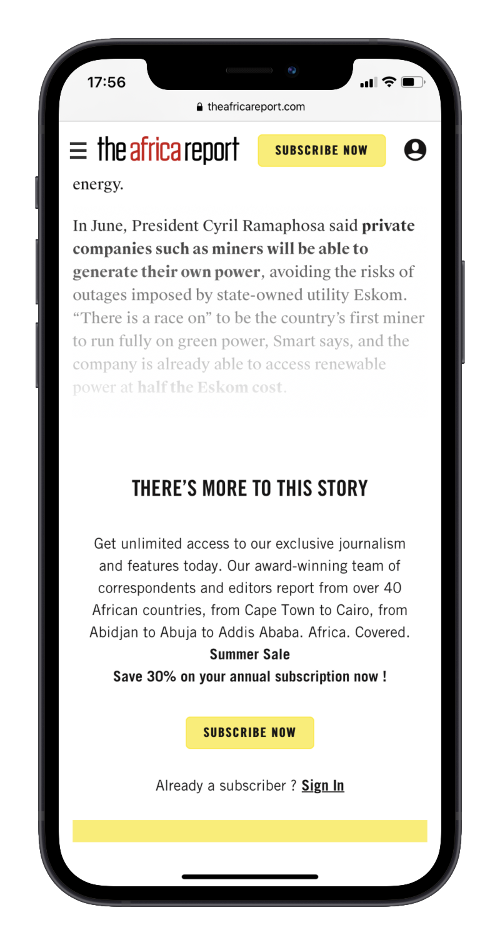 Just as we always recommend to our clients, TAR have been slowly developing their strategy, starting simple to reduce risks and maximize chances of success. Already, their employment of the wall is very impressive and proving beneficial to their conversion rates! And this is only after a few months of use - so what have they got planned next?

👉 Make better use of the audience segmentation and scenarios to create groupings based on country/region and article content
👉 Collect more data through different walls to inform their strategy (which is a work in progress with registration walls already employed on their site!)
👉 Aim to use the Dashboard on a much more frequent basis so as to continuously optimize their wall strategy (our Dashboard gives marketing teams full autonomy, so this is great to hear!)

We're excited to see where these plans take them!
What's more, the larger Jeune Afrique group have also now been persuaded by the effectiveness of Poool's solution and are planning on moving over to a dynamic strategy too!
---
To finish our chat with Benjamin, we wanted to ask what they valued the most from Poool's solution:

👉 The ease of implementation - launching took just a couple of hours - and the fact that Poool slotted in with the tech/marketing tools already used by their team

👉 The simplicity of the Dashboard for their marketing teams, and the autonomy that it gives them

👉 The ability to treat users differently (which Benjamin sees as very important, and we definitely agree!)

👉 It's also a very accessible solution, giving them a greater chance of getting ROI. This is something we at Poool really value, aiming to help any publisher, of any content, with any number of consumers, to turn their audience into business!
"We had a hard paywall for a few years on our main French website which allowed us to initialize our subscription business model. We have closely associated it with our CMS and our analytics tools. The relatively constant conversion rate gave us the idea to adapt to the behavior of our users and future subscribers for the coming english website. To do this, we needed a tool that could offer different experiences to our prospect segments and that could be easily integrated with our existing martech environment. Poool allows us to better qualify our user segments and to deploy an effective guest account strategy while being integrated without effort on our platform. We now envision a new phase where each segment from prospect to subscriber will be addressed with a specific user experience."     - Benjamin Lupu, Chief Digital Officer @JeuneAfrique
---
We're very impressed with the work done so far by The Africa Report (as well as the results they have to show for it) and are excited to see where they go next with their wall strategy!

Interested in doing something similar and launching a dynamic wall strategy with ease in days, not months? Book a demo!