Poool, the Membership and Subscription Suite for digital media, and Viafoura, the leading digital experience platform for digital publishers and media brands, today announced a technology and business partnership to help publishers better engage and activate their audiences by dynamically converting engaged users into registered members and subscribers.
Thanks to this new partnership, publishers will be able to:
Target high propensity users with a metered engagement model & customized conversion journey
Integrate Poool's dynamic paywall and registration walls into Viafoura's community engagement experiences
---
Turning engagement into commercial outcomes
Engagement is widely accepted as the essential element to a successful digital revenue strategy. However, true success lies in understanding what engagement actions are the most effective in increasing the monetary value of each individual reader, or average revenue per user (ARPU), and putting them to use in your audience conversion journeys.
This is where Viafoura's conversation experience, engagement elements and propensity scoring integrate with Poool's dynamic paywall and registration wall solution to maximize the value of reader engagement.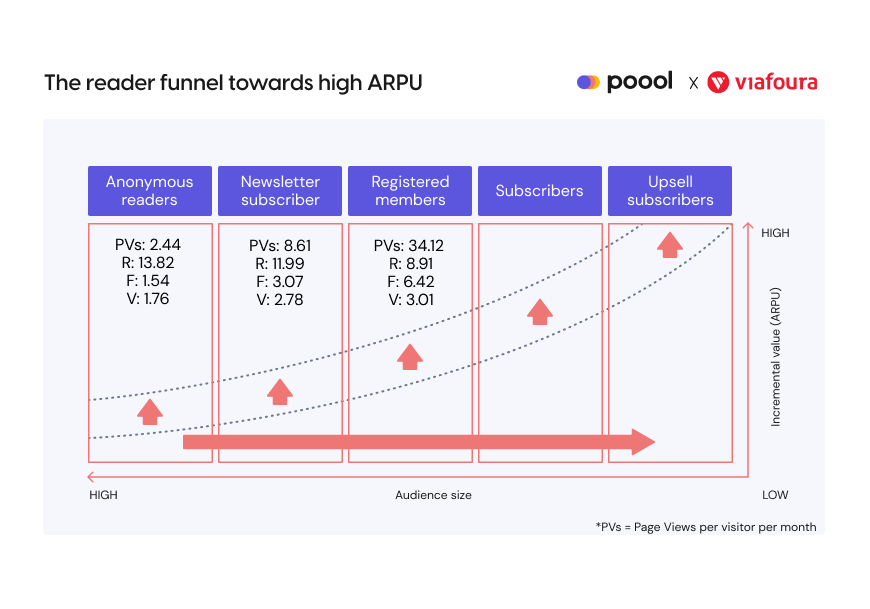 By leveraging Viafoura's first-party data, propensity models and audience segmentation capabilities and Poool's flexible and robust paywall and registration wall solution, publishers will be able to significantly increase and accelerate user conversion rates on their owned and operated properties.
For example, in the comment section, where the community comes to life, readers can be asked to create an account in exchange for access to more than 2 comments.
At the point of registration the user has self-identified and any data collected prior to this point now becomes tied and identified to the user. This gives you a hugely valuable opportunity to personalize the user experience, building dynamic journeys based on a user's propensity to subscribe. It's been proven that the highest propensity to subscribe and the lowest likelihood to churn is a user who has provided user generated content (UGC).
Engaged readers can then be presented with dynamic conversion journeys to maximize ARPU. Below, two journeys built through Poool's Dashboard - register for 24h access, for less engaged readers, or subscribe, presented to those who have already engaged and have a high propensity score.
This partnership and dynamic audience conversion solution is now available to all Poool and Viafoura customers.
---
Poool provides digital publishers with the operational tools and proven expertise needed to convert, manage and retain their members and subscribers.
Over 150 media brands worldwide use Poool's Membership & Subscription Suite: ELLE Magazine, Euronews, The Africa Report, Total Politics…. Poool is also the founder of The Audiencers, the leading B2B Media for audience professionals.
www.poool.tech | Request a demo with Poool
Viafoura is a digital experience company that helps brands activate their audiences through a suite of engagement and personalization solutions, maximizing conversions of unknown to known users. We work with brands to build direct relationships with their audiences, creating the foundation for a scalable first-party data strategy while reducing dependency on social media.
www.viafoura.com | Request a demo with Viafoura
---
Our white paper published in collaboration with Viafoura: