Prefer to read in the language of Molière? 🇫🇷 C'est par ici !

This article wrapped up:
Brand publishing is all about being user-focussed rather than product-focussed
Guillermo highlights the importance of setting long-term goals, establishing a dedicated team and considering the value that your publication can offer readers
Overall, although brand publishing isn't for everyone, it can bring huge benefits to your business
"Even if the benefits of brand publishing may seem irresistible, defining this value, and being certain that your core brand is stable and profitable, is a first step that shouldn't be overlooked."
---
For brands, content marketing has been well established as an effective way to acquire traffic, increase brand awareness and help audiences in their buying decision-making.  

However, over the past years, a trend has emerged of brands going a step further to actually launch or acquire their own publication, moving from simple content marketing to becoming a brand publisher.

One such company is Welcome to the Jungle, an international brand who 'builds products that transform the experience at work'. Despite being a brand in the sense that they sell an ecosystem of HR tech products to help companies find the best candidate and employee experience, WTTJ developed a media alongside the brand, publishing a wide variety of high-quality content to help young professionals in the world of work.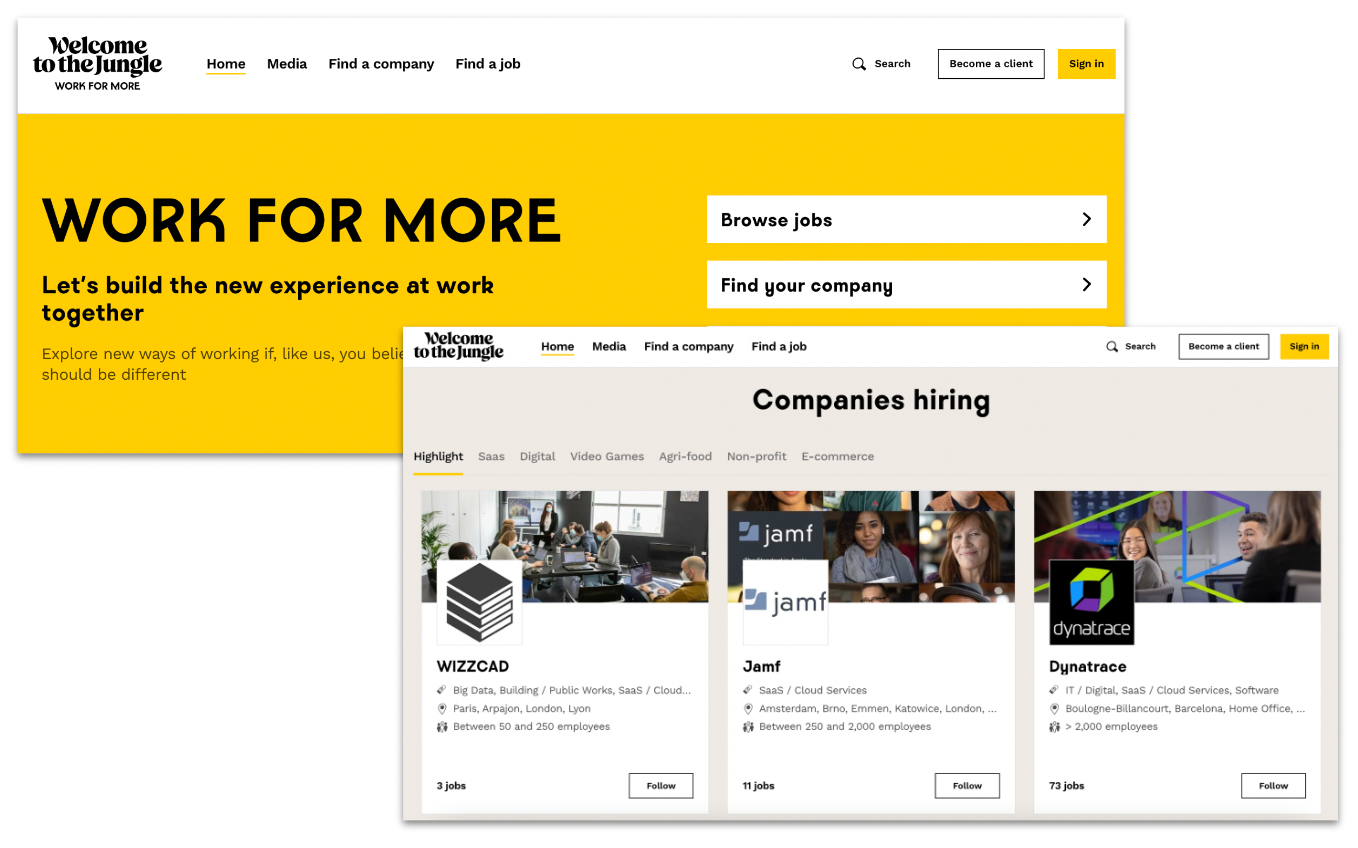 I spoke to Guillermo Carreras-Candi, Head of Strategy, Video and Social Media at Welcome to the Jungle, about their journey from brand to publisher, why they made this move and the best practices he'd recommend to anyone else thinking about moving to brand publishing.

---
Brand publishing - why do it?
From the very beginning of WTTJ, the founders knew they wanted to be more than your average brand. Instead of solely providing an employment service, the team envisioned producing content that would have an impact on society and the world of work, making their mark on the industry.

Although there are a wide variety of advantages in brand publishing, WTTJ have focussed on the long-term impact of producing content.

Establishing a clear voice for the company
Building a community, creating lasting relationships with readers
Educating and influencing their audience: positioning themselves as experts for a stronger market position
Educating themselves: first-party data collection to understand their audience and inform their strategy
---
But what makes this content any different from content marketing, or regular publishing?
The lines are certainly blurred, but the general consensus is that the move from content marketing to brand publishing is about becoming user-focussed over product-focussed, having a dedicated team, allocating a budget and working towards long-term goals rather than quick wins.

To be successful in brand publishing, you have to think and operate like a publisher, with an editorial team, defined tone and voice, identity, etc. It's this that allows you to build real trust and engagement with users in a way that content marketing can't.

Each brand publisher does it differently, but some brands can go a step further than WTTJ and become independent (or start this way), having a separate branding, business and monetization model. Just look at the situation of Hubspot acquiring The Hustle for instance.

Discover other brand publisher examples in our article: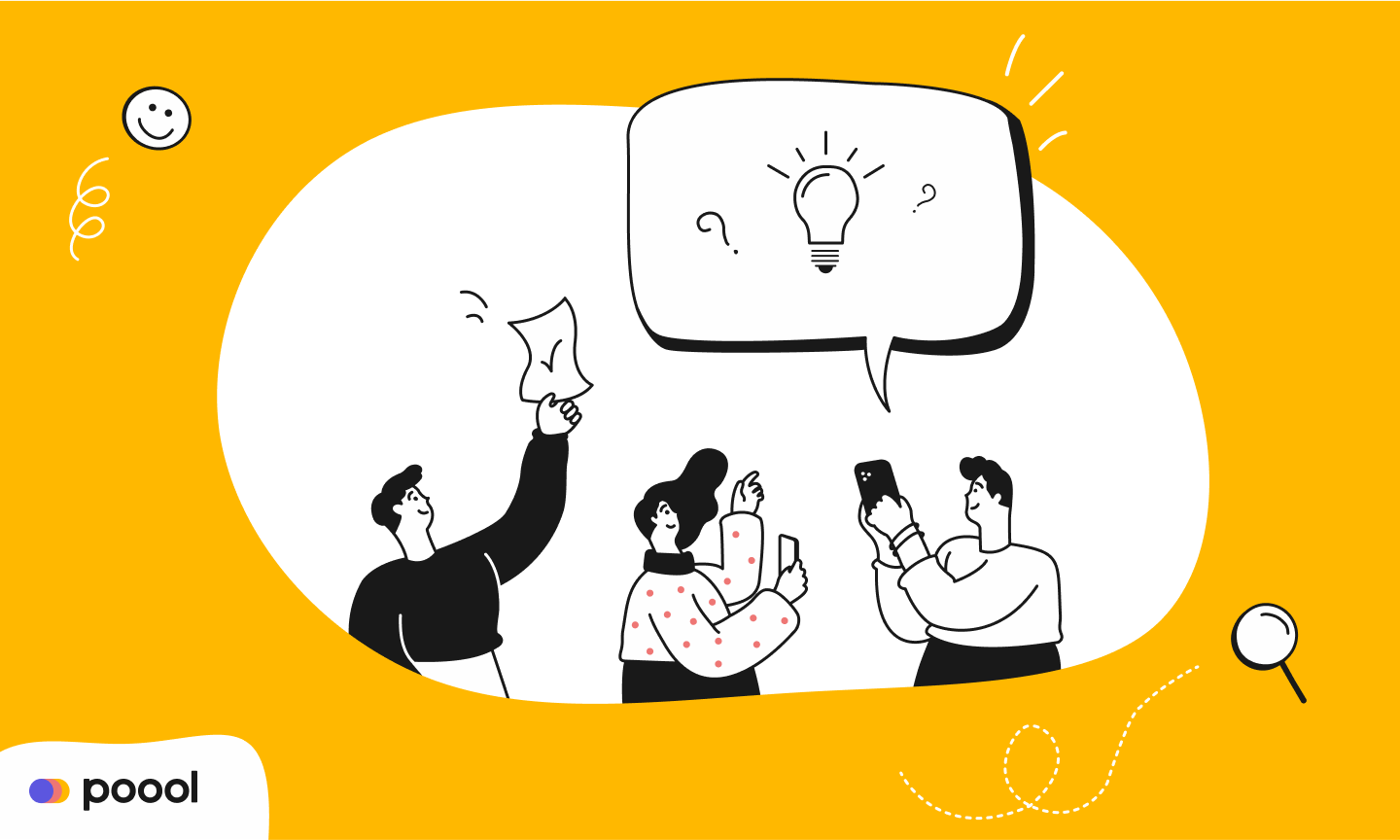 In terms of brand publishing vs regular publishing, it's about the long-term goals and overarching aim of the content.

As Guillermo highlights, there's publishers and there's brands, but brand publishing lies somewhere in between. Whilst you need a marketing team who connects the brand to your content, bringing in the sales and business side, it's essential to have a dedicated editorial and marketing team for your media alone in order to keep the 'publisher' goals in mind when producing content, moving from selling-focussed to engagement.

Brand publisher's set-up, in short:

Publishing team (who have experience with media) = goals associated with regular publishing, including building audience, increasing engagement, producing quality content and developing relationships with readers

Marketing team = the bridge between the publisher and the brand, maximizing the impact of the media for the brand

Brand sales team = focus only on the brand, not directly associated with the publication so as to not impact the user-focussed goal of the media, but benefits from the media's data collection and leads from the marketing team
---
A deeper look into Welcome to the Jungle's content
Differently to many brand publishers, WTTJ keep their content under a single brand and publish content on their central site, with the sub-name Work for more/Life at work

WTTJ work for more is the 'Media' section of their main brand site, offering written content that covers every area of the working world, including more in-depth pieces from experts in the industry accessible on The Lab.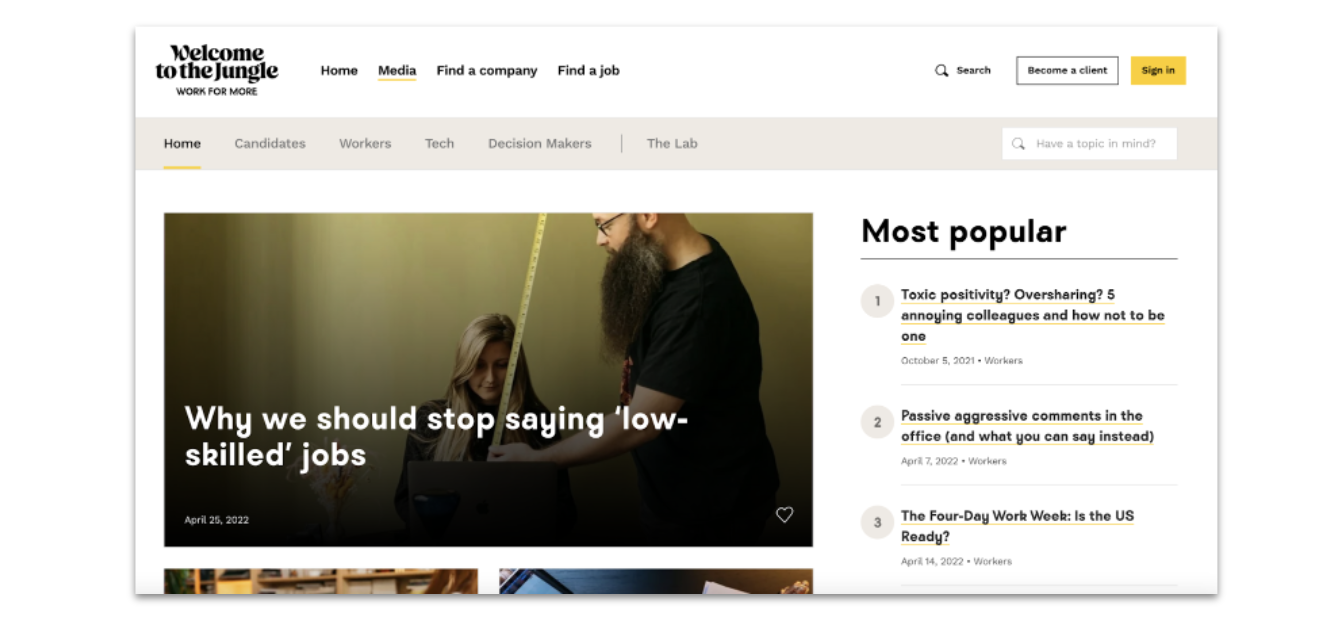 Whilst content is free to consume, readers are encouraged to create a free account by signing up via the registration button in the corner or when they try to save content via the heart icon. A pop-up registration wall appears and we're offered the option of creating an account with Linkedin (a social media associated with WTTJ's content), Google or email.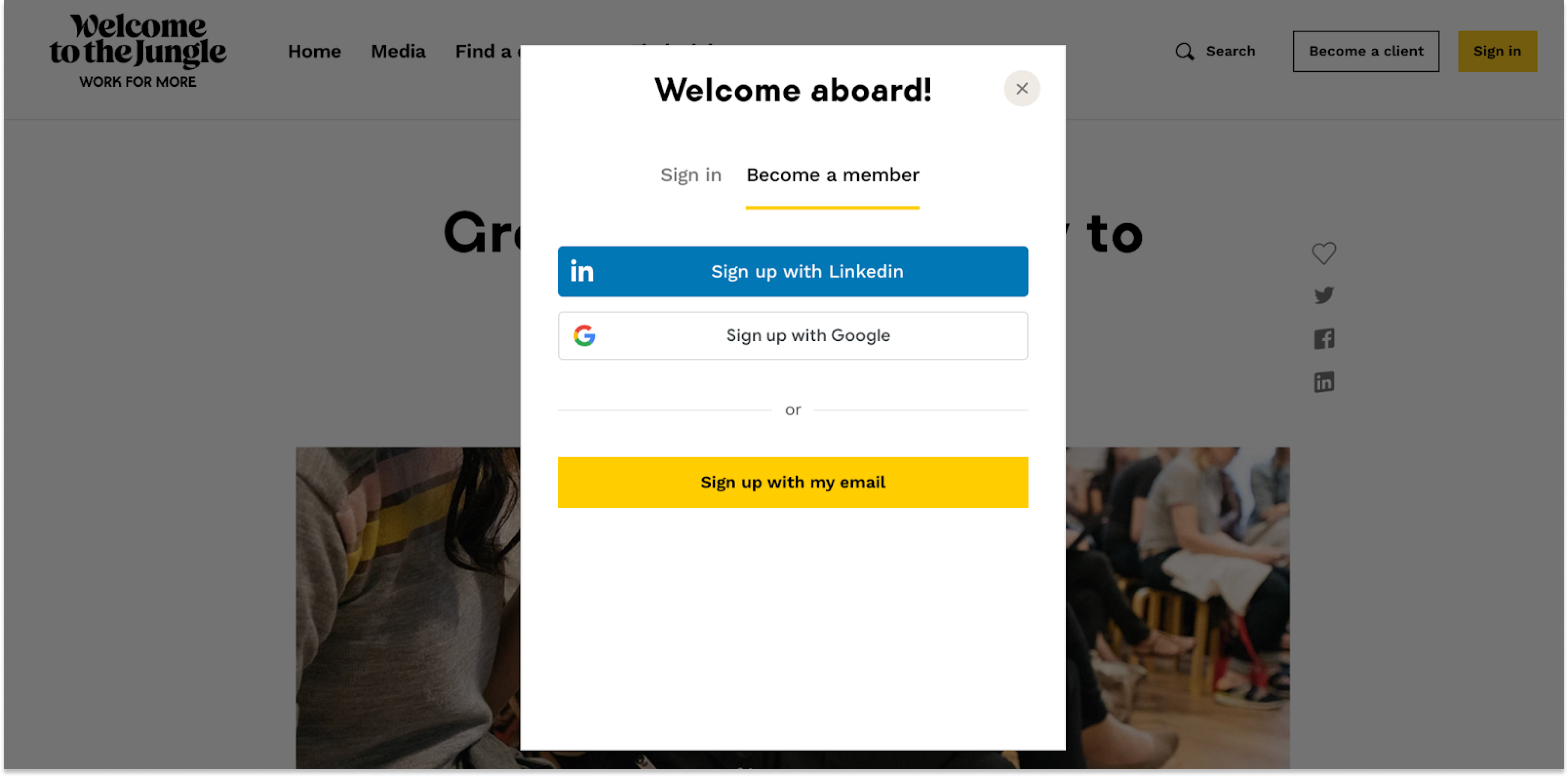 This de-anonymization strategy is beneficial for WTTJ to learn about their audience and collect valuable data points to inform their publishing and brand decision-making as well as increase engagement through UX features such as saving and sharing content.  

---
Advice from WTTJ: how to do brand publishing right
Consider the value a publication can offer your audience

You need to have a strong conviction about moving to brand publishing, and not just one that benefits your brand - one that provides value to your audience (can you be sure that your content will help users achieve their jobs-to-be-done and solve their pain-points?). This value should take center place as your business strategy and mission as a content producer, which is what separates content marketing from brand publishing.

Importantly, brand publishing is a big commitment, requiring an entirely separate way of thinking, organization, team, tech stack, etc…it's not right for every company. Even if the benefits of brand publishing may seem irresistible, defining this value, and being certain that your core brand is stable and profitable, is a first step that shouldn't be overlooked.


2. Think in the long-term

Go beyond the short-term goals of content marketing. Consider how your publication can provide you with more than revenue, such as positioning you as experts, increasing user engagements and establishing more trusting, lasting relationships to develop a community of readers.


3. Find the right team

Unfortunately, it's not as simple as moving people around within your organization. Instead, Guillermo highly recommends employing experts in creating media content for publishers (rather than marketing content). They'll bring knowledge and understanding from the publishing industry to help develop your editorial line, build the newsroom, define your DNA as a media to stand out from competitors and become user-focussed over product-focussed.


4. Make sure you have the right budget

It goes without saying but is important to be sure of before getting started. Brand publishing is similar to having a whole other business, and thinking like this is infact how you're going to succeed. But this requires a new team, tech stack, investment, etc.
---
You might also be interested in: