Originally sent on April 5th, 2022. Receive our next B2B newsletter by subscribing here.
🌸 Spring has sprung (or at least we thought it had before the rain & cold came back...)
In this month's newsletter: Increase conversion rates by 40%, find the balance between frustration & engagement, discover the value of A/B testing as well as the subscription revenue model that's continuing to grow year-on-year & a bunch of insightful content to add to your reading list!
🤓 Tip of the month: Think outside the box! 🤓

Paywalls have been continuously growing in popularity and subscription markets are becoming hugely competitive. The challenge is therefore to innovate, think outside the box and capture the attention of readers to convert them into subscribers on your site rather than someone else's.
One publisher achieving this with a very unique strategy is Alternatives Economiques.
After a few years of employing a Paywall on their premium content, the team at AlterEco had an intuition that they could optimize wall design to increase impulsive conversions.
To put this theory to the test and optimize CTRs on their wall, AlterEco made use of Poool's integration with Stripe to ask users for payment directly in the Paywall itself.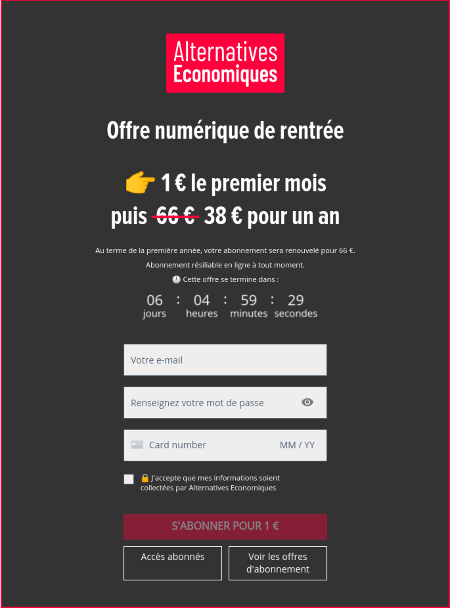 "We had an intuition that the number of impulsive subscriptions could be improved, so we acted on it by developing this wall that allows for conversion in a single click. Since putting this strategy in place, our paywall conversion rates have increase by an impressive 40%" - Fréderic Desiles, Head of Strategy & Marketing at AlterEco
Read more about their strategy in our article on What's New In Publishing.
🤿 Deep dive: how to find the balance between frustration and engagement 🤿

It's an important question, but one that really isn't easy to answer...
Too much frustration and your reader will turn away to find content elsewhere…
Whilst leaving too much content open may well increase engagement but won't bring you more money!
So, how do you find this perfect balance?
Qualifio, the data collection & interactive marketing solution, and Poool, the audience conversion experts, have come together to provide the answers!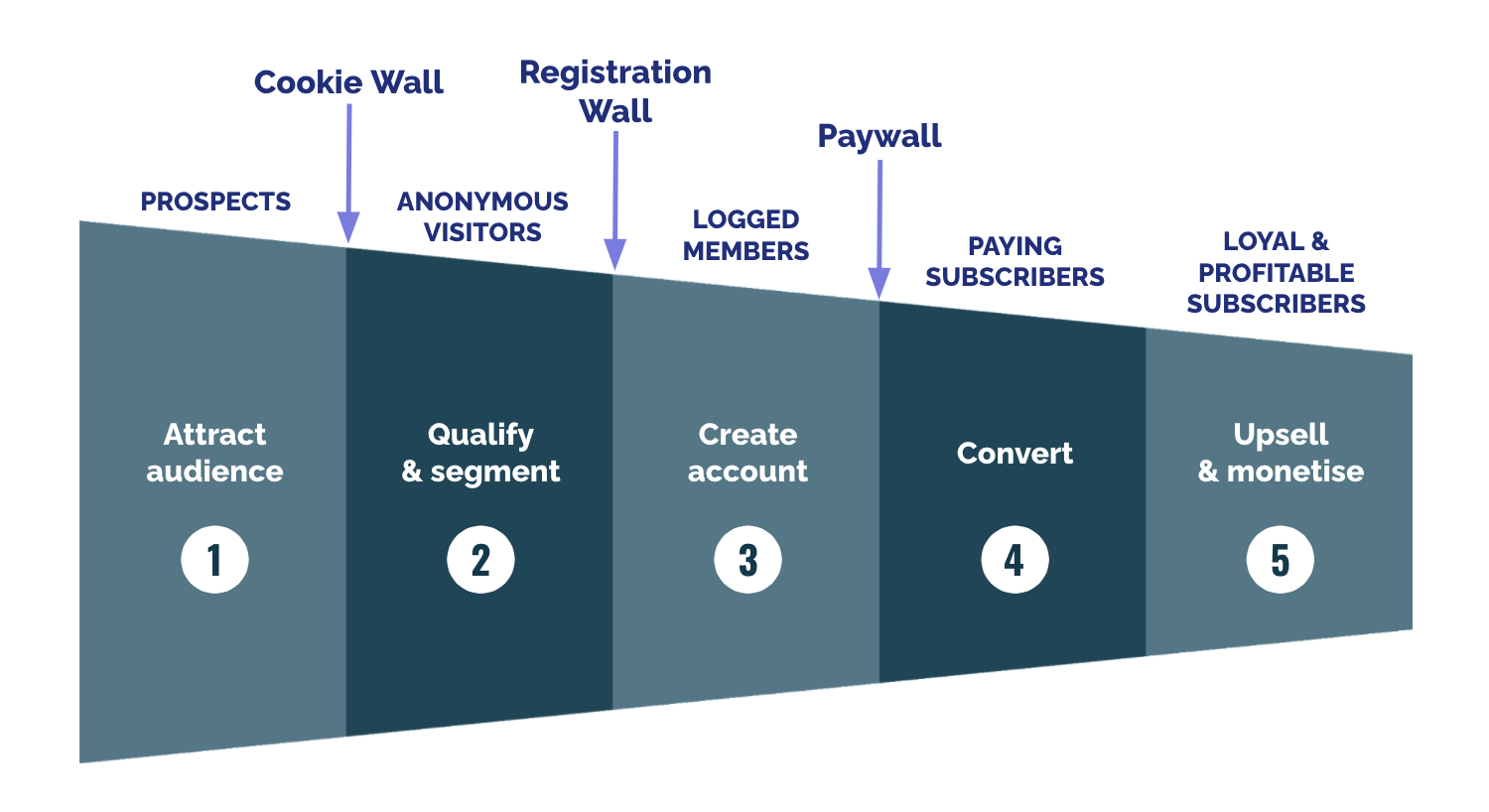 Increase ARPU for your least engaged users
De-anonymize readers to collect data, increase ad-revenue and foster higher engagement levels
Convert these users into subscribers for a predictable, recurring revenue stream
Secure high CLV by building strong, lasting relationships
Join us on April 7th at 3pm CEST as we share best practices, industry insights and concrete examples of how you can successfully monetize your audience by employing these techniques.
Register here! We'll see you there 😉
🗞️ Industry news and insights 🗞️

📝 AOP and Deloitte's report is out, what did they learn?
The biggest news (and it's positive!) is that digital publishing revenues were up by 13.4% in the final quarter of 2021, with an increase of 19.1% for subscription monetization.
"Organisations are looking to capitalise on the large audience among digital publications to attract the eyes of possible candidates. However, as households face a rise in everyday living expenses, the cost of digital publishing subscriptions may be called into question. To maintain a strong subscriber base, publishers must focus on emphasising the rigour of their reporting, while improving the accessibility of their online platforms." - Dan Ison, Deloitte
We'd like to add onto this the importance of diversifying revenue streams.
Whilst some of your most loyal, engaged readers will be prepared to pay for subscription, you can increase the ARPU of those with a lower propensity to subscribe by ensuring they consent to cookies and encouraging them to become free, registered members.
☕️ Morning Brew surpassed 4 million subscribers and generated about $50 million in revenue in 2021
Morning Brew, the business newsletter, has more than doubled their profits from 2020, highlighting the boom for newsletters and value of forming habits amongst audiences (here, the 'trigger' is based around an existing habit of your morning tea/coffee).
They're currently focussed on ad-based revenues but are hoping to add on a premium subscription offer for a more sustainable business model once they have a dedicated, qualified audience prepared to pay for content.
We recently talked about the importance of newsletters for engagement ourselves in a blog post, you can find it here.
💡 Insight of the month 💡

France-Antilles recently worked on optimizing their paywall CTR, testing the length of their premium offer's value proposition. Their theory was that a shorter text would perform better, particularly on mobile devices where the majority of their audience accessed content.
After building the wall designs (no code in sight 👀), adding this into a new scenario and sliding the A/B testing switch to 50%:50% distribution in the Dashboard, the wall was live and results started coming in!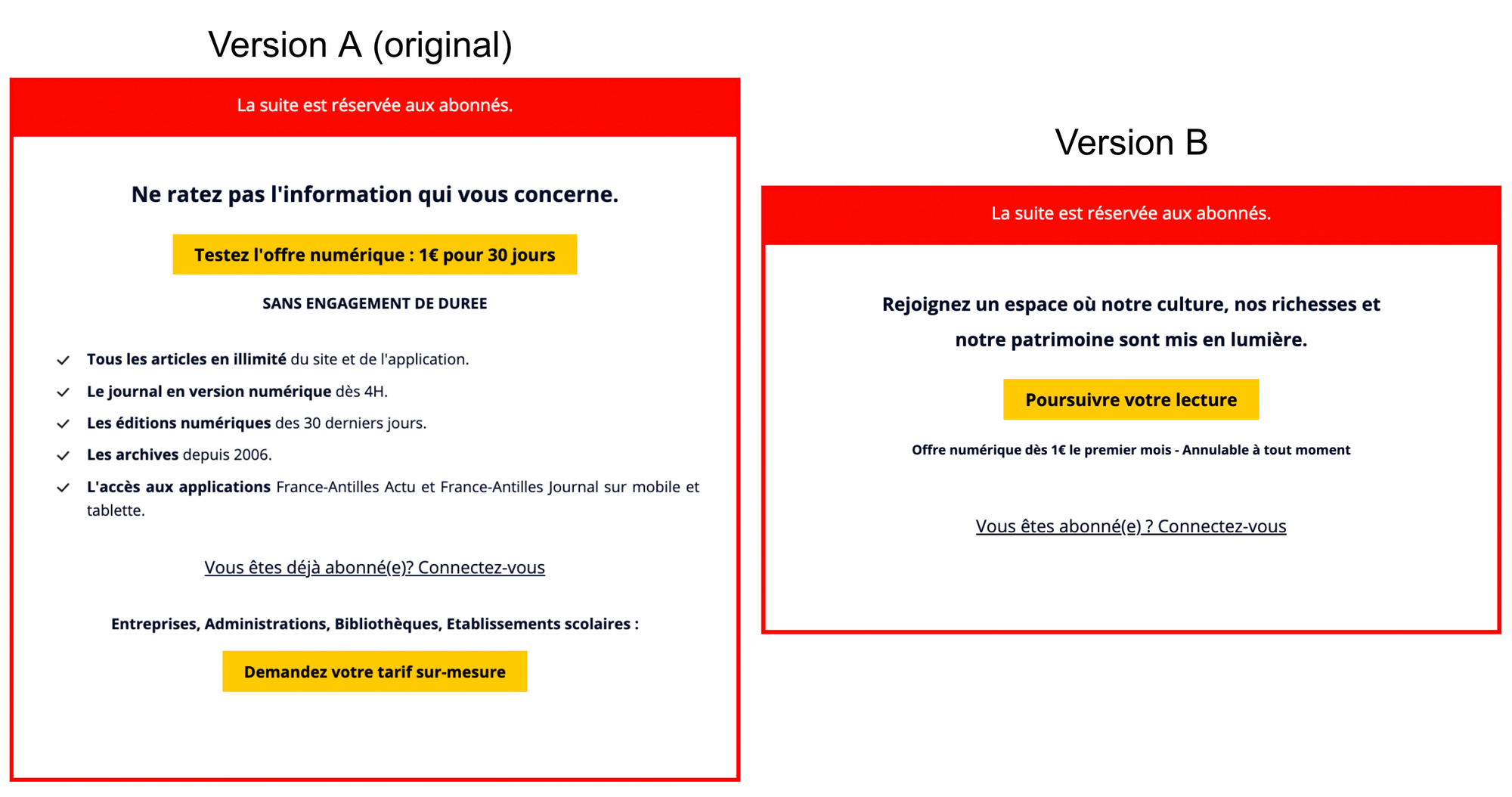 The results?
Version B, the wall with a shorter value proposition, performed 5x better on average than version A, the original long value proposition. And this was the case across all audience segments & websites (3 in total).
The take-away?
Test, test & test some more 😉
👀 Worth checking out 👀

📈 Trends that are driving new business models from The Fix
🚀How the JDD is benefiting from audience acquisition with upday and user conversion with Poool, in French or in English.
📱The industry's talking about Financial Time's latest launch, FT Edit - InPublishing shares their thoughts on the topic
👨‍👩‍👧‍👦 Your chance to join the team! 👨‍👩‍👧‍👦

Come and work alongside this lovely bunch of people at Poool, supporting digital content producers in their audience conversion strategies!
We're looking for...

🦸 A Product Marketing Manager
🧑‍✈️ A Consultant
🧑‍🚀 A Digital Marketing Intern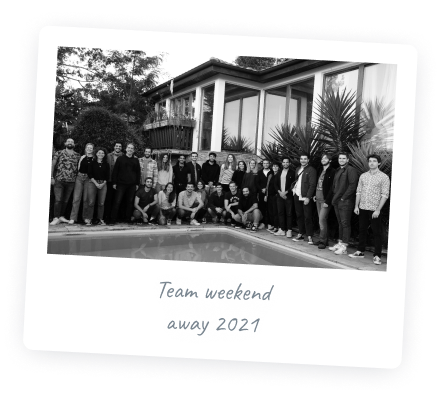 👋 Hey, are you new here?
Let me introduce myself - I'm Madeleine, Content Marketing Manager at Poool and it's my pleasure to welcome you to our B2B newsletter!
I'm an actual human behind the screen, so please feel free to get in touch if you have any questions or simply want to say hi! You can email me at madeleine@poool.tech or connect on Linkedin.