Every morning, without fail, my grandma walks down to her local corner shop and picks up a copy of her preferred newspaper, taking it home to read over breakfast. It's become so installed in her routine that, without it, her day doesn't really start.

And this used to be the norm - publishers had established themselves into their readers' daily lives, ensuring that they kept coming back to buy the newspaper. Even monthly magazines had formed habits, encouraging their audience to look forward to next month's release and collect each copy (I'm sure I'm not the only one who's had to have a spring clear out of an old magazine collection).

But the gradual transition from paper to digital has diluted this habit. Instead of a daily, weekly or monthly release that encourages recurring, routinely reading and engagement, content is continuously and randomly published online, available pretty much forever, accessible whenever.

It's therefore become a new challenge for publishers to bring this habit forming into the digital age and get more people to consume their content on a frequent and regular basis, just like my grandma.
---
How can newsletters help publishers overcome this challenge?
Despite the continuous availability of content online, newsletters arrive in a user's inbox (the digital letter box) at a specific time or on a specific day of the week/month, encouraging engagement, a high frequency of visits and, importantly, the forming of a habit.

Why should you seek to form habits?
Encourages continued engagement, leading to conversion
Engagement, which stems from regular and frequent visits to your content, is the foundation of monetizing your audience. A user who signs up to your newsletter has a significantly higher propensity to subscribe or create a free account (one step closer to paying) in the future than someone who doesn't. The New York Times, for example, found that recipients of their free newsletter were twice as likely to convert into paying subscribers than those who didn't.
Drives Customer Lifetime Value (CLV)
Newsletters also increase the value of your already-subscribed users. A subscriber who receives one of your regular newsletters will consume your content more frequently, be more engaged and continuously be reminded of the value that you provide to them in exchange for money. This is all important for reducing churn and ensuring that you're such a vital part of their life that they consider the subscription cost to be worth paying in the long-term.

Gives you greater flexibility to increase subscription prices and upsell
An engaged user who regularly and frequently consumes your content is someone who sees value in you and will be highly more likely to purchase your most premium offers or upgrade to a more expensive subscription package in the future. Seeing as newsletters allow you to boost this engagement and create more value, you'll be able to use them as an investment for having this flexibility in the future.

Helps develop relationships with your readers
Paper made for a very one-sided relationship - publishers wrote content and their audience read it. In the digital era, however, there's a real opportunity to have a two-way interaction with users, establishing strong and lasting relationships. And newsletters are no different. Getting into somebody's inbox every morning is a very intimate way of interacting and can provide the opportunity for conversation and connection rather than disconnection.

Increased content consumption, improved engagement, higher conversion rates, more subscribers and a growing CLV all play a part in a healthy subscription model which ultimately creates a stable revenue stream to allow for investment, development and sustainable growth of your business.
---
How do you form a habit with newsletters?

For this, we'll take the habit 'Hook Model' established by behavioral economist Nir Eyal.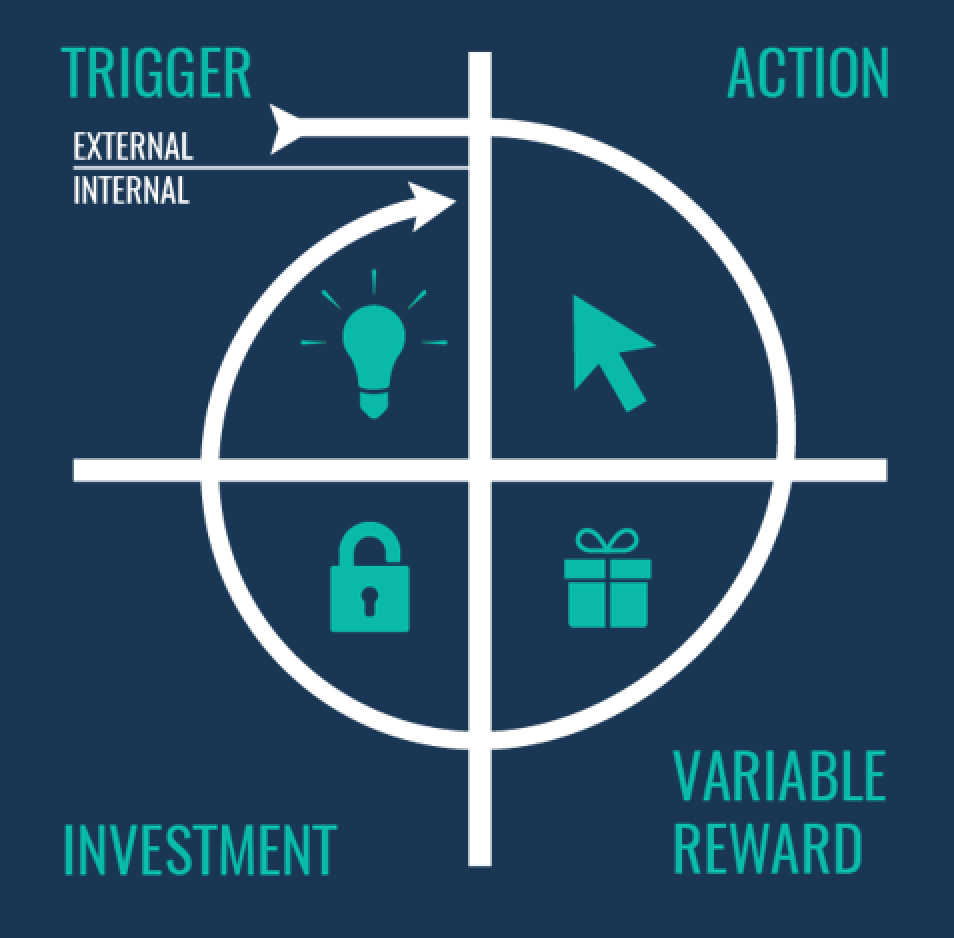 The trigger: this is what sets the behavior in motion and can be either external or internal. External triggers include the email arriving in their inbox and push notification that encourages them to open it, whilst internal triggers are what motivates the individual user to open your email, such as a desire to hear about the news. Your newsletter should therefore be purposefully written to connect with your audience's internal trigger or fit into a pre-existing habit - this, for example, could be a newsletter for a morning commute or something to be read first thing in the morning.
"When a product is able to become tightly coupled with a thought, an emotion, or a pre-existing habit, it creates an "internal trigger." Unlike external triggers, which are sensory stimuli, like a phone ringing or an ad online telling us to "click here now!," you can't see, touch, or hear an internal trigger. Internal triggers manifest automatically in the mind and creating them is the brass ring of consumer technology" - Nir Eyal, Hooked: How To Build Habit-Forming Products
The action: the user then carries out a specific action with the expectation that they'll get a reward from doing this. For a newsletter, this could be opening the email, consuming content or clicking on links.

The variable reward: this is what makes the user come back in the future, a reward that they get for carrying out the action. Newsletters will therefore only become a habit if a user expects and gets rewarded after performing these actions. This reward could make the user feel accepted, important and included within a group (rewards of the tribe, such as being named as part of an exclusive group or having subscriber-only events), being offered goods, products or services (rewards of the hunt which could include subscriber-only content) and finally the reward of feeling a sense of achievement or mastery (rewards of the self, just like when you complete a puzzle in a newspaper).

Importantly, note that these are variable rewards. As such, they'll only work in forming a habit if the reward can't always be predicted and varies over time. In a newsletter strategy, you could offer exclusive content, launch competitions that are solely promoted in your newsletter or run special events.  

The investment: here, your users expend effort which then brings them more value - i.e. they partake in a value exchange. Concretely, they originally invested some time and filled out information in order to receive your newsletter. In the future, you can encourage them to share a link to access more content or subscribe to one of your offers to reap in its benefits.
---
How are publishers putting this theory into practice to use a newsletter strategy to create habits, increase engagement and monetize their audience?


Promoting newsletters to establish the habit
It is of course impossible to create a habit via newsletters if a user hasn't taken the action of signing up to them in the first place. You can therefore employ a variety of techniques to encourage your readers to register for your newsletter.

The New York Times, for instance, integrates newsletter sign up into their onboarding process for new members and subscribers. Having already entered our email in a previous step, we simply click on 'Sounds good' and we're signed up to receive the newsletter. This allows the NYT to develop registered user engagement and nurture them towards subscription as well as increase CLV amongst subscribers through ensuring that they continue to see value in, and consume, the NYT's content.

Alternatively, you can embed a newsletter sign up form into your website alongside advertisements or subscription promotions, just like The Africa Report. By only requiring our email address and not redirecting us to another page, the process is hugely facilitated making user's highly more motivated to register.


A final option is to employ a newsletter wall. This works in the same way as a paywall, blocking content and requiring a value exchange, however a newsletter wall asks a user to sign up to your newsletter (instead of paying to subscribe) in order to gain access to content. Mediacités and La Croix make use of this technique for volatile users who don't yet seem ready to subscribe. Whilst a paywall might frustrate them and turn them away for good, a newsletter wall will increase engagement and establish a trigger that encourages consumption of content.

Just like all walls, this blocks content and requires a value exchange, but in the case of a newsletter wall, the user is asked to sign up to your newsletter in order to gain access to content.

Newsletter signup could also be incorporated into creating a free account. The Economist, for example, has a registration wall blocking content (and promoting subscription) which requires a user to either subscribe or create a free account in order to gain access. By clicking 'Register with an email address', we're led to a form page that informs us that creating an account means we can access content on any device and receive the weekly newsletter. This not only boosts the number of recipients of the newsletter but also creates exclusivity (reward of the tribe) so a user can feel part of a community who receives content in their inbox every morning.
Sending out newsletters on a regular basis
By publishing a newsletter at a set time or on a specific day, you create a trigger of expectation where the recipient knows that your email is coming and fits it into their routine.

Alternatively, and perhaps an easier approach, is to create a newsletter that fits into an already established habit, such as a daily commute to work or morning coffee.

The Washington Post, for example, recently announced the launch of it's new 'The 7' daily briefing, a short newsletter sent at 7am every morning that will summarize the most important stories of that day.

"With a focus on how we build that habit and how we can get people caught up, this digestible format enables readers to quickly consume meaningful stories as part of their morning routine, so they can feel informed and equipped with news they can trust." - Coleen O'Lear, Head of Mobile Strategy at The Post
The 7 is available to all readers, aiming to boost engagement, increase frequency of visits and gradually lead users to feeling dependent on The Post's content as part of their daily routine. At this point, the reader is highly more likely to subscribe and see value in the publisher.
Quartz is another publisher that's well understood the value in newsletters for long-term success, with a total of 11, 4 of which were launched in summer 2021 alone. The Daily Brief (daily) and Obsession (weekly), for example, regularly achieve more than 35% open rate and reach over 500k readers every day, likely thanks to quality content and the habit forming that they encourage (i.e. being sent at the same time each day/week).

For Quartz, newsletters provide a way of not only increasing engagement and conversion rates but also as a means of retaining subscribers - 5 of the newsletters are for paying 'members' only. This aims at reducing churn through providing subscribers with regular and frequent value that justifies the payment and gives them content they can't get elsewhere (reward of the hunt).
Digital may well be the norm in this century, but what if paper made a comeback? What if some things are just better off staying offline? Personally, I feel this way about books - I've always enjoyed buying a physical copy, smelling the newness of it (please tell me it's not just me) and turning the pages, not to mention how much more satisfying it is to finish a paper book compared to an electronic version.

So, perhaps there's space for newspapers to become popular again and it's certainly something publishers are experimenting with. The Times, for example, has just launched a new commuter newspaper campaign in the UK, aiming to insert their content into an already established habit (travelling to work).
---
Whatever approach you choose to take, it's clear that habit forming is an essential journalistic technique to ensure high user engagement in the digital age.
Interested in significantly increasing your newsletter registrants by integrating a wall into your site?
Book a demo and meeting with our team to hear about our Audience Conversion Platform will help you achieve your goals with ease, just like our clients JDD who collected over 100,000 newsletter registrants in just a short period of time! Read the JDD success story here: