A comparison of the paywalls of 3 successful media websites — The Guardian, The Washington Post and Le Monde.
With paywalls, and especially dynamic paywalls, becoming more and more popular among online media sites, the type and style being employed is diversifying.
Clearly, just as there isn't one type of reader, there isn't one type of paywall.
From both the reader and publisher point of view, this advancement is promising. The days of the non-adapting brick walls are hopefully being left behind and replaced with dynamic paywalls that differ for each reader as well as among publishers. Each media site is different and attracts its personal style of audience. Consequently, their paywall should take this into consideration and be the right one for them.
In this article, the paywalls of 3 successful media sites, each from different countries, will be analysed and compared. This will demonstrate the variety of paywall types that can be found online and how each of these can work in their own way and be personalised to the specific publisher who is using it.
Introductions:

The Guardian [1] — Headquarters: London, UK. Established: 1821. Global ranking: 139. Total visits (March 2019): 315.86M
The Washington Post [2] — Headquarters: Washington DC, US. Established: 1877. Global ranking: 11,277,586. Total visits (March 2019): 172.9M

Le Monde [3] — Headquarters: Paris, France. Established: 1944. Global ranking: 525. Total visits (March 2019): 85.56M
What type of paywall is being used?
These 3 media companies each use completely different strategies regarding paying for content, demonstrating two contrasting paywalls and a middle ground example.
At one end of the paywall continuum we have The Washington Post which employs a metered paywall. This differentiates from the donation approach of The Guardian who relies on some of their readers giving money voluntarily to provide monetisation. Le Monde, however, demonstrates a mix of the two, a freemium approach, and divides its articles based on whether they are free or not.

The Guardian's paywall:
This British newspaper provides daily articles to readers without the need to pay. All articles can be accessed without subscription or giving any personal information. Their objective is therefore fairly explicit — continue to provide their readers with free news whilst still monetizing. Notably though, paid subscription options are available which provide added benefits such as receiving the paper version by post.
Due to their donation approach, The Guardian relies on readers giving a contribution to the publisher in order to monetise. This voluntary donation concept is omnipresent on the website as the media tries to highlight the importance of funding news so that it can continue to be available to all.

Any demand for money from a company can easily become fairly aggressive and irritating to a reader. However, the wording used by The Guardian is neither forceful nor over-bearing but honest and sincere. They ask for 'a small favour' from their readers who are implied as being valued and appreciated, seeming to be aiming to educate them on the cost of quality journalism. Equally, the website seems aware and understanding that not everyone will be able to donate. Perhaps above all, this highlights the importance of how a media asks for money as this will have a significant impact on its success or not.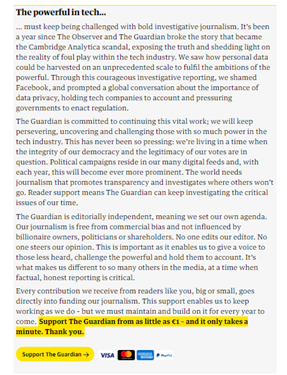 Perhaps one of the worries for a publisher regarding donations is whether this is a reliable source of income. Unlike blocking articles to everyone but paying subscribers, where money is more guaranteed, a donation is often one-off and could be rare. The Guardian, though, provides multiple donation options, which include a monthly or annual payment, in a similar way to a subscription, ensuring that making a payment is as simple and personalised as possible.
And this seems to be working for The Guardian. In the last 3 years, "more than a million people worldwide have contributed" to the media side and there are even "500,000 paying…on an ongoing basis"[4]. What's more, it has also used crowdfunding for certain news articles "such as the recent US school shootings where it raised $125,000 to produce solutions-based reporting"[5]. It almost certainly helps that The Guardian publish investigative journalism which is highly popular and has readers who appreciate their independent approach to the reporting of news.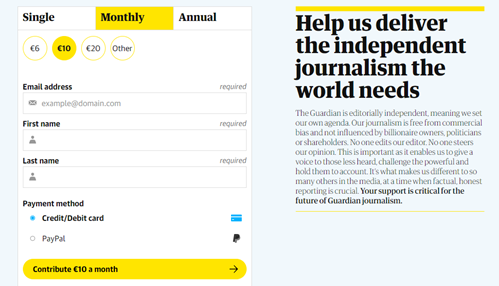 Le Monde's paywall:
In terms of the balance between free and paid content, the French publisher seems to have found a good stability after a few recent redesigns. Le Monde now has a paywall set up for around 37% of its articles to be reserved for subscribers only after realising that 33%, the original amount of content blocked, was too low and trialling increasing this to 40% which also had a negative effect on reader figures [6].
On their website, all article headlines are available to see for readers, whether subscribed or not, and any content behind a paywall will be cut off after a paragraph or two. A yellow logo signals that the article is reserved for paying subscribers, letting non-subscribers know immediately that they won't have access to all of the text.

This type of pre-warning is often appreciated by readers and is also a fairly soft way of paywalling thanks to it not being hidden away (a clear signal to readers), the colour being bright and positive, also being the same as that used for the subscription button, as well as the fact that less than half of the articles are blocked.

The fading out of the article is also very effective as the user begins reading the initial part of the article (engagement) before seeing the list of advantages of being a subscriber, including that they can continue reading what they've started.
The split of paid and free articles is visible throughout the website. However, does this perhaps put a negative undertone on the free content? Why is it free? Does this make it less interesting than paid articles?
At the same time, this strategy could be seen as showing the value of their content by putting the two types of articles side by side and, although giving some out for free, emphasising the importance of paying for their work. As Greg Harwood, director at strategy and marketing consultancy Simon-Kucher & Partners, nicely sums up "by forcing consumers to make this decision, of the price-value trade-off, they are able to effectively create the call-to-action that is often required to get a prospective reader over the inertia barrier" [7]. In comparison to a metered paywall, a reader can constantly see the value of the publishers' articles, rather than simply realising this after hitting their free article limit. This strategy has certainly proved its worth for Le Monde as they have increased their subscriber conversions by 46% since the redesigning of their site [8].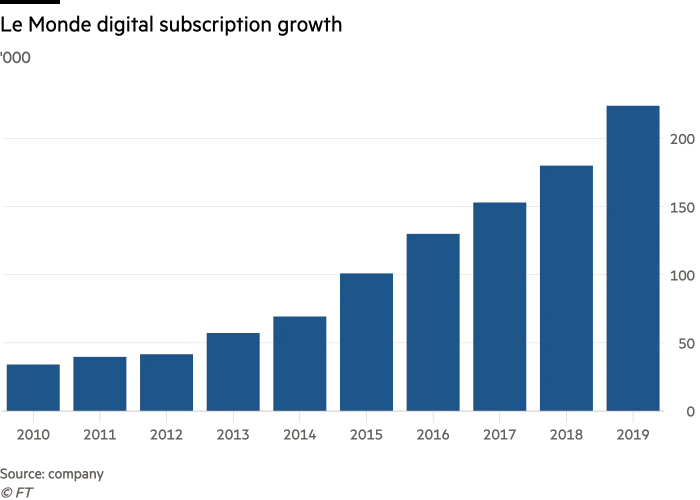 [9]
The Washington Post's paywall:
The Washington Post demonstrates the use of a metered paywall built by ARC publishing specifically for their website. The American publisher will give a reader free access to any 3 articles that are clicked on (a number which you aren't told at the beginning) before they are cut off and won't be able to see any of the content at all. Notably, unlike Le Monde, their articles aren't split into free/paid.

This can be hugely frustrating for non-subscribers who won't be aware of how many free articles they have left to read. It also cuts off a large number of readers who can't or don't want to pay to commit to a subscription. As MIC network points out, having a paywall means that their "political reach" will decline, as well as their potential 'to shape public option' and "influence…society" [10].
On the other hand, a metered paywall encourages subscription, and so monetises, perhaps more than any other paywall type as you get a taster of their content before being informed that you have to pay or find information elsewhere. This strategy therefore has a huge focus on ensuring readers understand the need to pay for what they read. Readers will be paying, loyal (as they'll want to get their money's worth) and will be a qualified audience (and so will simultaneously increase advertising revenues).

However, The Washington Post has previously made certain articles and news stories free. For example, during certain natural disasters such as hurricane Harvey. Although this is obviously useful in order to keep the public informed during certain situations and make important information free to access, "they're simultaneously saying that all the other stuff they publish doesn't really matter, so they'll charge you for it" [11].
Having said this, the Post has highlighted that its goal is to grow its subscriber base and, in October 2017, the most recent revealed statistic, they disclosed that they had reached 1 million digital-only subscribers [12]. The fact that they have increased subscriptions demonstrates that although they perhaps have fewer one-off readers due to them being cut off after a few articles, they monetise from their most loyal readers through encouraged subscription.
Does the country of a publisher make a difference to the type of paywall?
In summary, according to data from the digital news report and in comparing these 3 publishers, yes.
[13]
The strategies employed by a publisher are hugely influenced by who their readers are. Therefore, the paywall they use needs to suit their audience.
For example, if a large percentage of the US are used to paying for online content, then introducing a metered paywall for The Washington Post won't be too much of a shock nor will it have a negative impact on monetisation. However, the proportion of the UK paying for online content is below average which would suggest that the metered paywall used by The Washington Post may not have the same success with The Guardian.
Interestingly, Le Monde has employed a different paywall for its European and American audiences.
The digital news report also notes that countries such as in Northern Europe have the added benefit of having a market who "value news" as well as not having as much competition from other publishers [14], unlike the huge range of content available online in English for example.
However, it is important to note that even within a given country there is not one-size-fits-all. In the UK, some publishers have struggled and failed with a paywall, such as The Sun who "abolished its paywall…less than two years after introducing it", whereas others hugely benefit from them, with The Financial Times being a key example as having "more than three-quarters of a million subscribers (in 2017)" [15]. However, The Financial Times audience is significantly more international than The Sun, perhaps helping the metered paywall approach more accepted than the tabloid who is predominantly read by Brits.
Conclusions
These 3 examples of paywalls demonstrate the importance of each publisher finding the right paywall for them. Whilst the donation approach is working well for The Guardian, the same might not apply if this was used with The Washington Post or Le Monde. And the same for their paywalls applied elsewhere.

And this doesn't need to stop here.
Having seen the advancements made recently, with the introduction of dynamic paywalls, the success of a range of approaches and the redesigning of monetisation, we can only imagine what is to come. The world of publishers is evolving and will continue to do so.
---
Initially published by Madeleine White on our former Medium platform "Poool Stories"