Towards the end of 2021, we had the pleasure of welcoming Bio à la Une, the online content producer and well-being company, as one of our new clients!

Differing slightly to the typical ad-focussed publisher, Bio à la Une previously monetized primarily from their brand and products, choosing this over commercials in order to prioritize an engaging, non-disruptive user experience.

However, the time came to increase this revenue and ask users to pay for access to their highly-researched, quality content.

🎯 The goals:
Educate readers on the importance of paying for access to quality content
Launch a premium strategy on the Bio à la Une website
Increase reader revenue without the need for advertising
Leave certain articles open to all visitors
To provide the tools and advice needed to launch their premium strategy successfully, the team turned to Poool's Audience Conversion Platform, supported by the expert advice from our consultancy team.

After a speedy tech integration period and onboarding sessions with Poool, the marketing team were set to get to work on their strategy in complete autonomy.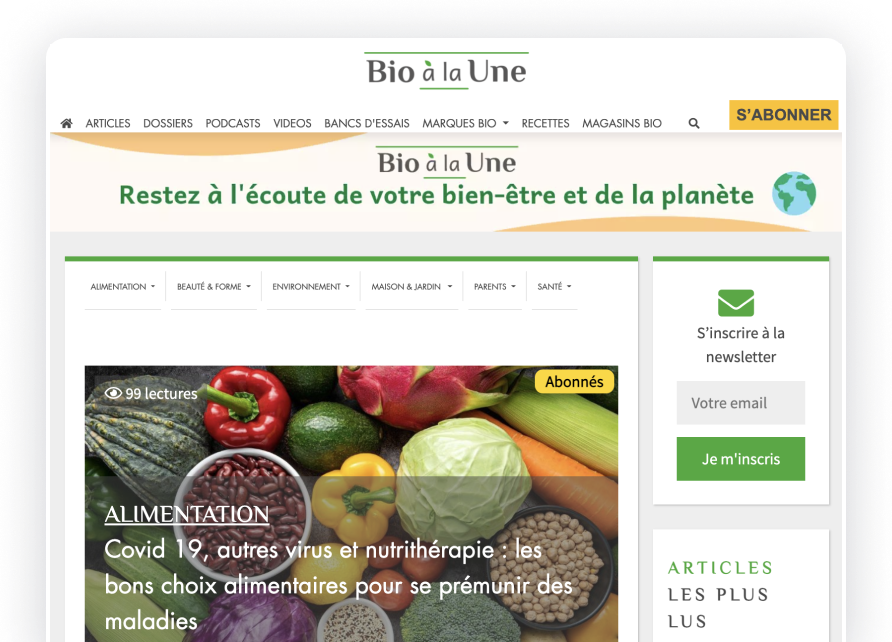 However, as the team well-understood, launching a premium strategy doesn't happen in a day and work needs to be put into informing, engaging and reducing frustration among readers before a paywall can be integrated into content.

For Elodie, Head of Editorial at Bio à la Une, it was especially important that visitors be made aware of the fact that high quality, well-researched content isn't free to produce and that a user needs to give something in exchange for access.

Working with our consultancy team, it was decided to launch their premium strategy in 2 steps.
---
Step 1: Newsletter/Data Wall on premium content
As a pre-launch to their premium strategy, and to achieve a variety of associated goals, a Newsletter Wall was integrated into their highest quality content, blocking access and asking users to provide their email address in order to unlock the wall.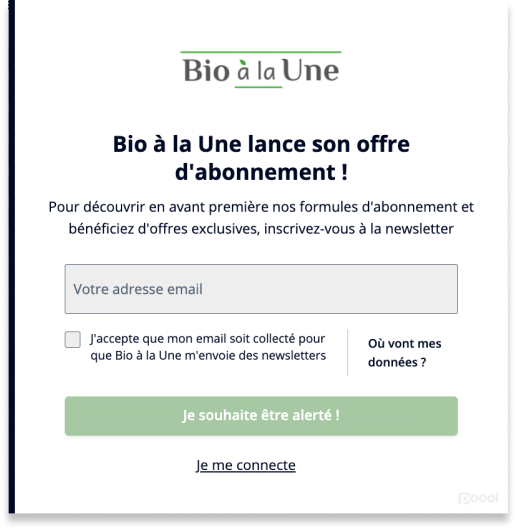 The wall reads "Bio à la Une is launching a subscription offer! To be the first to hear about our subscription options and benefit from exclusive discounts, sign up to our newsletter"
🎯 The goals:
Educate audiences on the concept of paying for content online and promoting their premium offer
Lead generation
Increase engagement to preemptively counteract the frustration of a paywall
Give the Bio à la Une team time to 'test the waters', learning about their audience's reaction to a wall and prepare their premium strategy
Thanks to the Poool Dashboard, it didn't take long for the team to build this wall (without the need for code), adding the 'Newsletter subscription' action into their 'Premium content' user journey and sliding a switch to make it active.

They additionally made a new audience segment for those who had passed through this wall, thus registering in advance for Bio à la Une's subscription.

Interestingly, they initially launched with an optional Newsletter Wall, one that allowed users to select 'No thank you' and unlock the article without providing their email address. The goal here was to reduce the risks of integrating a wall into their content. However, this led to a low conversion rate and the team decided to make the wall fully blocking (non-optional).  

The results: 1110 emails collected in just 3 months, 60% more than their original goal of 700.

They were now ready to launch their premium strategy!
---
Step 2: Paywall on premium content
Having successfully managed to get 27% of their traffic on premium content (through increased premium content visibility) the next step was to begin to convert their users into subscribers through a paywall.

Using the same design as for the Newsletter Wall, the team simply switched the newsletter action for subscription in the 'Premium content' scenario, creating a personalized version for those who had passed through the Newsletter Wall (pre-registered users).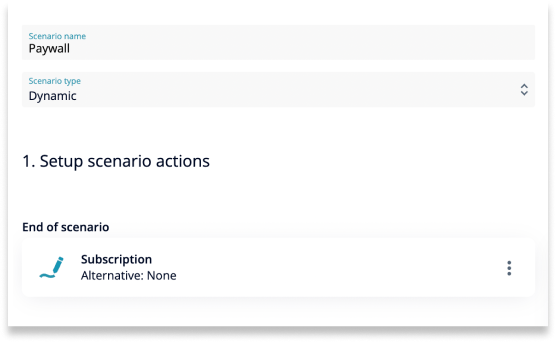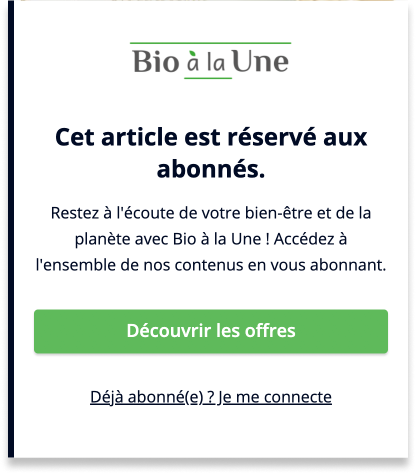 💡In our Digital Media Review study, Poool found a correlation between the visibility of premium content and the user-to-subscriber conversion rates. If a publisher has less than 10% visibility of blocked content on their site, they won't have any, or very few, visits to their subscription page. If, however, we move to 10-40% visibility of paid content, the amount of traffic in the subscription tunnel and conversion rates will both increase.  This doesn't necessarily mean more premium content should be produced, but that this is what should be placed at the forefront of your site.

For Bio à la Une, they aim for 25-50% visibility of premium content - for instance, by pushing this content to the top of their home page and by increasing visibility rates at the weekend when they have the highest audience numbers.
The results: The initial results are hugely reassuring with a CTR and conversion rate 7x greater than the industry average. We can put this down, in part, to a clever pre-launch strategy and high premium content visibility rates.
---
Continuous optimization
As we always recommend at Poool, the team at Bio à la Une have also been making the most of the A/B testing functionalities in the Dashboard to continuously optimize their conversion rates and learn more about their audience's behavior.

For instance, they're currently testing the call-to-action button on their paywall, comparing the original 'Discover our offers' with an alternative 'Subscribe' (note that 'Je m'abonne' has become a common phrase in France associated with subscriptions for digital publishers).
The test is yet to be completed but results so far are suggesting that Version B has an overall better CTR. However, the team have also been analyzing the wall's performance by audience segment, with users being divided into groups based on their level of engagement (Poool's native segmentation).

Interestingly, less engaged users (Volatiles & Occasionals) seem to click-though version B more, whilst Fans who are more engaged prefer Version A.
Launching a 2-step paywall strategy gave us the valuable opportunity to inform Bio à la Une's audience of their new premium strategy prior to locking content.

This not only helped the publisher to collect first-party data and launch a successful engagement strategy, but it also helped them to build a strong, well defined reader segment of these engaged users. The paywall could then be personalized for these readers, leading to a CTR more than 6 times higher than other segments!
-Ludivine Paquet, Poool Consultant supporting Bio à la Une
---
Next steps

The overall goal for the future is to continue to block all premium content with a paywall, leaving news articles, updates and less developed content open.

However, the team want to continue to run A/B tests to not only optimize their strategy but also learn about their audience to inform their decision-making. For instance, they'd like to discover whether conversion rates differ depending on a user's source of traffic, something which is interesting for Bio à la Une who acquire a lot of their readers from social media sites such as Facebook.
Today, all it takes is a small Google update for publishers to change position in search engine results (and often by a significant amount). This lack of control led Bio à la Une to decide to lessen our dependence on SEO, even if it still remained an important part of our strategy.

Instead, we chose to focus on developing our user's loyalty, investing in a premium strategy in this environment where subscription models are continuing to increase in popularity. At the heart of this for Bio à la Une is the fact that high quality content isn't free to produce... but changing reader habits certainly isn't easy and requires careful attention, reflection, and patience.

This is where Poool angled itself, providing the understanding needed to launch. Thanks to some great first results, and a fully blocking wall, we were able to consolidate and develop our newsletter base as well as launch a subscription strategy in a simple but hugely effective way.
-Elodie Moreau, Head of Editorial at Bio à la Une
---
Overall, we're hugely impressed by the results achieved so far and are excited to see where the Bio à la Une team go next with the support of our consultancy experts!

Interested in doing something similar and launching a premium strategy with putting traffic or user engagement at risk?

Book a free demo with the Poool team today!