When the team at Boursier.com, the French economy and finance news expert, got in touch with us, they were already using a freemium paywall that blocked some premium articles reserved for subscribers. They therefore monetize from subscriptions alongside ad-based revenue.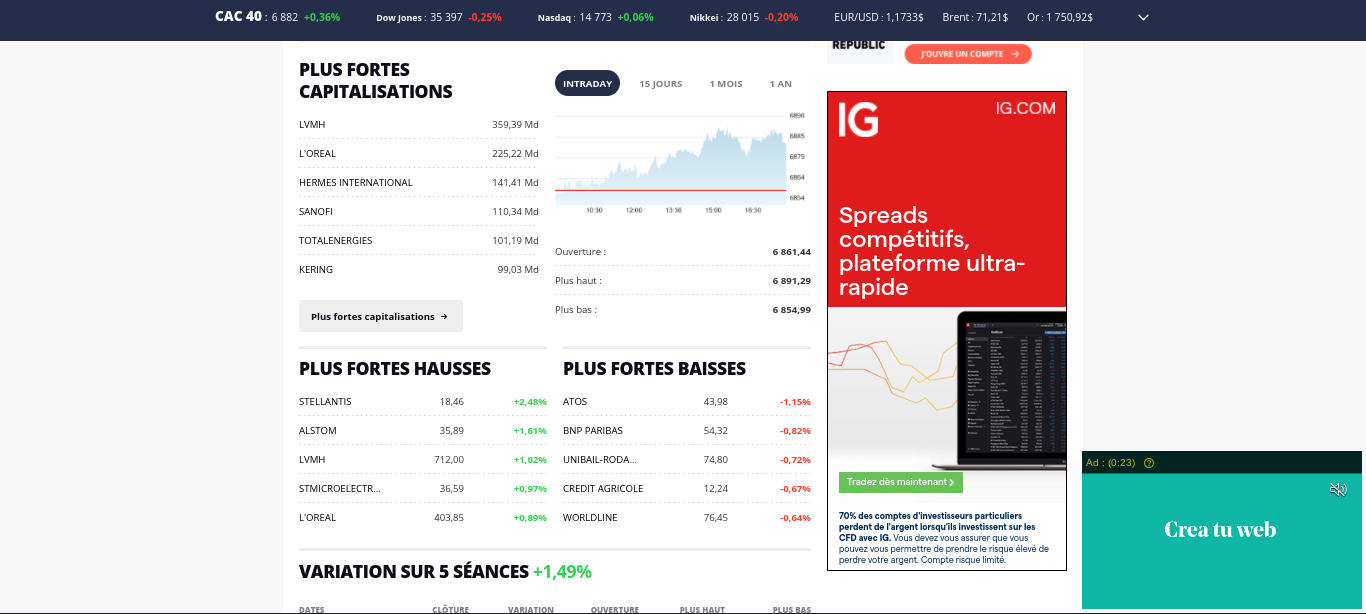 After a basic analysis, two things were clear:

👉  The publisher had a strong and unique selling point, namely specialized and highly attractive, quality content

👉  The step that preceded subscription involved registering for free as a member on their website, a very useful technique that we encourage at Poool for converting unknown visitors into leads prior to converting them into subscribers


With these in mind, we set about planning on how best to optimize the system already in place to increase conversion rates without halting progress already made.

The teams decided that it was best to take small steps and progressively deploy the desired walls, trialling them out prior to full implementation.
---
The strategy was defined and we were ready to put it in place using the Poool Dashboard.

The plan was to exploit the potential that Boursier.com's content had in order to grow the registered user base. Importantly, we would ensure that, despite this focus, the number of page views and guaranteed revenues from advertising would not be impacted.


👉  Our first step was to A/B test a metered wall on 25% of the audience.

To encourage readers to create an account, Boursier's marketing team decided to implement a metered wall on free content whilst still blocking premium content behind a hard paywall.

In keeping with the philosophy of progressive deployment, the publisher decided to test this strategy on only 25% of their audience at first, whilst still presenting the old journey to the remaining 75% of users.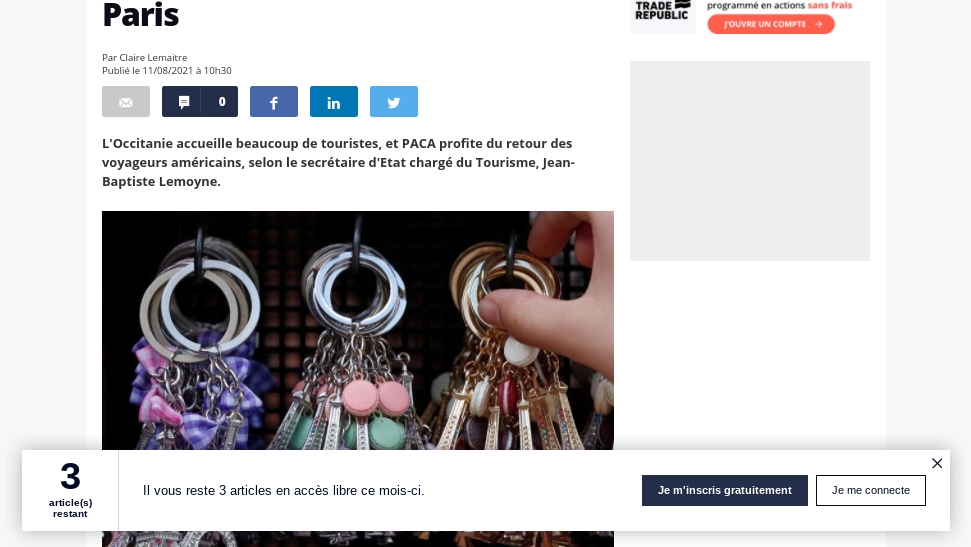 Thanks to the dedicated feature on the Poool Dashboard, A/B testing was very simple and effective for Boursier. They were able to test the scenario out on any percentage of audience desired and in just a single user segment.

To see how easy it is to A/B test scenarios in the Dashboard, take a look at this video demonstration!
The reader's experience is as follows:

👉  They can access 4 non-premium articles for free

👉  A banner at the bottom of the screen informs them of how many articles they have left

👉  After reading the 5th article, they're presented with a hard registration wall where they have to create a free account in order to gain access to any more articles within that same month.
Note that after registering, the reader will have access to unlimited articles per month (aside from the premium articles reserved for subscribers)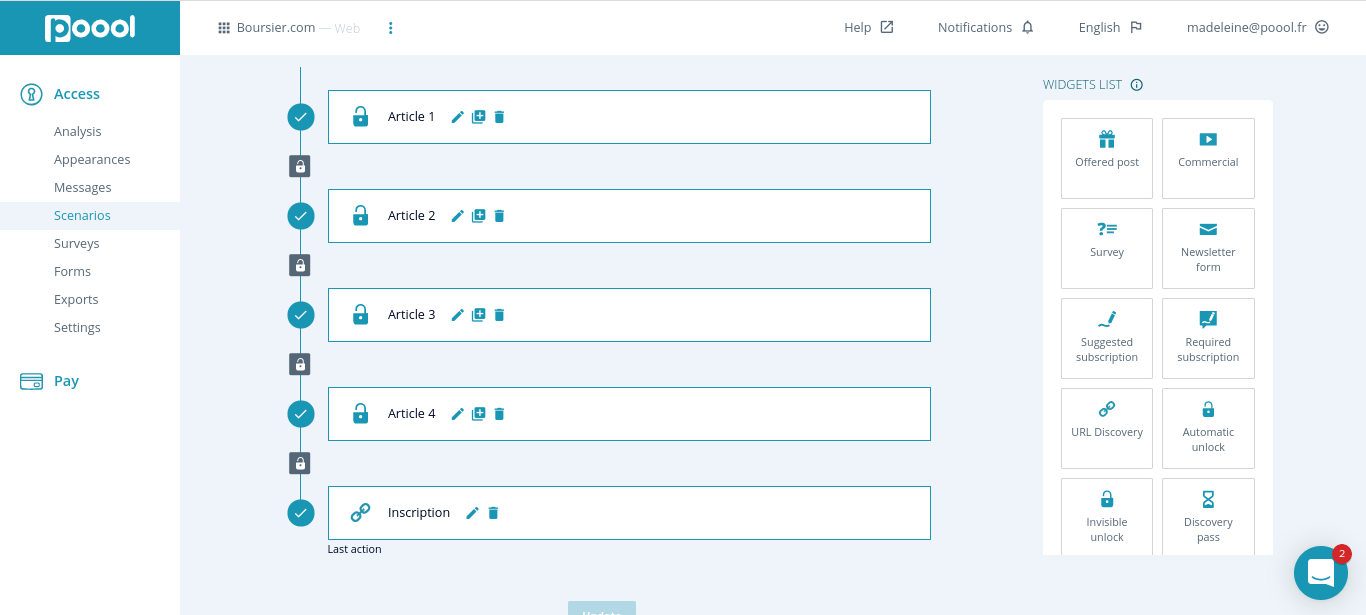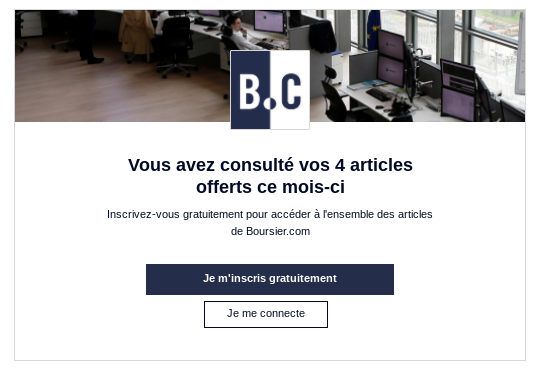 ---
After 3 months of testing, and some very impressive results, Boursier.com decided to deploy Poool on 50% and then 75% of the free-content-consuming audience.

Although their central goal is still focussed around growing their member base, new ideas are being added to profit from Poool's solution, including optimizing advertising revenues, anti-adblock monetization, device-oriented journeys, and more!

👉  Increase in registered user base by 25%
👉  50% of new subscriptions are generated by 25% of the tested audience
👉  Limited impact on the visit intensity
👉  Number of pageviews unaffected by the wall
👉  Subscriptions boosted by relevant and exclusive content


We wanted to test new levers in order to grow and qualify our member base, while highlighting the associated service offer. So, we implemented Poool's widgets very quickly and very easily with the help of the team.

The flexibility of the tool allowed us to make some tests on a small part of the audience then to extend it to a bigger part of our readers.

Today, Poool is the main source for new members on our website.

- Renaud Coldepin, Digital Marketing Director @Newsweb
---
With the high quality of content and unique selling point that Boursier.com have, our team at Poool have always believed that they'd go far with our wall solutions. And we weren't wrong! It's been great to see them test, learn and implement before reaping in the benefits!

Interested in doing something similar and taking control of your subscription and registration strategies to increase revenue? Book a free demo!