Newsletter originally sent on Thursday, 11th May 2023.
Hi,
Happy Spring!
We've been out-and-about the past week at a Google Local News Initiative day in London and the WAN-IFRA Digital Media Europe event in Vienna. As usual, both were incredibly insightful as we heard from some of the leading industry experts on how they're tackling the challenges facing publishers today.
🇬🇧 In London, one of the key challenges brought up was the question of advertising vs subscription for digital monetization. Find our summary here as we share why sustainability for local news publishers means advertising AND subscription.

🇦🇹 Whilst in Vienna, topics ranged from engaging young audiences and retention, to newsletters and building a community. Jump into our key takeaways here.
In our May newsletter:
TL;DR understanding retention with Recuro
How to build a high-performing registration wall: the checklist
Engagement, Registration & Personalization: The first-party data strategy to increase ARPU for digital publishers
Content to dive into this month
---
TL;DR Understanding retention with Recuro
I attended an interesting webinar organized by Recuro, a subscription consultancy company based in Sweden, on understanding retention. You can find the replay here, but the most valuable takeaway for me was that you should map the customer journey, remembering that retention starts from well before a reader subscribes:
1/ Optimize strategy and offering
> It's valuable here to analyze which products lead to the highest retention rates and customer lifetime value (CLTV)
What products are you offering, for how much? How long do the terms last? When will a reader be billed?
2/ Acquire loyal subscribers
> What defines a 'valuable' subscriber? Perhaps they signed up to the newsletter before subscribing, downloaded the app, created a free account... this information can inform engagement efforts prior to conversion with the aim of increasing retention after they subscribe
3/ Engage to loyalize
> What you do from the moment they click pay: onboarding, orientation and engagement through formats that you know positively impact retention
The German publisher, Die Zeit, for example, found that there's a big drop in engagement after the first day of subscription, so they established a "First subscription day" project to keep the new subscriber engaged, with personalized first day experiences, confirmation & onboarding emails as well as a "5 tips to get started with subscription" page in the footer bar on the first article that a subscriber accesses.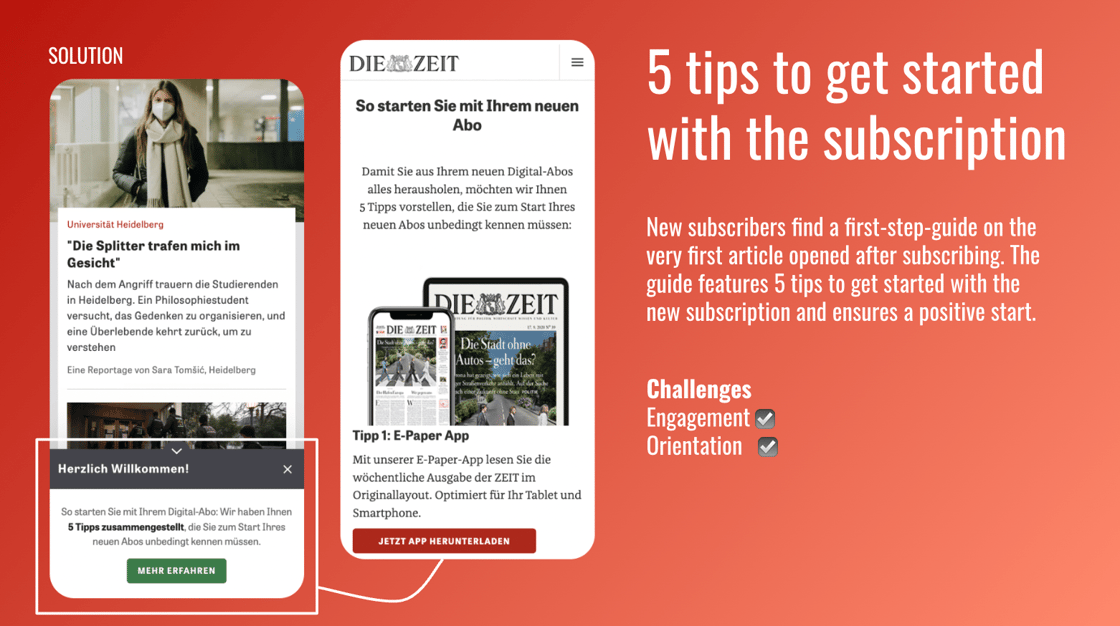 4/ Save and renew actively
> Manage cancellations (preventative efforts), win-back campaigns (reactive efforts) and encourage subscription reactivation
Find the webinar replay here.

---
How to build a high-performing registration wall: the checklist
6 steps to create a registration wall to convert readers into members, support your data collection strategy and increase audience monetization.
Define a clear value proposition, just as you would for a subscription offer
Your readers should understand why you are publishing content and why they should create a free account to access it
Forefront the value that users will get in exchange for registration
Use clear and compelling language to communicate the benefits of registration, and make sure users understand what they will gain by signing up.
Reduce friction and only ask for the information you need
Keep the number of clicks, typing and scrolling needed to a minimum with the goal of reducing friction  and encouraging a user to continue through the funnel to registration. Make it as easy as possible for users to register by streamlining the registration process: avoid asking for unnecessary information.
Onboard your newly registered users just as you would for subscribers
Onboarding is often reserved for new subscribers, but leading your newly registered users through a similar process can prove hugely valuable for increasing engagement and ensuring they make the most of features you're now providing them as a member.
Maximize the value of registration to increase engagement
Registration provides you with a unique opportunity to engage with your audience. This can be done through personalized content, email newsletters, and other forms of communication to keep users coming back to your site.
Continuously monitor and optimize performance
Continuously monitor your registration process by analyzing user behavior and engagement metrics, running A/B tests, optimizing and iterating. Use this data to make informed decisions about how to improve the registration process and increase the value that it brings to your business (e.g. ad revenue, subscription, etc.).
Find the full article, with "Best in class" examples, on the blog.
---
Engagement, Registration & Personalization: The first-party data strategy to increase ARPU for digital publishers
Our latest white paper, produced in collaboration with Viafoura, dives into the steps to take to collect first-party data and gradually increase engagement so as to move readers through the funnel towards a high ARPU.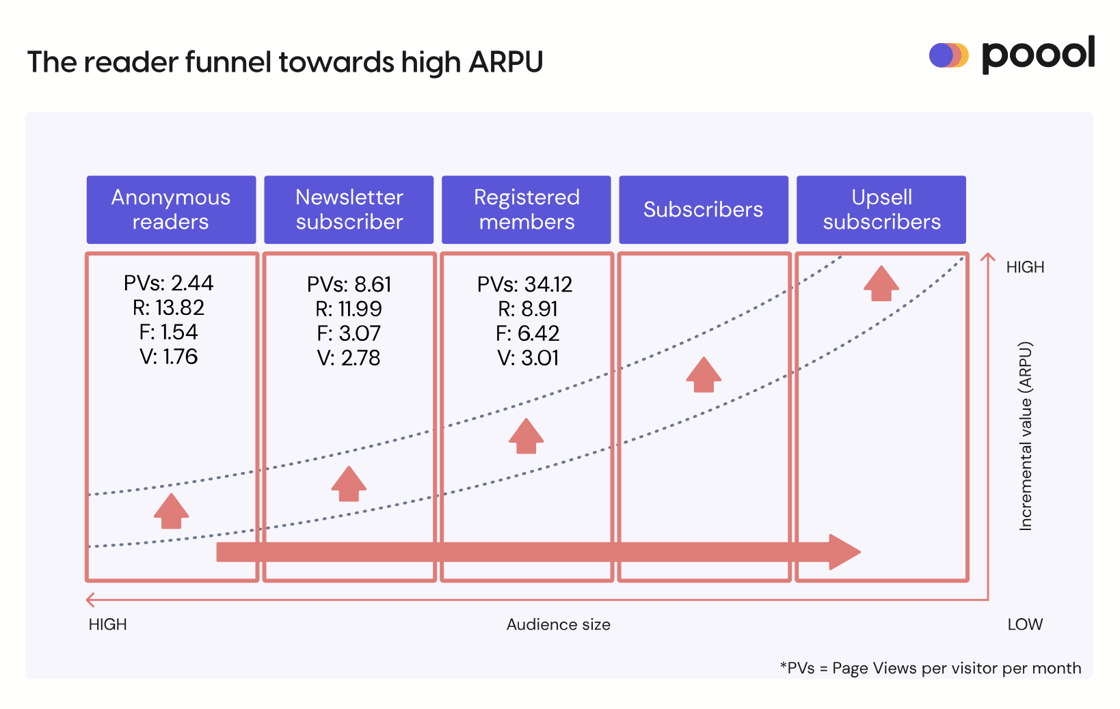 Our conclusions?
> Engagement is only valuable if linked back to revenue
> Of course, subscription is the goal. However, a great deal of work is required prior to the paywall to increase profitability of non-subscribers as well as their propensity to subscribe in the future
> Collecting first-party data through declarative data, offered at the point of registration, as well as engagement, interest, and sentiment data at every point of the user's online journey (progressive profiling), enables publishers to build engaged and thriving online communities - essential steps in the funnel progression towards subscription.
> We'd therefore recommend placing ARPU as your north star KPI, ensuring all teams are aligned and working collaboratively to move users through the value stages of the funnel towards newsletter sign up, registration, subscription and beyond.
Download the full white paper here
---
Content to dive into this month
Have a great May,
All the best,
Madeleine