Today, the internet gives us access to any type of content that our heart desires. We could learn a language, take fitness classes, listen to podcasts of any genre or read about the latest news stories. It's an amazing world of opportunities for both online users, as the consumers of this content, and for the content producers themselves.
With the vast amount available, monetizing online content is becoming increasingly easier. Users are more likely to be willing to pay for access, especially for content that's specialized and of a high quality. This can be achieved through integrating a paywall into your site, which asks for a value exchange of subscription payment to access content. Not only this, but even just requiring users to register (a registration wall), which costs them nothing, can bring value to the publisher. It's particularly useful for collecting first-party data (very important with the end of 3rd-party cookies) meaning you can personalize the user journey, monetize from targeted advertising and build a strong relationship with your audience.
What's more, a paywall or registration wall can be used by, and benefit, producers of any type of content!
This is what our series 'Paywall for…' is all about. We want to highlight the advantages of using a paywall or registration wall for any content publisher, whether they're an e-learning or online class platform, brand, video streaming website or podcast and music producer.
We'll look at:
What content types are included in this category?
How to monetize: deciding on which wall to employ including examples from successful content producers
Best practices
How can Poool help?
---
Today: Paywalls for Podcasts, Music and Audio Streaming sites

To say audio has evolved over the last few decades is perhaps an understatement. In fact, the entire audio industry has been transformed in this short space of time and developments have led to listening being far from what it was before.

From purchasing music in stores to downloading audio onto phones and MP3 players to now streaming anywhere, at any time and in every form imaginable.

Source: GoldmanSachs

Arguably, audio is the future of content. Streaming is making music, podcasts, audiobooks and radio a part of our daily lives. Whether we're exercising, commuting, relaxing or with friends, there's something for every situation.
Podcasts, in particular, have grown in popularity over the past few years and it's easy to see why. It's possible to gain insights into politics, laugh at a comedy show, hear what celebrities think of certain topics or learn a language, all without reading a word. To get an idea of the scale of this growth, there were approximately 525,000 shows in 2018, whilst there are now over 2,000,000, with more than 48 million episodes (Podcasts insights).

To accompany this growth, audio subscriptions are on the rise and audiences are prepared to pay, including younger generations. For music streaming alone, subscriptions grew from 60.4 million in 2019 to 75.5 million in 2020 (Riaa). This audio evolution doesn't look set to stop anytime soon.

All this means monetizing audio content has never been easier and a paywall or registration wall is the simplest and most effective way to do this. With ad-based revenue streams becoming less stable, and audiences being willing to pay for an ad-free experience, subscription or registration strategies are the way forward.

Why should podcasts, music and audio streaming sites be using a paywall or registration wall?

Monetize your content: with the ever increasing number of streaming sites online, it's easier than ever to monetize from subscriptions. As long as you create value for your audience, then you'll be able to gain stable and lasting revenue. This is a much more viable and profitable approach than an ad-based model.

First-party data collection: by requiring users to create an account (whether free or paid), you'll be able to track their actions and interactions across devices whenever they access content on your site. This allows you to gain a greater understanding of their behaviors and interests in order to provide content, features and value that interests them.

Better user experience: the above point also means that you can ensure users have a personalized and adapted experience on your platform. You can use data to recommend content, allow them to create playlists, save content for later or follow artists/podcasters. For users online, this is now an expectation, especially with streaming services, and not including these features may lead to a listener choosing a different platform over yours. However, by requiring users to create an account, this personalization is easy to achieve.

More reliable revenue stream than advertising: a paywall means that users need to subscribe to gain access to your content and will need to continue to pay a monthly subscription fee if they want to use your platform. This is a significantly more stable revenue stream than advertising and, with a good subscriber base, you can put the profits to use in improving your platform.

More targeted advertising: if you do choose to monetize from advertising alongside using a wall, you can make this more profitable by utilizing 1st-party data to target ads to the right audience. This also improves the user's experience as they get advertising suited to their interests.

Sell and upsell products in the future: by collecting first-party data, you can learn about your audience and provide content in the future that matches their interests. What's more, if employing a registration wall prior to a paywall, you can utilise your understanding of a listener to sell them subscription packages that best suit their profile. This also applies to other services that you might sell in the future, such as tickets to concerts or other premium experiences.
---
1) What content types are included in this category?

Audio content is becoming increasingly diverse and innovation is happening in every direction (rightly so), but the central streaming sites can be categorized as follows:

Note here that each of these streaming services has a clearly defined value proposition, a hugely important point to remember before employing a paywall or registration wall strategy. Alongside this, each content provider has something unique to offer their audience in exchange for becoming a member or paying to subscribe. For example, they provide content from a specialized genre (classical music for Primephonic), unique features (Tidal's high quality) or audio for a specific environment (32 Count Fitness music for workouts). These two points will help your audio content to stand out from the competition.
---
2) How to monetize podcasts, music and audio content: deciding on which wall to employ including examples from successful content producers

With advertising revenue models being less stable, there are two alternatives that are in fact more advantageous for music, podcasts and audio streaming:

Registration wall: this requires visitors to your site to create an account for free before listening to any content
Paywall: here, visitors to your site are blocked and asked to pay in order to gain access to content

Both have their own benefits but, in sum, these tools allow you to turn your content into a business.
Registration wall for podcasts, music and audio streaming sites
Registration walls are a brilliant way to get value from your audience in exchange for content without them needing to pay a penny. It's a simple way to collect valuable first-party data as well as provide a personalized experience for your audience. This is perhaps the most important point as listeners now expect content to be adapted to their interests and to be able save content, create playlists along with other features on their account. Therefore, you could consider a registration wall to be the bare minimum for podcast, music and audio streaming platforms in this competitive industry.

There's a variety of ways to apply this strategy and it depends on your business goals, content and audience.
Spotify, for example, employs a hard registration wall meaning that the wall is on the landing page itself and we can't even browse content before creating a free account.
Amazon music follows a similar technique, however we're able to see what content they have on offer and are only blocked once we actually click play on a song or podcast episode.
The registration process is the same as Amazon's main site, meaning that only one account is needed across all of amazon sites (the e-commerce store, amazon prime, amazon music). This is beneficial for Amazon's data collection as they can create a single user profile across all platforms and gain a valuable understanding of their buying, listening, watching and reading habits. Very little information is required to register and the process doesn't take much time at all.
After registering or logging in to an existing amazon account, we're welcomed and informed of what's included in the free account. This is a great final step of the process as it's not only highly advised to welcome users but also to make them aware of the value that they gain from registering.

Note how Amazon also has a subscription package, 'Amazon Music Unlimited', which includes the added benefit of being ad-free. This means Amazon has two monetization strategies: ad-based for the free version and subscription based for premium. The registration wall therefore acts as a first step towards subscription and allows Amazon to collect first-party data to then better sell subscription packages to listeners in the future as well as target advertising (which is more profitable). However, despite the subscription option, we're never blocked and required to pay (a paywall).

Deezer is another music, podcast and radio streaming service that uses a registration wall. Like Spotify, we can't view content until registering but the process is extremely simple with the option of signing up with an existing Facebook or Google account.

What's more, after the form, we're asked to pick at least 3 artists that interest us. This is a brilliant way to personalize the user experience from the moment they arrive on the site - Deezer can recommend content and adapt our account page ready for us to start using their platform.
The playlist recommendations below are based on the artists chosen in the previous stage.

In the same way as Amazon, Deezer also offers subscription options that have additional features and an improved user experience. We're never blocked by a paywall but the premium and family offers have benefits such as being ad-free, allowing unlimited skips, offline mode and multiple accounts.

The way that Deezer displays these offers allows us to directly compare packages and see what value is provided in exchange for the subscription fee. Even if a user chooses the free account, they get value in the form of music and podcasts whilst Deezer gains first-party data that can then be used to better sell them subscription packages in the future. What's more, with this information, they can target advertisements and provide a personalized experience to retain the listener.
Paywall for podcasts, music and audio streaming sites
Alternatively to a registration wall, a paywall requires that a user pays in order to listen to content. A content provider in this category is therefore monetizing from subscriptions and so can often provide an ad-free experience for users (which listeners are increasingly willing to pay for).

Before integrating a paywall into your site, it's important to define what value your users are getting from your premium content. Why should they pay to access your platform when they could listen for free elsewhere? For example, you could...
Have a specific genre focus, such as classical music or e-learning podcasts
Provide an improved user experience, such as ad-free or better sound quality
Offer a wider range of content than other providers
Offer original or exclusive content that can't be accessed elsewhere
Include features that are worth paying for, such as the ability to download content and listen offline,
Offer subscribers off-platform experiences, such as exclusive live events (e.g. concert)

Audiobooks.com is an example of a audio content platform that employs a subscription strategy, blocking users with a hard paywall before being able to view content. The benefits of subscribing are listed above the form and we're offered a month free trial to experience this for ourselves (proof of concept). They provide plenty of extra features aside from content, including Audio News, Audio Magazines, Audio Summaries and access to a Sleep & Meditation section, as well as free audiobooks.

One of the best aspects of their paywall is that the whole subscription form and process is on a single page. We're offered multiple account creation options, including using an existing Facebook, Google or Amazon account, as well as different payment methods such as Apple Pay, Google Pay or Paypal. All this together makes for a very easy subscription process, with little effort required from a user as everything is on one page.
Apple follows a similar strategy. We're about to preview content for free but are asked to subscribe if we try to play a song in full. They don't have a desktop version so their platform is optimized for use on mobile devices. We'll discuss this more later but ensuring that you have an adapted platform (e.g. app) or AMP version of your site for use on mobiles is hugely important as a significant percentage of streaming is now done in this way.


Hybrid wall for podcasts, music and audio streaming sites
A hybrid wall involves both a registration wall and a paywall used one after the other. The user is first required to create a free account in order to listen to content and is later blocked again by a paywall which asks for payment before access can be granted.

Stitcher, an app for podcast streaming, provides a good example of a hybrid wall model. We are faced with a hard registration wall as soon as we open the app, where we're asked to either sign in or create an account. We can register with simply our email address and a password or by using an existing Google, Apple or Facebook account. Access is now granted for the majority of content, however some podcasts are marked with a yellow pentagon. This means they're premium podcasts and reserved for subscribers. Once we try to access this content, we're blocked with a paywall. Stitcher therefore employs a freemium paywall where content is divided into free (blocked by a registration wall) and premium (reserved for subscribers).


Dynamic wall for podcasts, music and audio streaming sites
A dynamic wall can involve any of the above options, a registration or paywall alone or both together, but here they're employed in an intelligent way that adapts to the user's profile or context.

Given that every individual is different, it would be impossible to find a single wall type and style, with certain wording, colors and features, that works optimally for every visitor to a site. A dynamic wall recognizes this and allows a content provider to present different walls to different audiences based on any variable of their choice, such as geographic location of the user, the content that they're trying to access or the device they're using.

Even just a small change can go a long way in converting visitors into registered members or subscribers. For example, YouTube adapts the currency of subscription costs based on the user's location - here we compare UK vs EU (eurozone).
Whilst Apple adapts the image in the paywall based on the content that we were trying to access (here we tried to play The Weeknd).
These small adaptations lead to improvements in your click-through and conversion rates, which will in turn increase your subscriber/membership base and so revenues.

What's more, the dynamicity of the wall is entirely adaptable to your business model, content and audience. This means that you can move away from the one-size-fits-all approach, which isn't optimal for success within your business, and instead mould the wall to your strategy.

This is clearly an appealing model and can lead to lasting results for your business. However, many streaming sites lack the tools needed to put this model into action. This is where Poool can help. With a single-tag integration, you can integrate a paywall, registration wall or both into your site to create a value exchange with your audience. You can adapt every aspect of the wall to your specifications using our Dashboard, made for marketing teams to drive your content strategy without the need for tech teams at every turn. Segment audiences, design alternate user journeys, A/B test variables, analyze results and adapt, all within the Dashboard.
---
3) Best practices
Although each strategy has its own best practices and there's no magic formula to success that will apply to every content producer, there are some best practices that can be applied across the board.

Optimize your platform for use on mobile devices.
Audio streaming, for music in particular, is now almost exclusively mobile-orientated. According to Comscore's research in the US, 96.9% of monthly total minutes spent listening to music via streaming was done on mobile apps. Podcasts aren't far behind this, with 65% of listening happening on smartphones, tablets or portable devices (Edison Research).

Therefore, to neglect the AMP version of your site or not consider an app would mean missing out on a huge percentage of audio streaming audiences. This doesn't just apply to the user experience whilst listening, but also prior to registering or subscribing and within the conversion funnel.

For example, the Spotify app allows registration with existing social accounts and adapts the form for mobile-use by separate pages to avoid the need for scrolling. There are quite a few steps to this process on Spotify, which isn't optimal, but the mobile-friendly app facilitates the process and reduces frustration.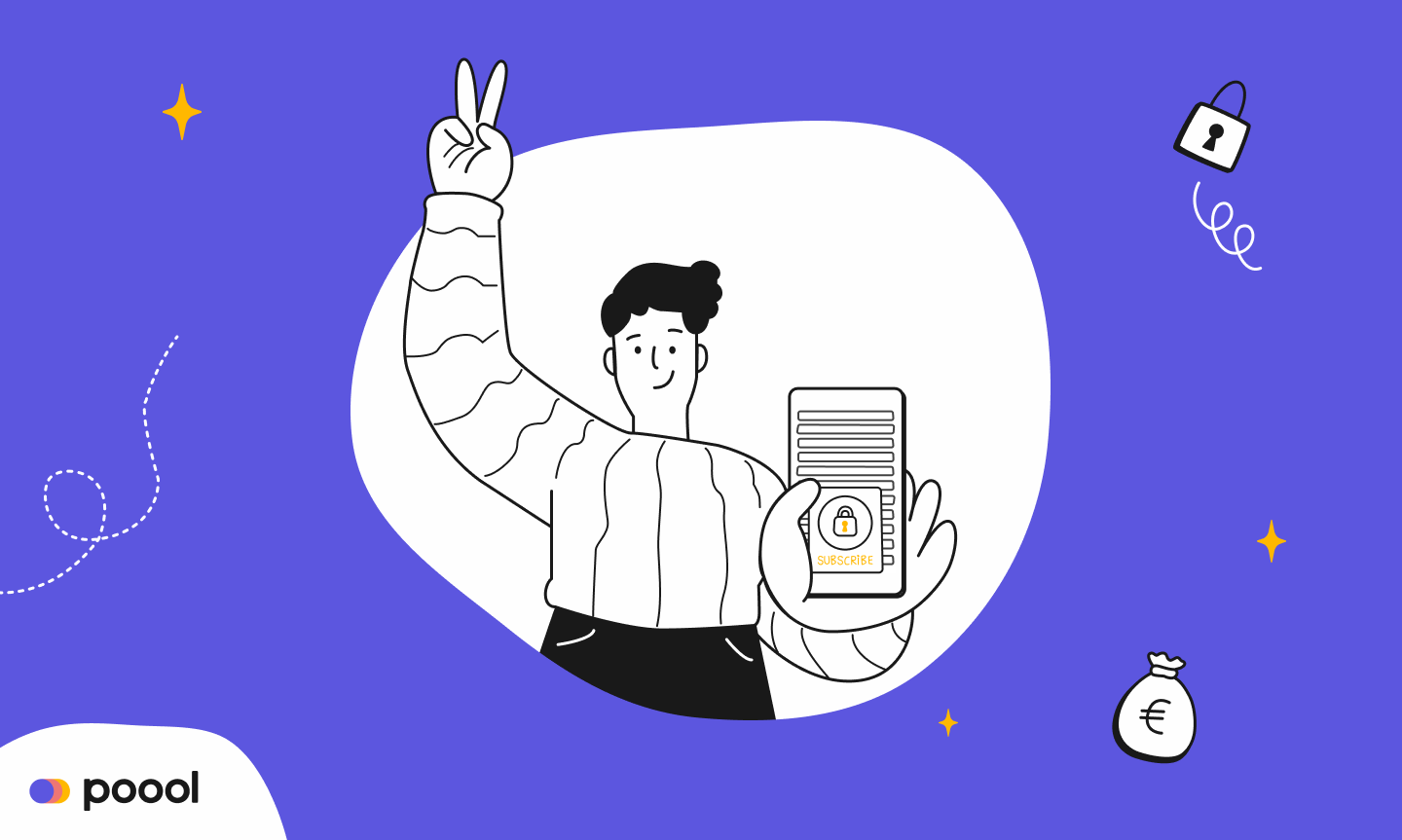 Provide a variety of subscription offers
When employing a paywall, you'll need to decide on subscription offers to present to your users. This plays an important role in persuading visitors to subscribe.
Primephonic has 2 options, with the higher cost version providing a better sound quality.
Whilst Spotify has 4.
One of the huge advantages of Spotify's strategy here is that they have offers at a variety of prices which are adapted to different audiences. Their 'Student' offer is particularly useful for attracting younger audiences who are not only big consumers of this content but are also increasingly willing to pay for an ad-free experience. This kind of adaptation to the market helps Spotify to stand out from the crowd and attract a wide range of audiences.

Note how both of these streaming sites forefront the advantages of each offer and directly compare them next to each other. This allows users to clearly see the options available and understand the value that's being gained from subscribing to one of their offers.


Adapting to the user and personalization features are vital

With big names like Spotify and Apple leading the way, personalization has become an expectation from listeners online. As we interact and consume content on their platform, we're provided with recommendations and discovery features that create an adapted, personal and enjoyable experience. There are two key points where you can personalize your platform for a user: pre and post registration or subscription.

Pre-registration or subscription: This refers to the wall itself. As mentioned with a dynamic wall, adapting the content block to the individual user will have a hugely positive impact on your conversion rates. There's no one-size-fits-all model that will convert every visitor to your site, so it seems almost obvious that the wall should change depending on the user or their context in order to optimize results. For example, we could offer a free trial to visitors who seem less likely to subscribe or promote a podcast-only offer to a user who only consumes this content. Even just adding the listeners name into wording can make a difference!

Although not an audio streaming platform, Medium personalizes their paywall based on the user and the content that they're trying to access.
Post registration or subscription: This involves features within a user's account, whether these are automated (such as recommendations of artists or personalized playlists made for the listener) or features that allow users to make the account their own (including ability to create playlists and save content for later). These have become very normalized and are now expected from streaming platforms, rather than being an added bonus.

This also applies to advertising on free accounts. With your user registered, you'll be able to collect first-party data to understand their interests and listening habits. Advertising can then be targeted to their profile which not only is more profitable for you, but also makes for a better user experience as ads are suited to the user's interests.
---
4) How can Poool help?
For both of the two central monetization models, ad and subscription-based, streaming platforms need to find a way to block their content and either require registration or subscription.

In an ad-based model, not employing a registration wall means missing out on valuable first-party data collection that can then be put to use in targeting advertising (which is more profitable), personalizing the user experience and learning about your audience to continue to provide content that will suit their listening habits. For streaming services who monetize from subscriptions, a paywall will need to be used to require payment before accessing content. Both models are viable for streaming businesses, but the issue lies in the lack of tools available to drive their strategy and convert leads into registered users or paying subscribers.
This is where Poool comes in.
Poool's Dynamic Wall, Poool Access, allows you to integrate a paywall or registration wall (or both) into your site, adapting every feature to match your business strategies. The Poool Dashboard (your wall control center) gives the power back to marketing teams to optimize your wall without the need for tech intervention at every turn.
On the Dashboard, you can not only launch the wall and customize it to fit seamlessly into your site, but you can also segment your audiences and design different user journeys for each grouping. Each feature and stage in the user journey can be A/B tested with the flick of a switch with performance analysis being sent straight back to the Dashboard. Any necessary modifications and optimization can then be made with ease and without a single line of coding or tech team in sight!
This allows you to take a data-driven approach to reach your business goals - after A/B testing and analysis, you'll be able to pinpoint exactly what is and isn't working. With this knowledge, you can make informed decisions to optimize every aspect of your user journey to registering or subscribing to have the best possible results. What's more you can utilise data collected from current users to improve every part of the user experience, including the registration or subscription wall.

Let's look at some examples from the Dashboard:

From the left-hand menu, we can edit the wall appearance, messaging and scenarios (audience segmentation and user journeys) as well as the 'Form' in the registration wall, without needing to call on the tech team for support!

For example, in the 'Appearances' section, we can take the ready-made, but fully personalizable blocks and integrate them into our wall to build each aspect with the exact style, colors, wording and format that we desire.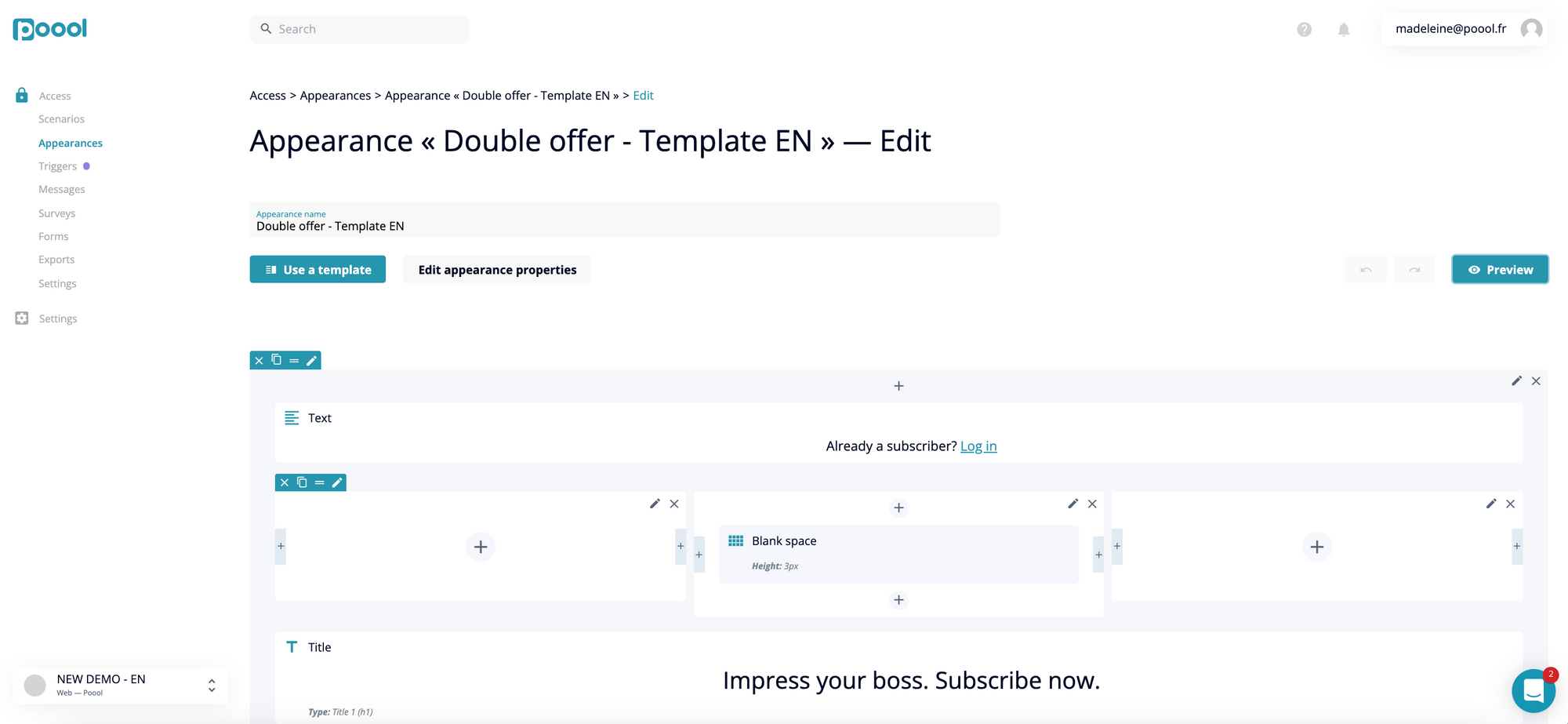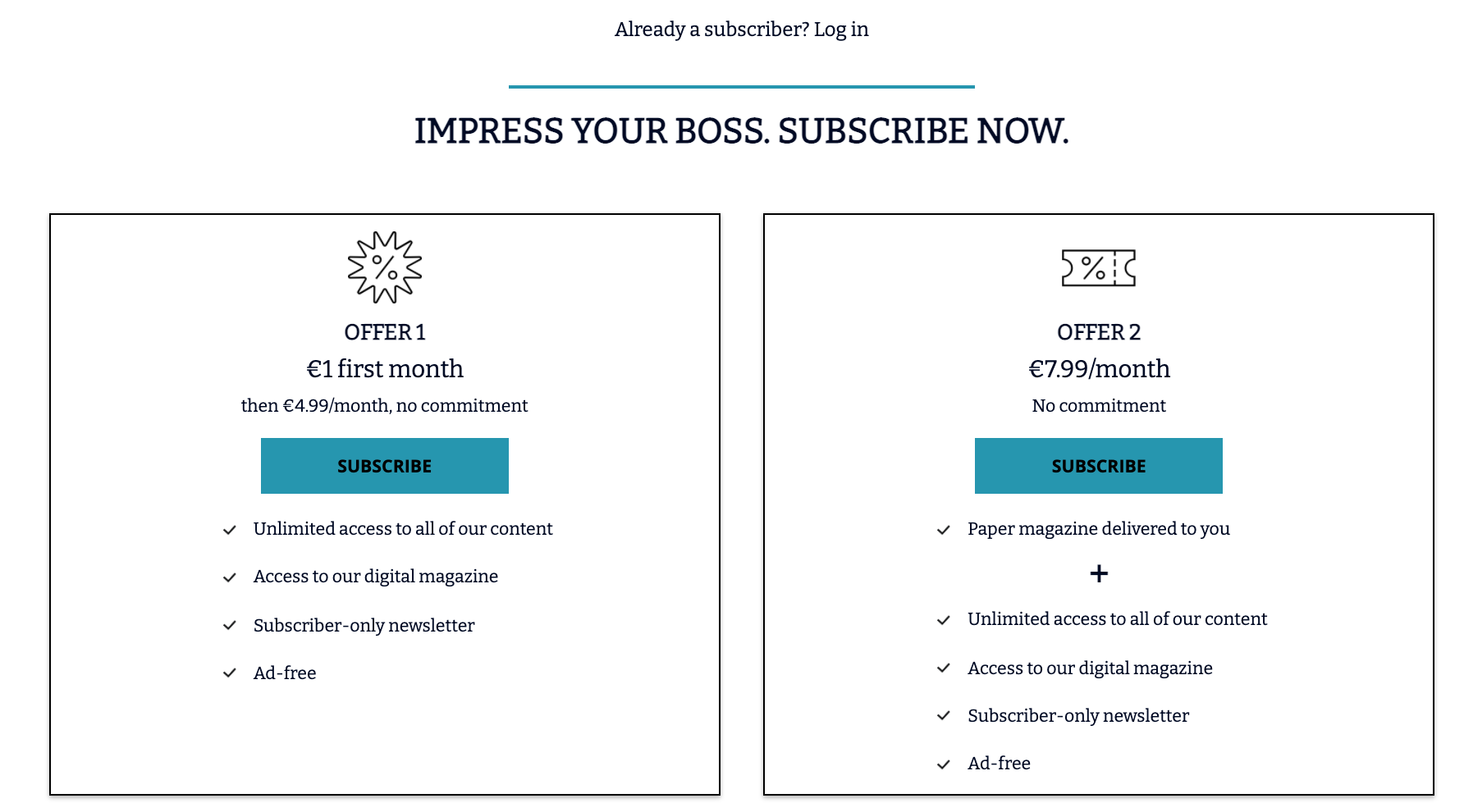 As mentioned, we can also segment audiences and create alternative user journeys for each grouping to give us the greatest chance of converting every visitor. Below, we've created a scenario for comedy podcasts and have subdivided this scenario based on a user's propensity to subscribe. For instance, regulars and fans are most likely to subscribe so we can present them with a tougher wall scenario (e.g. a hard paywall) whilst volatiles and occasionals have a lower propensity to subscribe and so could be offered some free content in order to discover the value in paying.  


Alternatively, we could simply divide content into free vs premium. This is called a freemium model - the free content can either be entirely unblocked or blocked by a registration wall (and so free to pass through) whilst premium content is blocked by a paywall and requires subscription to gain access.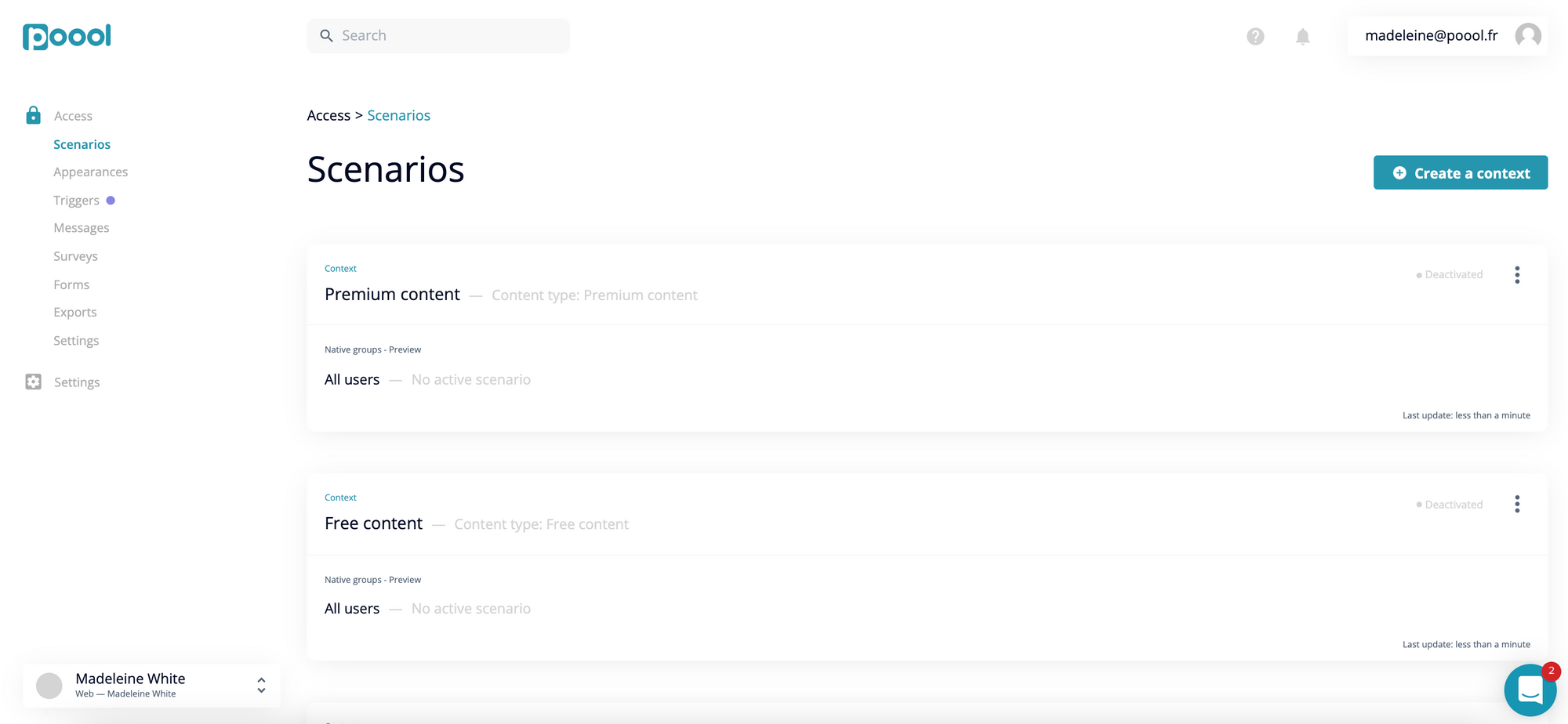 Within the 'Free Content' scenario, we decide to employ a registration wall in order to collect first-party data and learn about our audience's behavior on our site. This can be done by simply dragging the 'Form' widget (from the list on the right) into the journey.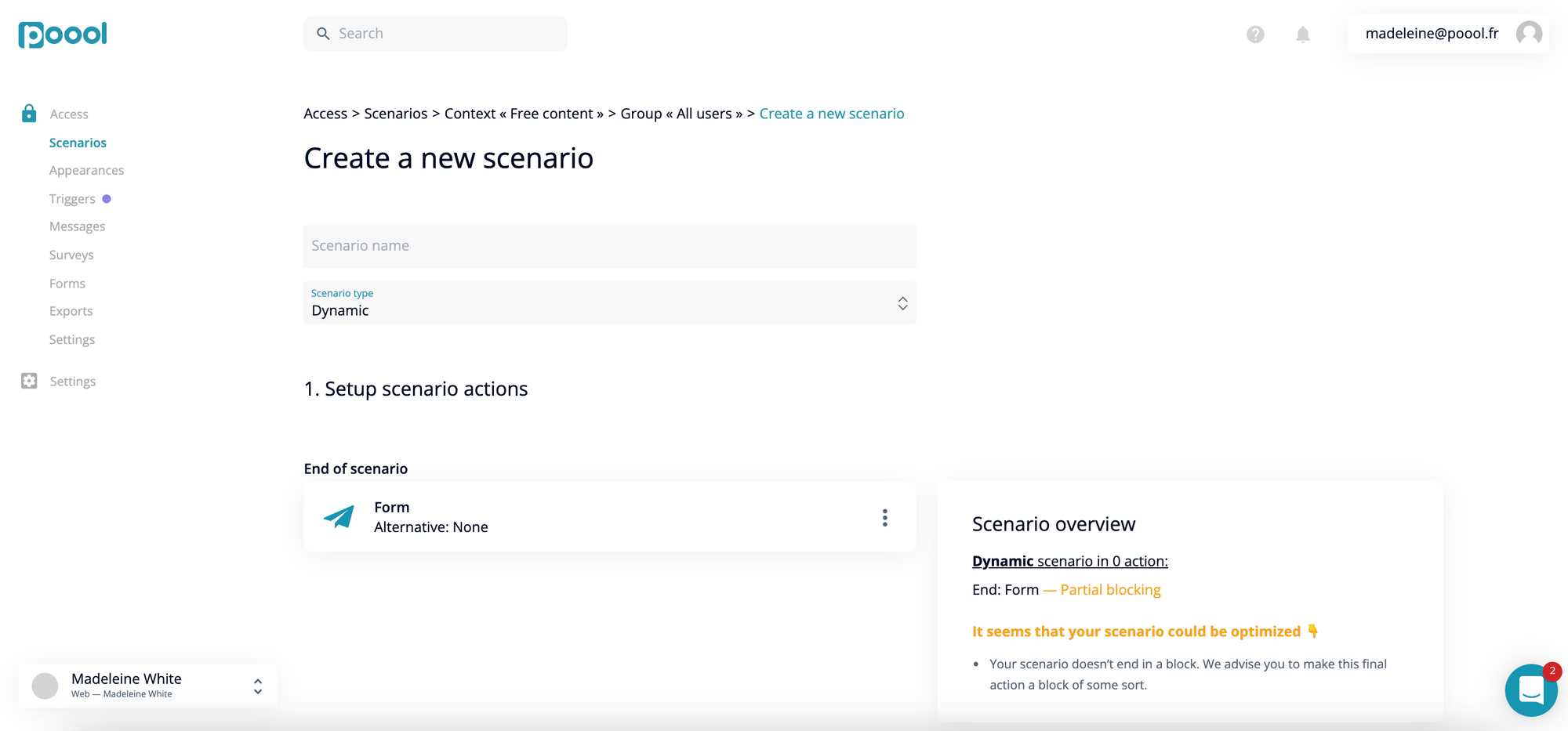 We can build the form with ease in the same way as our no code design builder. We have complete autonomy to add any form field, modifying the design and information required from your user.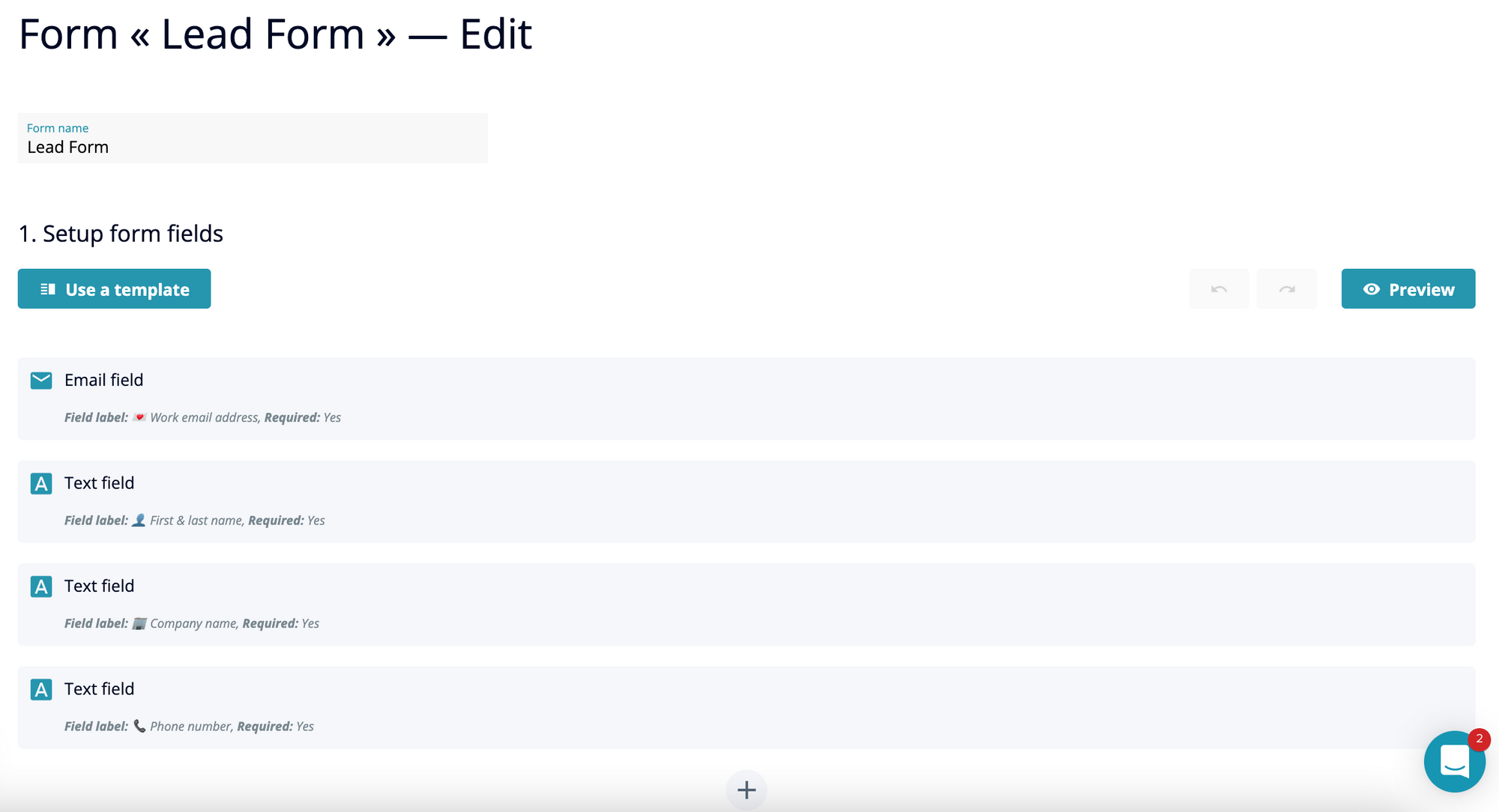 Any information collected in the registration wall won't be handled by Poool, for privacy and data protection purposes, but will be sent directly to your chosen DMP.

Back in the scenarios section, we can create multiple journeys within one group and A/B test them to find which works the best for that grouping. In the example below, we're going to A/B test two journeys in the 'Free Content' scenario - one is a simple registration wall whilst the other suggests subscription and then requires registration. You can slide the dot along the bar to determine the percentage of users in this grouping who will be presented with each journey.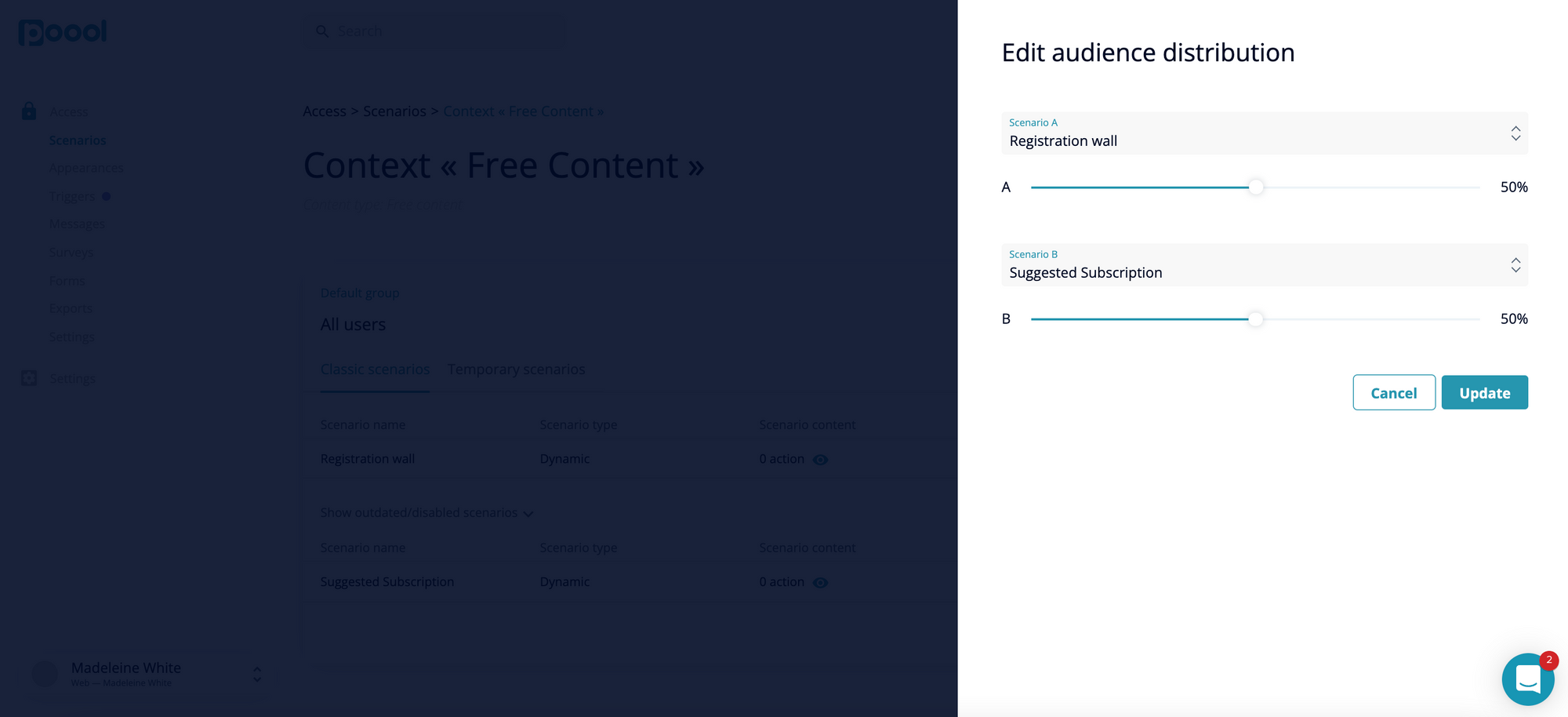 ---
Interested in trying out the Dashboard for yourself? Book a free demo with the team!