Let's set the scene. Either advertising was never an option for you, or you're realizing that it's not quite as profitable as it was before, with ad-blockers, increased mobile usage, crumbling cookies, and more exacerbating this already challenging situation.

Perhaps you're understanding that your best bet is to set up multiple revenue streams, with a move away from ads to monetizing from readers, converting them in various ways to maximize ARPU at every opportunity.

You're now in need of a solution to help you achieve this successfully. After checking out the market, you find a variety of technologies, including Poool. The question is, which do you choose?

Well, how about 10 reasons why Poool's Audience Conversion Platform is the perfect solution for you to increase your ARPU?
Autonomy for your marketing team
Granularity
Speed
Dynamicity
Data-driven
Maximum uptime
Control your budget
We have business context and expertise
Industry leaders trust Poool
Poool's impact on your bottom line is high, fast and continuous
---
Quickly, what is Poool's solution?

Poool's solution gives publishers the chance to take back control of their revenues to turn their audiences into leads, members and subscribers.

Concretely, we provide your marketing teams with a Dashboard control center to configure, launch, manage and drive 3 conversion strategies simultaneously.
Win back cookie consent rates to maintain ad-based revenue through a Cookie Wall with Alternatives
Build a strong Membership base with a Registration wall which represents the biggest asset to foster strong relationships, develop long-term revenue streams (through e-commerce, events or subscription) as well as offer advertisers the targeting that's being lost thanks to lack of cookies
Establish a recurring and predictable revenue stream through Subscription

This diversification of revenue streams will secure sustainable growth for your business, lasting and trusting relationships with users as well as provide a solution to many of the challenges being faced by digital publishers today.
---
Autonomy

To launch quickly: roughly 2 days tech integration (with the help of our dev onboarding and checklist documents) then configuring your strategy in the Dashboard. All-in-all you'll be up and running in under a month, with some clients going live just 10 days after our onboarding call!

Have a read of The Africa Report's success story to see how they launched with ease in under a month and very quickly reaped in the benefits of Poool's solution!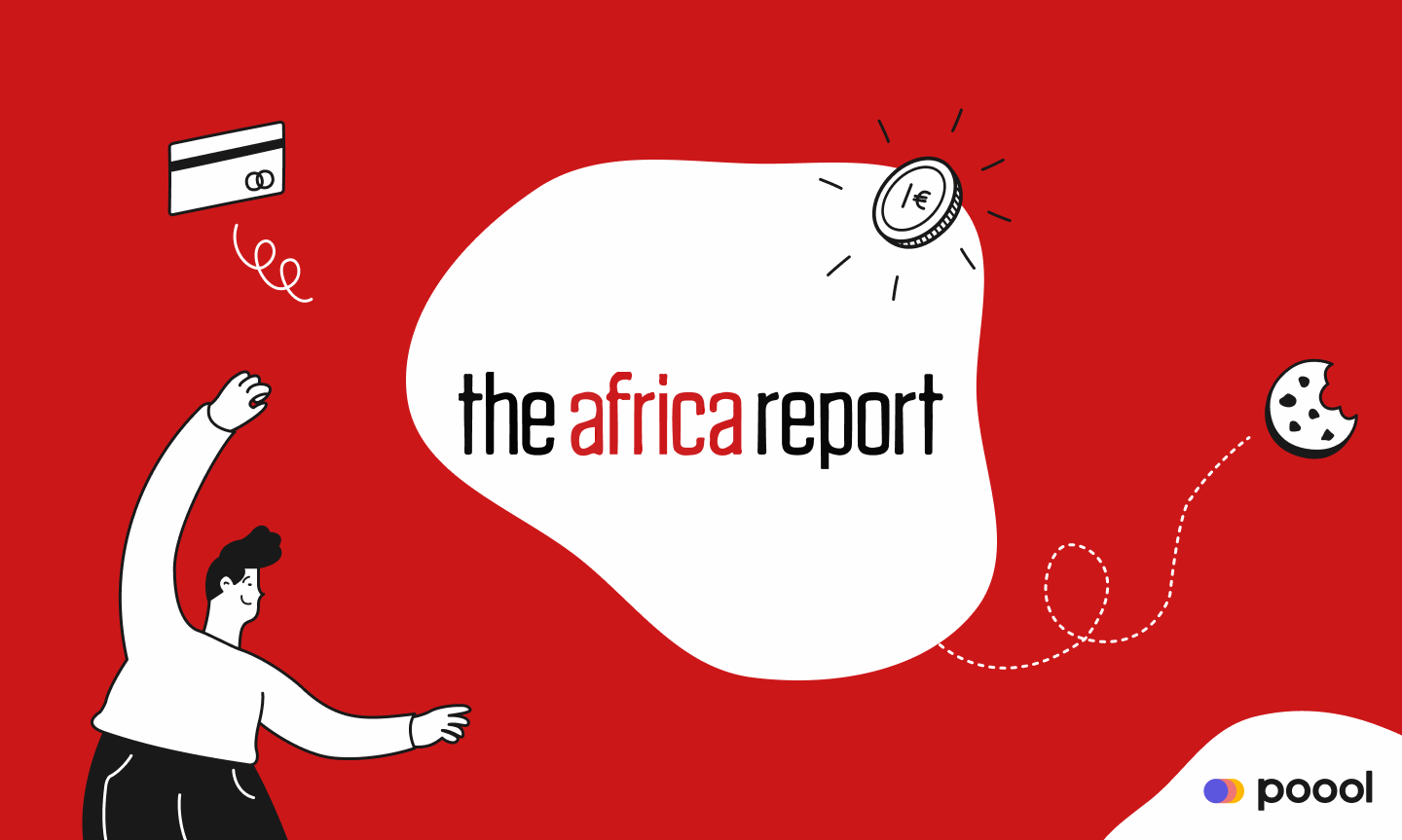 To build dynamic Consent, Membership and Subscription strategies: after our hour training session, your marketing teams will have complete autonomy to configure, launch and drive your strategies. No tech knowledge required, we promise.

🗝️ Key feature: with our no code design builder, your teams can construct walls brick by brick, simply adding, editing, moving and deleting each block to create the most optimal design possible!

Try the Dashboard out for yourself for free by booking a meeting with our team!
---
2. Granularity

Poool is built for growth: to reduce risks to traffic and ad revenue, you can start simple with just a single conversion strategy, iterating and testing different wall scenarios with deep granularity at article, device, source and user engagement level.

You'll then be able to set up as many more conversion strategies on different audience segments as you desire (and without any additional tech integration) to continuously build on your strategy and optimize for long-term performance!
---
3. Speed

In achieving a positive ROI: in fewer than 90 days, you'll reach positive ROI and sustain this in the long run - 95% of our early clients are still achieving this.

Our pricing is adapted and flat, no hidden costs or taking more money when you make more. That's not how we work. And, with our solution, you'll be able to monetize from users at every stage in the funnel, in a variety of ways, to achieve high ARPU and future-proof your business.

We offer a free ROI calculation! Just request one of our team to do this for you by booking a meeting now!

In adapting and optimizing: with Poool, your team will be able to work on much shorter cycles, adapting quickly and with ease to fast-changing regulations, your own data and competitors. Just 5 minutes to change a wall scenario, 1 week to test!
---
4. Dynamicity

Be smart: Poool is any wall, any audience segment, any journey, for any strategy - a truly flexible solution for you to adapt to your users profile or context, providing journeys that engage, convert and retain.

🗝️ Key feature: audience segmentation with our native groupings (based on user engagement) or any grouping that matches your strategy (location, device, source of traffic, etc.) to create adapted journeys
---
5. Data-driven

Leave opinions behind: decision-making based on your own data, collected from your conversion walls, for better trade offs between ad and subscription revenue

🗝️ Key feature: launch an A/B test with a click of a button, analyze results in the Dashboard and make changes in minutes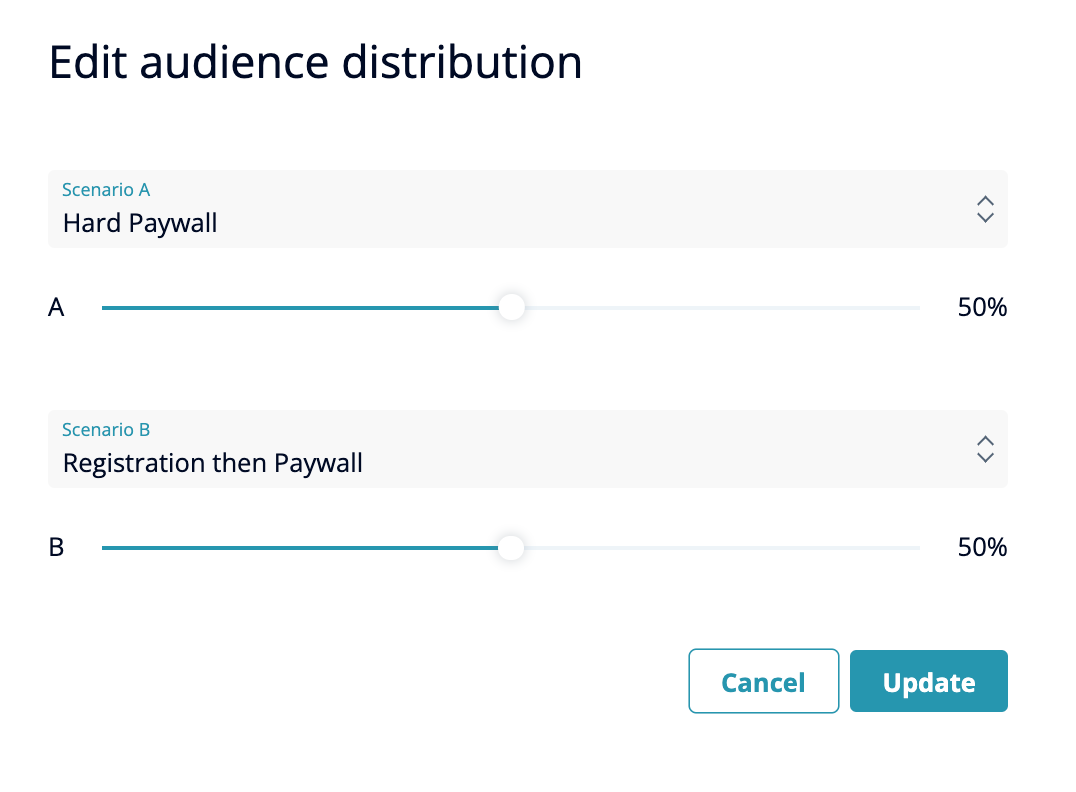 ---
6. Maximum uptime

👉 >99.9% uptime in the last 6 months (Source : status.poool.fr)
👉 Response time optimized for big data
👉 Support team average response time of under 20 minutes over the last 6 months
---
7. We have business context and expertise

Our Customer Success and Support teams are here to provide you with all the advice, documentation and help needed to get your conversion strategies on the road to success!

What's more, we now have a brilliant Consultancy team to offer you alongside the Poool platform. Our team of industry experts will guide and advise you at every stage, from the preliminary steps and launch to carrying out tests, optimizing and monetizing. Entirely adapted to your strategies, goals and audience.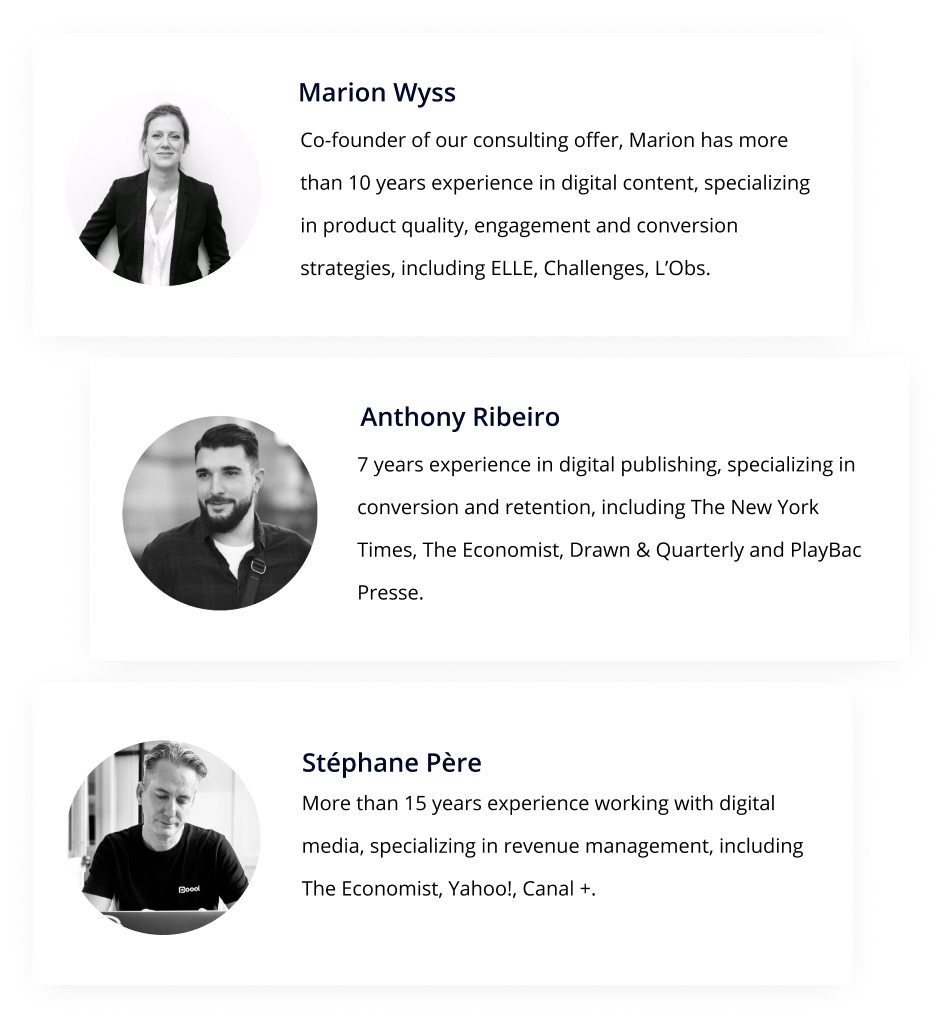 ---
8. Control your budget

👉 No setup fees. No hidden costs. Adapted pricing.

🗝️ Key feature: Poool's platform is open to your world, so no need to change any current technology that you use - we offer an API, webhooks, events and connectors. Connect any tool needed. Content Management System & Subscription tool agnostic.
---
9. Industry leaders trust Poool

With over 120 clients around the world, from South Africa to Spain, Australia to Malaysia, leaders in the digital content producing industry trust us to provide them with the optimal technology to drive their conversion strategies.

"Thanks to Poool, we've been able to launch a paywall strategy whilst easily and quickly reacting to the constantly changing pandemic world.
In addition to the simplicity of implementation, the Dashboard's audience segmentation functionalities have become hugely valuable to our team, allowing us to build adapted engagement and conversion funnels, putting marketing intuition into practice." - Jean-Philippe Siourd, Managing Director @CMI Digital
Discover the whole ELLE success story here: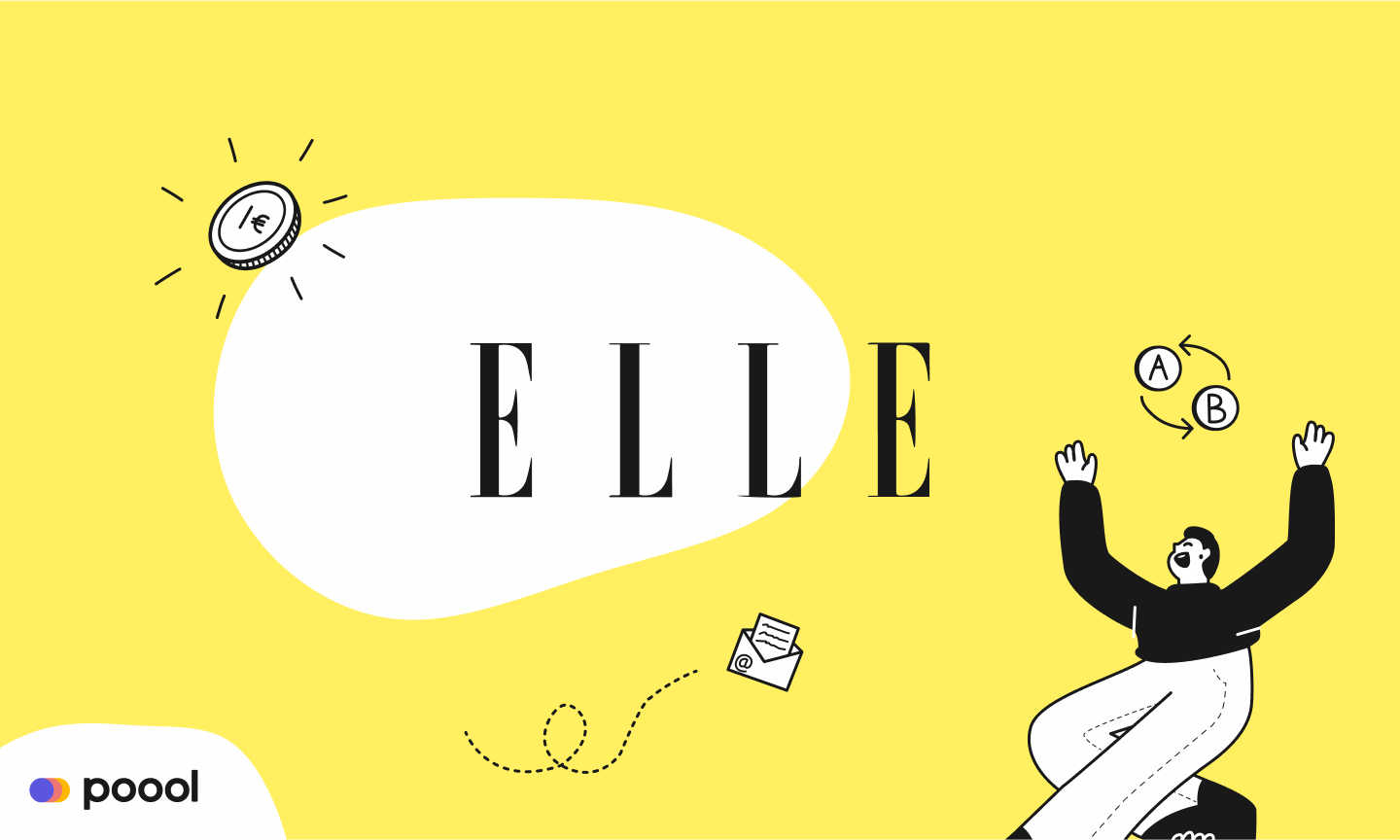 ---
10. Poool's impact on your bottom line is high, fast and continuous

👉 +9 consent points won back in 5 weeks with our Cookie Wall with Alternatives

👉 2 times more logged in traffic thanks to a Registration Wall strategy

👉 200% increase in conversion rate in 5 weeks after integrating a Poool paywall

🗝️ Key feature: one Audience Conversion Platform, a multitude of opportunities! Employ consent, registration and/or subscription strategies with just a single solution.

Just look at our clients Melty, who started working with Poool with no conversion strategy but now employ a cookie wall with alternatives, registration wall and paywall to monetize readers at every step of the funnel.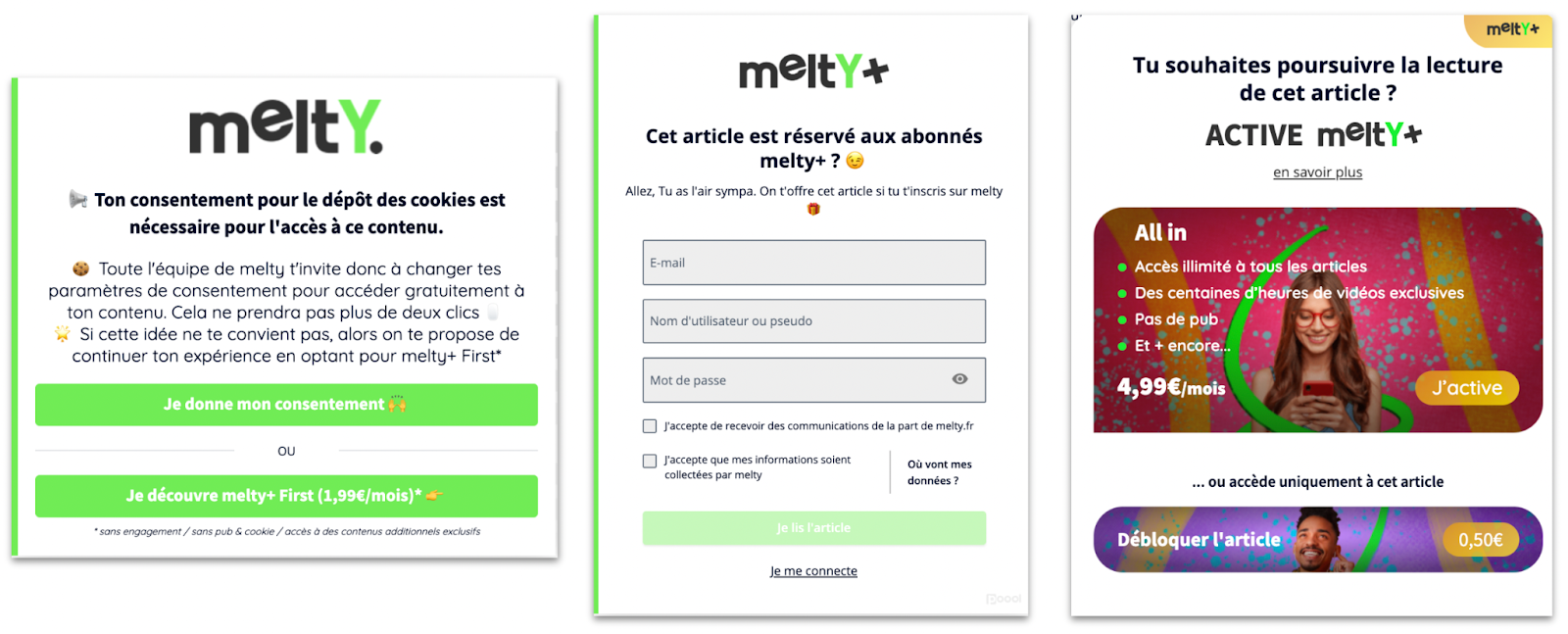 ---
Have we convinced you?

Book a free demo and meeting with Stéphane and his team now to hear about how Poool's Audience Conversion Platform can put you back in control of your revenues!