Prefer to read in the language of Molière (and ELLE.fr for that matter)? 🇫🇷 C'est par ici !
To wrap it up:
ELLE Magazine launched their digital strategy with Poool without putting their ad-revenue, traffic or SEO performance at risk
In fact, advertising revenue has increased since the publisher has been able to collect valuable first-party data through subscriptions
The ELLE team have had complete autonomy from tech to design their walls, segment audiences and A/B test working, design and scenario
---
ELLE is an online French lifestyle magazine, producing content on fashion, beauty, health, entertainment and more.
The team first got in touch with Poool in Winter 2019 with the goal of establishing a recurring, predictable revenue stream through subscription without impacting SEO, traffic or their existing ad-based revenues. With an established audience of 15 million unique users across France and high quality, specialized content, launching a subscription model certainly seemed like the most valuable next step for the publisher, and we jumped at the chance to support them!

There were a few things in particular that persuaded the ELLE.fr team to work with us:

👉 Segmentation capabilities: the ability to divide audiences based on a user's behavior or context is something very unique about Poool which gave ELLE the opportunity to create personalized journeys that are adapted to the user, maximizing chances of them converting to a subscriber

👉 Ability to employ different walls: ELLE.fr actually started with a data wall, before employing a paywall from November 2020. The Dashboard allowed them to do this with ease, integrating any wall into any user journey without needing the tech team's support

👉 Various integration options: Poool's walls can be integrated into a site in a way that matches the publisher's strategy. ELLE, for example, chose to integrate their paywall in the front end, meaning search engines can still see their content and so SEO is less likely to be negatively impacted

👉 Autonomy for marketing teams: the Dashboard has been designed to make editing, testing, launching, etc very simple, giving marketing teams full autonomy from dev, and this is something that ELLE.fr really appreciate
---
First steps...
Before launching, and as recommended by our very own Marion Wyss as part of Poool's consultancy offer, ELLE carried out some very important, often overlooked work on defining their product - the foundation of a subscription strategy. Specifically:
Defining the target persona for their subscription strategy
The type of content that would be blocked by a wall
The subscription value proposition
The visibility of their premium offer
This work is vital prior to launching to ensure you create a product worth clicking through the paywall and paying for.
Test, learn and repeat


The next step was to carry out A/B tests, a vital step to iron out and validate assumptions from day one. Not only will testing allow you to learn about what makes your audience convert but it'll also significantly reduce the risks of launching a subscription strategy.

One example of a test carried out by the ELLE team via the Dashboard was to compare the performance of a newsletter wall followed by a paywall (A) vs a paywall alone (B):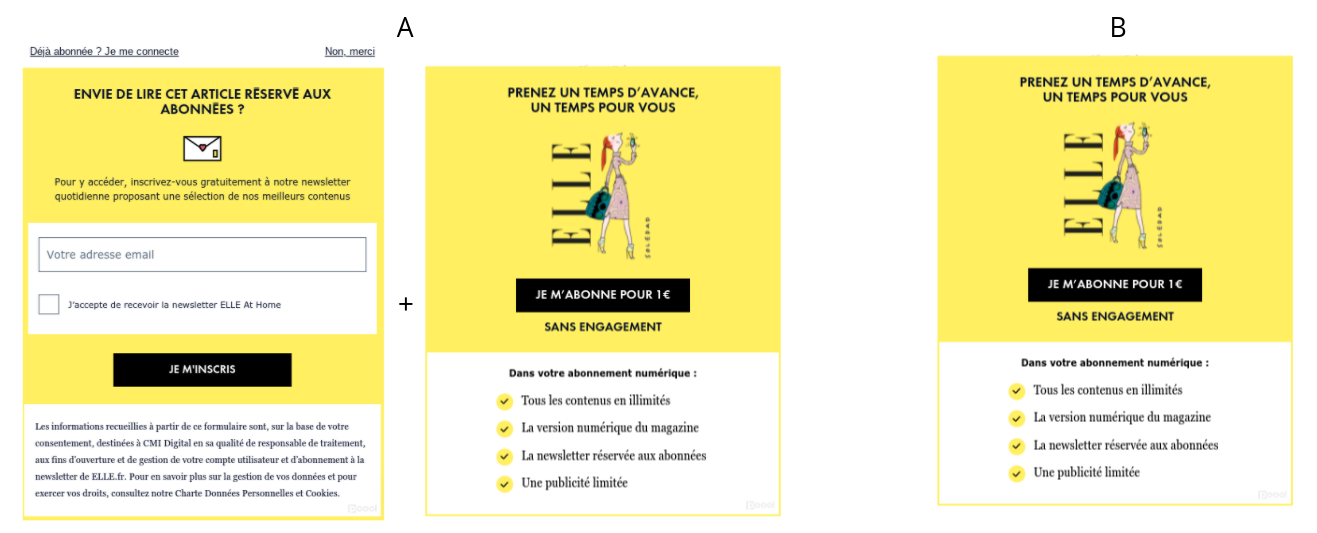 Results: Version B led to slightly higher conversion rates than version A. However, these results have to be taken with a pinch of salt…


Firstly, it's important to consider the stage of your subscription model. For ELLE, although version A worked extremely well for launching its strategy, collecting data and increasing engagement prior to subscription, version B performed better when this test took place, meaning their audience was perhaps more qualified and less likely to be frustrated by a hard paywall.

You also have to consider more than simply conversion rates as a KPI (key performance indicator) when altering your user's journey, namely ARPU (average revenue per user). Considering engagement has a direct correlation with revenue, and that soft conversion steps such as newsletter walls increase user engagement, it's arguably more beneficial in the long term to employ a user journey such as version A, despite what these test results suggest.


The takeaway: When looking at benchmarks, don't forget to consider the context surrounding them, take overall ARPU into account and remember that it's not only the paywall that influences conversion rates.


Specifically, although ELLE did choose to employ journey B on all user segments, they also worked on increasing the visibility of premium content, reducing frustration by adding yellow tags on these subscriber-only articles as well as boosting engagement in other areas, such as by promoting their newsletter and membership offers. These efforts had a big impact on balancing frustration and engagement which ultimately support high conversion rates.
✨ We know how important testing is for your strategy, which is why you can A/B test design, wording & scenario in the Dashboard in minutes (code-free!) with results appearing in your statistics section.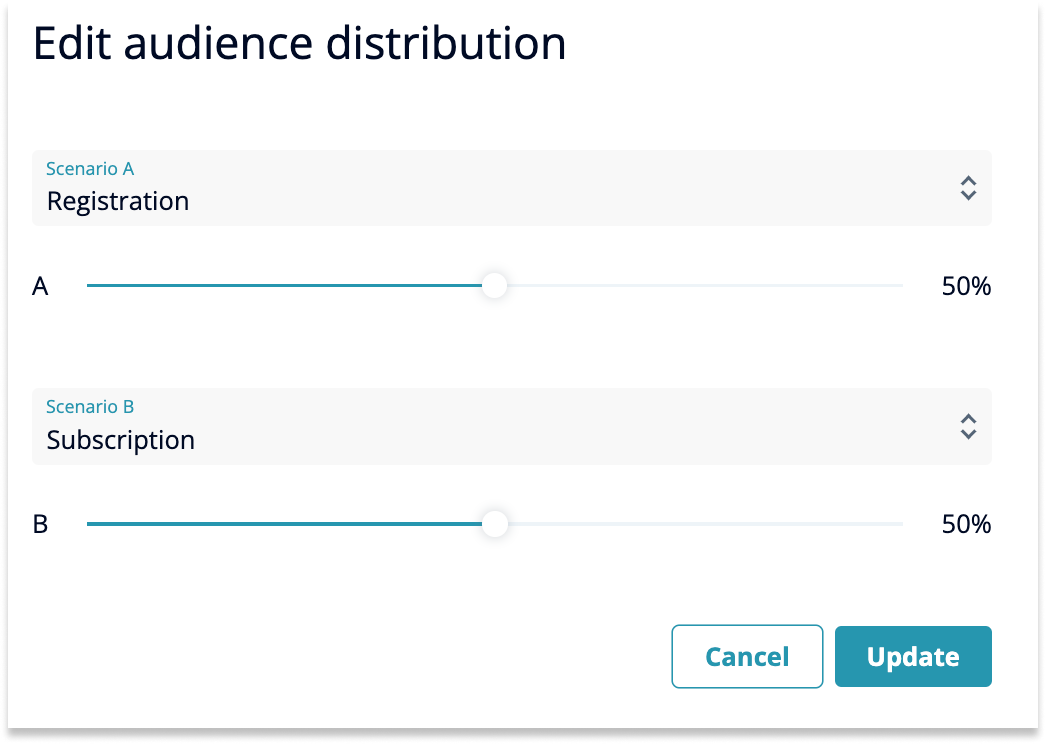 Since these first tests, ELLE has increased the number of subscribers by 250%! But the team hasn't stopped there...


Continuously modifying wall design


It's been proven that regular changes to your walls will positively impact conversions. Given this, the ELLE team have continued to run tests and modify their wall design to reduce habituation and reignite click-through and conversion rate, such as by employing a dedicated "Black Friday" wall, altering the design for different seasons as well as for public holidays.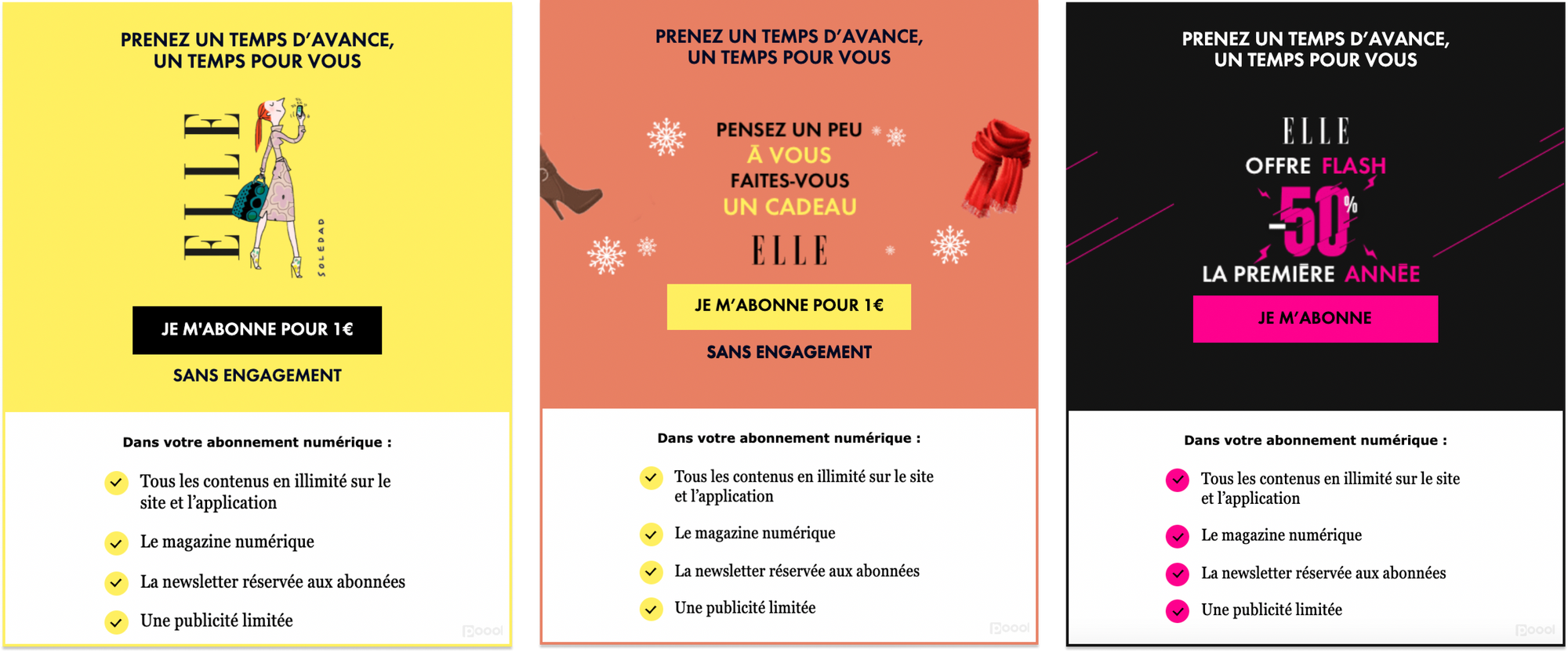 ✨ The no-code design builder gives your marketing team autonomy to optimize wall design and wording at the flick of a switch, meaning no more dependency on tech teams!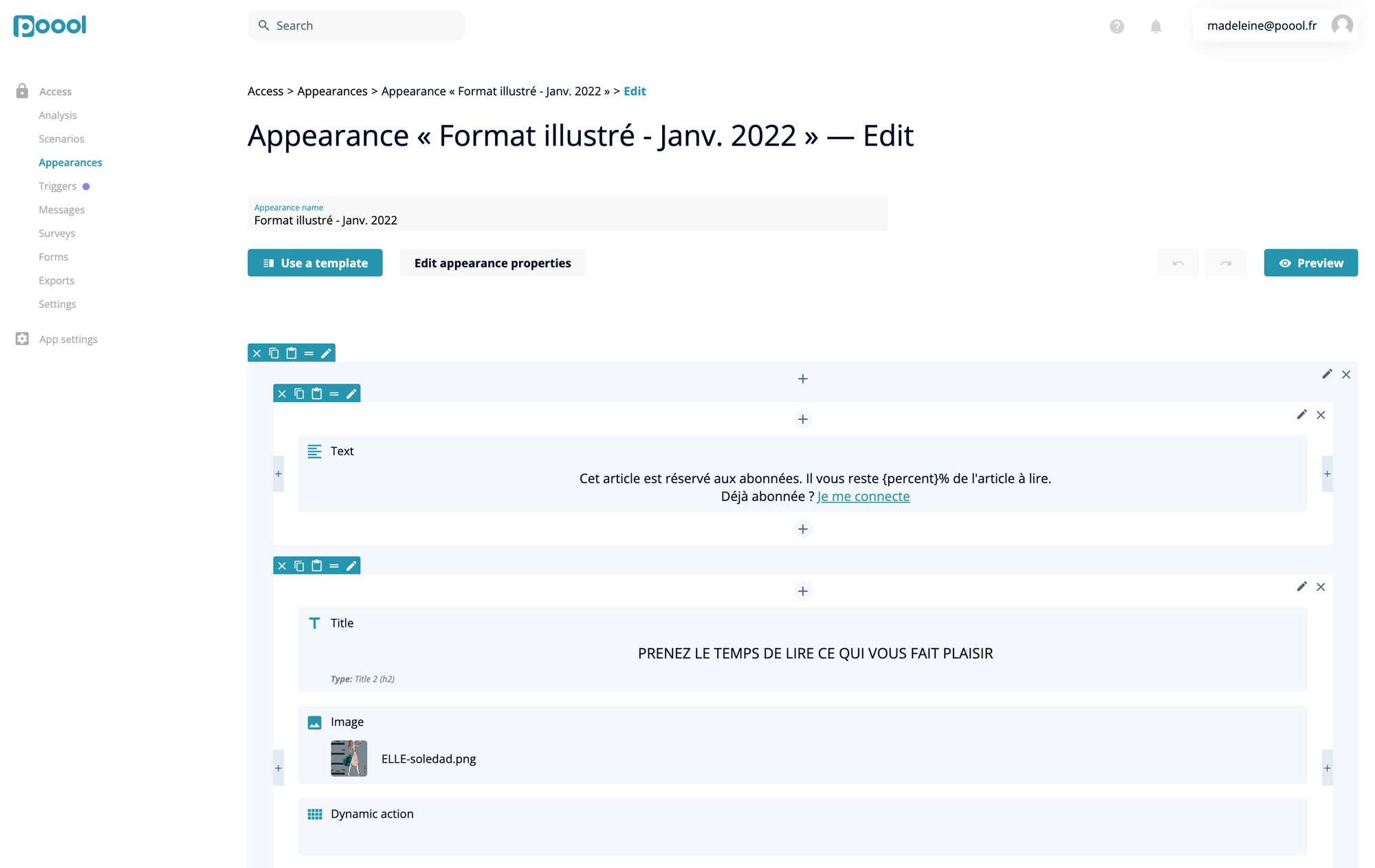 Temporary scenarios are a great feature of the Dashboard to set a wall design or scenario to run for a limited period, such as during sales or over summer, like ELLE: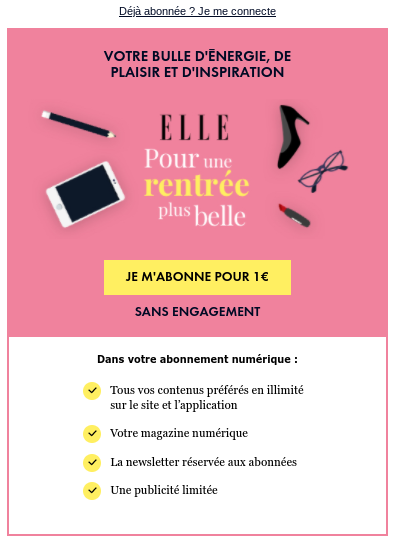 ---
What about the impact of a wall strategy on ELLE's advertising revenue?


From day one, ELLE were very keen to establish an additional revenue stream through digital subscriptions without negatively impacting their existing ad-based revenue.


We understand this at Poool - diversifying revenue streams is hugely important for online content producers today. Given this, our solution allows you to implement and optimize subscription and advertising models simultaneously.

Since launching in November 2020, ELLE's ad-based revenue hasn't even slightly decreased due to their subscription model. In fact, thanks to having a more qualified and engaged audience, alongside their ever growing subscriber-base and first-party data collection, ELLE have now increased ad revenue through targeting, selling spots at a higher rate. This also benefits readers as adverts better match their interests.


What's more, it's important to note that subscription (and having a growing subscriber base of engaged, loyal users) provides a more stable and profitable revenue stream than advertising, something that's worth taking into consideration when balancing ad vs subscription.


What about SEO?

Like many publishers, search engines play a vital role in audience acquisition. ELLE had worked hard on their SEO strategy, and it was important to the team that this not be put at risk with the launch of a paywall. Thankfully, our paywall is flexible to our clients' chosen strategy - specifically, clients can employ the blocking method and paywall-type that will allow them to find their perfect balance between optimizing SEO and subscription conversion rates
''For Elle.fr, moving content to a premium' strategy didn't hinder visibility on the News box, Google News or Discover. We use a front blocking method, with no HTML/JSON tag declaration."
                                                     - Alexy Souciet, SEO Manager @CMI France
Find out more about how to limit the impact of a wall on SEO in our white paper (available in French and English) as well as our webinar in French with Alexy and Poool's CEO, Maxime Moné
---
"Thanks to Poool, we've been able to launch a paywall strategy whilst easily and quickly reacting to the constantly changing pandemic world.

In addition to the simplicity of implementation, the Dashboard's audience segmentation functionalities have become hugely valuable to our team, allowing us to build adapted engagement and conversion funnels, putting marketing intuition into practice."
- Jean-Philippe Siourd, Managing Director @CMI Digital
---
ELLE are an amazing example of how to successfully launch a subscription model. They worked hard on optimizing their site prior to integration, designing their wall to match their strategy and A/B testing possible scenarios, which is now all paying off in the form of an ever growing subscriber base.
They really have turned their audience into business!

Interested in doing something similar and launching a dynamic wall strategy without negatively impacting traffic, SEO and ad-based revenue?