Prefer to read in the language of Molière? 🇫🇷 C'est par ici
We've said it before, and we'll say it again - personalization is the best way to engage, convert and retain your audience.

By adapting the user experience to the user themself, you'll more likely solve their pain-points, help them achieve their jobs-to-be-done and bring value directly in front of them.

It's these gains that will make a user more likely to give value back to you, whether that be in the form of data, donations or subscription.

This article looks at how successful publishers are already using personalization to their advantage in the form of dynamic paywall strategies.

Le Figaro's varying value proposition based on content type
The Financial Times value proposition based on location
ELLE magazine's messaging based on source of traffic
The Washington Post currency based on location
Le Télégramme adapting the user journey based on propensity to subscribe
The Atlantic's dynamic pricing model
---
First things first, what is a dynamic paywall?
Dynamic of course means something that is in a continuous process of change. And, in the context of paywalls, the change is based on the user's profile or context - whether that be their location, the content type, the device used or their level of engagement.

This dynamicity can be achieved through audience segmentation: defining the persona of each group and personalizing the messaging, design and user journey to best engage and convert these audiences.

When a customer feels like a message was written just for them, they're more likely to be receptive to what you have to say and convert into a subscriber.

The key, however, is to test your strategy continuously to discover which messaging or user experience works best for each audience segment.
---
Le Figaro dynamic paywall
Segmentation is based on the content type with the dynamic element being the paywall value proposition.

Across all messaging, the focus is always on 'freedom' (liberté), something that lies at the heart of Figaro's values, but the 3 versions present freedom in different ways:

For news articles:
"Free to subscribe. Free to unsubscribe."
The focus is on the user's flexibility to come and go as they please. This may be due to the fact that news content is more widely available online and the 'differentiator' for Figaro is the ease of subscribing/unsubscribing.


On political content:
"Cultivating your freedom is cultivating your curiosity." (I admit, it sounds better in French...)
A reader who faces the paywall on political content will see a value proposition that focuses more on self-development (curiosity: an eager desire to learn) as the gain from subscribing.
In the world news section:
"Freedom is also about going until the end of a debate."
Maybe those on world news articles are deeper readers who are looking to dive deeper into the subject, and Figaro is hinting at the fact that this can be possible with their subscription.
---
Financial Times dynamic paywall
FT modify the wording on their value proposition based on a user's location. Especially with niche content such as this (FT covers financial and political news), user interests will differ greatly across the world and even within a given country.
Here are two examples, the first showing the messaging displayed to UK readers, the second is shown to those in the US.


Given that FT is a UK publisher, American readers need a different reason to subscribe (aside from simply to hear about political and financial news). Messaging needs to tell these audiences why they should choose FT over an American equivalent.
Financial Times has chosen here to focus on the 'global perspective' that they can provide, on 'the US and beyond', comparing the FT subscription to global citizenship.
---
ELLE Magazine dynamic paywall
Users who come to your site will act differently - some may have very particular interests, some might have never visited your site before, whilst others may be your most engaged newsletter subscriber...
Whilst the source of traffic can't tell you everything, it can tell you enough to personalize their journey at least in some way.
ELLE Magazine adapt paywall messaging based on which newsletter a user came from.

For users visiting from their 'sex and relationships' newsletter:
The title reads "Discover the testimonies and unpublished stories from other readers", whilst the first 2 bullet points present topics relating to this newsletter subject that they can expect in subscribing.
For readers visiting from the 'fashion' newsletter:
Whilst this title reads "Stay up to date with the latest fashion trends". As before, the first 2 bullet points are adapted to the topic of this newsletter (fashion) but the following 4 are the same, detailing some of the general benefits of subscription (unlimited access to content, subscriber-only newsletter, etc).
Thanks to the newsletter leading a user to ELLE's website, the publisher knows exactly what they're interested in and can adapt messaging to appeal to this interest.
---
The Washington Post dynamic paywall
Even simple personalization can have a huge impact on conversion rates.
An example of this is The Washington Post who change the currency based on a user's location.
Here's a comparison of the US vs UK paywall: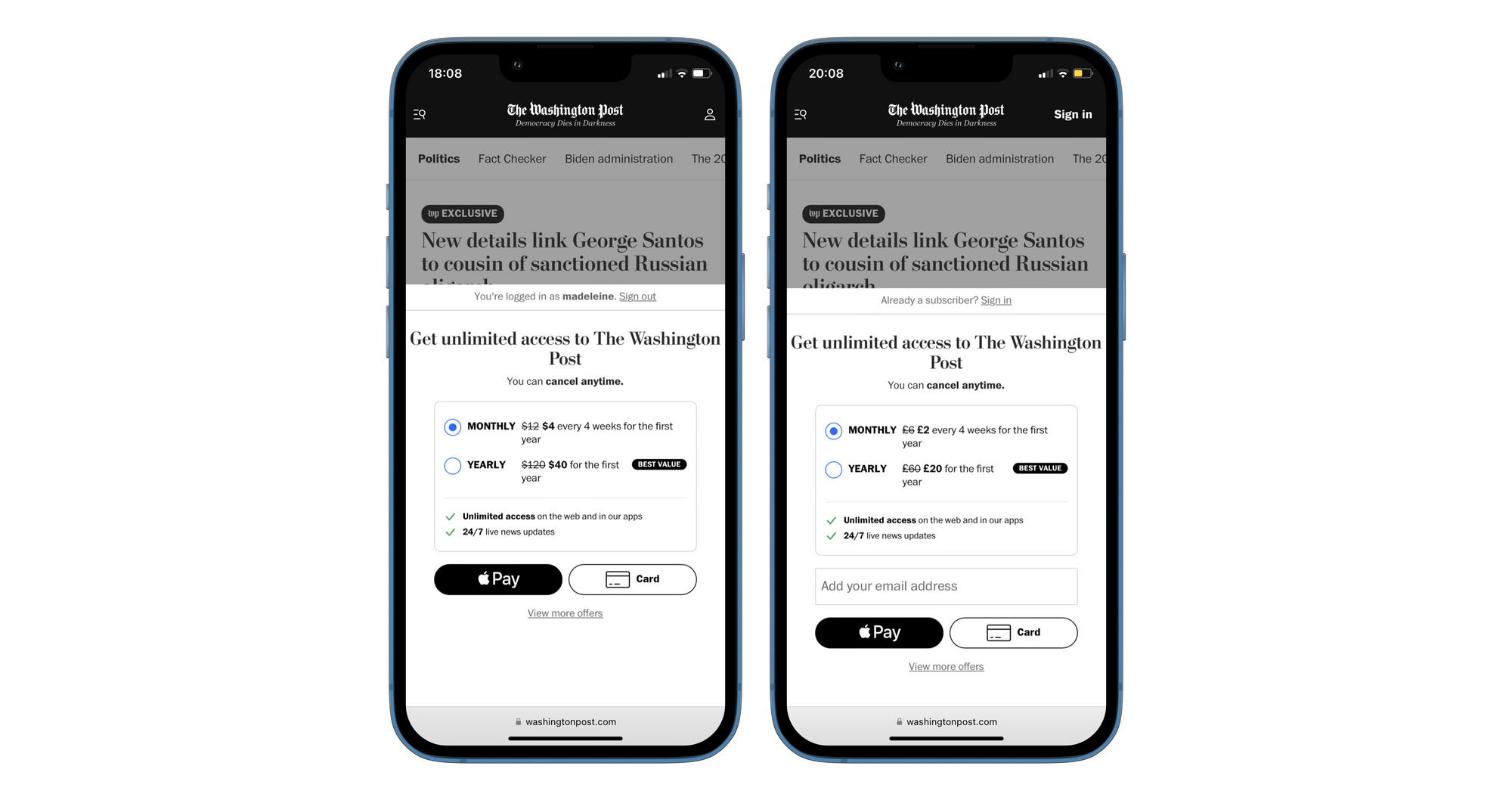 ---
Le Télégramme
Arguably one of the most valuable strategies is to segment audiences based on their level of engagement.
At Poool, we provide native segmentation for this, splitting audiences into 4 based on a Recency-Frequence-Volume score:
Volatiles (least engaged)
Occassionals
Regulars
Fans (most engaged)
Publishers can also add registered members and subscribers as two additional engagement groups.
The value in this segmentation lies in the fact that each group of users will act differently when faced with the paywall.
Your Volatile visitors, who only visit about once a month, will likely be frustrated by your paywall, turning away from your site as they haven't get had the chance to engage in your content and discover the value that you offer. Instead, you could consider a softer conversion wall, such as newsletter subscription or free registration to increase engagement.
As for your Fan users, who visit multiple times a week and are already highly engaged, a little frustration is actually beneficial to help encourage conversion, meaning presenting a paywall on their first article might be the optimal strategy.
This exactly the strategy employed by Le Télégramme:
All content is split into free and premium. Free content is always open to everyone, whilst the strategy employed for premium content differs based on the user's level of engagement.
For Fan users, a paywall blocks premium content after a few lines.

Whilst less engaged user segments (Volatiles & Occassionals) are encouraged to create a free account on Le Télégramme's website.
This allows less engaged users to discover more of the publisher's premium content to increase propensity to subscribe. As for Le Télégramme, registration allows them to collect key data points on the reader to learn more about their interests and potentially personalize their journey to make them more likely to convert in the future.
---
The Atlantic dynamic paywall
Digiday recently announced that The Atlantic is rolling out its own dynamic paywall that adapts the price of subscription based on a reader's propensity to subscribe, determined by their behavior on the site.
The variable pricing model means different cohorts of readers will see different prices, ranging from $60-$100.
Atlantic CEO Nick Thompson said the tests have gained subscribers and increased The Atlantic's ARPU, and (importantly) have not impacted churn or bounce rates.
"The Atlantic's model also means the paywall can be shown to readers who are more likely to subscribe (and not so often for those unlikely to open their wallets), as opposed to its previous metered paywall which readers hit after a few articles, regardless of who they are. Many factors go into that calculation, such as referral source, time of day, reader history, what type of content (and how much content) they're consuming and ad inventory sold at that time. The Atlantic has found that people who read across verticals are more likely to subscribe, for example," Thompson said.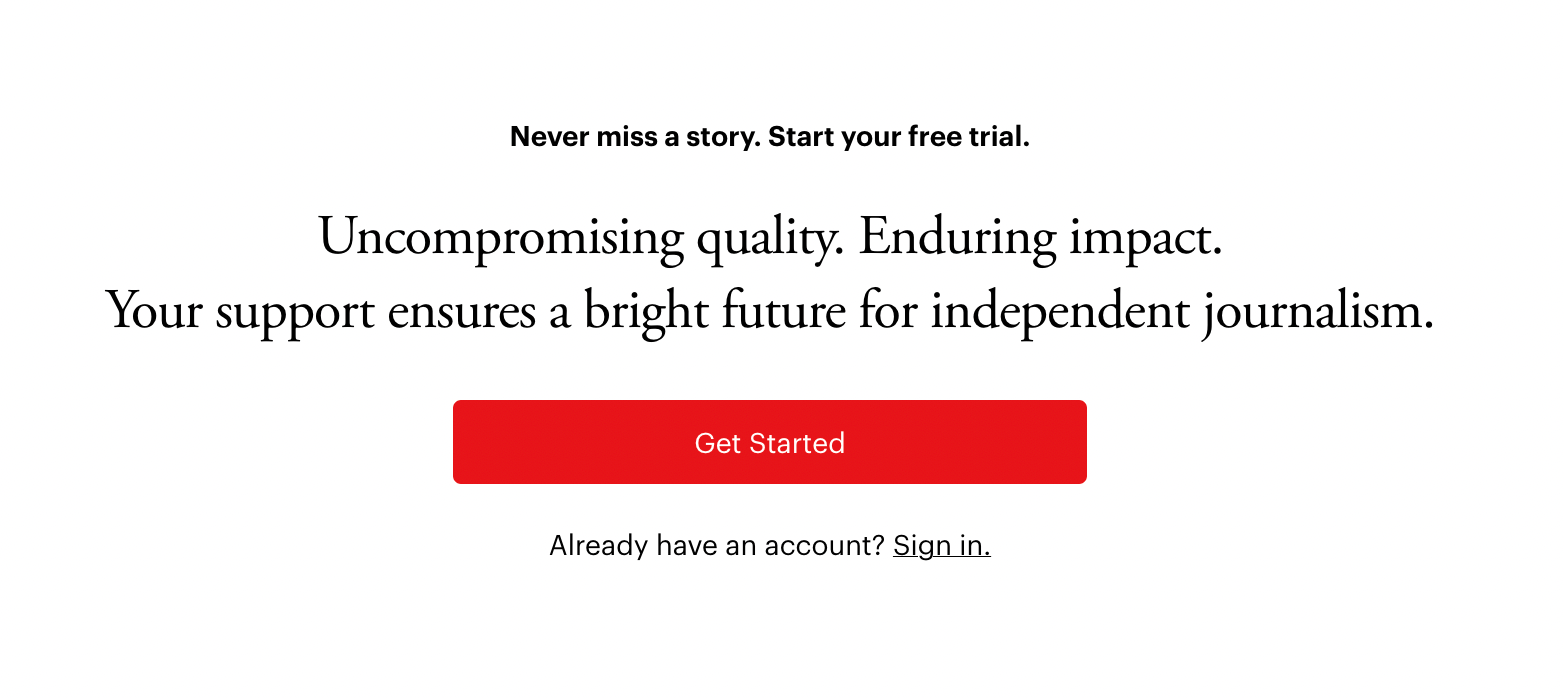 Although The Atlantic have build an in house machine-learning model, this is totally possible with a solution like Poool (and it doesn't come with a huge price tag!)...
Here, for instance, I've created 3 pricing tiers, spreading them across our 4 engagement groups.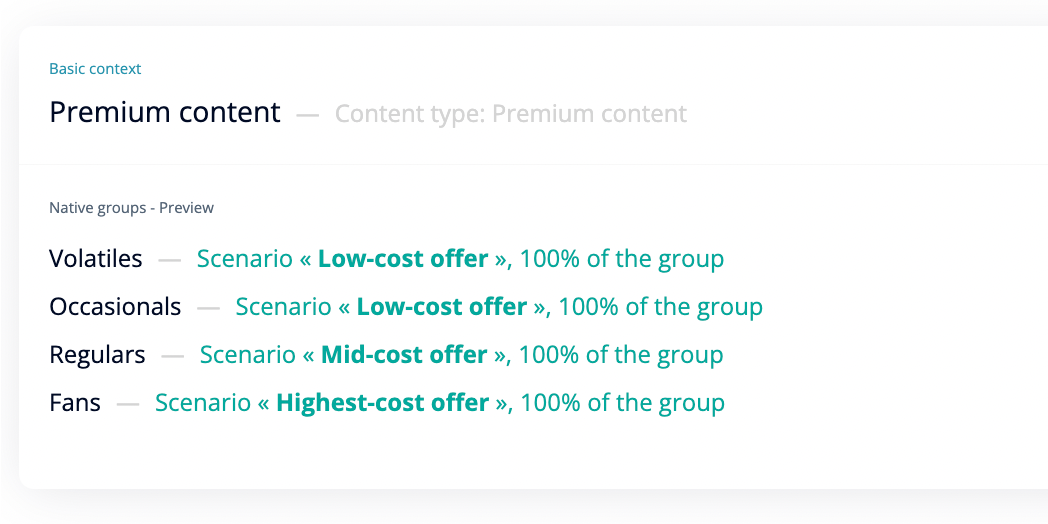 I can even run A/B tests within a single audience segment to find the optimal pricing for that type of user.
Here I'm going to test whether 'Annual' or 'Monthly' payment is better for increasing conversion rates amongst my volatile user segment: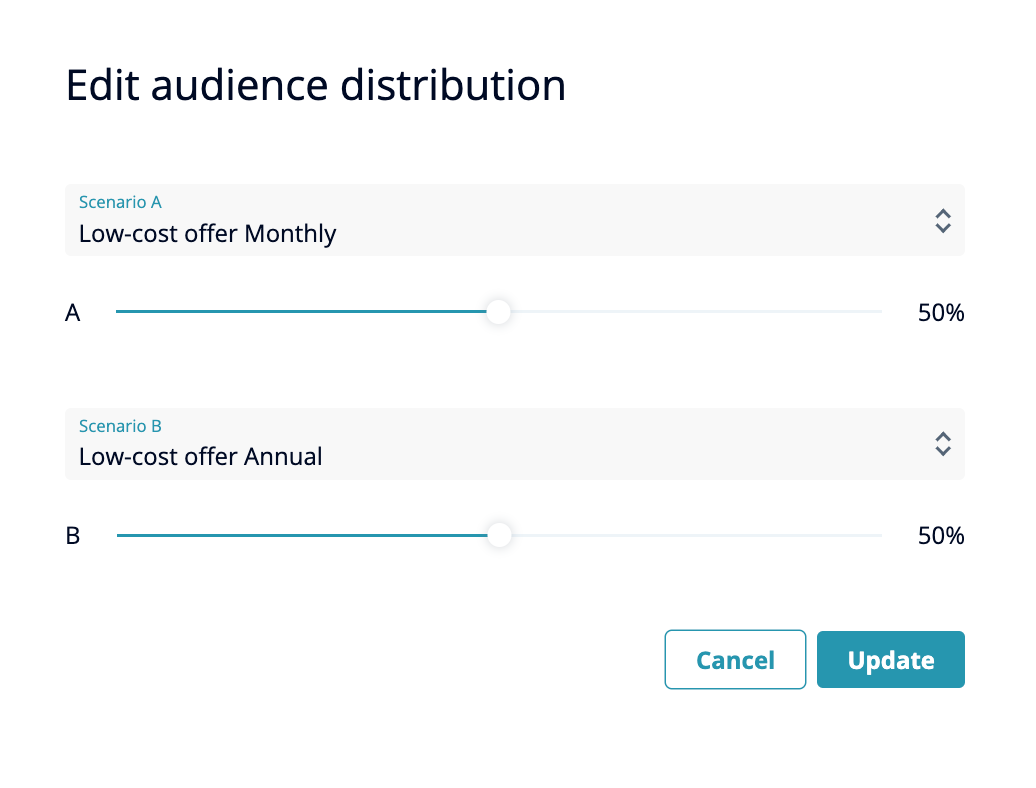 Interested in finding out more about Poool's dynamic paywall solution and how it will help you achieve your business goals?
Book a free demo with our team of Audience Conversion Experts
---
You may also be interested in: