In this article we look at some of the best examples of publishers employing a paywall in 2023, analyzing the type of model employed and what you can takeaway for your own paywall strategy.
Prefer to read in the language of Molière? 🇫🇷  C'est par ici
---
First things first: what is a paywall?
A paywall is blocks content and asks or requires users to pay for subscription in order to gain access. It's a strategy employed by a variety of content producers, from news media to VOD platforms, e-learning sites and even brands.

What are the different types of paywalls?
There are 4 main paywall types, although plenty of hybrid examples are starting to emerge.

The toughest paywall strategy where users are completely blocked from all content unless they pay.
These paywalls allow readers to access a limited number of articles before being blocked. This could also involve a registration wall prior to the paywall where a user is offered X number of articles for free before being blocked again and asked to subscribe.
A freemium strategy is when content is divided into free and premium, with free being open to all users whilst premium content is blocked by a paywall and reserved for subscribers.
This is arguably the most effective paywall as it adapts to the user based on their context or profile, such as their level of engagement, location or device used. This often involves the use of other walls to increase engagement prior to the paywall, such as a registration wall (requiring account creation) or a newsletter wall (asks for newsletter subscription to pass through).
Find out more about the different paywall types in our other blog post: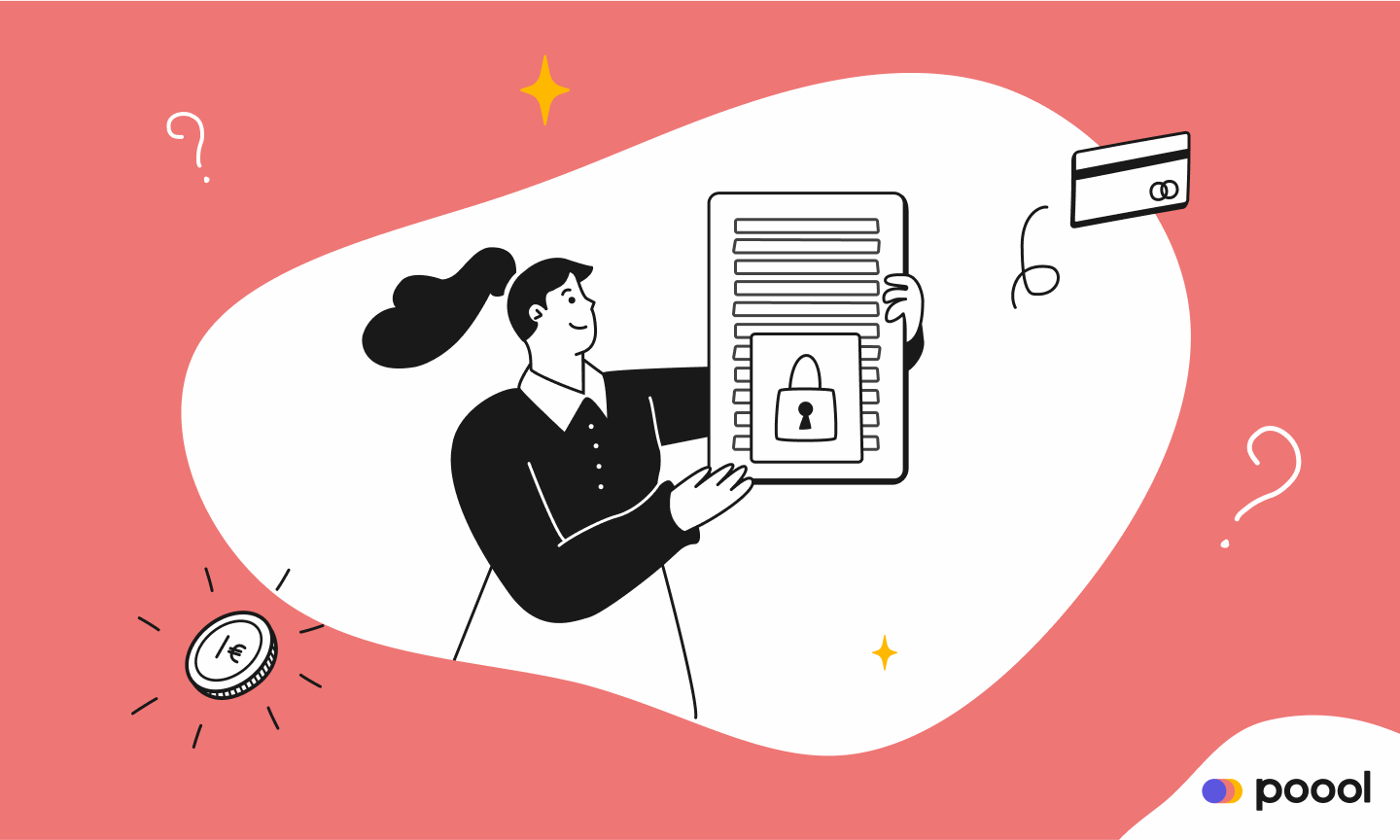 ---
The best paywall examples 2023
The New York Times


Dynamic registration wall and paywall:
The famous publisher adapts their meter limit based on the reader's level of engagement.
First, a registration wall asks a user to create an account to read an article for free.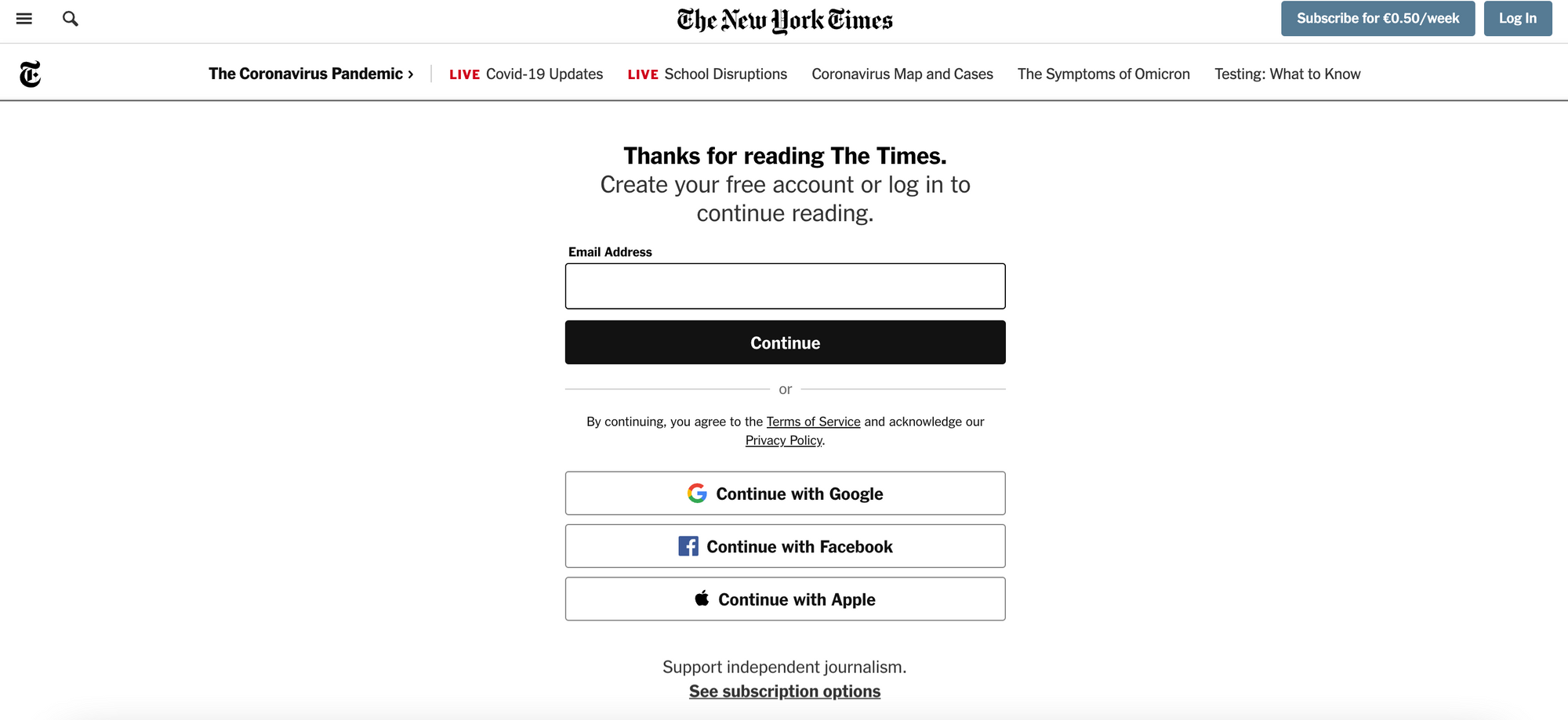 Newly registered users are led through an onboarding journey with the goal of increasing engagement and propensity to subscribe in the future.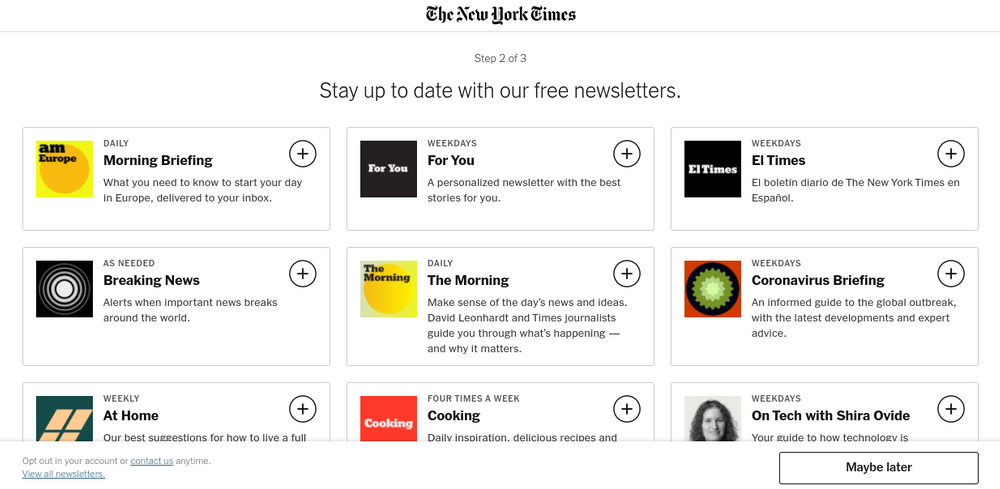 This is then followed by a paywall blocking the second article. The user can't even scroll down the page as the paywall blocks the entire content, making for 100% paywall visibility rate.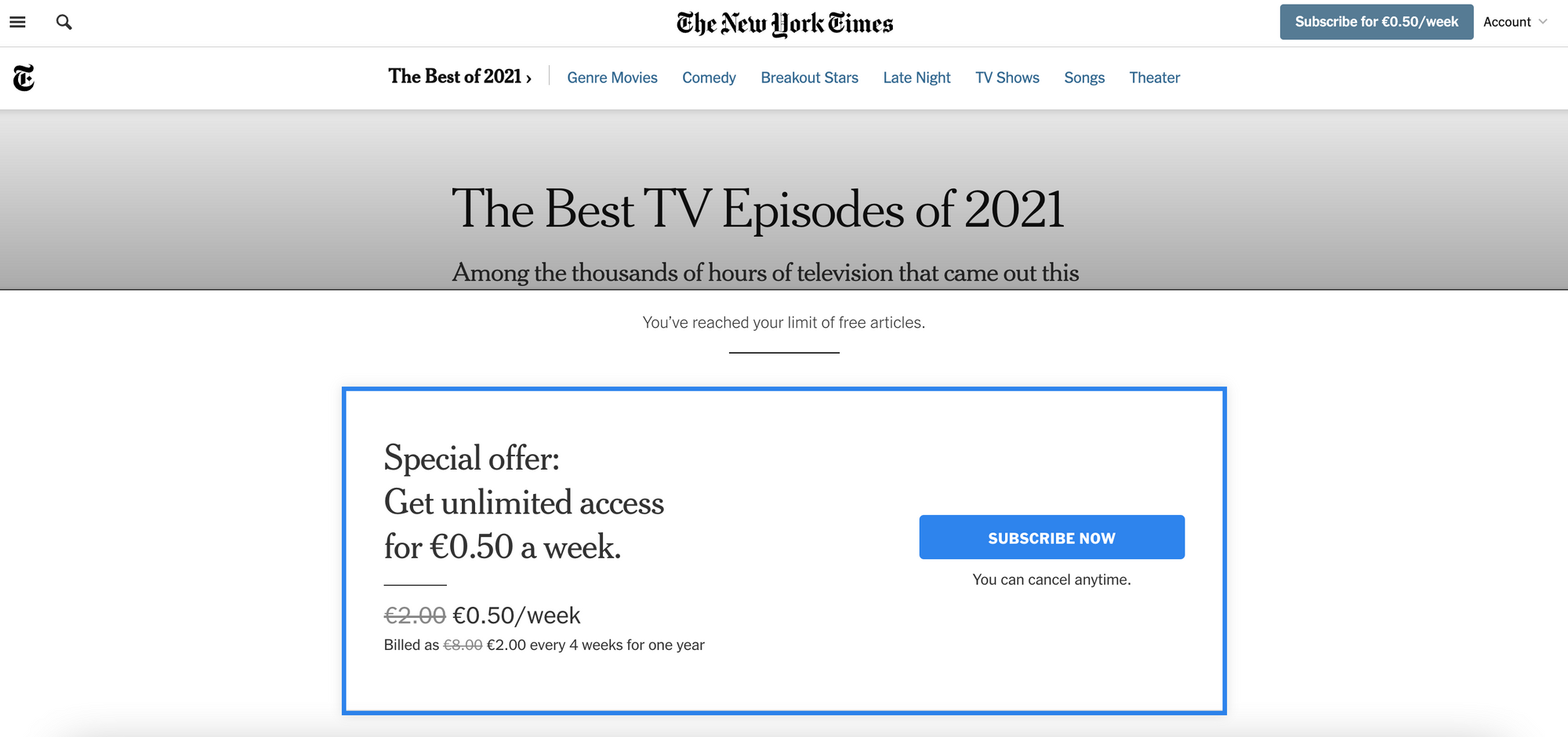 ✅  Registration wall increases engagement and allows for data collection
✅  Both walls are 'sticky' meaning they don't allow for scrolling. This results in a high paywall visibility rate
✅  The registration form is integrated into the wall itself (reducing a step in the funnel) and requires very little information from the user (making it easy to complete)
❌  Despite registering, users are limited to just one free article which allows for a very limited content discovery
Discover more about The New York Times' paywall model: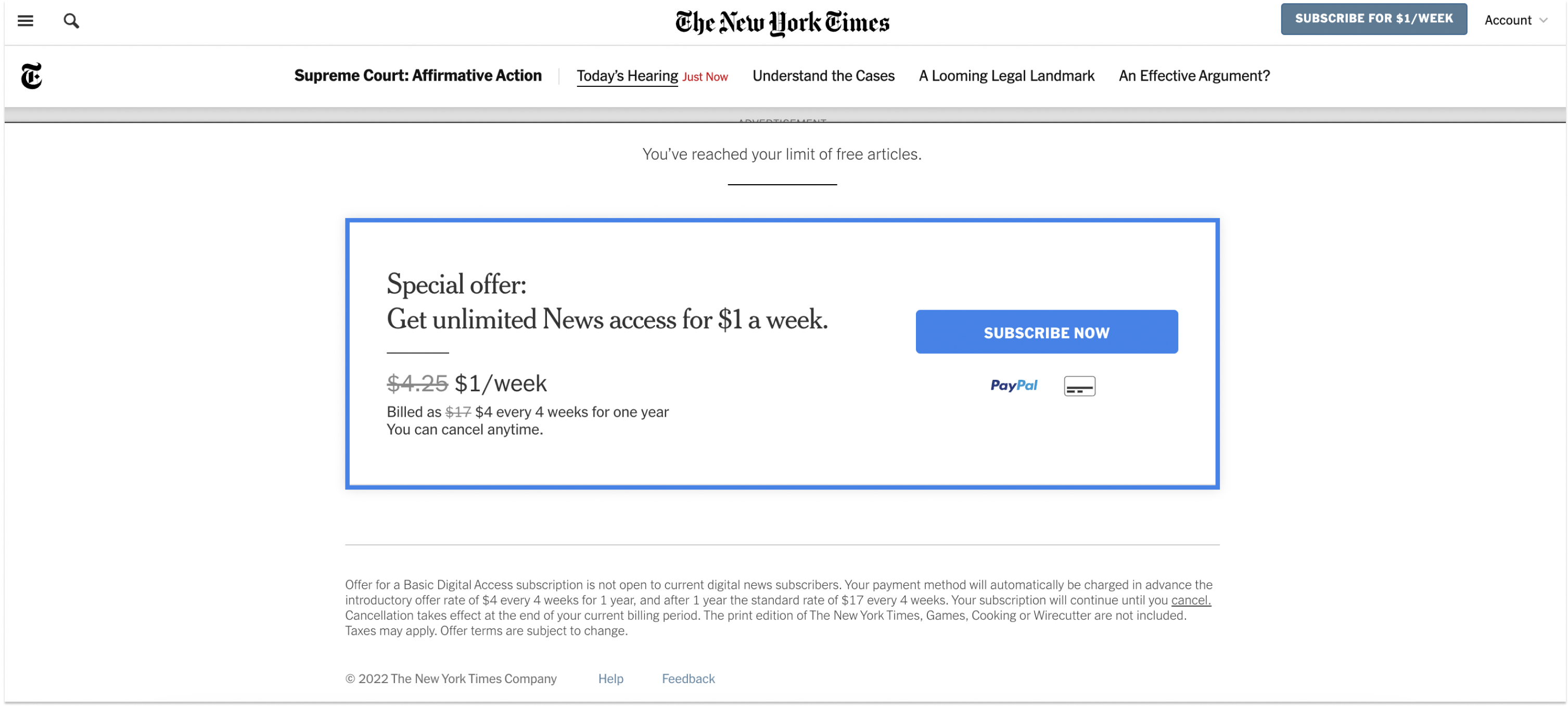 Bloomberg paywall


Metered registration & paywall strategy:
A registration wall blocks us on the first article, offering access to 2 more articles for free.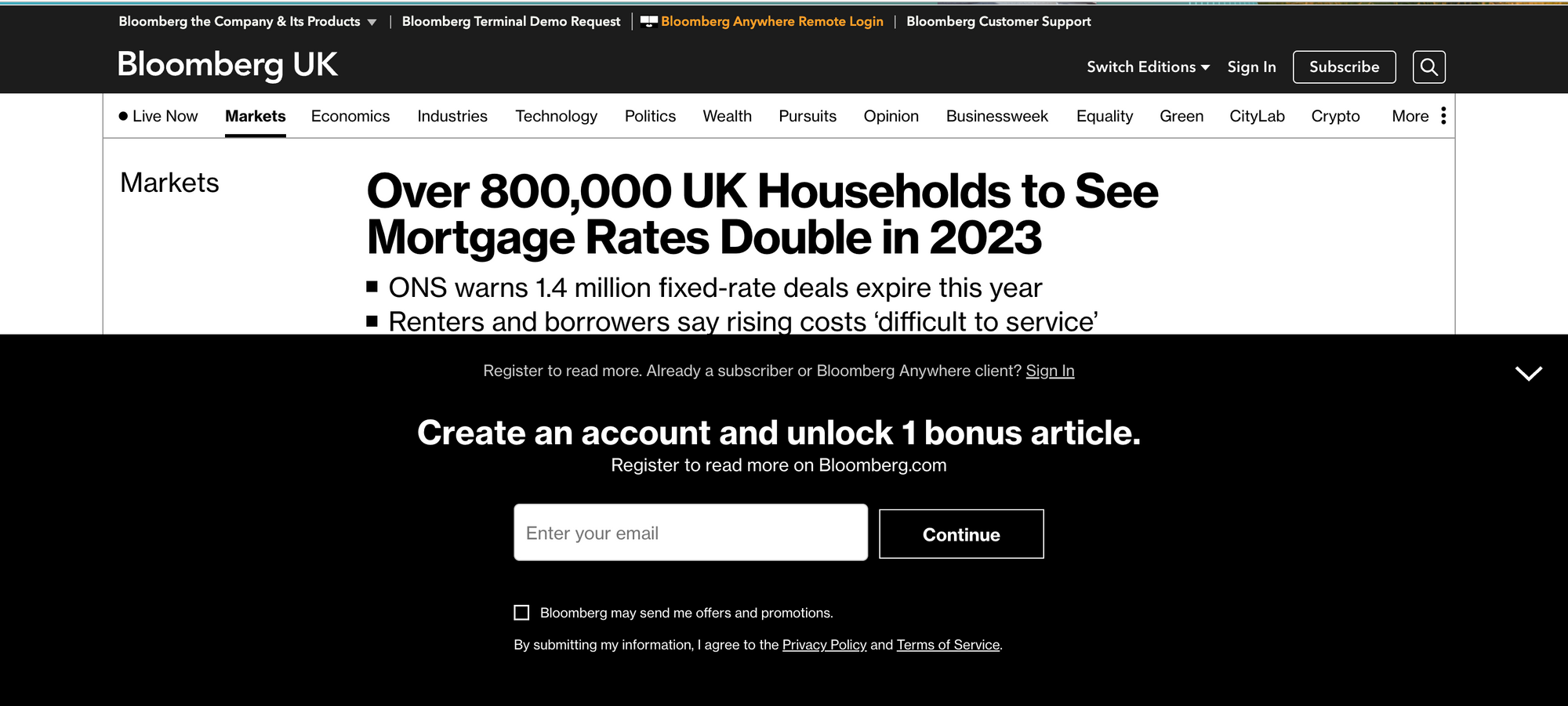 We're required to enter a code sent to our email address. Note that this is happening in exactly the same place as where we entered our email, making for a smooth user experience and not additional scrolling or clicking.
💡 This is a brilliant strategy to avoid fake email addresses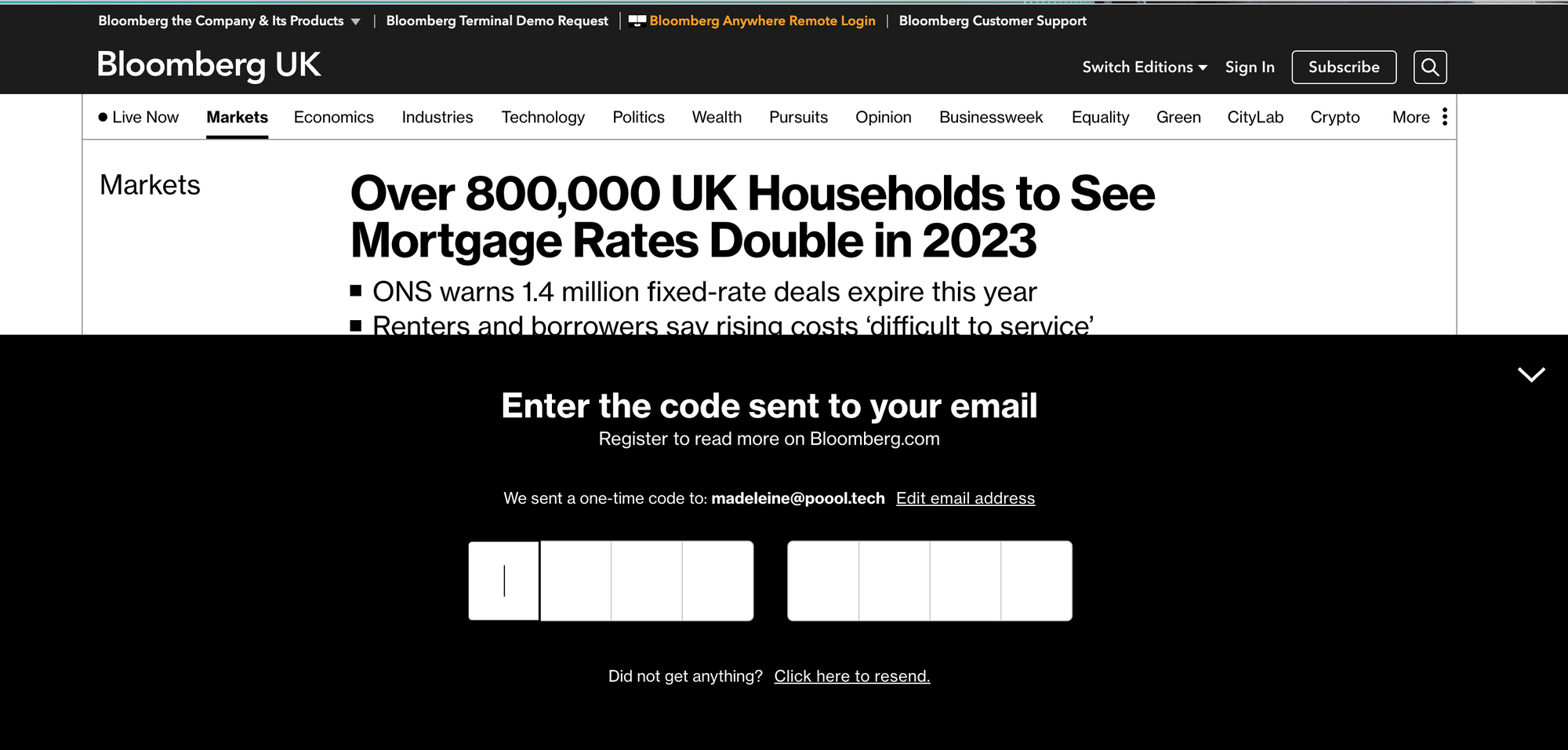 2 articles later and we're blocked by a paywall banner.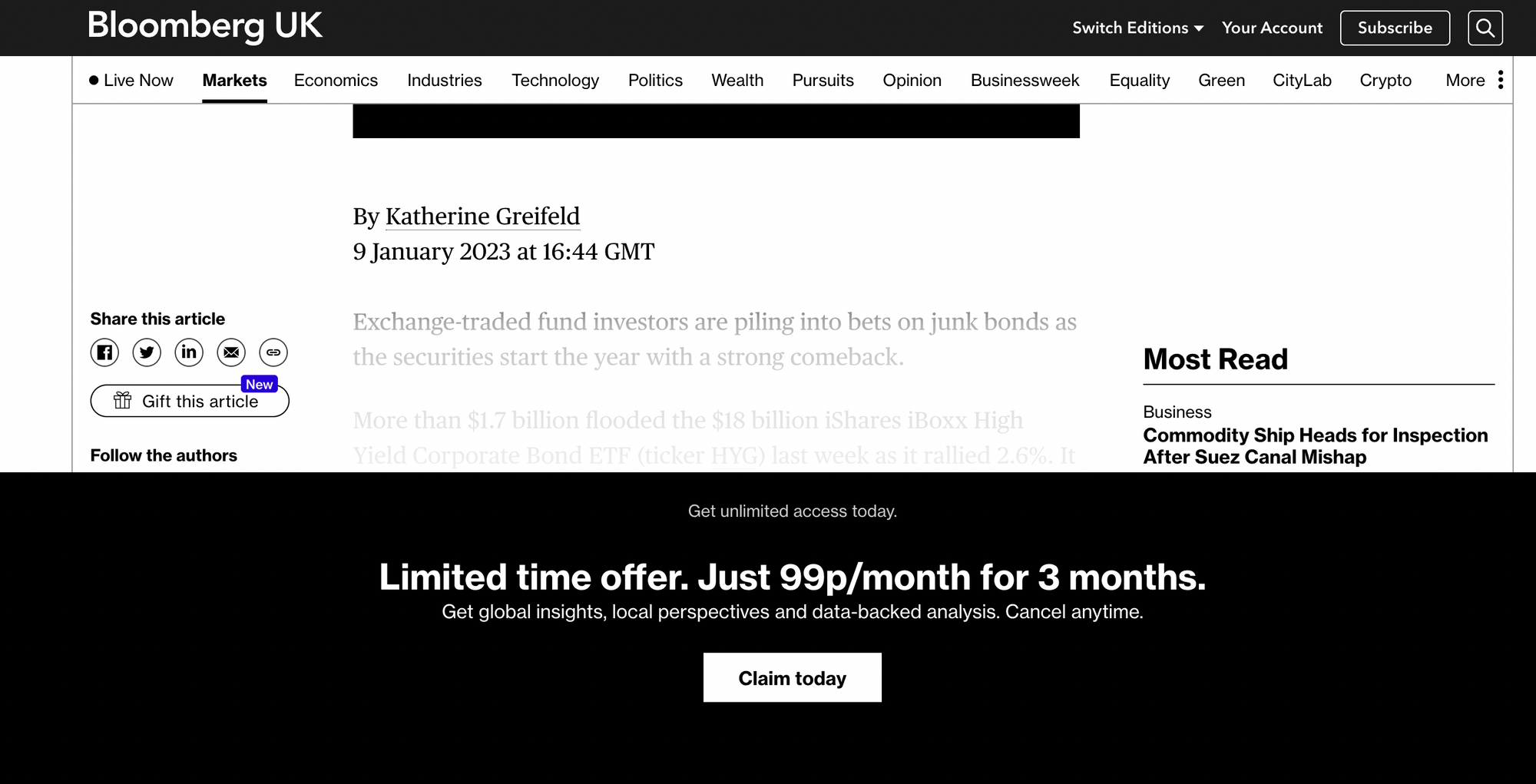 ✅ Registration increases engagement and allows the publisher to collect a key data point (email address)
✅ Metered strategy allows for content discovery before being blocked
✅ After clicking through the paywall, our email address is already filled out (making use of the data point already collected and reducing friction)
ELLE Magazine paywall


Freemium paywall:
Content is divided into free and premium, with the latter being marked with a yellow tag and blocked by a paywall.
The publisher has high premium content visibility rates thanks to tags ("Abonnées") on subscriber-only content.

When we click on a premium article, a paywall blocks content after a paragraph or two, allowing the user to engage in the text before being denied access.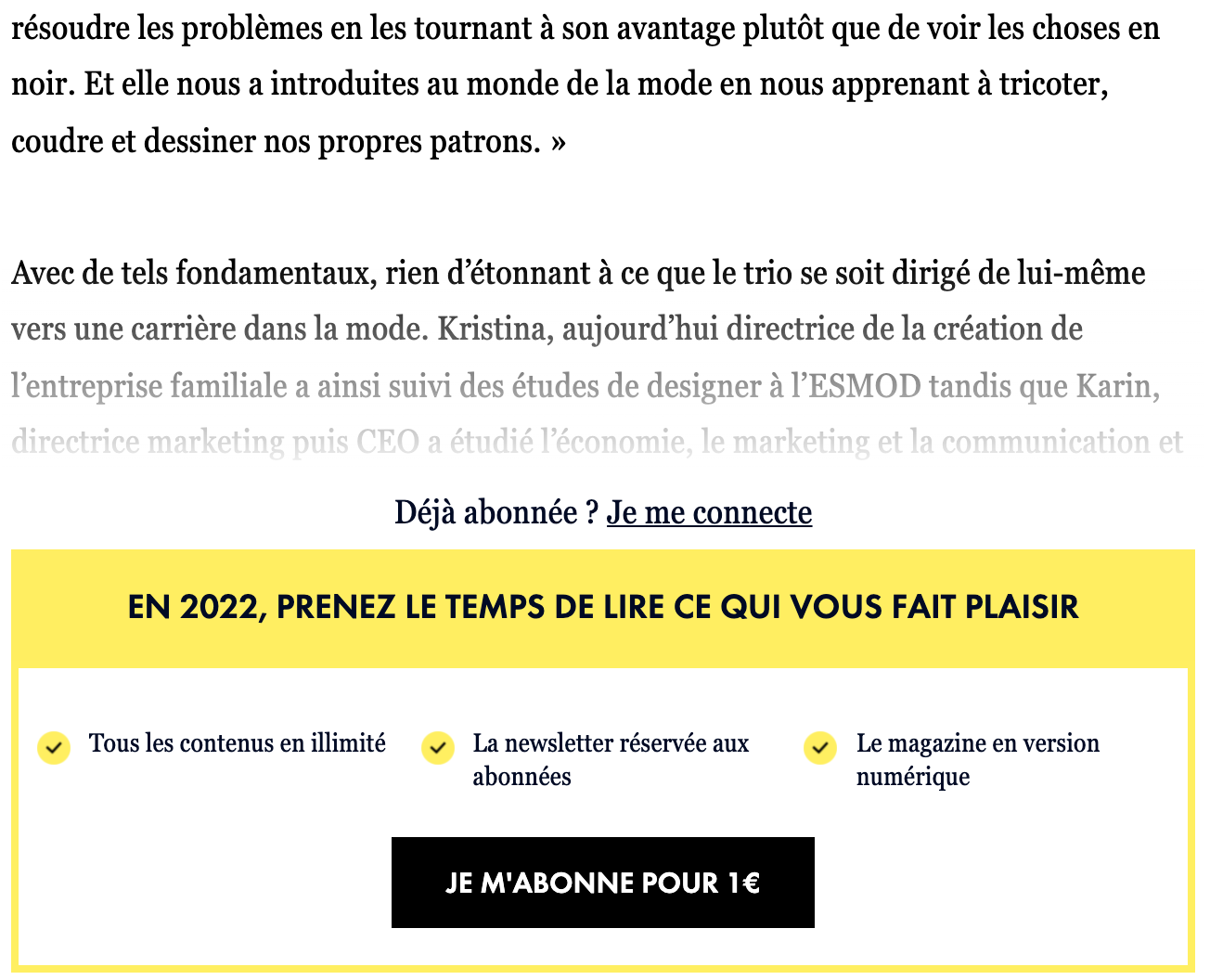 ELLE's team also regularly change their wall (based on seasons, sales and national holidays) to reduce "paywall blindness".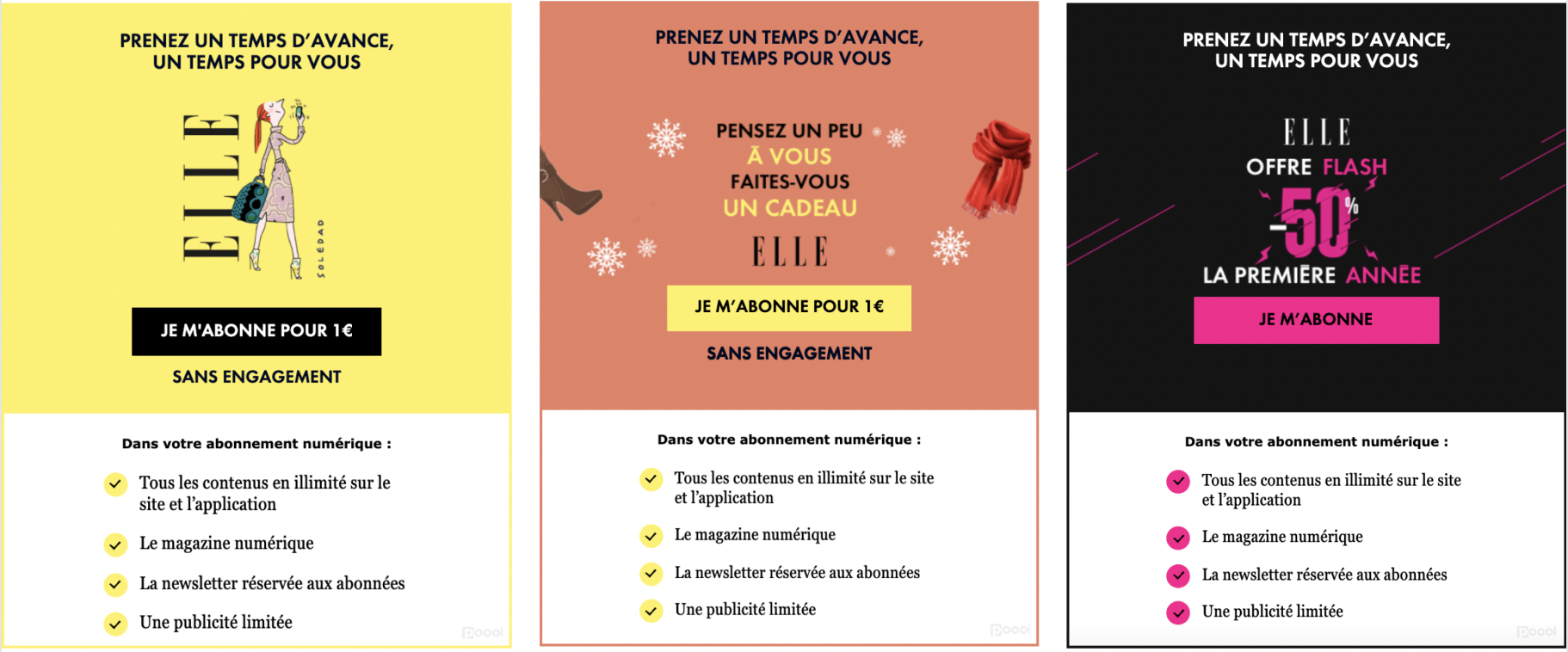 ✅  The freemium model allows for content discovery and engagement prior to being blocked
✅  ELLE's value proposition and subscription benefits are fore-fronted on the paywall
✅  A paywall that is frequently updated to reignite conversion rates
ELLE's paywall strategy is employed thanks to Poool's Audience Conversion Platform! With complete autonomy to configure, build, launch and drive their paywall with ease via the Poool Dashboard, the ELLE team are in complete control of their digital reader revenue strategy.
Find their success story here: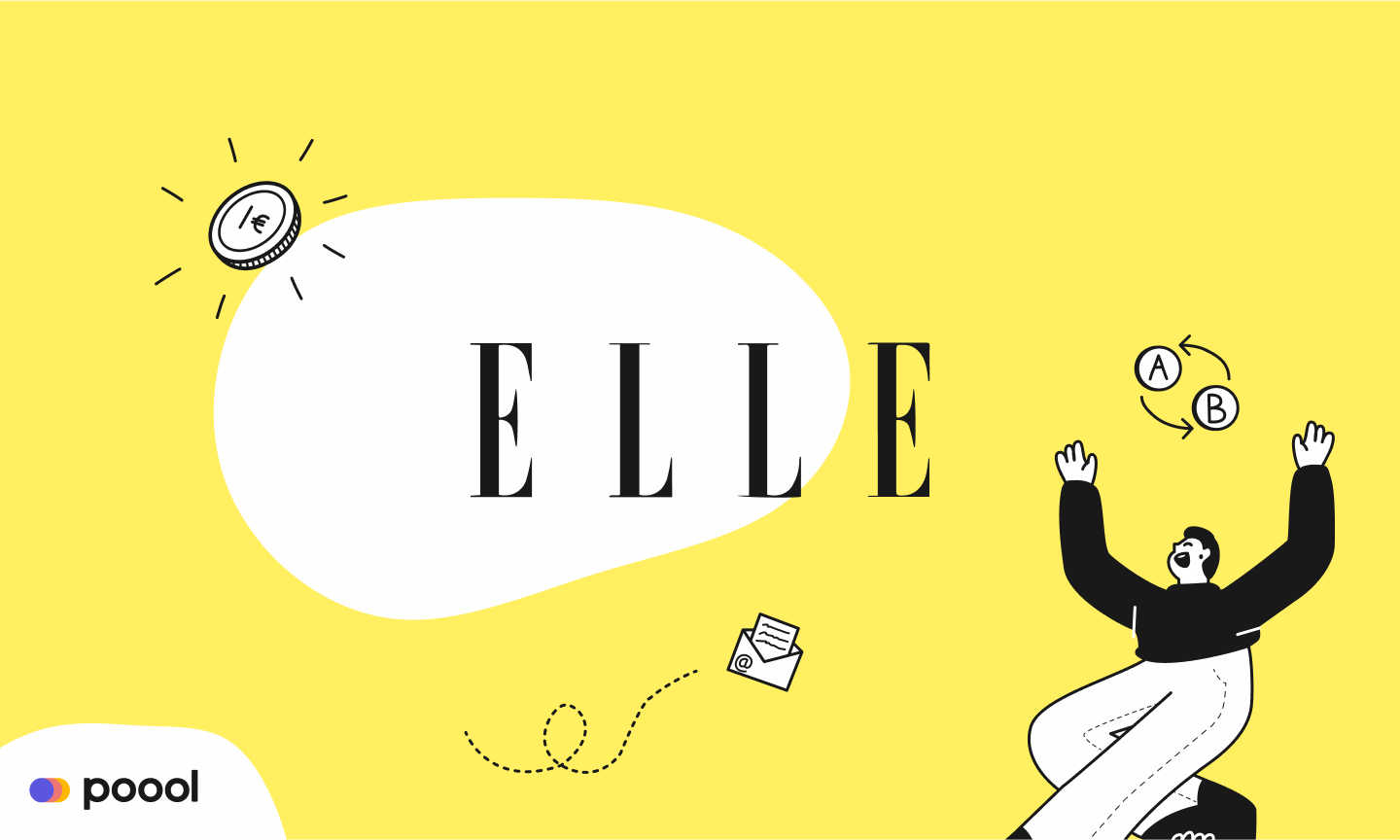 We also offer a free demo and ROI calculation so you can discover the value of a paywall for your company: just book a meeting with our team here.  
The Atlantic
Hard paywall but dynamic pricing
Although The Atlantic employs a hard paywall, Digiday recently announced that they're now rolling out a new dynamic paywall that offers varying subscription prices in a bid to increase their conversion rates.
Users are blocked on their first article with a paywall featuring a strong value proposition.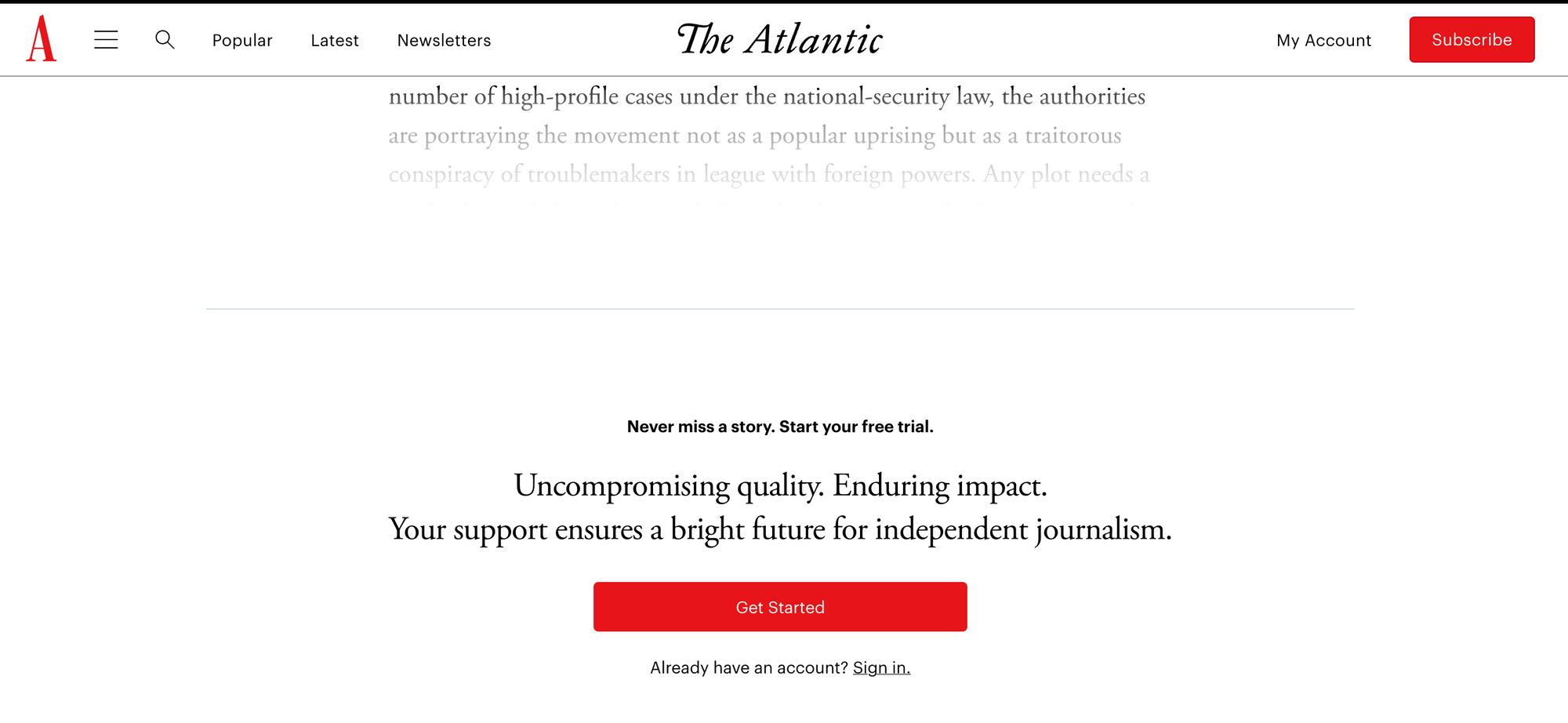 And, as a new visitor to their site, we're offered a free trial to discover The Atlantic's subscription offer.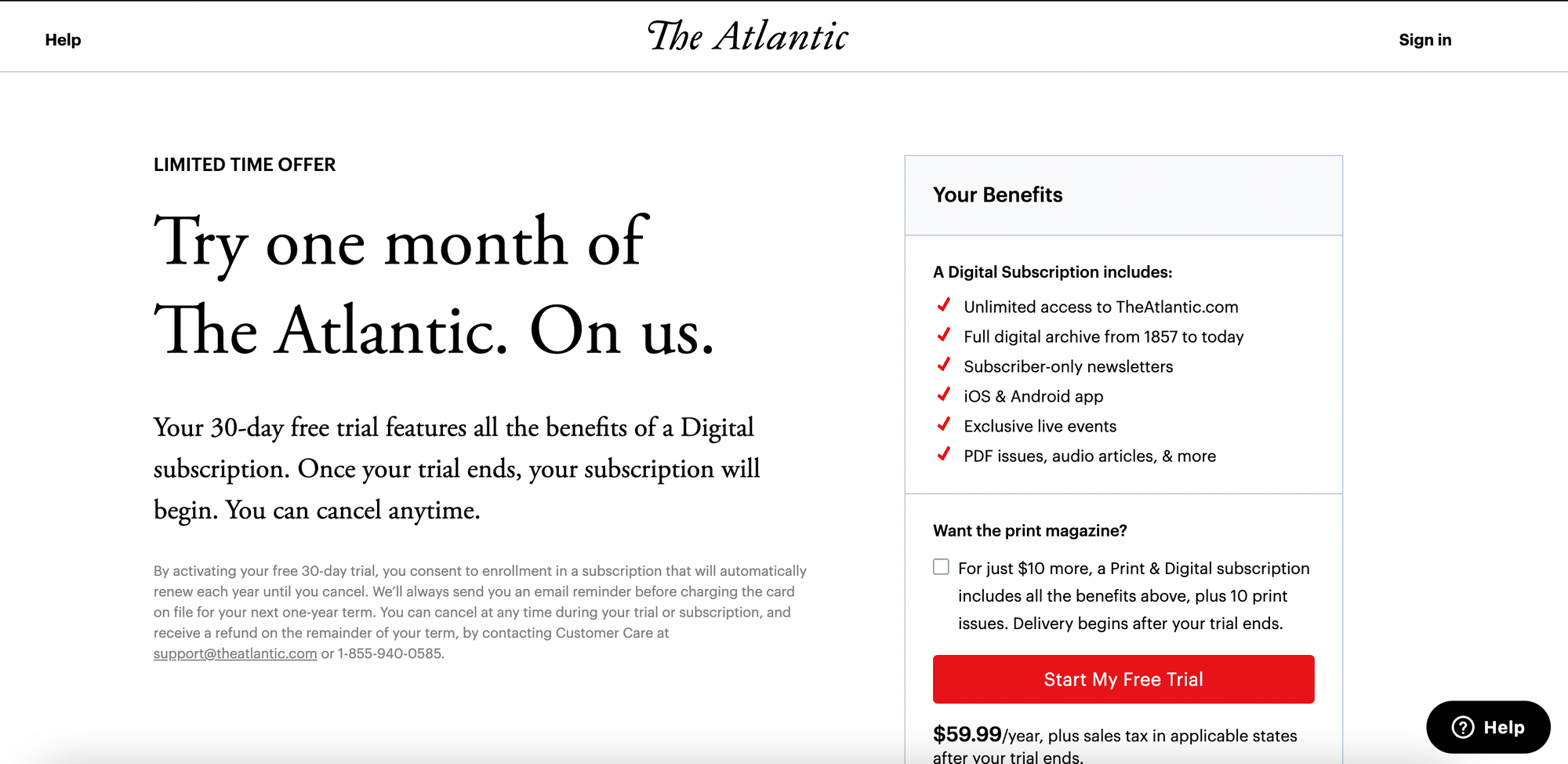 ✅ A paywall that blocks after just a few lines meaning high paywall visibility rates
✅  Dynamic payment strategy increases conversion rates and offers a free trial to less engaged users with the goal of convincing them to pay at the end of the trial period
❌ The dynamic strategy could be extended to offer registration in exchange for access to an article prior to the paywall. This would support engagement for new users and allow for data collection to inform The Atlantic's strategy
La Voz de Galicia


Freemium paywall:
Le Voz de Galicia divides content into free and premium, marking subscriber-only articles with a little gold '+' symbol.

Simple, but effective, the paywall blocks after a few paragraphs with the two subscription offers integrated into the wall with 2 payment offers for each.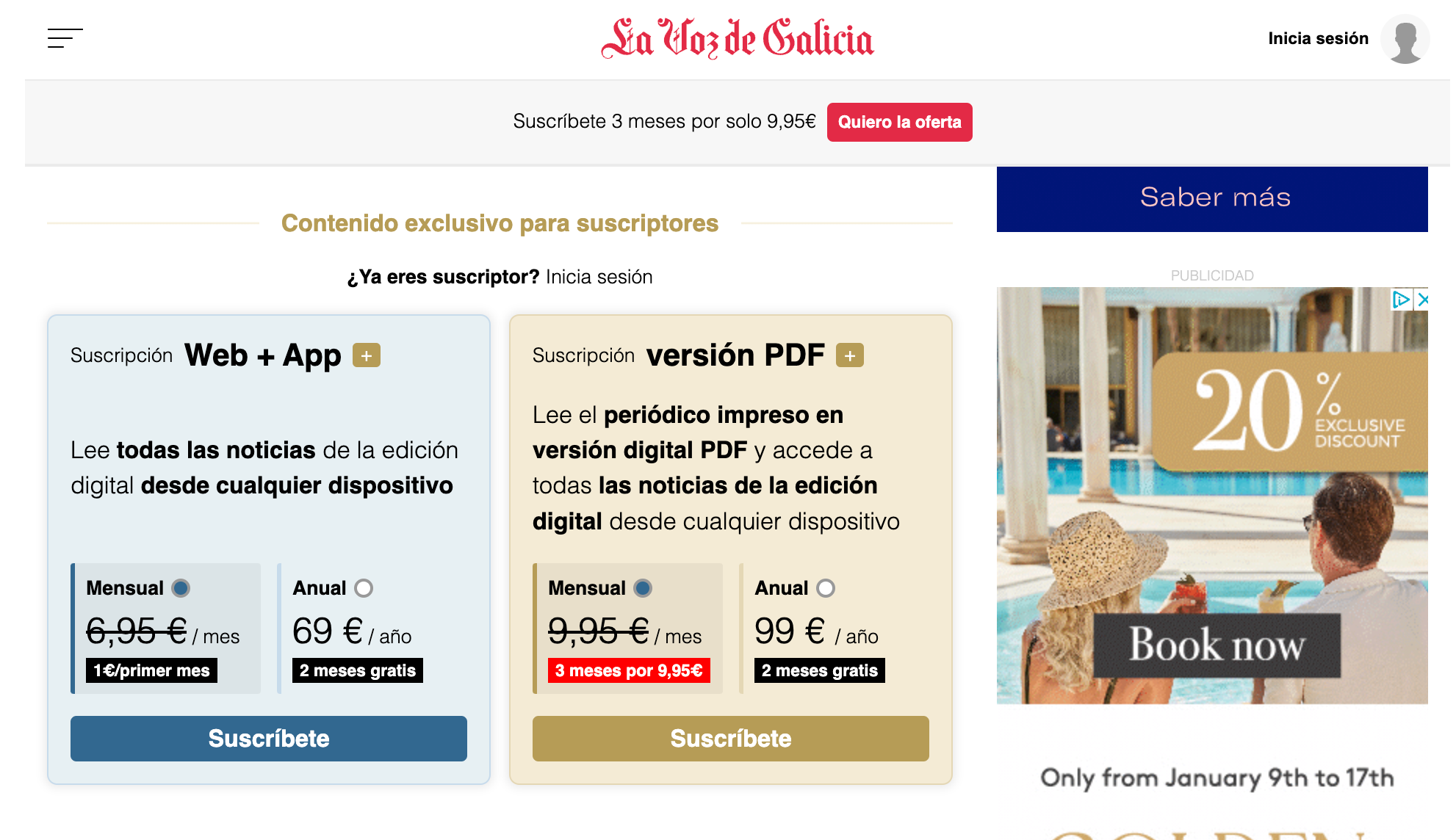 ✅ Users are able to discover the publisher's content through the 'free' articles
✅ Premium content is labelled to reduct frustration and increase the visibility of their subscription products
✅ Subscription offers integrated into the paywall, reducing a step in the funnel
❌ Value proposition could be improved
Financial Times
Hard paywall
No content can be accessed on Financial Times' site without purchasing a subscription first.
After clicking on any article on FT's website, a user will be blocked by a full-page paywall without being able to see any of the content aside from the title.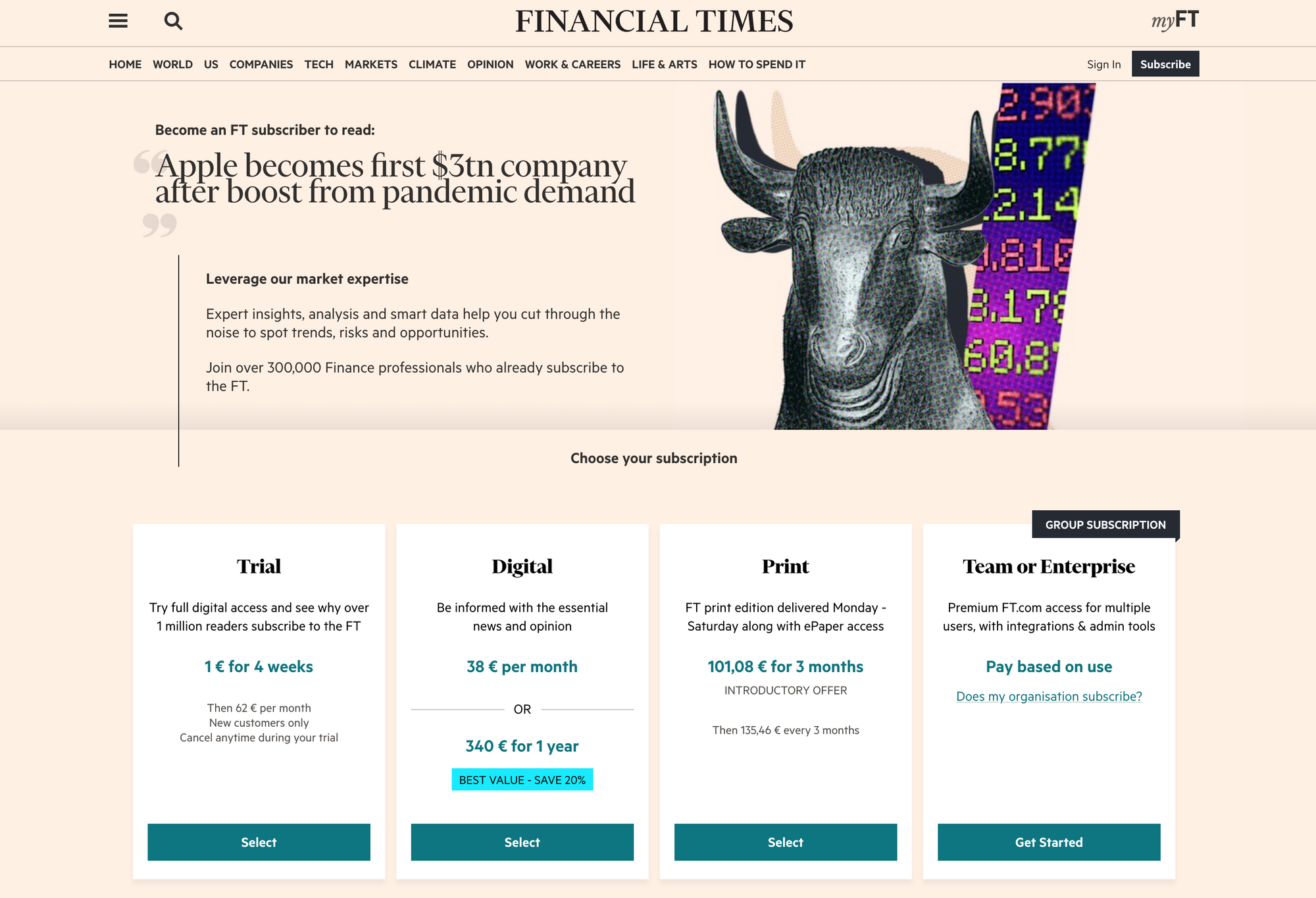 ✅  High paywall visibility rate thanks to a hard paywall model, which works well for a niche product
✅   Subscription offers are integrated into the wall to reduce a step in the conversion funnel
❌  No possibility for content discovery (proof of concept)
El Mundo
Freemium strategy
Premium content is marked with a gold, circle badge to reduce frustration and increase awareness of El Mundo's premium offer.
Thanks to this tag and a significant number of premium articles on the homepage, the publisher has a high premium content visibility rate.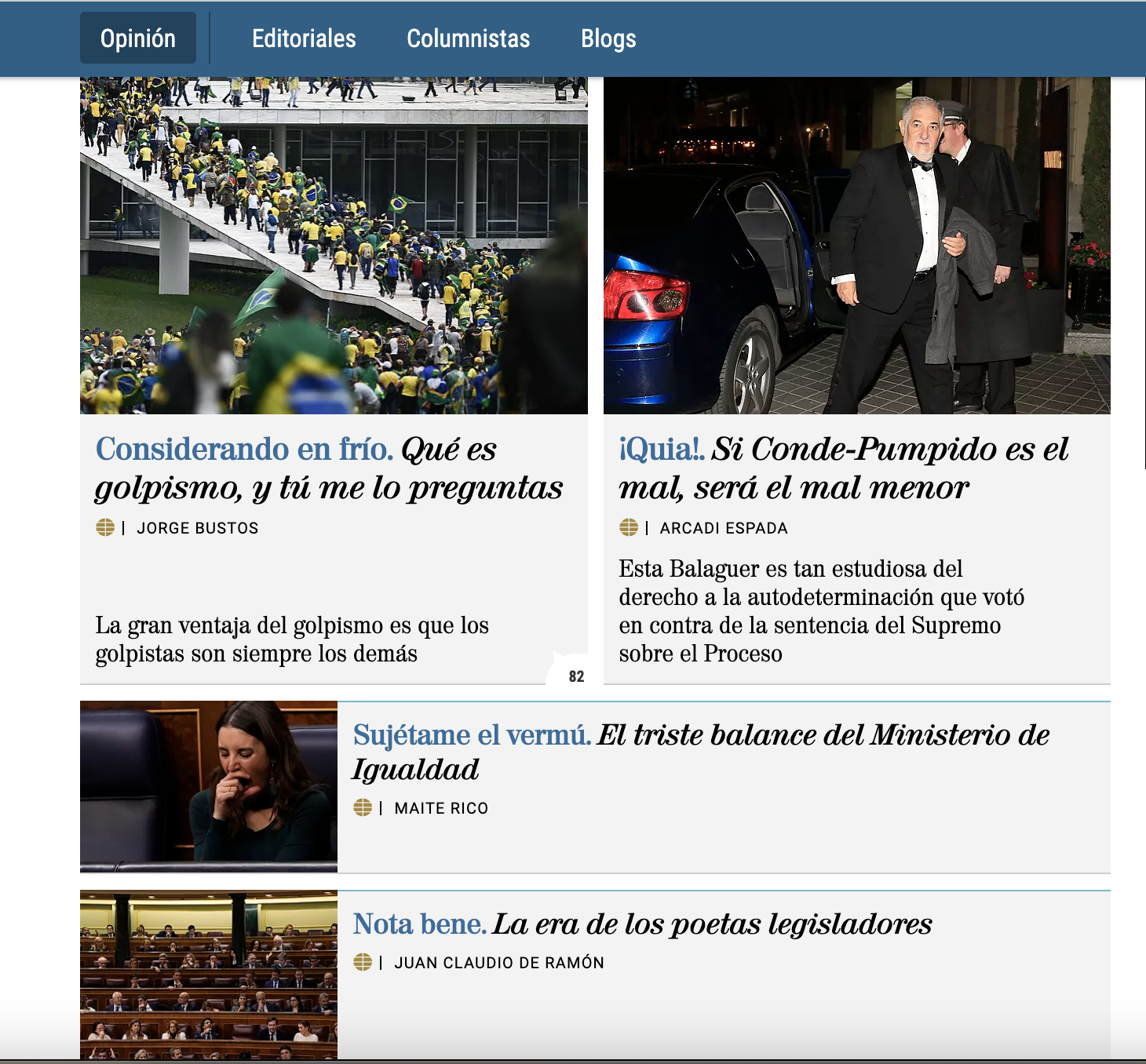 The paywall blocks after the first few paragraphs, with the subscription offers integrated into the wall. We're also offered the chance to Subscribe with Google for a simpler conversion process (although this method isn't as beneficial for the publisher).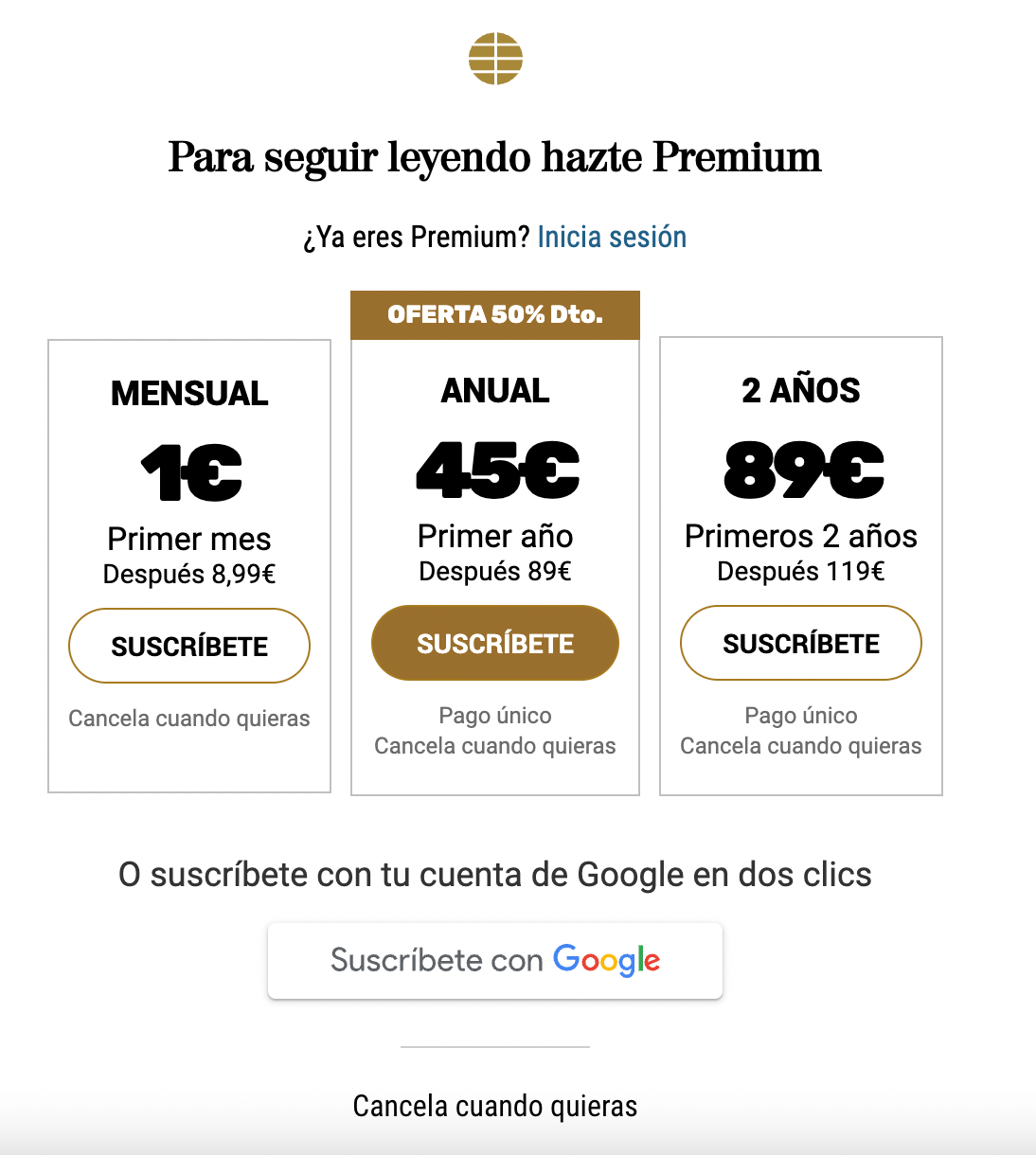 ✅ Freemium strategy increases engagement
✅ Reassurance: "cancel anytime"
✅ / ❌ Subscribe with Google makes for a simpler user experience but can take some of the revenue away from publishers
✅ Subscription offers integrated into the wall
Netflix
Hard paywall
Even harder than FT's model, non-subscribers can't even browse Netflix's content. Instead, we're blocked by the paywall on the landing page itself.
With a strong value proposition, Netflix first captures a key data point - email address - to be able to target email marketing campaigns even if a user doesn't end up converting.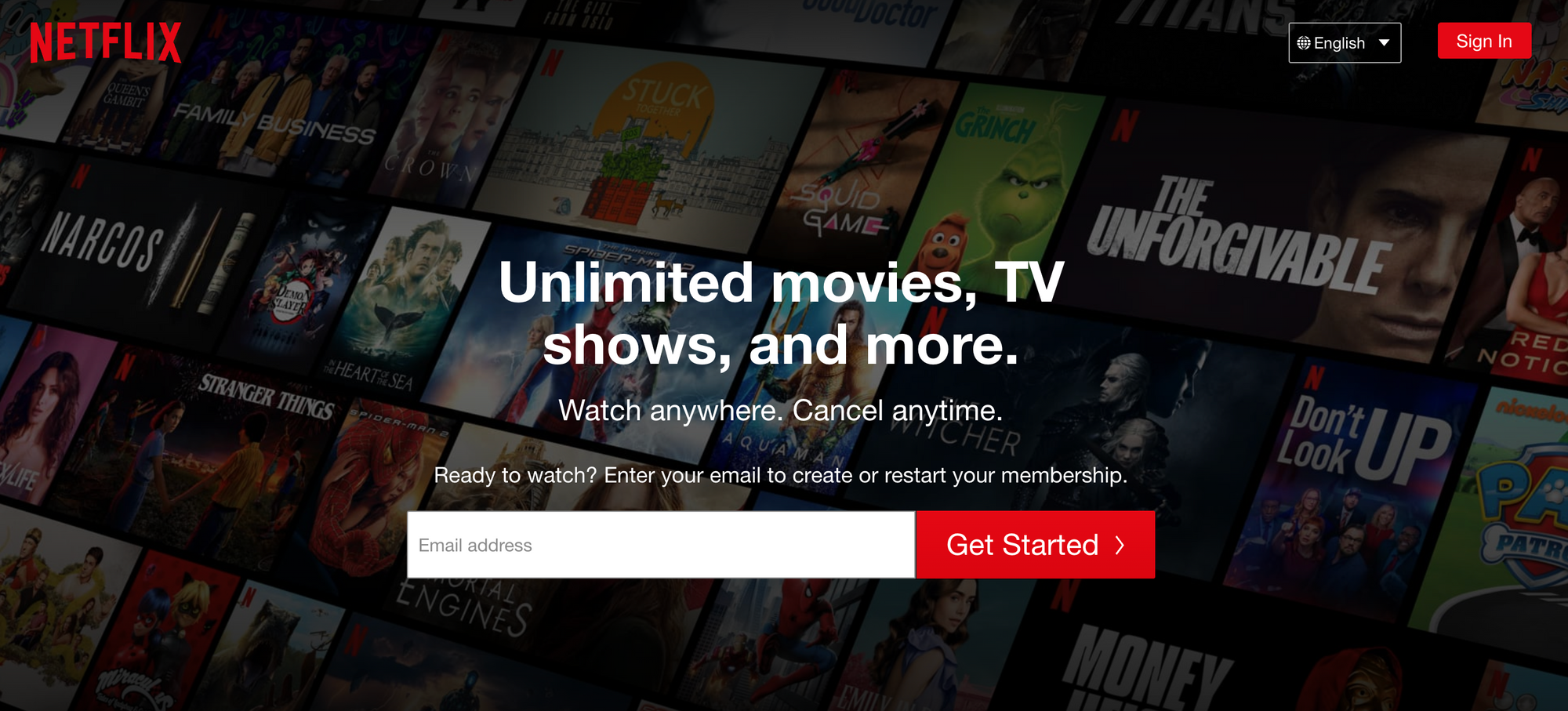 ✅  Clear value proposition
✅  Reassurance: "Cancel anytime"
✅  Email address collection as the first step to gather this key data point as a priority  
❌  No way of discovering content prior to subscribing, however Netflix now dominates the market and you can easily find out what content they offer via other sites
Discover how Netflix constantly evolves its product offerings through A/B testing: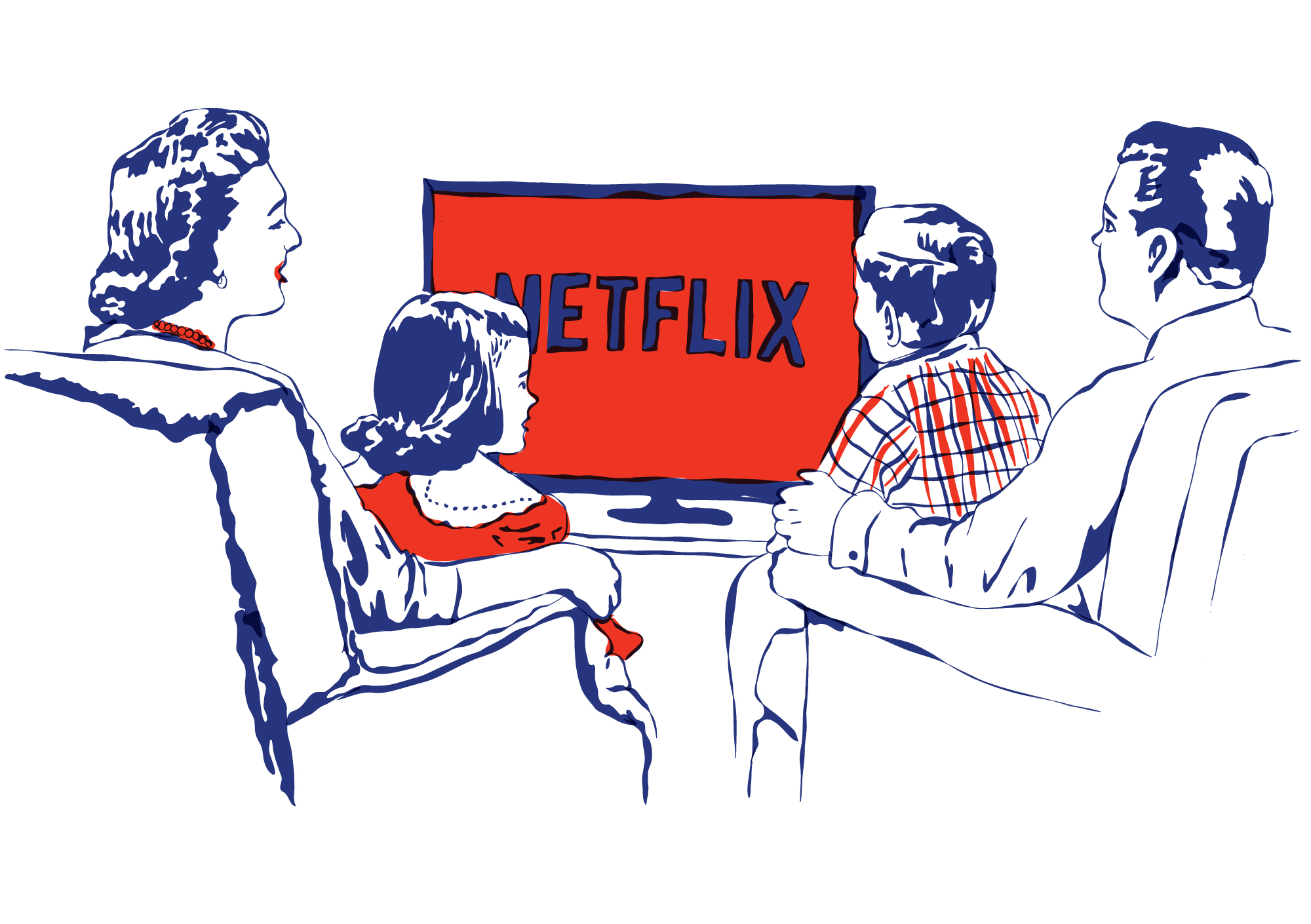 ---
In need of a paywall solution to achieve your goals in 2023 and beyond?
Poool is here for you!
All-in-one solution: build end-to-end experiences in one place thanks to The Membership and Subscription Suite
Speed: 2 day tech integration, launch within 30 days, positive ROI in under 90 days
Autonomy from tech: marketer have complete control to make decisions and put them into action
Simplicity: save time and effort that can be put instead into your content
Uncomparable support: a team of efficient, knowledgeable and caring individuals, ready to help to at every step
Expertise: Poool are a team of industry experts who have put everything they know into the product, ready to respond to your 'how' of launching & developing a reader revenue strategy
Value for money: pricing adapted to your needs, no hidden fees nor integration costs
Flexible: entirely adaptable to match your strategy and goals
Interested in hearing how Poool can help you save time, money and achieve your business goals? Book a free demo or write an email at hello@poool.tech.
---
You may also be interested in: