In summary:
A culture of experimentation, learning and optimizing with continuous A/B testing and analysis
Innovative strategies such as hybrid walls, asking for newsletter sign up or subscription in exchange for access to content
Subscription offers integrated into the paywall, increasing click-through rates increased by 97% and conversion rates by 37%
More informed decision-making thanks to working with Anthony, one of Poool's expert consultants
Prefer to read in the language of Molière? 🇫🇷 C'est par ici
---
EBRA is France's largest regional media group, with 9 brands and close to 35,000,000 visitors per month to their websites. With such a widespread audience and high quality local coverage, the group chose to launch a subscription strategy to monetize from these digital readers.

When the team came to Poool in 2019, they had already integrated a hard paywall into their content, one developed by in-house tech teams.

However, their marketing team was in need of a solution that gave them autonomy to manage their reader revenue strategy with ease, without having to call on the tech team at every turn, as well as a tool to be employed across brands, with adapted user journeys depending on the audience.

Hence why they turned to Poool Access, the audience conversion platform, accompanied by our consultancy offer, providing the team with constant support, monthly performance reviews and optimization recommendations.  

🎯 The goal:
Increase the number of digital subscribers across brands
Test out a registration strategy to increase engagement prior to the paywall and collect first-party data points

---
Getting started in 2020
After tech integration, EBRA's marketing team had complete autonomy to drive their reader revenue strategies. However, this all happened in the beginning of 2020, and we all know that a certain virus shook things up from March of that year….

Given that readers were turning to online content alone to get their daily news, the team decided a hard paywall would be best for optimizing conversion rates throughout lockdown (which turned out to be for most of 2020).

---
2021: a new year, a new strategy
With life starting to open up again after Covid, it was time to get back to work on optimizing the publisher's subscription strategy by replacing their hard paywall with a more dynamic model.

🎯 The goal:
Increase engagement and propensity to subscribe
Better understand audiences and what makes them convert

✨ Solution:
Integrate soft conversion steps into less engaged user journeys
A/B testing and temporary walls

1) Soft conversion

A Poool study recently found that, on average, over 80% of a publisher's audience are volatile, unengaged users who only visit about once a month.

So, whilst a hard paywall might convert a small percentage of very engaged fan users, the large majority of audiences are going to be frustrated by the paywall, perhaps even leaving the site to find content elsewhere.

To solve this, publishers should employ a dynamic strategy whereby conversion journeys are adapted to the reader's profile or context with the goal of increasing engagement and maximizing ARPU.

One of the most effective dynamic strategies is to segment users based on their level of engagement, something that Poool offers natively in the Dashboard and that EBRA made full use of to achieve their reader revenue goals.
Specifically, the team worked on increasing engagement for their least engaged audience segments, Volatiles and Occasionals, building soft conversion steps to gradually increase ARPU and the reader's propensity to subscribe.

Data wall: to form a habit through content consumption and collect user's email address as a key data point for marketing campaigns.
After users passed through this wall and discovered one of EBRA's articles, they were blocked on the following content by a paywall to require subscription.

View pay wall: offer users the option of accessing a blocked article by watching a commercial with the goal of engaging visitors and increasing revenue through advertising simultaneously.
What comes after soft conversion?

To increase subscription conversion rates, EBRA created a new audience segment for logged-users, building a dedicated conversion journey with personalized wording on the paywall to encourage subscription.
Upsell wall: simultaneously, Ebra created another audience segment for readers currently subscribed to their lower-priced offer, encouraging them to upgrade to a more complete offer.
2) Testing, learning and optimizing

To better understand the factors needed to successfully convert a user into a subscriber it's important to continuously test and validate hypotheses, analyzing results and applying these learnings to your strategy.

A/B testing: The ease of testing in the Dashboard means that EBRA marketing teams have complete autonomy to continuously validate their assumptions and optimize wall performance.

In particular, they carried out a variety of tests on paywall design and wording, such as the example below:
Version A - shorter text where the focus is on the publisher accompanying its reader in their daily habit of taking a morning coffee whilst reading the news.
Version B - focus is on the benefits of subscription, such as unlimited access and the cost of their offer.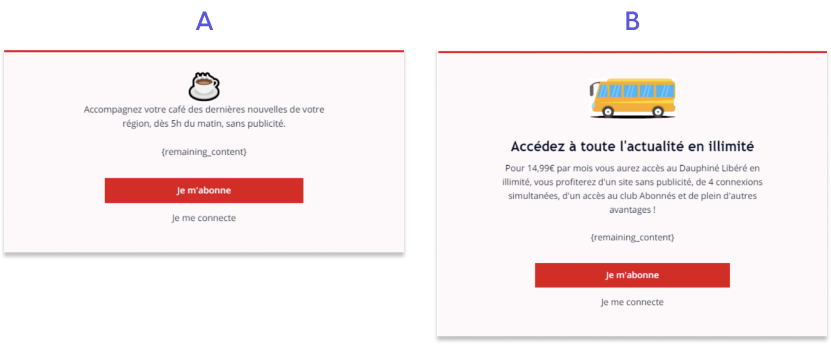 Interestingly, paywall A achieved two times more clicks globally than B, suggesting that shorter text and framing messaging as 'accompanying' the user's existing habit is beneficial for CTRs in this context.


"It is essential to maximize AB testing to find the best strategy, the right messaging and the perfect offer to display to our audience. The Poool Dashboard allows us to set up all the engagement and conversion scenarios we can imagine with our teams, in complete flexibility and autonomy. This allows us to better understand our audience and to personalize messaging as much as possible with the goal of maximizing conversion rates."
- Emilie Courmont, Acquisition Project Manager



Temporary walls: To reduce habituation with their wall design and maximize on special offers, the team built walls for different national holidays or sales periods, analyzing whether this had an impact on click-through and conversion rates.

For instance, this Christmas/new year paywall led to an increase in click-through rates across all audience segments:
+58% globally
+75% volatiles
+146% occasionals
+149% regulars
+65% fans
⭐ Best practice: analyze results globally but also for different audience segments as data will likely differ, giving you insights into how you can better personalize the reader journey to their profile or context.

Overall, these strategies were hugely valuable for soft conversion uptake and building a strong foundation of an engaged audience - in fact, Autumn 2021 saw a large increase in users in the engaged segments: +236% occasional readers, +182% regulars and +98% fan users.
---
2022 so far
In 2022, EBRA worked more closely with our consultancy team to establish a developed roadmap of testing, learning and optimizing.

Before moving on to a tougher conversion strategy, with the goal of increasing the number of subscribers, EBRA launched a unique hybrid wall as a stepping stone towards a hard paywall.

Newsletter sign up and subscription: the team built a hybrid wall to encourage newsletter sign up (with a drop down form field to choose which newsletter) and subscription simultaneously. After filling out the form and registering for the newsletter, readers were offered access to the article, being blocked by a hard paywall on the next content.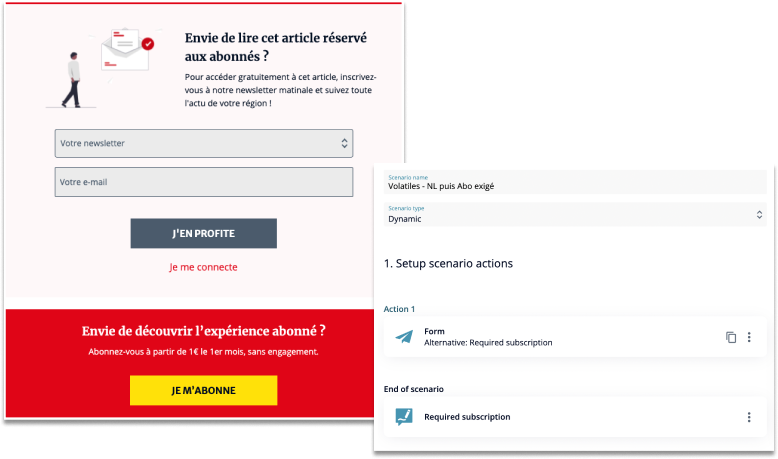 Registration wall: de-anonymize users through account creation, allowing for first-party data collection. Passing through this wall offered the newly registered user access to all content for 24 hours.
Maximize subscription:
For the next step, it was agreed that the focus needed to be on user-to-subscriber conversions.

🎯 The goal: Increase the EBRA subscriber base across brands

✨ Solution:
Replace soft conversion steps with a harder paywall model whilst continuing to test and optimize this strategy
More informed decision-making: working with Anthony, our consultant to better analyze performance and plan next steps

1) Hard paywall

With the new objective of increasing subscription conversion rates, EBRA worked with our consultant, Anthony, to re-launch a hard paywall into content, but in a way that would better convert users into subscribers. Specifically, the new wall included the benefits of subscribing, increasing the visibility of EBRA's premium offer value proposition.
After that, one of Anthony's recommendations was to integrate subscription offers into the wall to reduce a step in the conversion funnel, with the CTA button leading straight to payment.

After testing this wall on one of their brands, the results were clear:  click-through rates increased by 97% and conversion rates by 37%, leading to the group deploying this offer wall across all 9 of their brands.

⭐ Best practice: don't forget to build a mobile-friendly wall to improve the user experience on smaller screens. EBRA, for instance, only features one offer on the wall on mobile devices.

Next steps for the team: Having well-understood the value of increasing engagement prior to presenting the paywall, EBRA are planning to re-integrate soft conversion steps into their user journeys in the future, but only on small audience segments.



2) More informed decision-making

Did you know, Poool also offers consultancy services to accompany our product, giving publishers additional support and expertise to better drive their conversion strategies!

Since late 2021, the marketing team at EBRA has been working very closely with our consultant, Anthony, who has been able to share his expert knowledge of the industry and of the Poool solution. After more than 10 years working with a variety of digital publishers from France and abroad, Anthony really knows his stuff!

In particular, the EBRA team value:
Anthony's support and expertise on how to analyze data and A/B test results, allowing them to fully maximize the potential of experimentation
Advice provided on how to make use out of all that the Dashboard has to offer, from testing and audience segmentation to triggers and different form fields
Benchmarking information from other clients and across the industry to compare performance and conversion strategies with similar publishers

The EBRA team has constantly had a clear vision and high ambitions, allowing us to test a wide variety of innovative strategies and formats one after the other, learning and adapting after each.
It's also thanks to a close relationship, with constant communication, that we've been able to push the limits of what's possible with the Poool Dashboard.
- Anthony Ribeiro, Consulting Lead @ Poool
---
What's next?
Continuing to work with Anthony on increasing user engagement and conversion rates, the team has a lot of ideas in the pipeline!

Increase personalization of messaging and user journeys to better adapt the experience to the user's profile or context - for instance, the team is planning to segment content based on the topic (education, culture, politics, etc), adapting the value proposition and wall design
Integrate non-blocking conversion steps into small audience segments and free content to increase the visibility of EBRA's subscription offer without fully locking content
Launch an anti-churn wall to present to subscribers whose subscription is about to end or card expire, as well as target former subscribers 1 month after canceling their payment
---
Read further: