In our April newsletter:
Tech study ranks Poool top paywall solution in France
How a regional publisher has built a dynamic conversion journey with Poool, adapting to the reader's profile and context
How to successfully launch a registration wall strategy
Content to dive into this month, plus the inaugural Publisher Newsletter Awards are open for entries
---
Tech Stack Study ranks Poool as top paywall solution in France
In December 2022, Sciences Po University in Paris published the results of their Publishers' Tech Stack study evaluating the technology used by French publishers.
The study put Poool as the most widely-used paywall solution on the French market, and revealed that publishers think highly of our solution, ranking it as the best among tech providers for audience conversion.
What else can you take away from the report?
Laure summed it up on the blog:
1/ Google's predominance in tech is striking - in 12 out of 30 categories studied, Google ranks among solutions used by publishers. Despite this monopoly, there are key concerns around the continued use of Google Analytics by publishers in France, despite calls from data privacy regulators (the CNIL) to stop using it. According to the survey, more than half of participants admit that they are still using the free or paid versions of Google Analytics.
2/ Subscription management tools are yet to convince publishers - many publishers express strong expectations regarding digital subscriptions, aiming at better monetizing their content and driving a sustainable revenue stream. Yet, subscription management tools don't live up to these expectations, obtaining the lowest average score (5.6/10) of all categories of tools analyzed in the study.
3/ The report highlights importance of in-house solutions in publishers' tech stack - in 24 of the categories, in-house solutions are among the preferred solutions, though they're not actually the most widely-used solutions in the majority of said categories.
Find our other takeaways on the blog
---
How a regional publisher has built a dynamic conversion journey with Poool
Sud Ouest is the second largest regional publishing group in France, covering 7 different departments across France.
Given its diversity in content and readers across France, the publisher needed a dynamic conversion strategy for their Placéco site, one that adapts to the user's profile and context. And, thanks to their team's hard work and the Poool Dashboard, they've recently launched exactly this!...
✅ Metered strategy offering free articles to less engaged readers with the goal of increasing propensity to subscribe
Specifically, the publisher offers a certain amount of content for free, with a "Free article wall" that increases visibility of their premium offer whilst allowing for users to discover the value in Placéco's content.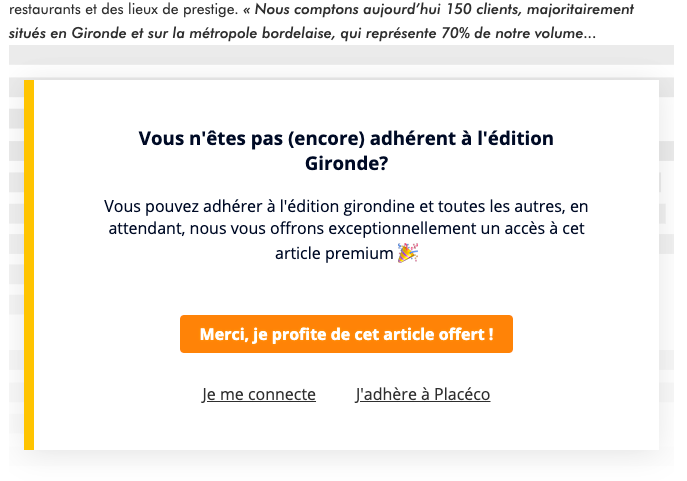 "Not (yet) subscribed to our Gironde edition?"
✅ Copy is personalized based on which regional edition the user is trying to access
✅ Testing an optional registration wall as a second soft conversion step to collect data and increase engagement through newsletter sign up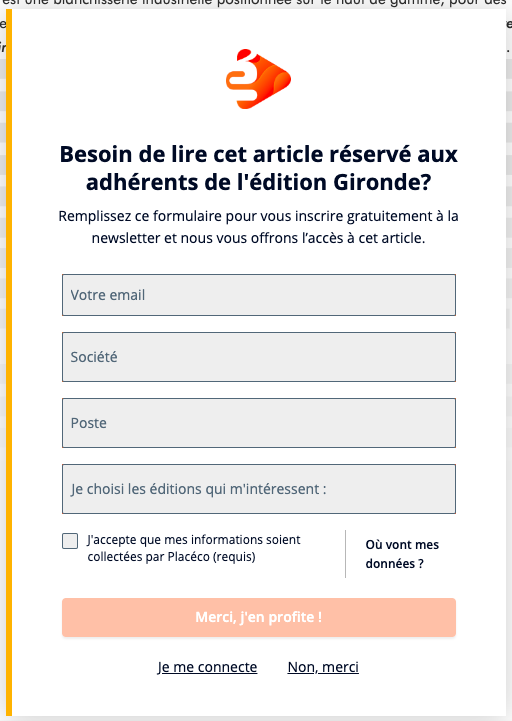 "Interested in this article reserved for subscribers to our Gironde Edition?
Fill out this form to sign up to our free newsletter and we'll unlock this article"
✅ Paywall as the final step, promoting subscription based on the user's region and the content that they've consumed on Placéco's website
✅ Upsell wall to encourage existing subscribers (who only pay for a single edition) to subscribe to all editions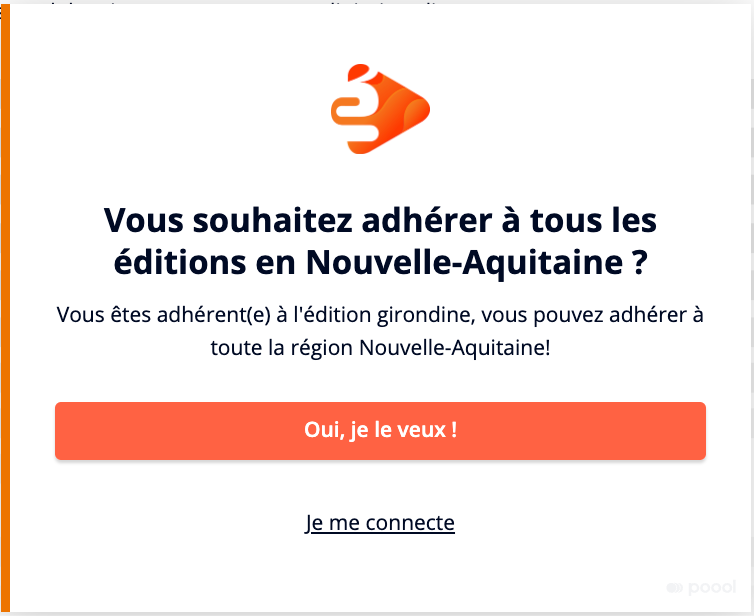 Discover other successful dynamic paywall strategies in our blog article!
Congratulations to the Sud Ouest & Placéco team for this work 🎉

---
How to successfully launch a registration wall strategy
Build registration like any premium product, with a well-defined value proposition (using the canvas below) and enticing benefits in exchange for account creation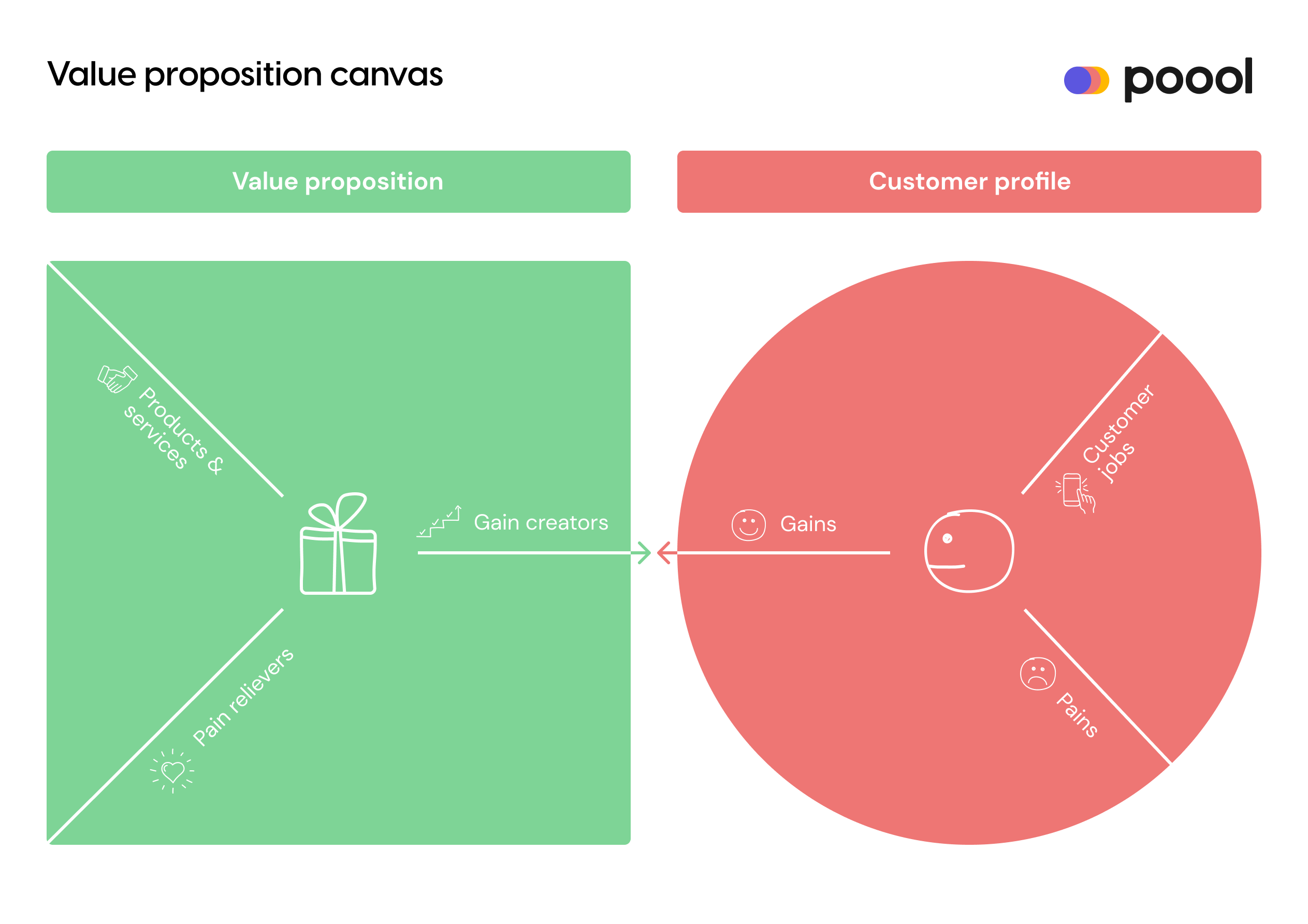 Integrate registration into your subscription conversion journey to provide a stepping stone before the paywall, with the goal of increasing engagement and propensity to subscribe by up to 45 times.
Onboard registered users like you would subscribers to maximize the value of these logged members. The New York Times is a great example: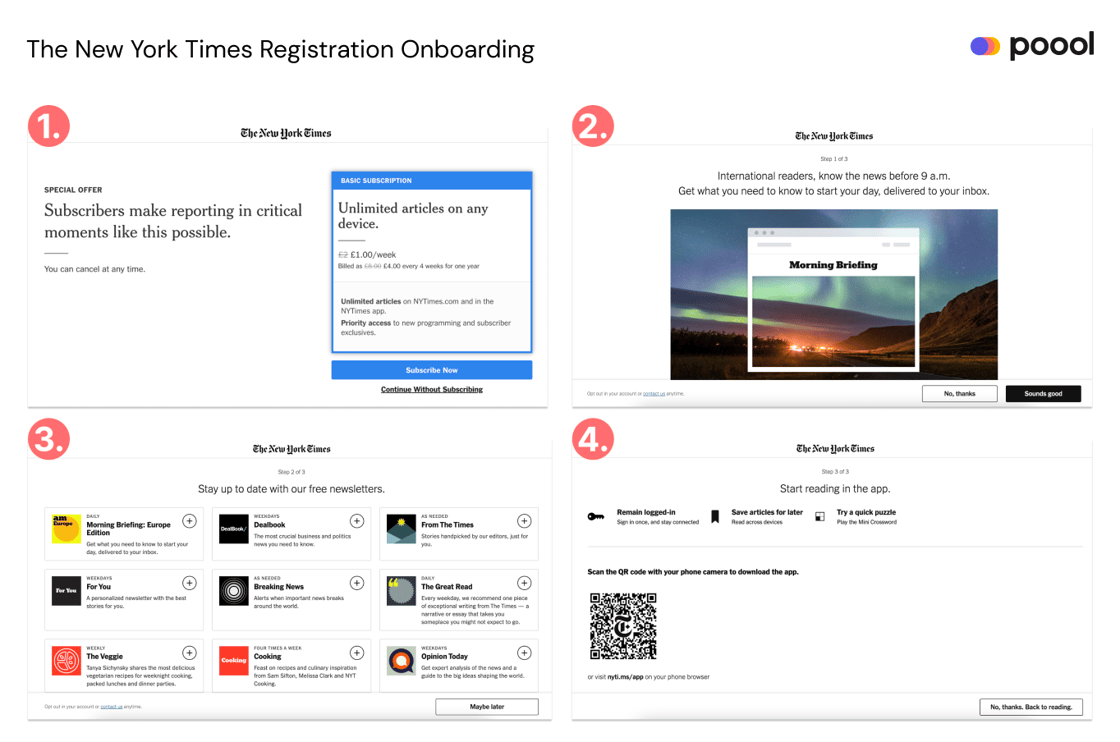 Make use of registration to improve the user experience, including personalizing messaging and content, providing UX features and making use of the data already collected to remove steps in the journey to subscription.
Find the full details of each best practice, with best-in-class examples in our article on The Fix Media.
---
Content to dive into this month
"The latest World Press Trends report shows that business sentiment in the industry has taken a downturn, in a context where multiple challenges face news publishers around the world. Yet there are causes for optimism, as revenue diversification progresses and publishers double down on new revenue sources and editorial products."
The Publisher Newsletter Awards are new open for entries, with categories ranging from News, Food & Drink, Entertainment, B2B, Solo & Partner newsletter (note that newsletter entries have to be in English)
Have a great month!
All the best,
Madeleine