In December 2022, Sciences Po University in Paris published the results of their Publishers' Tech Stack study evaluating the technology used by French publishers.

The study put Poool as the most widely-used paywall solution on the French market, and revealed that publishers think highly of our solution, ranking it as the best among tech providers for audience conversion.

We're pretty proud of these results! With our technology being on the market since 2016, Poool's Membership & Subscription Suite now supports 150 publishers around the world in their audience conversion strategies, including many of the most successful publishers in France.
Prefer to read in the language of Molière? 🇫🇷  C'est par ici
Table of contents:

Takeaways from Tech Stack's 2022 survey
Focus on paywalls: publishers need to continuously optimize their paywall (and why doing so is hard work with an in-house paywall)
Focus on Subscription Management Softwares: why Poool's solution has also become a subscription management platform
Building the best-performing tech stack
---
1. Takeaways from the 2022 Tech Stack Study

Launched in 2021, the Publishers' Tech Stack is an annual survey monitoring digital developments in the publishing industry.

Understanding tech tools used by publishers in France to produce and distribute their content.

Publishers answer an online questionnaire to share this information confidentially.
Tech Stack 2022 - carried out by Sciences Po's Executive Education and Journalism School - revealed 87 different tech stacks used by more than a hundred sites, with nearly 250 different products and brands. A tech stack refers here to the set of tools used by each publisher; these tools were then separated into categories. The Publishers' Tech Stack identified thirty categories of tools, which have been rated (out of 10) and commented on by their users.

Key takeaways from the 2022 edition:

Google's predominance and data concern around Google Analytics

First, Google's predominance in tech is striking - in 12 out of 30 categories studied, Google ranks among solutions used by publishers. Despite this monopoly, there are key concerns around the continued use of Google Analytics by publishers in France, despite calls from data privacy regulators (the CNIL) to stop using it. According to the survey, more than half of participants admit that they are still using the free or paid versions of Google Analytics.

Subscription management tools are yet to convince publishers

Many publishers express strong expectations regarding digital subscriptions, aiming at better monetizing their content and driving a sustainable revenue stream. Yet, subscription management tools don't live up to these expectations, obtaining the lowest average score (5.6/10) of all categories of tools analyzed in the study.

The importance of in-house solutions in publishers' tech stack

The survey highlights the importance of in-house solutions - in 24 of the categories, in-house solutions are among the preferred solutions - though they're not actually the most widely-used solutions in the majority of said categories.

---
2. Focus on paywalls: publishers need to continuously optimize their paywall (and why it's hard work with an inhouse paywall)

A) Poool, first paywall solution in France

😎Quickly, who are Poool?

Poool is The Membership & Subscription Suite, a simple, all-in-one platform for digital publishers to convert, manage and retain their members and subscribers.
The Membership & Subscription Suite is made up of 3 complementary products:
Poool Access : Access is the Audience Conversion Platform for Content Creators to convert anonymous users into leads, members and subscribers — using Cookie Walls, Registration Walls and Paywalls, in order to increase Revenue per User (ARPU).
Poool Subscribe: Subscribe is a low-code subscription management platform that allows publishers to create offers, build landing pages, configure forms, payment and additional steps as well as manage their subscribers, all without the need for tech support.
Poool Engage : Engage provides a collection of on- and off-site widgets to engage members and subscribers (anti-churn actions), giving marketing teams complete autonomy in their retention strategies. Launch in 2023.
Publishers know us mostly as a dynamic paywall solution, because of Access, the first in our Suite of 3 products, on the market since 2016.

When it comes to paywalls, Poool Access is the most widely used by publishers in France and is the highest ranked external paywall solution.

Yet, as can be seen in the table above, many publishers use an in-house solution and rate it highly.
B) Why are in-house solutions so popular?

Publishers would rather build their own paywall, often because they believe that outsourcing a technology means losing control over it. They fear being overly reliant on an external supplier and unable to make changes easily and track performances.
At Poool, it's the opposite: Poool's Membership & Subscription Suite enables marketing teams to be completely autonomous to create, launch and continuously optimize their conversion strategies. On average, clients have integrated in under 2 days, are live in a month and can make changes in minutes.
Comparatively, in-house solutions require dedicated tech teams to configure each change. And, as all marketers are aware, dev time is often dedicated to working on products, meaning even small changes won't be prioritized and may take months to be put into production.

The table above summarizes the benefits that Poool Access gives you compared to an in-house paywall. One of the key factors at play here is in continuous optimization - our Dashboard enables publishers to make changes in minutes regarding audience targeting, conversion journey or the design and wording of a wall.
Continuous optimization is indeed at the core of a successful subscription strategy - the Publishers' Tech Stack reports the following quote on the matter:
"The real work isn't launching a paywall, it's optimizing it."
C) How do you continuously optimize your paywall?

When a publisher launches a subscription strategy, one of the first steps in establishing this strategy is to integrate a paywall into their content. And, although this will lead to high conversion rates in the first few months as your most engaged users become subscribers, the majority of publishers see this number plateau after some time.
This is definitely a trend amongst publishers and entirely normal, but there are some techniques to employ to reignite conversion rates and optimize your paywall strategy. Setting up a paywall and waiting for your readers to magically subscribe is not enough, unfortunately!
It's indeed well known in the advertising industry that if we're exposed to the same visual for too long, we become blind to it. It's the same with your paywall, what we call paywall fatigue. If your wall always looks the same, CTR will stagnate, then decrease. If, on the other hand, you regularly update your paywall, such as by altering the design or messaging, you'll see a 15-100% increase in clicks in the weeks following.
How can publishers optimize their paywalls despite time constraints?

Add it to your calendar, make this wall update part of your routine, at least once a month
For instance, below is an example of a publisher who updated their wall on a regular basis between May and December 2021. The publisher saw CTRs reignite every time they altered the design of their paywall. Sometimes this was as simple as changing the color on the wall, which took a matter of seconds but led to significant improvements.
Identify opportunities in your reader journey and editorial line, making the most of local, national and international events.
For instance, one of our clients, ELLE Magazine, changes their wall for sales, Christmas, summer, Black Friday, Mother's day…
Prepare designs in advance. With Poool's platform, we made it a priority to give marketing teams autonomy in being able to change wall design in minutes. You'll no longer need to wait for the dev team to find the time to help you. With this feature, the opportunities are endless, and preparing these in advance means you're ready to launch at any moment
Promote special offers. Even if it's as simple as changing the color of your wall or adding a date for the end of the offer, the importance lies in surprising your reader's gaze with a new wall

The paywall is however only one part of the conversion journey. When launching a subscription strategy, publishers need to build and optimize the entire subscription funnel as well as manage and retain their converted users.
---
3. Poool, more than a dynamic paywall solution: why Poool launched a Subscription Management Software

One takeaway of the report is that subscription management tools are lagging behind with a score of 5.6/10 suggesting that they're yet to meet publishers' needs.

A) Responding to publisher needs

At Poool, we make a point of listening to our clients, responding to their needs. Having seen the necessity for this second step in the funnel, following the paywall, we've added Subscribe to our Suite of products, making up The Membership & Subscription Suite, providing an all-in-one solution for digital publishers.

B) Choosing the subscription tool that will meet these needs

Subscribe, our Subscription Management Software, is the piece de resistance of Poool's Membership & Subscription Suite, allowing you to build the entire subscription funnel, from the offers page and account creation to payment, as well as manage your subscribers on a daily basis.

What do publishers need to increase and manage their subscriber base?
Complete autonomy for marketing team from tech
Flexibility - a solution entirely adaptable to your model and goals
All-in-one solution, from conversion to retention
Managing subscribers easily, with alerts for subscribers who have just unsubscribed or when their card is about to expire
Support and expertise from a team of experts alongside insightful content such as client-only benchmark data

This is exactly what Poool's Membership & Subscription Suite provides. Specifically, with Subscribe, publishers will be able to:
Create subscription offers, defining the price and key benefits in minutes
Build bespoke landing pages from our library of templates or starting from 0
Just a few clicks to configure every aspect of account creation, forms and payment
Change copy, colors and design autonomously thanks to our no-code design builder
Manage a growing subscriber base directly from the Dashboard, with access to a subscriber's status, their chosen offer and account management emails

Find out more about our Subscription Management Solution, Subscribe: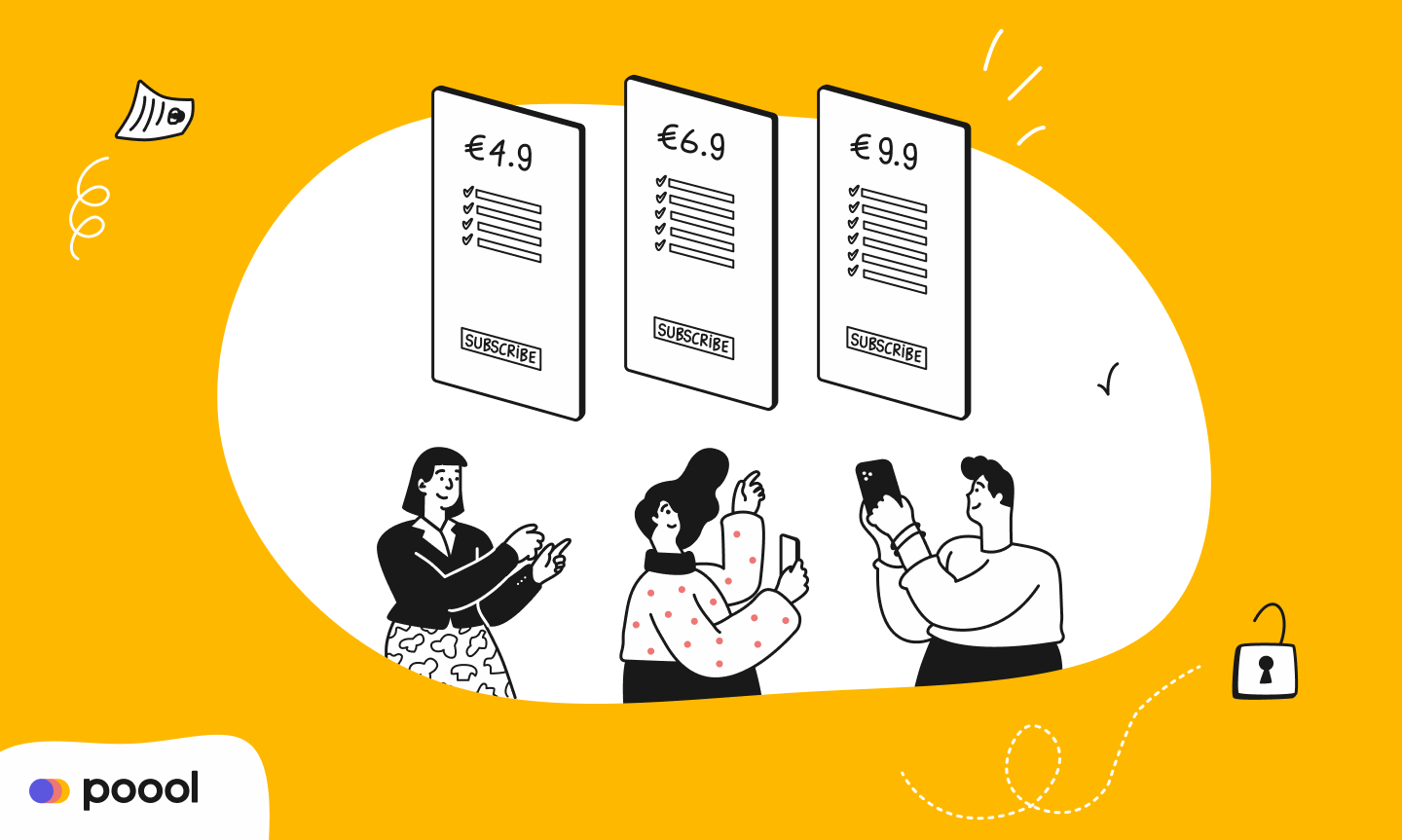 ---
4. Building the best-performing tech stack


The right tech stack will help you maximize the value of your resources, staying ahead of the curve and developing multiple revenue streams to create a sustainable business model.
Thankfully, Poool's Membership & Subscription Suite can be integrated into your tech stack in complete simplicity:
Native integrations allow publishers to connect Poool to the rest of their tech stack with ease
Poool's agnostic JS script is compatible with all CMS
Focus on Poool's integration with Stripe: Alternatives Economiques success story

Stripe, a payment-processing software, is one of Poool's many integrations making it simple for your users to pay for subscription. You'll also be able to make the most of this integration to integrate payment into the paywall to increase conversion rates. An innovative strategy that removes a step in the conversion funnel, it's proved hugely advantageous for finance-focused publisher, Alternatives Économiques.

Why did Alternatives Économiques use Poool's Stripe integration?

The publisher wanted to work on improving 'impulsive' conversions – conversions where a user is both frustrated and engaged enough that they decide to subscribe in the minute that they're presented with the wall in order to be able to access that specific article.

What are the benefits of this strategy?

This innovative strategy led to a 40% increase in conversion rates on Alternatives Économiques's site, maximizing the reader's impulsive decision to subscribe before the sale ends (the countdown clock integrated into the wall created a sense of urgency).

"Thanks to Poool's integration with Stripe and code-free design features, the Alternatives Économiques paywall collects all payment details before the user has even clicked through, not only simplifying the process, but also reducing a step in the conversion funnel and collecting this all-important information early on.
We had an intuition that the number of impulse subscriptions could be improved, so we acted on it by developing this wall that allows for conversion in a single click. Since putting this strategy in place, our paywall conversion rates have increased by an impressive 40%."
Fréderic Desiles, Head of Strategy and Marketing at Alternatives Economiques
Find out more in their case study article.
---
Interested in hearing how Poool can help you save time, money and achieve your business goals? Book a free demo or write an email at hello@poool.tech.