Subscribe is the third product in Poool's Membership & Subscription Suite, allowing content producers to build the entire conversion funnel and manage their subscriber base.
Launched in summer 2022, Subscribe is the piece de resistance of our Membership & Subscription Suite, completing your entire conversion funnel!
Prefer to read in the language of Molière? 🇫🇷 C'est par ici
---
What is Subscribe?
After having converted your users via a paywall using Access, you can then put Subscribe to work in building the remainder of the conversion funnel, from the offers page to payment and confirmation, before being able to manage your growing list of subscribers in the Dashboard itself.


🤩 Good-to-know: Subscribe was built with your challenges and goals in mind.

Specifically, we understand that publishers are under pressure to diversify their revenue streams, but launching a subscription model comes with a great deal of challenges:
Building an effective solution in-house requires a great deal of tools and skills, which can be costly, time consuming and lead to a lack of flexibility and independence for marketers
Many SaaS subscription management systems are complex, outdated or have been designed for legacy publishers moving from print to digital
Even with these tools, marketers are dependent on tech for integration and day-to-day driving of subscription strategies (and no one wants that!)
This all has an impact on user experience, which plays an essential role in conversion and retention rates

Which is why Subscribe gives your marketing teams complete autonomy, flexibility to build a subscription model that matches your business goals and expertise from our team to continuously drive and optimize your model.
Interested already? Book a free demo
---
What are the key benefits of Subscribe?
✅ Convert users into subscribers via a paywall (provided by Access)

Just like Connect, Subscribe links to Access, allowing you to convert users into subscribers via a paywall.


But, of course, this is only one step in the conversion funnel… You now need to ask users to choose their offer, create an account and pay. Which brings us nicely on to the next benefit of Subscribe...
✅ Build your subscription offers, code free

Creating an offer couldn't be simpler. Just head to the 'Offer' section of Subscribe, then 'Create an offer'. You'll need to specify the offer name, cost and key benefits then you're good to go.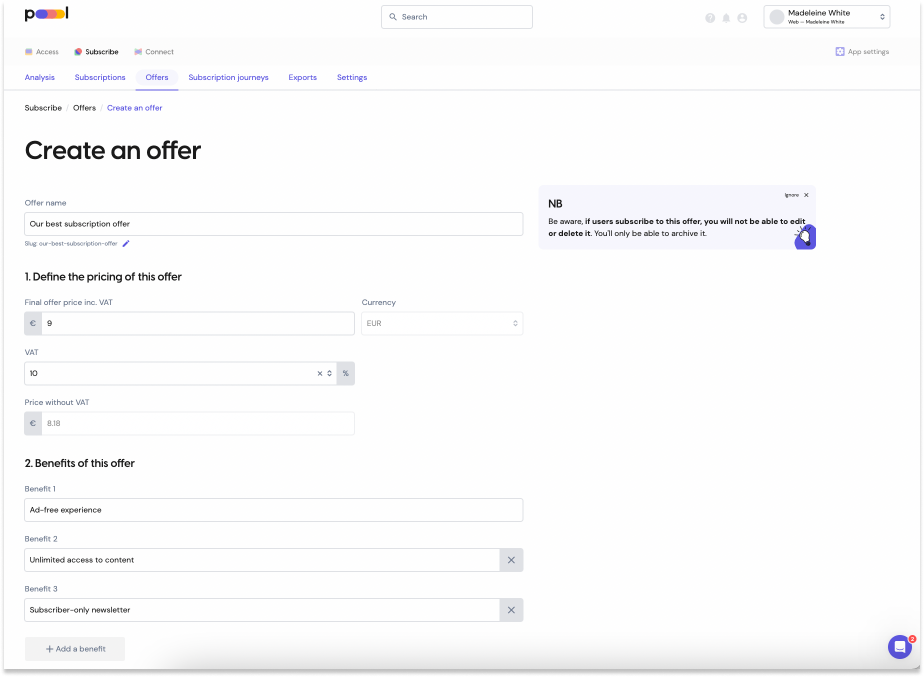 You'll then be able to view all your offers in one place: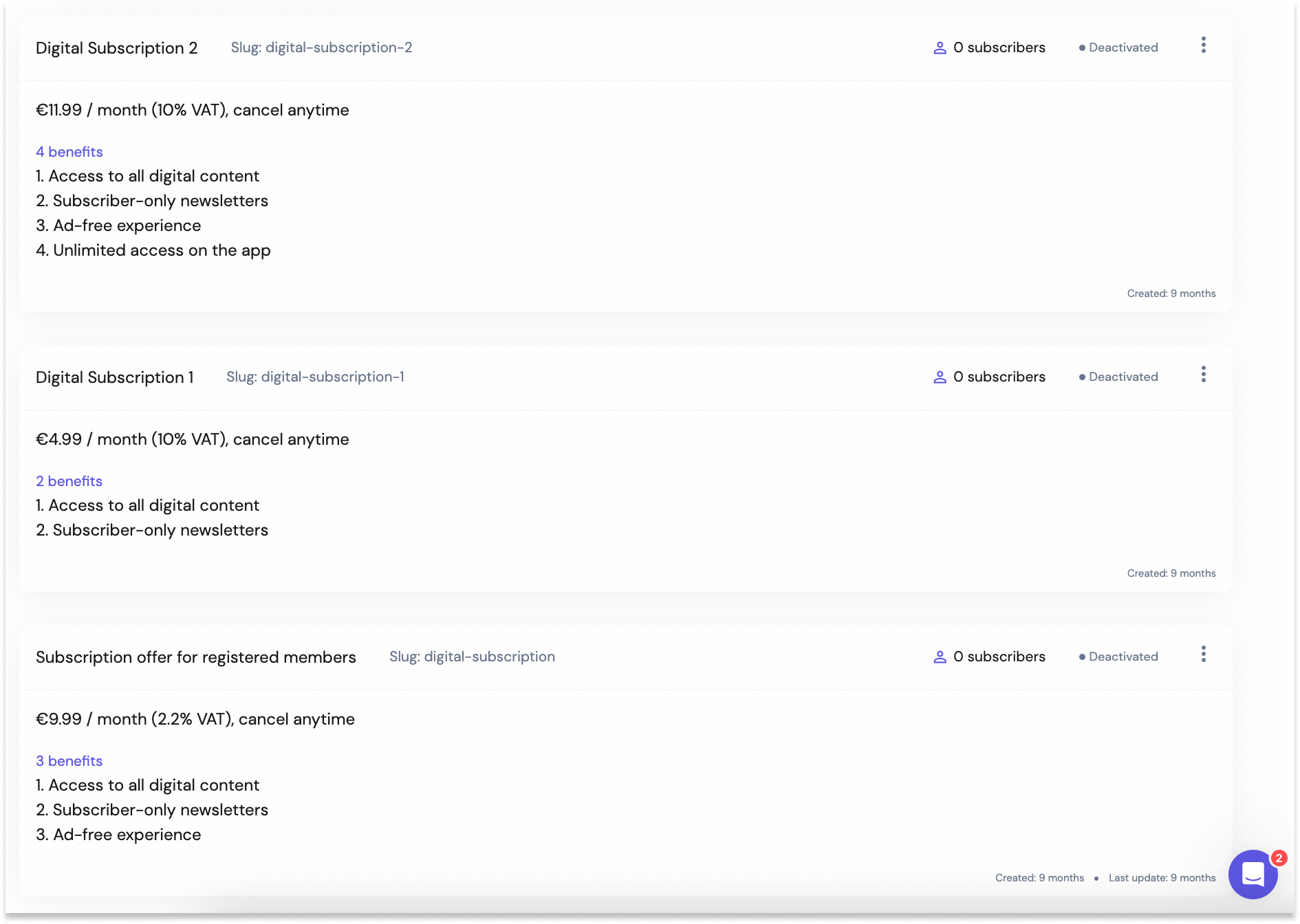 You can create different tiers of offers (Digital Subscription 1 & 2 here) and you can also create offers for a specific audience segment, with personalized benefits and adapted pricing. For instance, a Subscription offer for registered users.


✅ Construct every step in the conversion funnel, from account creation to payment

The 'Subscription journeys' section of Subscribe is here for you to build your offers landing page (using your already-defined offers) as well as preview the account creation and payment steps in the funnel.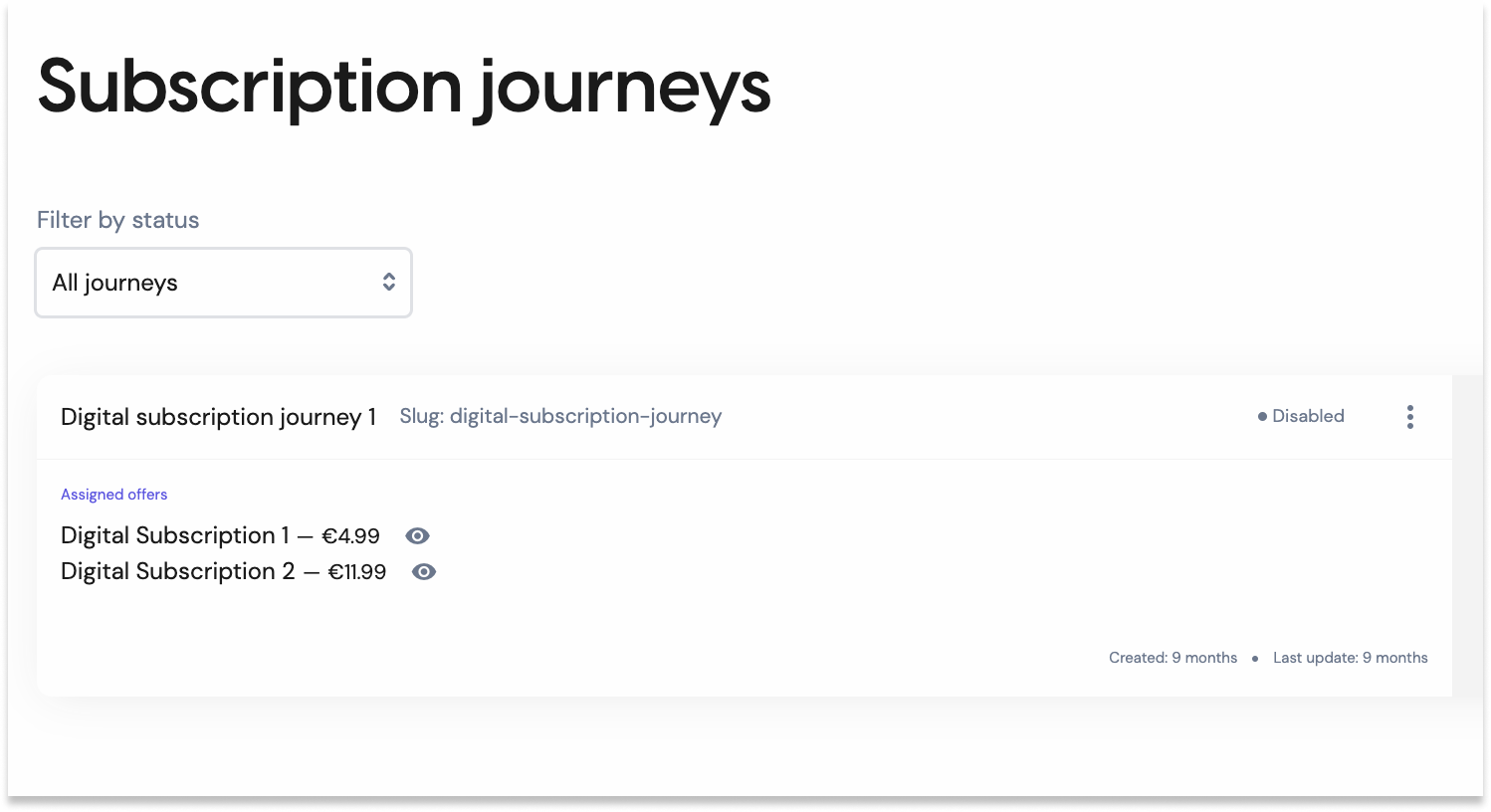 Building the landing page involves the same technology as the wall design editor - simply add components (including subscription offers), modify the design and preview your page all without tech intervention, either working from a template or from 0.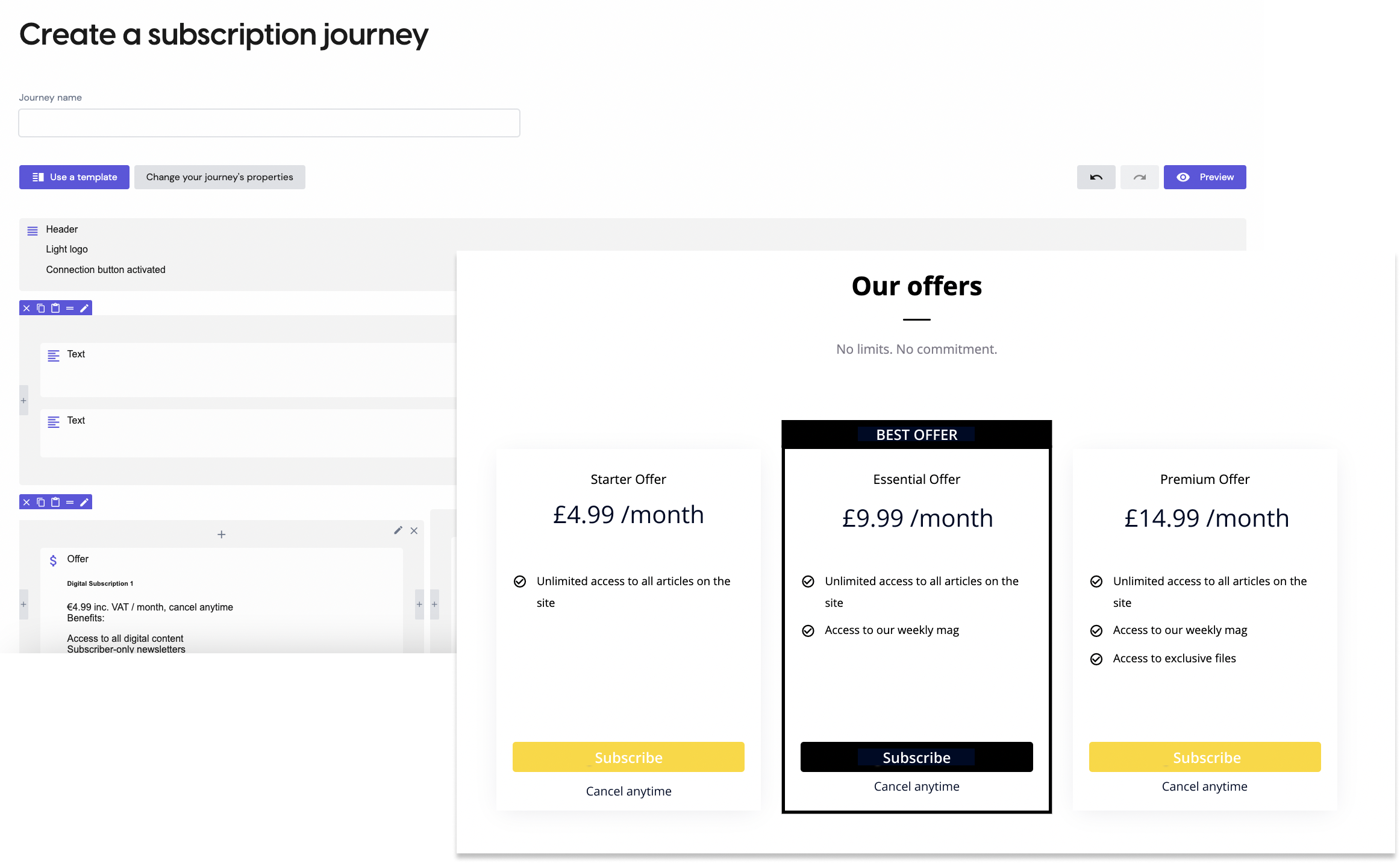 After choosing their offer, your user will then be led through account creation, form filling-out and payment.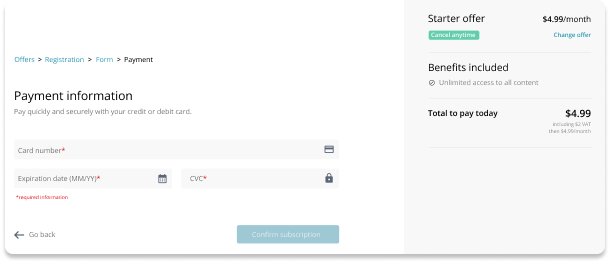 ✅ Manage your subscriber base and account-related emails

As with Connect, all account-related emails are handled automatically in the Dashboard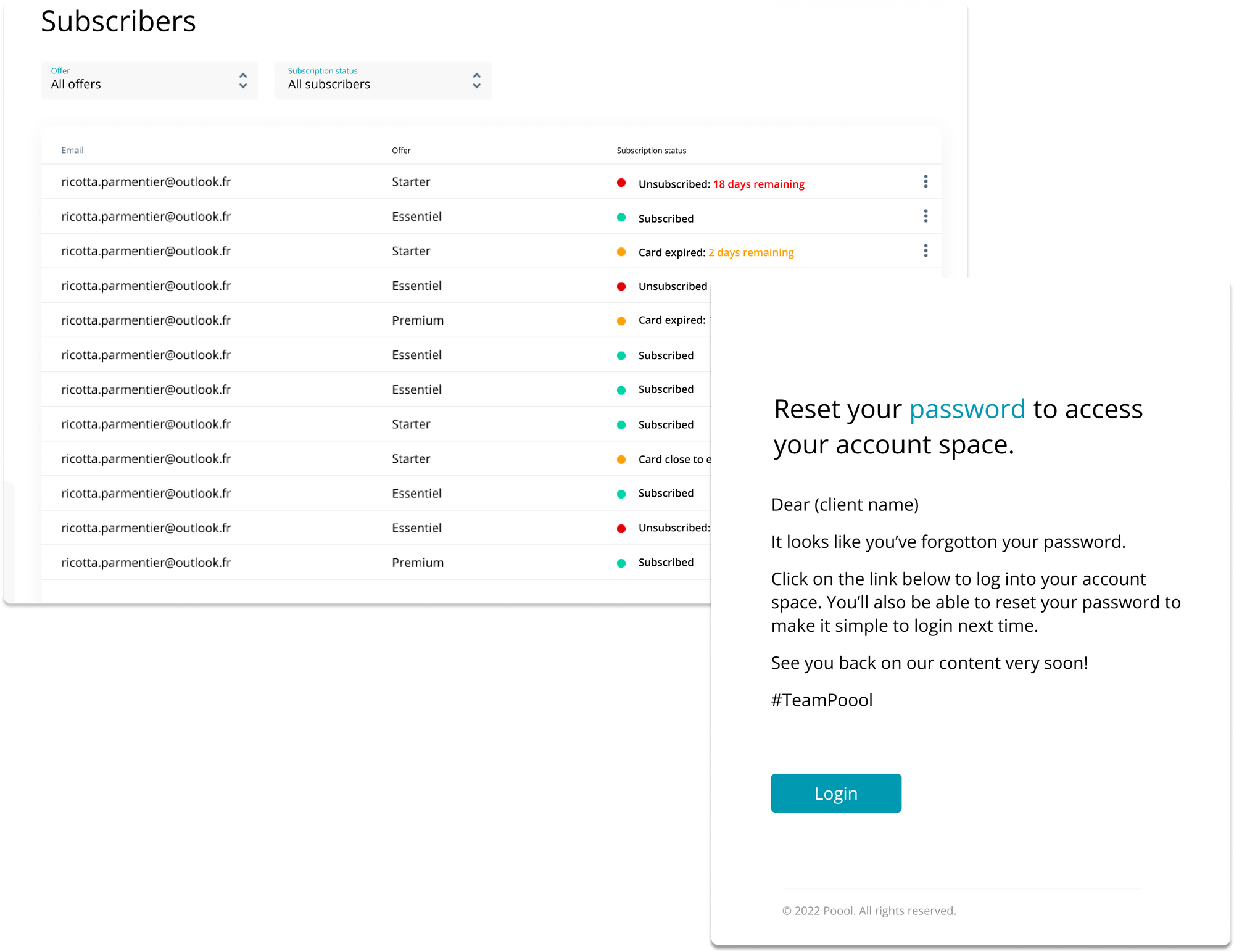 You'll also be able to see the status of each user's subscription, such as whether their card is about to expire or if they've recently unsubscribed.

This is particularly useful for targeting users whose card is about to expire (potential indirect churn) - you could, for instance, present these users with a personalized wall asking them to update their card details, just like Liberation.
🤩 Good-to-know: By increasing customer lifetime value (CLV), you'll establish a profitable, predictable and recurring revenue stream that will give you the opportunity to invest in the long-term development of your business.

To achieve this, retention should be prioritized in a subscription strategy.

We understand this at Poool, which is why we're currently working on Engage, product number 4 in the Membership and Subscription Suite!

Engage will involve a collection of on- and off-site widgets to engage and retain your subscriber base. The perfect finish to our Suite of conversion and user management products.
✅ Analyze performance

Being able to easily and efficiently analyze the performance of your subscription strategy is essential! Hence why the Dashboard presents your key metrics in the 'Analysis' section.
These insights can be paired with those from Access and your paywall performance to provide a 360 view of the conversion funnel, allowing you to better understand audience behavior and see what exactly needs to be optimized.
---
Why should you choose Poool over another solution?...in a nutshell

All-in-one: build end-to-end experiences in one place thanks to The Membership and Subscription Suite
Speed: 2 day tech integration, launch within 30 days, positive ROI in under 90 days
Autonomy from tech: marketer have complete control to make decisions and put them into action
Simplicity: save time and effort that can be put instead into your content
Incomparable support: a team of efficient, knowledgeable and caring individuals, ready to help to at every step
Expertise: Poool are a team of industry experts who have put everything they know into the product, ready to respond to your 'how' of launching & developing a reader revenue strategy
Value for money: pricing adapted to your needs, no hidden fees nor integration costs
Flexible: entirely adaptable to match your strategy and goals
Interested in hearing how Poool can help you save time, money and achieve your business goals? Book a free demo or write an email at hello@poool.tech.
---
You might also be interested in: