Andy Griffiths has been a newsletter fan for 25 years, launching or acquiring around 20 newsletters on a variety of topics. He now works to support publishers on their newsletter monetization strategy, helping to diversify revenue streams.

Today we chat everything newsletters!
This conversation wrapped up:
What's the value in publishing a newsletter?
How can you compete against others in this increasingly crowded market?
How can you track the success of your newsletter, and increase the number of newsletter registrants?
And what's next for this form of content?
Listen to the podcast or read the summary below!
And of course, sign up to Poool's B2B monthly newsletter for exclusive data, insights, strategic advice and more <3
---
What's the value in newsletters?

Through bringing content to the reader, in the fairly personal space of their inbox, you develop close relationships, increase engagement and provide a sample of your best content in a non-committal way.

In order to maximize the engagement potential of newsletters, high levels of personalization are needed - allow readers to choose the specific topics that interest them, prove the value that you can offer and aim to elicit a conversation rather than simple talking 'at' your audience.  

Given that engagement directly correlates with revenue, newsletters also play a key role in increasing a user's propensity to subscribe. In this sense, signing up to the newsletter can be considered as a soft conversion step towards registering as a member, subscribing and hopefully remaining so in the long-term.

To support these efforts and promote your subscription offers, you can forefront premium content in the newsletter or even unlock paywalled content for users coming from your newsletter.


How can you unlock content for users coming through the newsletter?

Triggers! Set up a UTM_source that presents users coming from a specific source to be presented with an adapted journey. For instance, offering readers coming from a news aggregator site, newsletters or a social media campaign access to a premium article for free. This content discovery gives newsletter registrants a taster of what they could get by subscribing as well as additional value (a gift) for being a newsletter registrant.

Discover more in JDD's case study where they used triggers for readers coming from the news aggregator site, upday.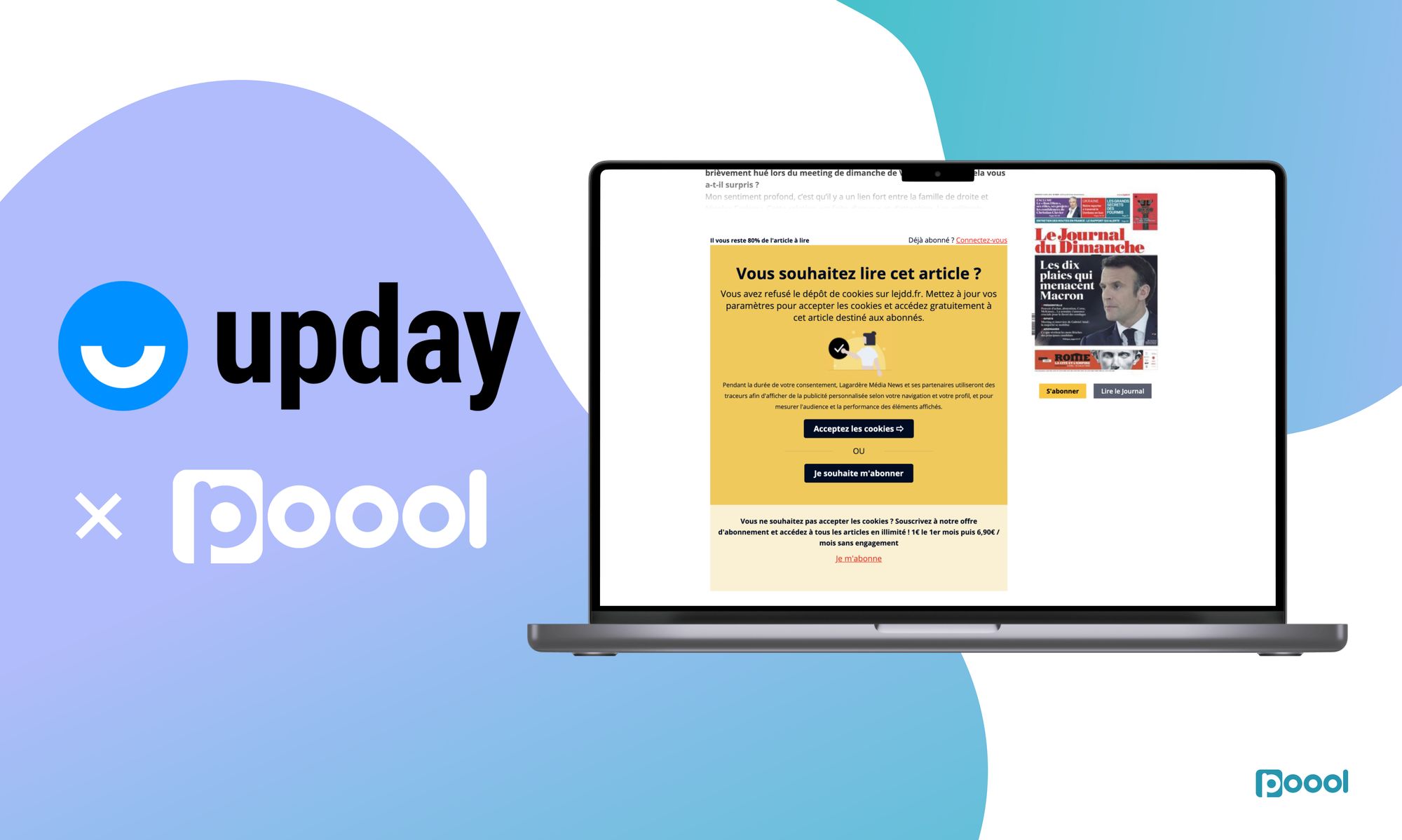 Andy highlights that converting a user into a subscriber takes much longer than just a single article, often building up over 6-12+ months.

Subscription is a commitment and conversion is so much more than a quick decision at the paywall. In fact, measuring conversion rates alone is something that's derived from the e-commerce industry where the buying process is more about impulsive decision-making. But this isn't the case for publishers - instead, engagement is essential and needs to be built up over time.

We present the revised conversion rate framework for digital publishers here: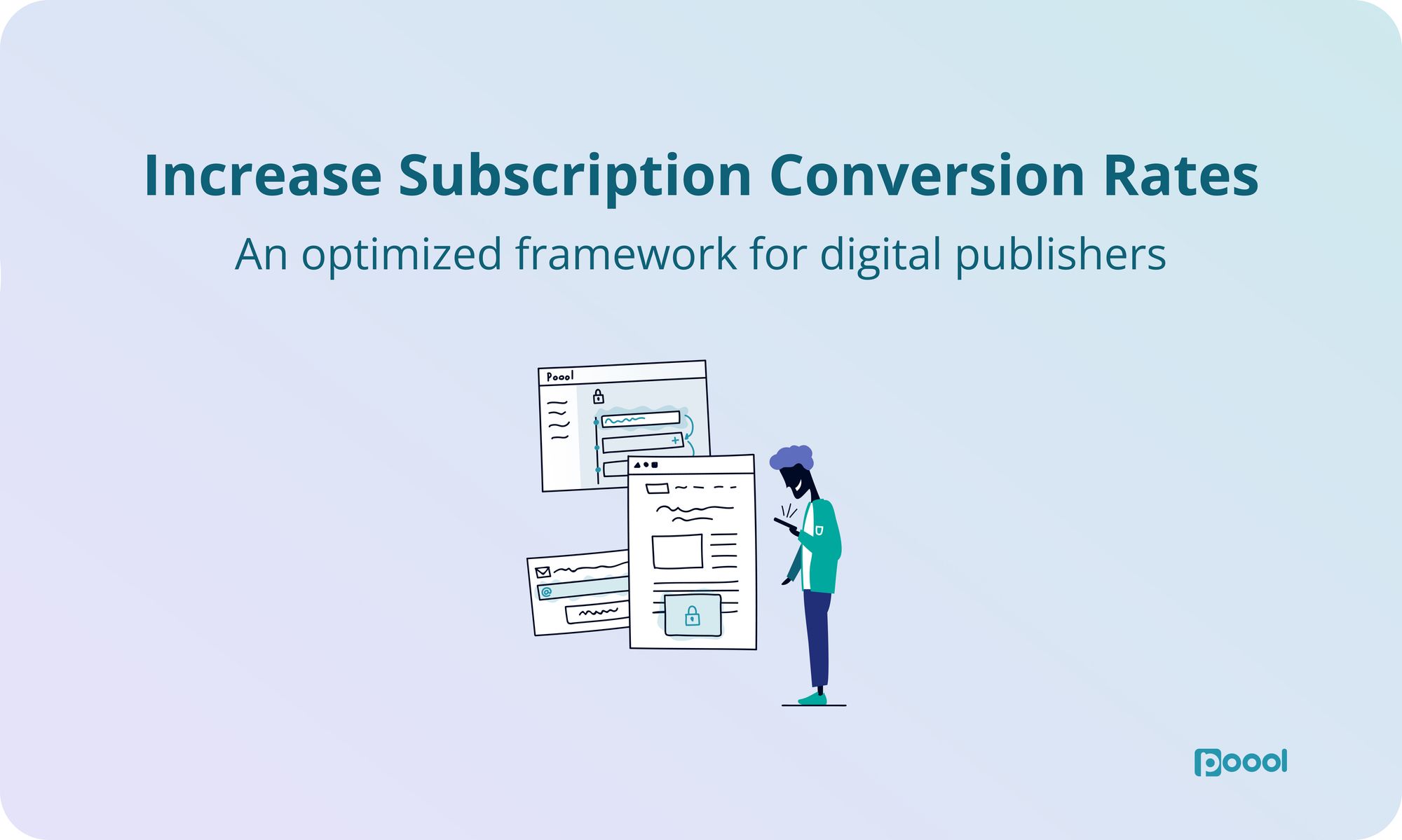 Soft conversion steps such as newsletters are therefore hugely valuable and help to move the reader through the funnel towards subscribing. It's like a personal relationship - you get to know them and build trust before you're prepared to get your credit card out.

This is where a change of mindset is needed when moving from an ad-based revenue stream to subscription. You need to be more patient and work harder over time, with the result of only a tiny percentage of your audience converting to a subscriber. However, the LTV of subscribers is worth these efforts and you don't need many subscribers for this revenue model to be valuable - just one subscriber alone is worth the same ARPU value as 20 registered members or 300 anonymous visitors.


Which leads nicely into the fact that newsletters are brilliant for retention as well, ensuring you maintain engagement, secure your place in a subscriber's daily/weekly habits and that they continue to see the value that they're getting in exchange for payment. And you can even provide subscriber-only newsletters where this type of content is part of the value provided in your premium offer.

Andy talks about how retention rate should be a KPI for tracking your newsletter performance - how many of those signed up to your newsletter a year ago are still receiving it today? This is a reflection of how good your product is, how engaged users are… it covers everything for a paid newsletter.


"Personalization and stronger relationships (between users and publishers) is inevitable when there's so much demand for people's attention."

The Financial Times, for instance, publishes hundreds of articles per day (Andy once read the whole FT newspaper and it took 4 hours…) and it's pretty impossible to do that daily, not that many people would be interested in every content anyway. But, today, you can choose to receive one of 42 different, laser-focussed newsletters, that match your interests.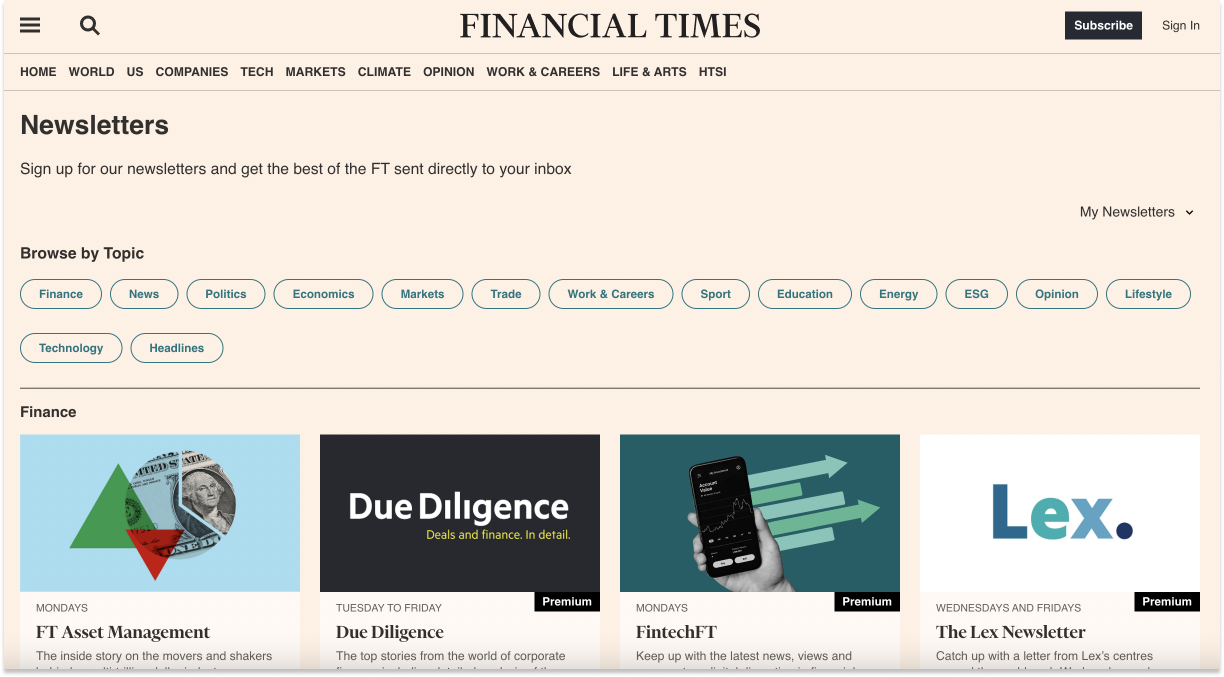 This is of course beneficial for the user, who gets content they enjoy delivered directly to them, but also for the publisher who can hit the perfect spot in a reader's interest to increase engagement as well as sell advertising at a much higher cost given the understanding they have of their user, which is partly why newsletters have become so successful in attracting advertisers and sponsors.

One way to allow for this choice of which newsletter to sign-up to is to add a step in the onboarding process, for new members and subscribers, a strategy employed by the New York Times for instance.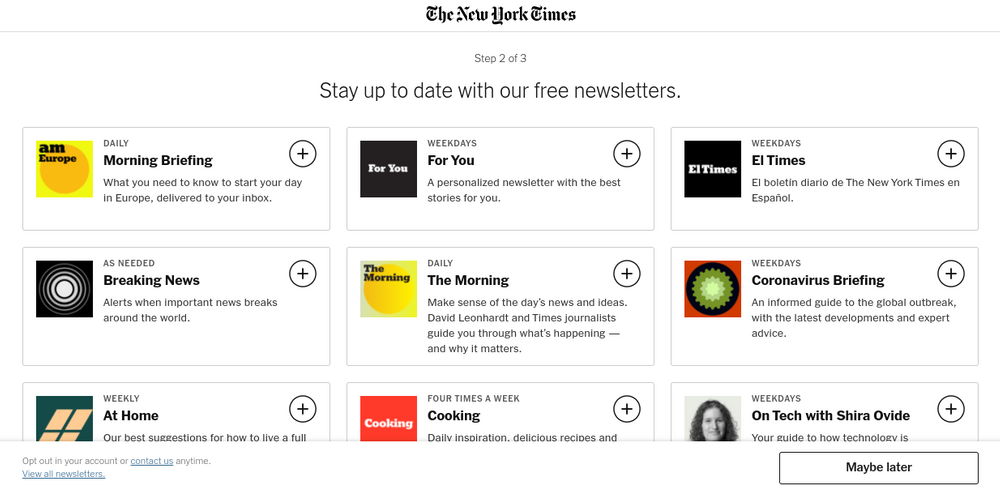 BUT, you need a clear value proposition for your newsletters (even free ones) - why should someone sign up, and remain so?

Newsletters are an increasingly competitive market and a reader's attention is limited. Despite the huge number of potential newsletters a user could sign up to, it's estimated that this number is limited to 13 newsletters, with the average being 5-10. Even then, that's a lot for a single person to digest each day (although this depends on the individual).

Just like any conversion step, you need to create a value exchange

A reader is providing you with their email address and data and, in exchange, you need to provide value that the user can't get anywhere else.

This value exchange will differ from publisher to publisher based on your strategy, audience and content, but it's this that will help you find a niche audience who is loyal, engaged and prepared to pay for more value in the future.

I gave the example of Poool's newsletter - something we're positioning as a B2B newsletter with a publisher mindset. In June's edition, we redefined it as the "ex-newsletter", aiming to share insights, exclusive strategic advice and best practices (things you can't get on the blog) rather than news and content releases that aren't anything new.

This brings up the value of curated content in newsletters - even simply adding an opinion to a news story or giving the voice to a journalist (who knows what they're talking about) can be seen as added value to your readers.



Can you give away too much value?

Arguably, no - it's an investment into your reader-revenue and relationship with your audience. You'll still get users who want to go deeper, who are prepared to pay for more value.

So, although this value exchange could be direct (someone pays and you give them value back), it could also be indirect where you provide value over a long period of time and this pays off in the future when the user gives something back in return.


Another example provided by Andy was of a weekly rugby newsletter covering information on how to coach. And although this was free, it was an investment as they knew that a handful of people would be engaged enough to want to pay for the premium version. Not only this, but the free newsletter was also valuable for other revenue streams such as selling products or advertising spots.



How do you actually collect newsletter subscribers?

Attention to detail and hard work (Andy's short answer!).

Exchange leads with a competitor, something that may seem like a bad idea but is actually a win-win (although a lot of trust is involved).

Google ads is another option, getting an impulse buy - but for this you need to know the LTV of a subscriber to understand how much you can pay for each click.

For B2B, you can send cold emails, encouraging a lead to engage further by signing up to the newsletter. But be polite here and ensure users are consenting.

Of course there's also plenty of on-site options where a user is choosing to add their email in - such as pop-ups, boxes integrated into content, etc. And this action in itself, of entering your email, is already saying something - it's admitting to a certain level of engagement and trust.

Not forgetting the newsletter wall - blocking content and asking readers to sign up to your newsletter in exchange for access to content, something that increases engagement in multiple ways and helps lead the user towards more meaningful conversions in the future, such as subscription.

It's also about being in the right place at the right time. A sign-up box in the middle of content is great for reader's engaged enough to get to this point, but for boxes at the end, you can increase personalization by recommending a newsletter that's similar to the specific content consumed.

Publishers such as The Globe and Mail, for instance, allow you to follow authors and topics, personalizing the newsletter based on a specific interest.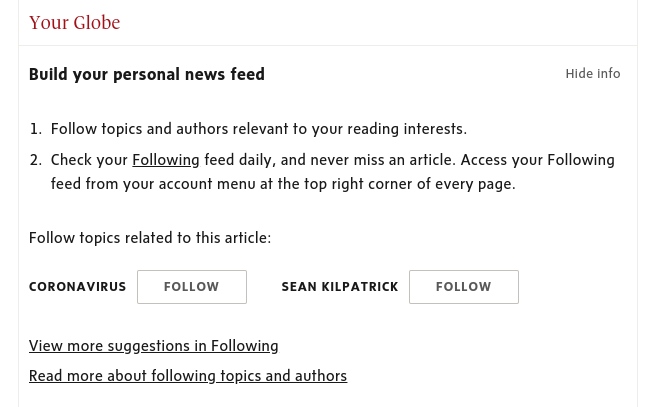 "Customer-first strategies are really important, especially in a reader-revenue strategy - if you're monetizing directly from a reader, you need to put them first."





What's the best north star metric for newsletters? How do you track the performance of your newsletter?

The renewal rate/churn rate is definitely the most important in Andy's eyes, simply because this is where the profitableness of your newsletter is apparent.

Open and click-through rates are the classic metrics to track, but this gets less useful over time as your list gets old. Andy's view is that he doesn't spend much time looking at these at all, but does think they're useful for publishers just starting out.

Ultimately, it's got to be customer feedback that's important - inviting customers to comment and reply in the knowledge that they'll be speaking to a real person. Or, more simply, getting someone to click on a like, a proactive, human measure of engagement  that's more meaningful than an open rate.

I add how the metrics chosen to track newsletter performance have an effect on how you write the email itself. CTRs, for instance, make us focus on sharing links and getting eyeballs on the website rather than aiming to get users to read/engage with the content in the email itself.

This also helps to establish a conversion - discussing a topic with your readers rather than speaking at them - which naturally invites a response. And it's this form of writing that will help a newsletter succeed, something that increasingly more publishers are realizing, leading to them adding personal notes or comments within the text.

The Morning Brew newsletter, for example, includes an introduction written by the editor where he is very informal, sharing personal information and real-life stories that makes the reader feel like a friend and identify with the writer.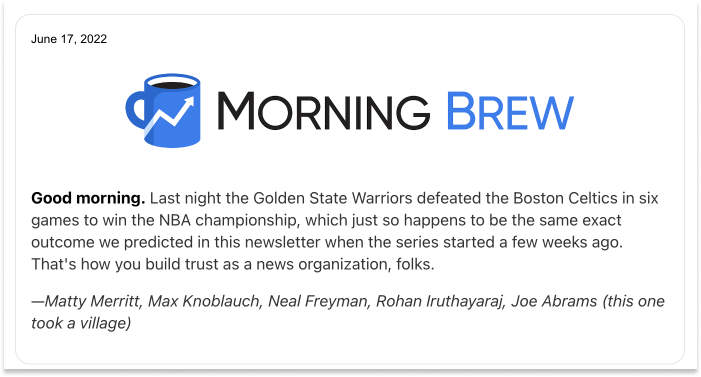 What's next for newsletters?

For Andy, an evolving trend is the craft of journalism coming to the fore, and the very best newsletters make the editing look effortless. Morning Brew, coming back to this example, has 36 elements in their daily newsletter, each of which have been curated and tightly written, without a single typo… it's a work of art - the quality shows and readers will value that.

This also means being strict with how many advertising spots to sell, because these impact the reading experience which impacts your engagement which impacts your revenue! It's all about finding the balance of keeping user interests at heart whilst being able to monetize.

Andy also mentioned the increasing importance and sophistication of dedicated newsletter landing pages that really outline the value proposition and 'sell' sign up as a product itself.

This comes with the different levels, or tiers, of newsletters that should each have their own value that can be defined on a dedicated landing page.



A final piece of advice from Andy

Content is king. From Andy's experience, paid newsletters are successful when readers have engaged in content on-site and want to consume more. The better the content gets, and when it's well distributed, the more likely they are to monetize it.  

So, to stand out from the crowd - be the best you can with high quality content and it'll pay off in your reader revenue strategy in the long run!
---
Thank you so much to Andy for this conversation, it was a pleasure!
If you'd like to hear more from Andy and sign up to his free newsletter sharing newsletter best practices, click here.
---
You might also be interested in: