When talking about increasing digital subscriptions, we often think about paywall systems, whether dynamic, intelligent, metered, etc (find out more about paywall types here). It's certainly true that paywalls are useful tools for publishers. They're at the heart of the reader-publisher relationship. This means that paywalls will influence all monetization issues, be it from advertising or based around selling content in some form (subscription, pay-per-article, 24-hour pass, etc). However, when we talk about converting readers into subscribers, paywalls are only the tip of the iceberg!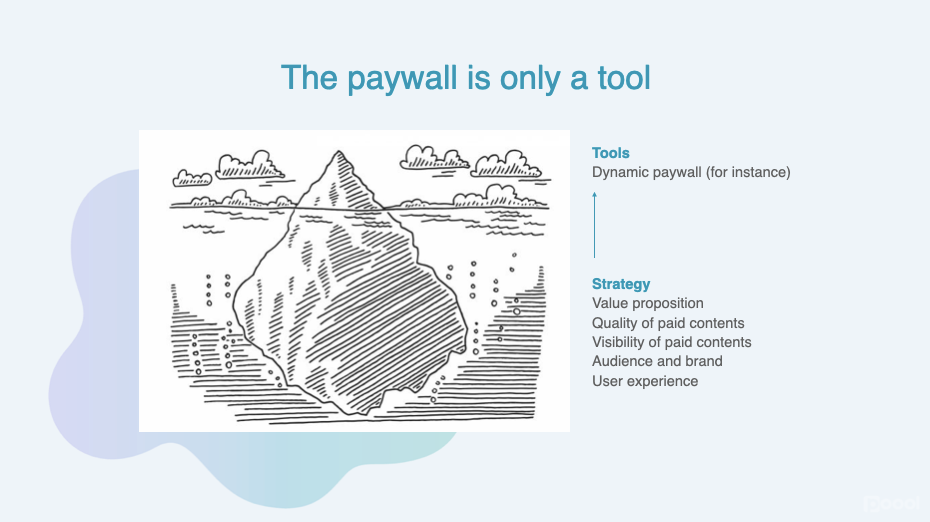 Paywalls are a tool that you can use to convert readers into subscribers, but they aren't the reason why readers decide to subscribe to a publication. There are other, far more important reasons that need to be considered. Including:
Value proposition
Why so readers subscribe to you over another? Different content, experience or do you give them something extra?
2. Quality of paid content
Which type of content do readers subscribe for? For which services?
3. Visibility of paid content
Are the offer and value proposition clearly shown to the reader?
4. Audience and brand
Does the value proposition and content strengthen the (targeted) audience and brand?
5. User experience
Does the user experience facilitate access and consumption of content?
This is the focus of this white paper, covering the following 5 topics:
Definition of value proposition
Construction of subscription offer
Selection of paid content
Visibility of paid content
Evaluation of strategy
---
1: Definition of value proposition
Value proposition is at the heart of the any publisher's monetizing strategy. Why? Because, for a general audience, accessing information is not enough. If your value proposition isn't clearly defined, then why would a reader be ready to engage and to subscribe to your content over another?
This value proposition topic - the "why" - is often forgotten by not only publishers but all businesses in general. Most of the time this is because it seems well defined already, when it's not. A good way to check is to ask each colleague to define the value proposition of your firm in a single sentence. This is useful to quickly see if everyone is on the same page on the subject.
A clear value proposition makes everything a lot easier. From creating paid content to defining a subscription offer, it will enable you to work on setting your publication apart from others. From a more internal perspective, a defined value proposition will allow the whole team to work in the same direction. The impact of ensuring this is difficult to quantify, but is clearly an important one.
---
2 - Construction of subscription offer
As seen above, the subscription offer must materialize as clear and understandable promise to the reader. In the case of an online publishers, this promise will be showcased by content and, notably premium content. Differentiated content, aligned with the value proposition, are therefore part of the subscription offer.
For the rest of the offer, you have a wide range of options with each being fully adapted to your identity and what your readers are looking for. The worst mistake would be to simply benchmark and reproduce what other publishers do. Those publishers don't have your brand, nor your audience with specific expectations of your company.
There are several questions to ask yourself here to identify elements to integrate into a subscription offer:
What's the added value (other than content) that can be offered to subscribers and is of interest for them?
Is access to events (for example) going to be a real driver for subscribers?
Can meetings with different stakeholders of the publication industry interest subscribers?
Does accessing the 'behind the scenes' of writing content - the publication's premises for instance - add value for subscribers?
Would your audience like to suggest new article topics?
...
A good way to collect ideas on this topic is to discuss it directly with your engaged online users AND with print readers who may have a different point of view. Interviews with users can bring about many answers to these questions and, as we know, understanding user behavior is hugely valuable.
Interested in subscription models for publishers? Have a read of our 'From content to subscription to content' series. Here, we analyze the whole user journey on various successful content-producer websites as they lead us from just a reader to subscriber, including The Financial Times and Netflix.
---
3 - Selection of paid content
The first step, as discussed above, is to define your publication's mission, your reason for being and your promise to your readers. Next, you can evaluate which content to place behind the wall (i.e. premium content). This can be based around the position (close or far) of content regarding your DNA:
If the content is very close to your DNA, it should be paid content
If it's necessary for a sustainable publication but not at the heart of your mission, it should be free
The idea is, after dividing articles into either paid or free, that you can then test, learn and realign, to eventually succeed.
In general, content which will a priori be considered as premium are:
Content with a strong added value corresponding to your mission, including exclusives, articles specifically aimed at the publication's members, hyper specialized content, etc.
Long articles which have required advanced journalistic work, such as reports, investigations, articles deciphering the news, rankings, infographics, etc.
On the other hand, contents which will a priori be considered as free are:
Content carrying a strong SEO potential, such as "evergreen" articles, news dispatches, etc.
Content syndicated from partners, including weather forecasts, videos, slide shows, very short content (fewer than 1500 characters), 'advertorials' and sponsored articles, etc.
However, the choice of assigning a content as free or premium lies more in its value rather than in the category it belongs to. For example, an article about a very local minor news item that no other publication mentions has a higher added value (even if it's a short article) than a report of a sports competition that every national newspaper will write about.
---
4 - Visibility of paid content
The question of paid content visibility is logically a central issue in a reader's subscription process. Of course, if the content is visible but not qualitative and is deprived of added value (cf value proposition), and if the user experience isn't great, then it won't be enough. All these elements are needed to maximize chances of conversion.
The following question can then be raised: why is the visibility of paid content important in the conversion process?
1 - First, it allows subscribers to understand why they subscribe and should keep doing so. This will impact the control of stick rate, that is to say the ability of publishers to win their readers' loyalty on the long-term.
2 - Because paid content is valuable to your prospects. It will enable non-subscribed readers to visualize the reasons to subscribe.
3 - Finally, the more the reader is confronted with a paywall, the more they get used to seeing your message(s) and so to your value proposition, which sets out a clear reason to subscribe.
But why should you increase the visibility of paid content?

Different tests need to be carried out and you should only increase the visibility of paid content gradually over time, because it's an essential element to help you turn readers into subscribers. At Poool, it's something we observe everyday through our work with publishers. There's a direct correlation between visibility of content and conversion. However, for all that, visibility alone will not be enough. All other criteria have to be taken into account (value proposition, content strategy, user experience…).
Poool has been working with the French weekly business magazine Challenges for two years now. At this time, before using our paywall, the visibility of their paid content was 5%.
We decided to implement personalized paywall journeys according to the reader's profile. In a nutshell, the idea was:
To allow readers who weren't very engaged to access paid content easily (free access, watching an ad…)
To block readers who were very engaged and ask them to subscribe (strict paywall)
After several weeks, we didn't notice any positive results in terms of acquiring subscribers. Challenges plan though was to pair a content strategy with their marketing one. They therefore wanted to increase paid content visibility from 5 to 30% across several months, all the while keeping this personalized paywall journey strategy for their users to access content.
After a few months, the result were unequivocal:
From several dozen of new subscribers each month, Challenges went to several hundreds every month
Without impacting the number of pages viewed and user engagement
All the whilst increasing ad-generated revenues
And without losing anything in terms of audience, both organic nor any other sources of traffic
Another interesting point was that the increased visibility of paid content (from 5% to 30%) didn't have any impact on the number of pages viewed globally on the website. Why? Simply, because the readers who weren't yet ready to pay were given an alternative to access content (for instance, watching a video advertising) with the idea of helping them to discover Challenges subscription offer.

How can I increase visibility (and therefore traffic) of my paid offer

Publish more paid content
AND/OR improve the visibility of existing content (which is free to do)
If you choose the second option, how do you do this?
Highlight paid articles on the home page, above the fold
Highlight paid articles on recommended blocs within contents
Highlight paid articles in the newsletters
Highlight paid articles on social media
Include paid articles on footer recommendation widgets and sidebars like Outbrain and Taboola
And there are other opportunities to look into:
Create highlighted blocks specific to the paid offer
Create a newsletter dedicated to premium content
Create pages or specialized groups on social media
Write an editorial manifesto defending your content to send to your newsletter subscribers
---
5 - Evaluation of strategy
Content on a publisher's website enable you to reach different aims: audience, engagement, conversion and retention. All typologies of content will therefore be of importance even though some don't have a direct impact on subscription. Here are several useful questions to ask yourself when measuring your article's performance:
Audience
Which articles generate the most page views?
Engagement
Which articles generate the biggest engagement rate?
Time spent on a page/your site
Number of articles read
…
Conversion
Which articles generate the biggest conversion rate?
Clicks on the paywall
Visits to the subscription offer page
Unblocking a paywall step
Subscription
...
Retention
Which articles generate the biggest stick rate?
Which articles are read the most by subscribers?
(For each of these aims, you should create a report to monitor how they evolve. Ideally, you should even analyse these results at a precise level, i.e. key segments.)
But be aware, these recommendations don't mean that any content that you produce should be aimed at current subscribers or at readers who seem likely to convert. If you stop producing content that attracts new readers, there will be two significant consequences. It will impact traffic and ad-generated revenues in the short-term and drain potential readers, who may be ready to subscribe, in the long-term. You should therefore keep a balance and coherence between these different types of content. Defining and monitoring performance indicators will enable you to guarantee this balance but also, and above all, to understand step by step the role played by paid contents in the life cycle of our prospects.
---
Want to find out more about this topic? Get in touch and we can give you a more personalized response!