Prefer to watch rather than read? Catch the webinar replay here!
This article wrapped up:
Engagement is essential for digital publishers, but this won't allow you to monetize your audience
Soft conversion steps can be built into the user journey to gradually increase ARPU
Converting a user into a subscriber isn't the last step in the funnel - continuing to engage and increase customer life-time value is when you'll see the greatest income from reader revenue
---
Poool, the Audience Conversion Specialists, and Qualifio, the data collection & interactive marketing solution, came together to work through the user journey towards subscription, providing adapted engagement and conversion strategies to employ at every step.

This article works through one of the main objectives for digital publishers, namely optimizing the conversion funnel - attracting new audiences and moving these users through the funnel toward being a paying, profitable subscriber.

Combining Qualifio and Poool is about finding the balance between engagement and frustration that's essential for high conversion rates.

Too much frustration (caused by blocking content with a wall) and your user will turn away and find content elsewhere.

Whilst leaving too much content open may well increase engagement but won't monetize your content…

Which is why we're here with an engagement funnel that finds the perfect slots to gradually convert your visitor into a consented lead, member and then subscriber.
---
Step 1: Attract audiences and collect compliant consent

Quality content will attract audiences to your site, but adding interactional formats encourages these visitors to stay for longer, reducing bounce rates and increasing the chances that they return on a frequent basis.

For instance, NGroup, a group of Belgian radio broadcasters, made use of interactive content during Covid when radio became less popular. The goal was to both generate traffic and collect quality data to inform their strategy.

NRJ created quizzes around TF1's streaming of the Harry Potter sagas, which attracted 670,000 participants (out of the 4 million French speaking Belgian potential participants).

Now you've attracted an audience to your website, the first step for every publisher is to collect compliant consent through the CMP. This is vital for you to be able to monetize even the most minimal amount from your users as well as analyze data and track your marketing campaigns.

However, cookie consent rates are falling due to tightening regulations, such as that of the CNIL in France that has made it obligatory for 'decline cookies' to be on the same level as 'accept'. Of course, these data protection laws are brilliant for user privacy online, but they're making it easier for users to decline cookies, meaning digital publishers can't monetize their content.

To add to this, Chrome and Apple are going cookie-free, and cookieless ad inventories are being sold at a 2 times lower cost (or even not at all).

So, to combat this, Poool recommends employing a Cookie Wall with Alternative which complements a CMP (Poool partners with Didomi for this).

For users who click decline on the cookie banner, when they try to access content, they'll be blocked by a Cookie Wall with Alternative that informs them of the value of cookies for the publishers business model, offering them 2 options to access content:
Accept cookies
Or choose a cookie-free way to support our business, such as subscribing or creating a free account (the publisher chooses this option)
---
Step 2: Qualify & segment to increase engagement

At this stage, users may have given their consent but they're still unknown, so how can you start qualifying these audiences and building audience segments?

At Qualifio, most clients are maximizing the value of this step by employing micro interactions, such as simple debates or question/answer formats.

Volento, for example, published an election campaign article, adding in a quiz at the end to not only increase engagement (decrease bounce rates, etc) but also learn about the user - whilst the first question asked about their opinion on the election, the second and third asked about age and gender, collecting important data points to inform the publisher's strategy. This is a great example of balancing engagement (giving value) with the publisher getting value in return.

This data can be added to your DMP for enriching audience segmentation and increasing advertising revenue through targeting.

To further increase engagement, you can also consider employing soft conversion strategies, such as a Newsletter Wall.

As the name suggests, this blocks content and asks users to sign up to your newsletter in order to access content.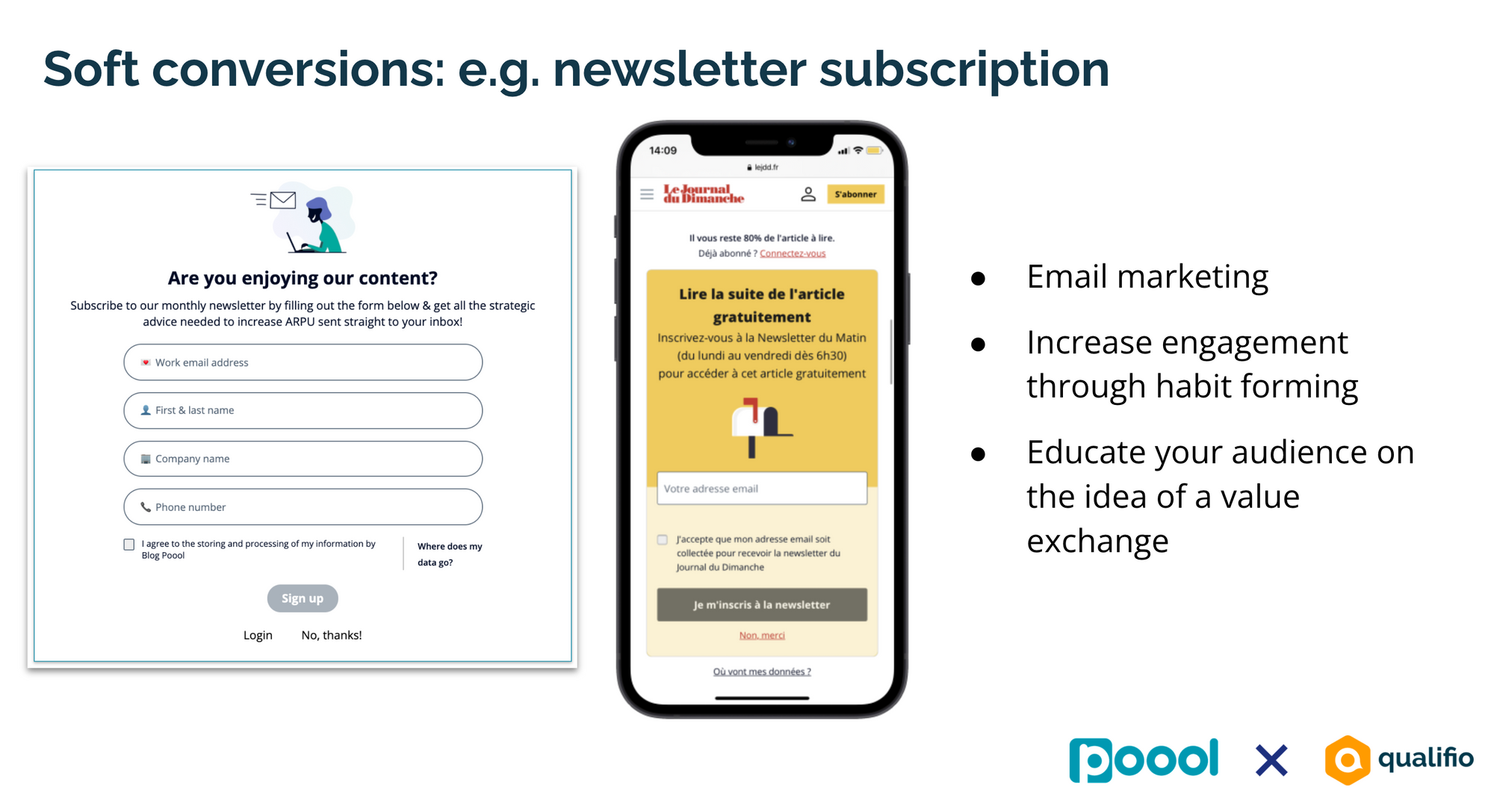 As well as increasing engagement through forming a content consumption habit (i.e. sending your newsletter on a frequent and regular basis to form a habit in the user's daily or weekly routine), it also allows for email data collection to make use of in marketing campaigns - in fact, Poool even uses it for lead generation for sales teams.

What's more, it also educates your audience on the idea of a value exchange. Content certainly isn't free to produce, but the move from paper to digital has made the idea of paying for content old fashioned, when actually it should be normal. Just as we give money in exchange for a newspaper or magazine, we should give value in exchange for digital content!
---
Step 3: De-anonymization

The next step is to de-anonymize these engaged users to convert them into members, something that is hugely valuable to both your subscription and advertising business model.

To successfully convert a significant number of your users into members, you can integrate a Registration Wall into your content, blocking access and asking users to create an account of your site in order to continue.

This increases ad revenue as you can now target commercials, increases engagement through access to quality content and allows you to personalize the user experience. Most importantly, by passing through the wall, you can create a custom reader ID and gradually collect first-party data over time as the member interacts with your website and content. This will give you the opportunity to learn about their interests and where they see value in your content in order for you to put this to use later in presenting the paywall at the right time, on the right content.


Qualifio can also present users with an account creation form that they need to fill out in order to participate in an interactive format. For Vocento, 50% of SSO account creations come from interactive campaigns - again, the idea is about establishing a value exchange.
---
Step 4: Convert users into subscribers
You've put the engagement work in, so what next?

You've moved users along the funnel and now, as a registered member, they're highly more likely to subscribe. The data above is from one of Poool's clients, showing the enormous jump in conversion rates for members compared to anonymous visitors.

Now is therefore the time to establish a recurring and predictable revenue stream by converting these users into paying subscribers. This is the most sustainable business model for digital publishers. In fact, one subscriber has the same ARPU value as 20 members or 300 anonymous users.

To achieve this successfully, you can integrate a paywall into the engaged member's journey, blocking content and asking them to subscribe to gain access.

However, you can't just place a paywall on your site, leave it and expect it to always work its magic to convert users into subscribers!... you have to continuously work to optimize it.

For instance:

Continuously modify design to reignite conversion rates and reduce habituation, just like ELLE who changed the design for different seasons, sales and festive holidays.

Integrate payment directly into the paywall to maximize impulsive conversions and reduce the clicks needed to subscribe. For Alternatives Economiques, this led to a 40% increase in conversion rates.

Or, like EBRA, you could trial a hybrid wall strategy. Here they reduced risks of a paywall by employing a newsletter wall combined with a paywall, giving less engaged users the option to pass through the wall by registering for the newsletter.
But, as always, the best way to find the most optimal paywall for your strategy, content and audience is to run A/B tests.

France Antilles, for instance, tested out the length of their value proposition to see if it had an impact on CTR. They found that Version B, the wall with a shorter value proposition, performed 5x better on average than version A, the original long value proposition. And this was the case across all audience segments & websites (3 in total).

Whilst Le Journal du Dimanche tested the color of their paywall on mobile devices, using a 50/50 audience distribution, discovering that yellow out performed gray, which is why they use this color today.
Again, interactive content can prove very effective at this stage to increase conversion rates, especially formats that are personalized to the user's profile.
---
Step 5: Upsell and monetize to retain subscribers in the long term

Finally, the cherry on the cake - not only should you continuously engage subscribers to reduce churn but you can also increase average revenue per subscriber through upselling.

For example, ELLE collaborated with Pierre & Vacances to provide interactive content for their subscribers asking "what's your favorite type of holiday". This boosted subscriber engagement, increased advertising revenue for ELLE, brand visibility for P&V as well as allowing both companies to collect valuable data points. For Pierre & Vacances, this data can then be used to personalize marketing campaigns and present visitors with the most adapted holiday for them.
Overall, more than anything, it's important to not think of the funnel as ending once a user subscribes. In fact, it's highly more valuable to you and less costly to retain a subscriber than it is to acquire a new one, so engagement shouldn't be forgotten after conversion.
---
You may also be interested in: