There is a direct correlation between engagement and revenue - as a user becomes increasingly engaged in your content, they yield a gradually higher average revenue per user (ARPU).
Engagement is therefore essential for any content producer to seek to develop throughout the audience funnel, moving users from Volatiles, only visiting your site an average of once per month, to Fans who visit 19+ times a month, with a lower bounce rate and significantly higher propensity to subscribe in the future.

This article seeks to provide you with a range of benchmark engagement techniques to increase your ARPU. Of course, each publisher is different, with their own audience and goals, but these benchmarks will hopefully provide some ideas to consider!
The Independent - Account creation
The Washington Post - Regular newsletter
Le Drench - Voting and debates
BBC News - Push notifications
Channel 4 - Account space
The South China Morning Post - Encourage social sharing
Financial Times - Follow topics
The Guardian - Games & puzzles
The Sydney Morning Herald - Comment sections
Le Monde - Content recommendations
Men's Journal - Interactive content
---
The Independent: Account creation

Provide users with more value and improve their experience on your site by encouraging them to create a free account.
The Independent integrates a registration wall into their content to require users to become a member to access the article. These users can then be offered premium content, exclusive newsletters, get more involved in a community of members and attend virtual events. All of these create more value, establish habits, building strong relationships, encourage user loyalty and ultimately boost engagement.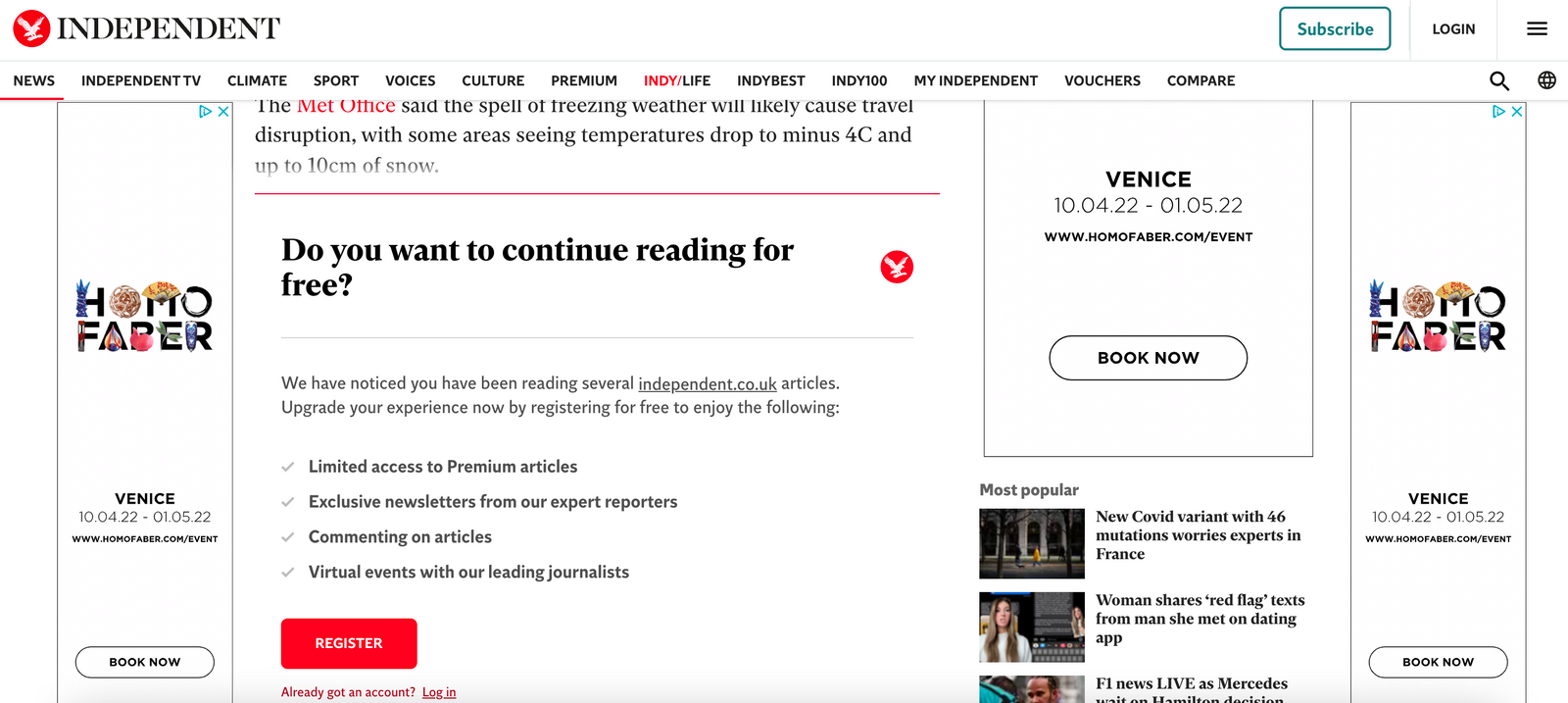 ✅  Offer value in exchange for registration (find some ideas here)
✅  Highlight this value on the wall to encourage conversion
✅  Maximize this opportunity to form habits and improve the user experience so members continue to come back to your site for more
---
The Washington Post: Regular newsletter

Establish a content consumption habit in your reader's life by sending out a regular newsletter. This could form a new habit or fit into an existing one, such as a morning commute or Saturday breakfast.
The Washington Post has well understood the value of newsletters for engagement by sending our a short email at 7am daily, summarizing the most important stories of the day.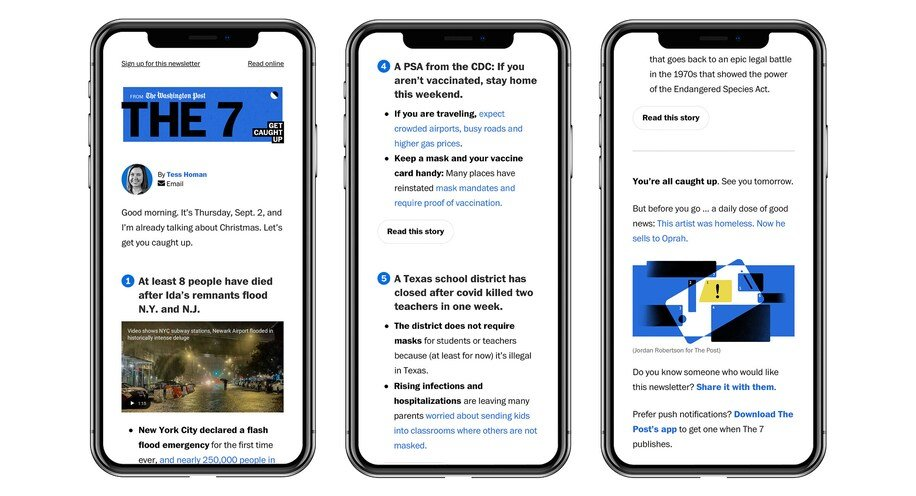 ✅  Discover the most optimal day and time, and stick to it! Habit forming is about repetition
✅  Sometimes, short is sweet, especially if it's a daily newsletter - summarize a content and offer a link to your site to 'discover more'.
You may also be interested in: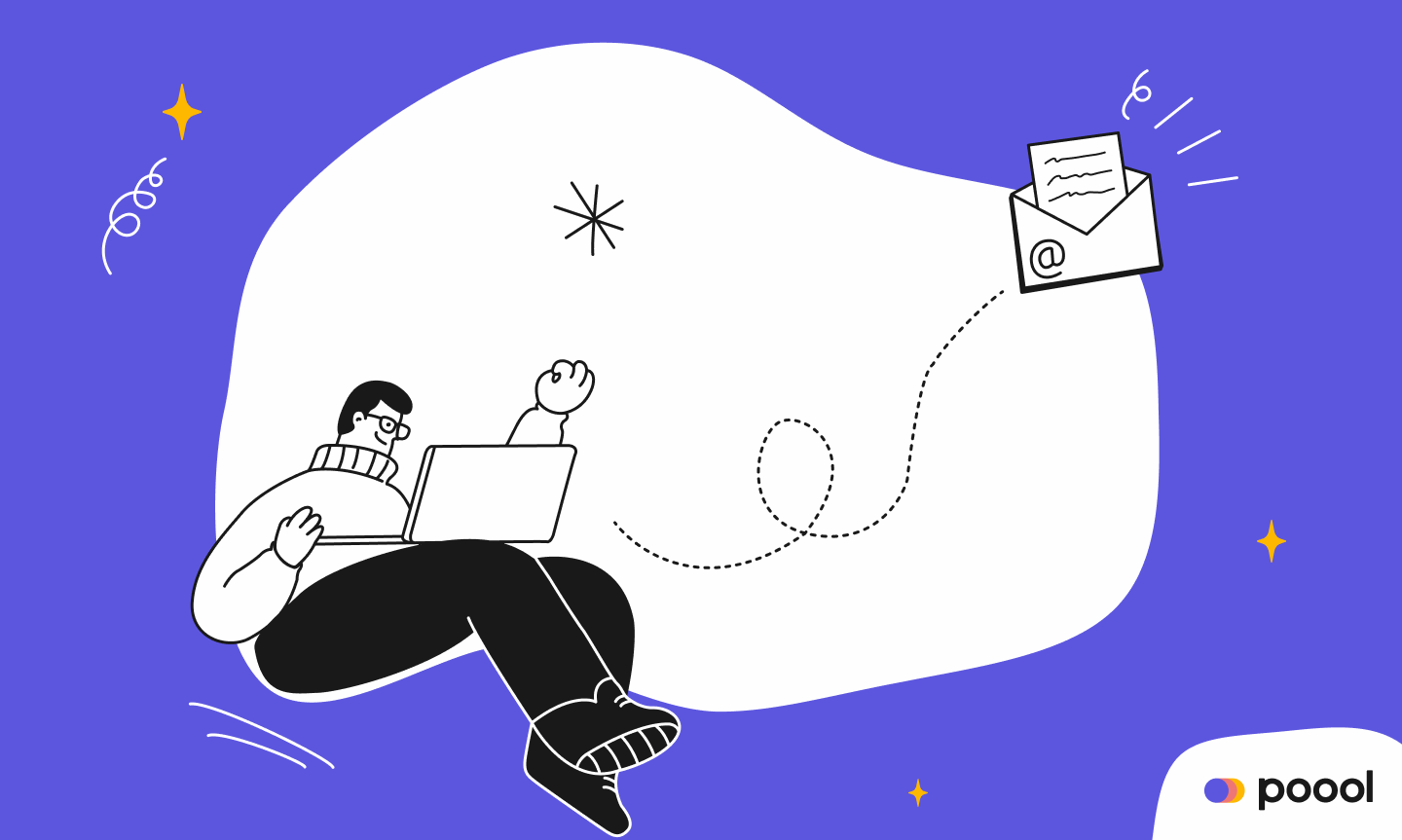 ---
Le Drench - Voting and debates

The French publisher, Le Drench, takes engagement a step further by creating content based around debating, where two authors provide opposing views on a single subject and readers are encouraged to vote for or against. Interestingly, they encourage us to vote both before and after reading the article, gaining insights into whether opinions have changed.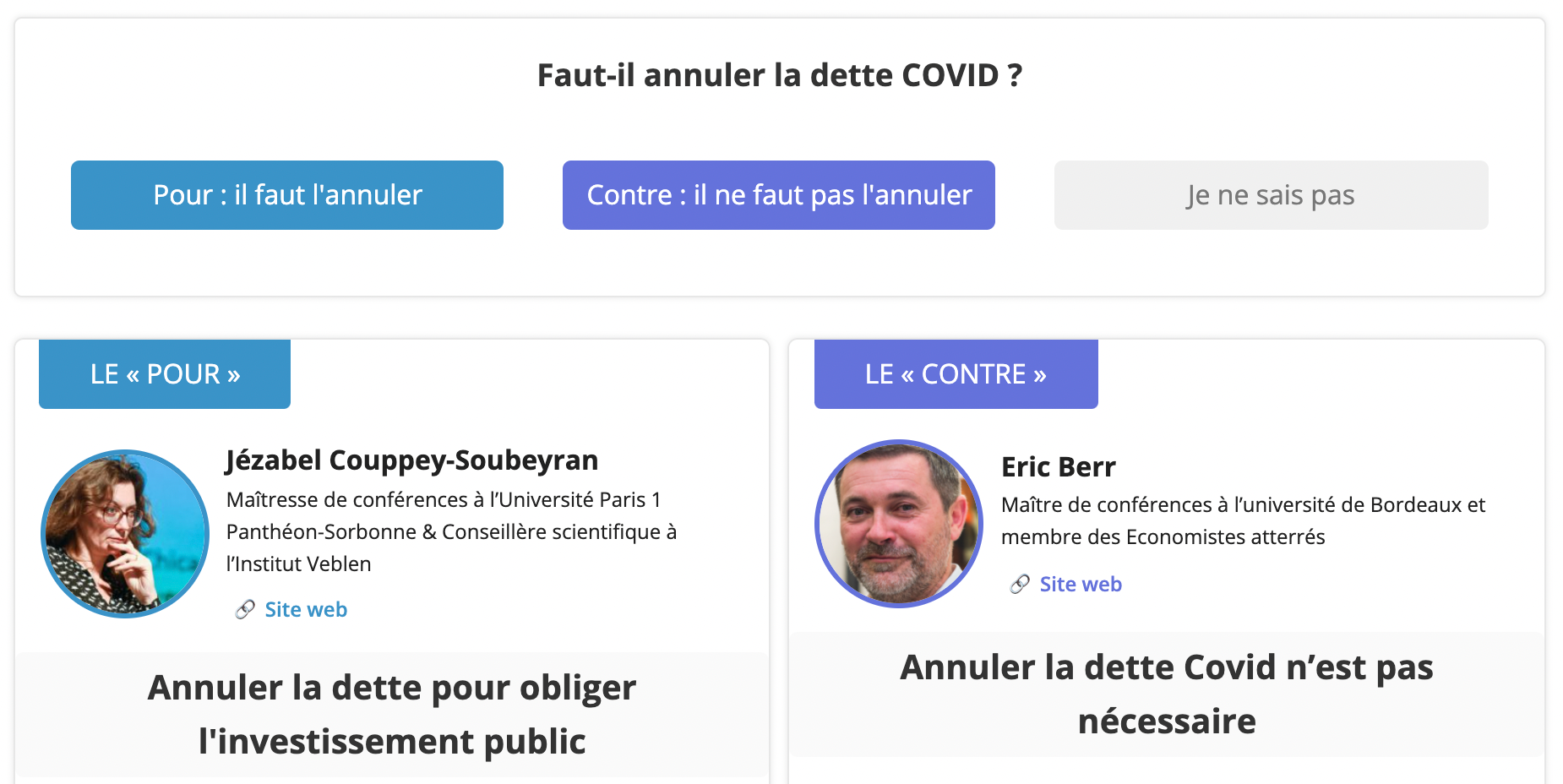 ✅  Interaction in the content to establish a conversation - no more talking to readers but more talking with!
✅  Encourages readers to interact with each other to continue the debate
✅  The content covers multiple view points to engage different readers
---
BBC News - Push notifications

Remind your audience that you're there and let them know when new content is released with push notifications.
The BBC News app sends out notifications when a breaking story is released, increasing frequency of visits to their content. The alert gives a brief introduction and takes a user directly to that news story.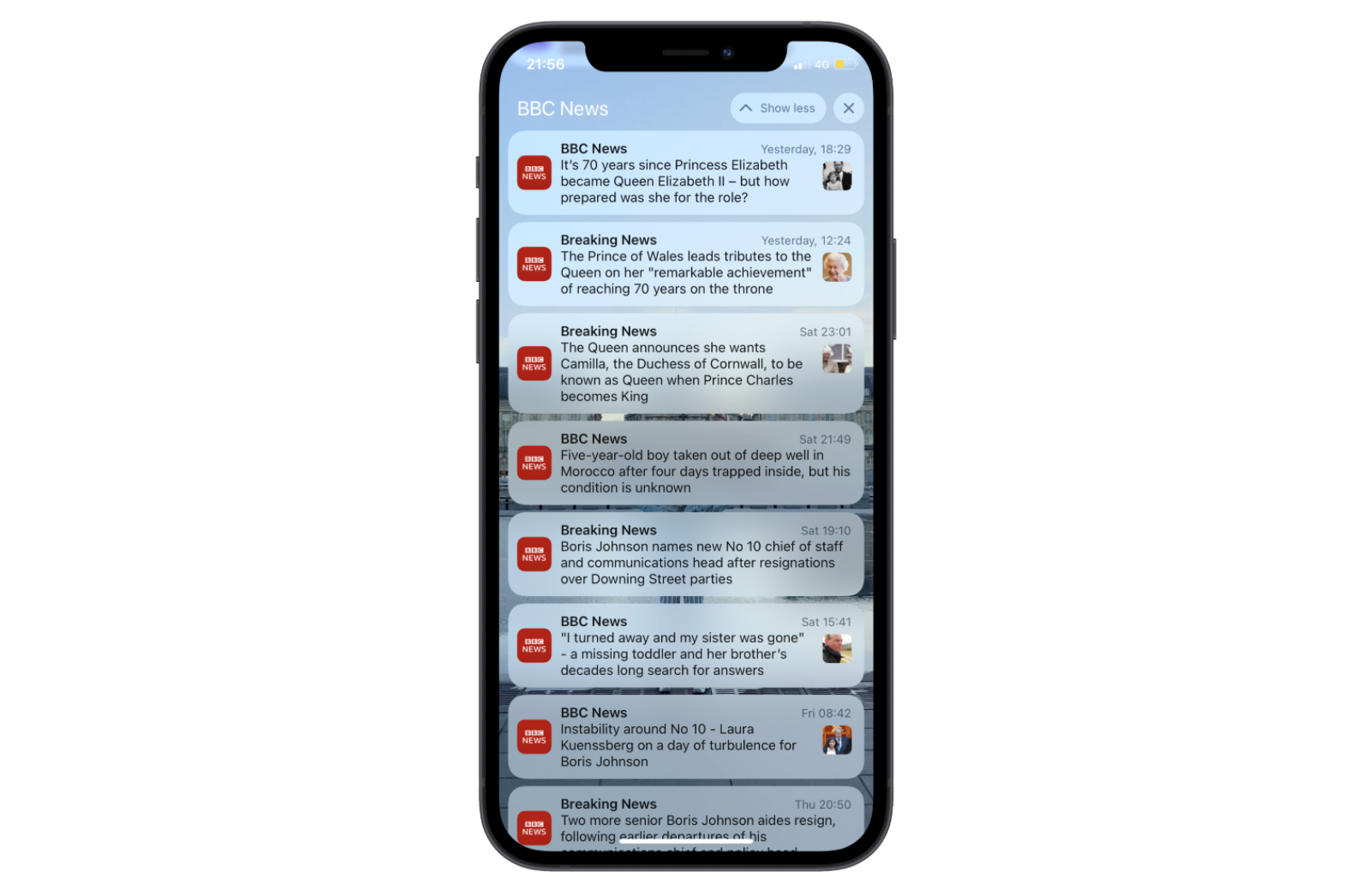 ✅  Reminds your audience that you're there and informs them of new content
✅  Give users the option to easily configure which notifications they receive
✅  Don't send too many notifications that might frustrate users - make sure each notification provides value
---
Channel 4 - Account space

The VOD website for Channel 4, 4OD, employs a hard registration wall that requires all users to create a free account in order to access content. However, once signed in, members get additional value - including a personal account space.
This space allows users to resume content where they left off, save videos for later and view videos that they've watched in the past.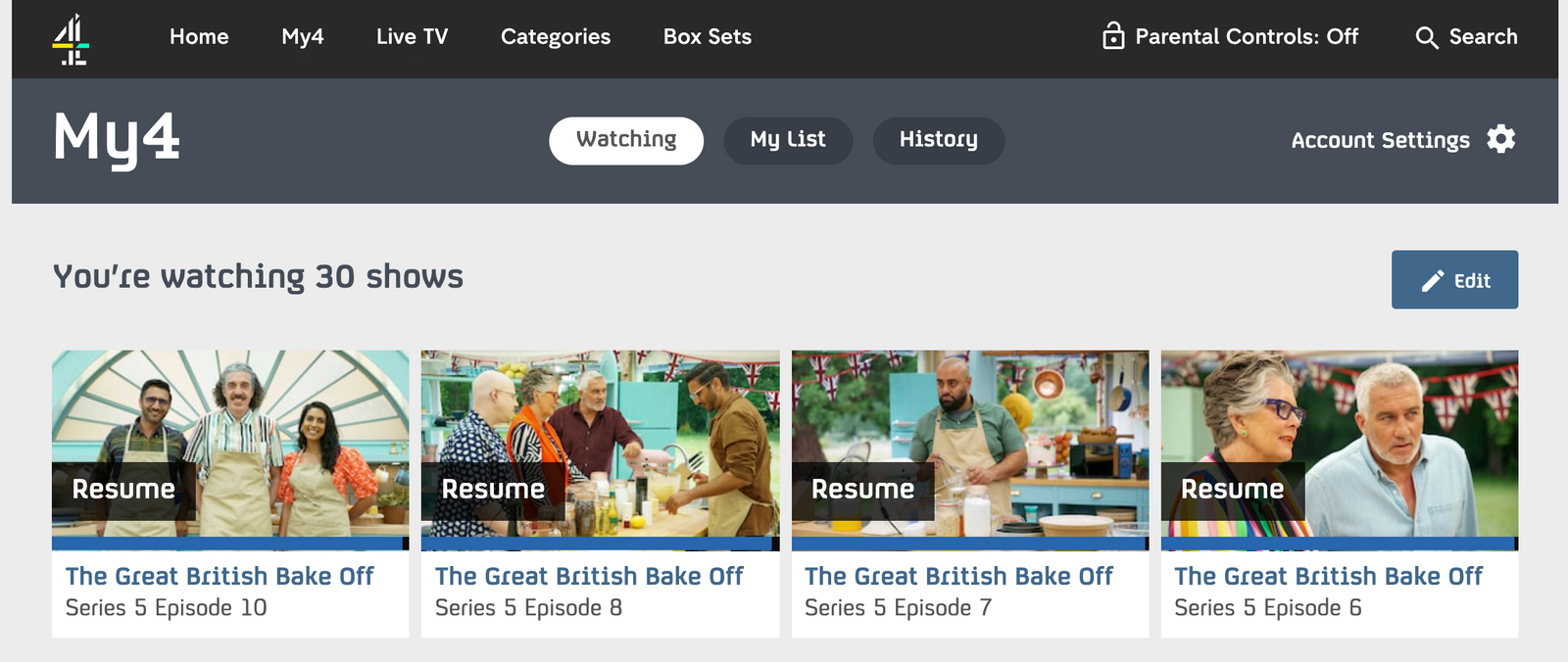 ✅  Encourages members to save content for another time and resume where they left off making for ease of access (something that is often forgotten as a beneficial engagement technique)
✅  A user's account space is synchronized across devices (mobile, app, desktop)
✅  Members have full control over configuring their account space
---
The South China Morning Post - Encourage social sharing

Engagement doesn't just have to stay on your site! The South China Morning Post encourages social sharing, providing a variety of easy-access links at the side of each content for users to share an article.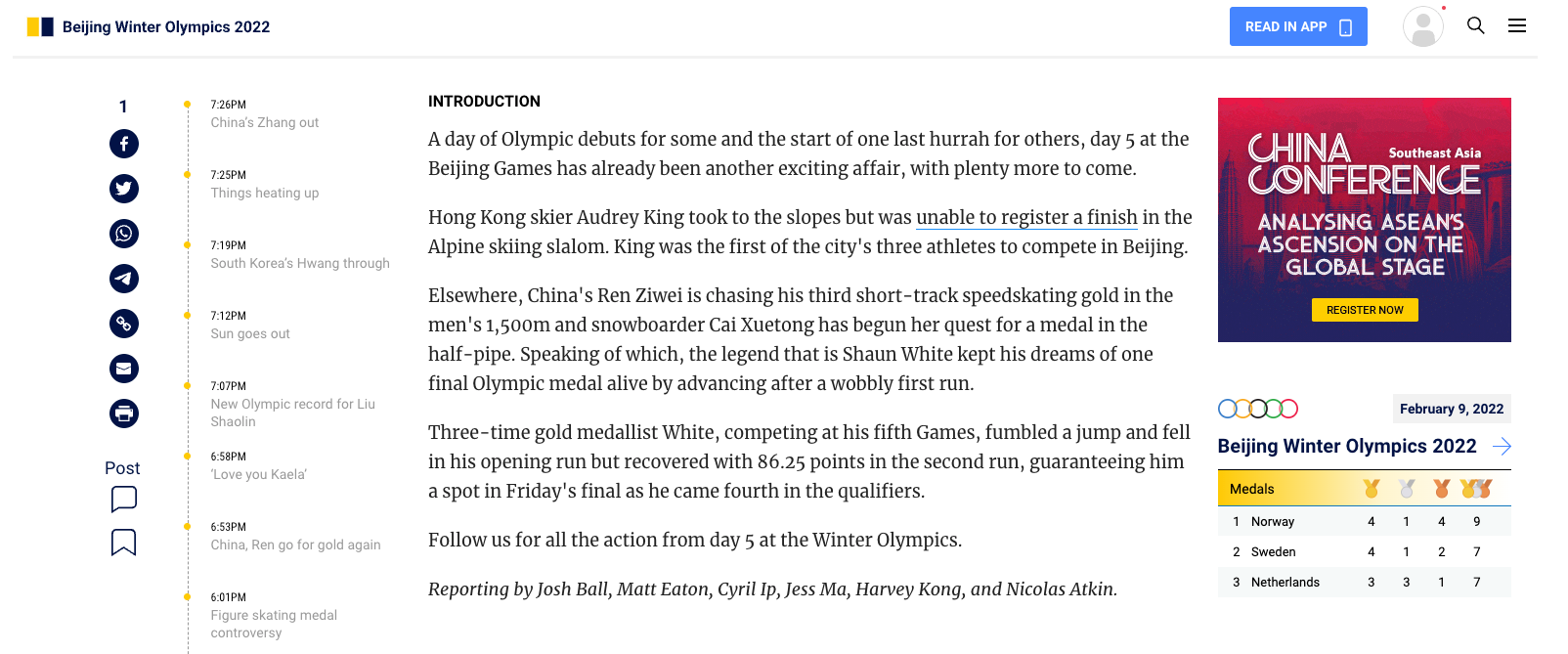 ✅  Use easily recognizable icons for social media platforms
✅  Make sharing as simple as possible - the less effort required, the more likely the user is to share!
✅  Add to the top or side of content, not at the bottom - this increases visibility of this option
---
Financial Times - Follow topics

Help your users to find more content in the areas that they find interesting by allowing them to follow topics.
Financial Times gives subscribers this opportunity, making the action extremely simple (literally one click) and placing this features directly on content that a reader is accessing.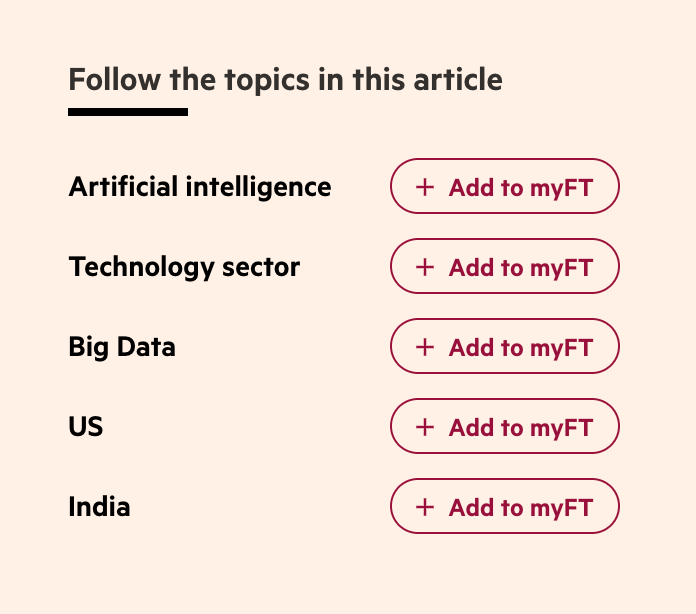 ✅  Again, make the action as simple as possible
✅  Recommend topics related to content they're currently reading or have read in the past (if they've created an account or subscribed)
✅  Go a step further and allow users to follow authors or content series too
---
The Guardian - Games and puzzles

Increase engagement by offering users games and puzzles. Increasingly more publishers are adding games to their content, providing additional value to visitors and subscribers.
The Guardian, for instance, offers a variety of word games, quizzes, sudoku's and more, varying from 'speedy' puzzles to more challenging ones. They also promote The Guardian puzzles app which encourages users to engage in the publisher's content more frequently.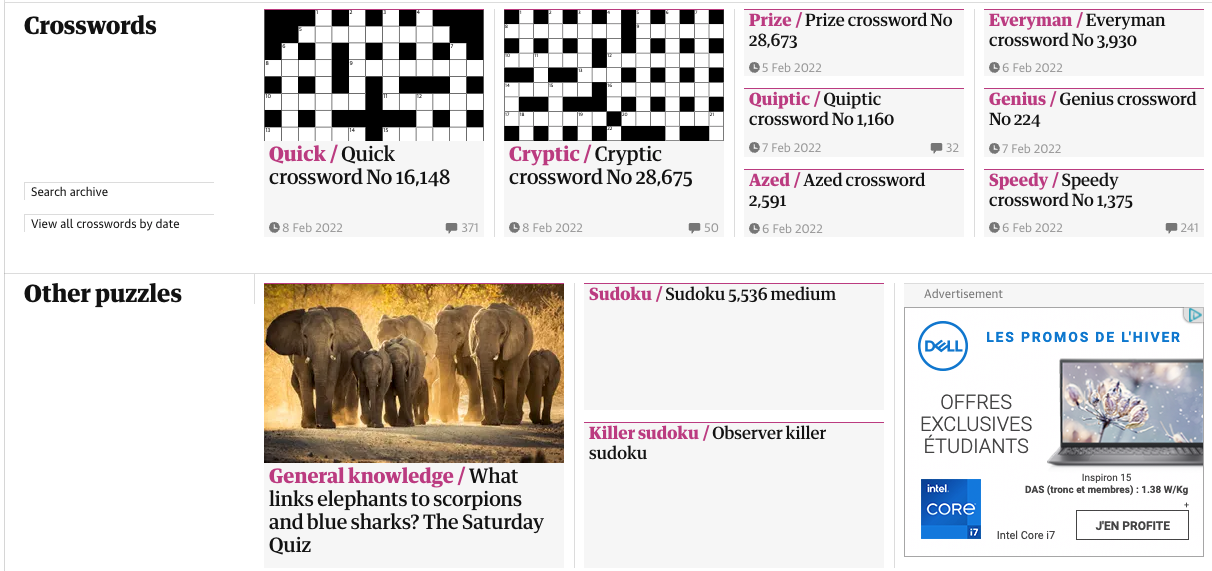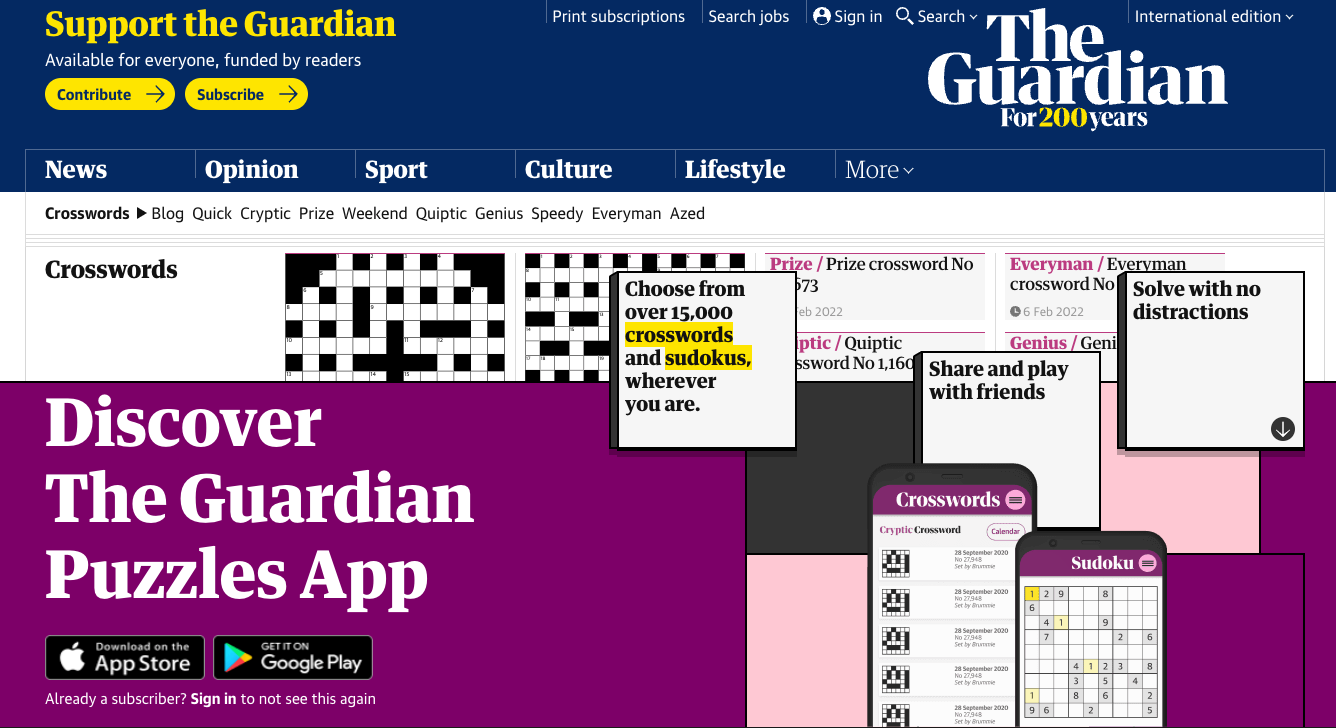 ✅  Users are encouraged to engage through a variety of platforms - online and on the app
✅  Answers can be posted the next day or week to drive loyal retention habits
✅  Engagement through a different form of content that involves a user completing actions and getting a reward at the end (which play a key role in establishing a habit)
---
The Sydney Morning Herald - Comment sections

Instead of story-telling, publishers should facilitate engagement through story-doing. This means encouraging interaction with your content, with you and with other users. An effective way to achieve this is through comment sections.
The Sydney Morning Herald allows logged in members to 'join the conversation' at the end of articles, adding a 'Respect' (similar to the 'like' button) or reply.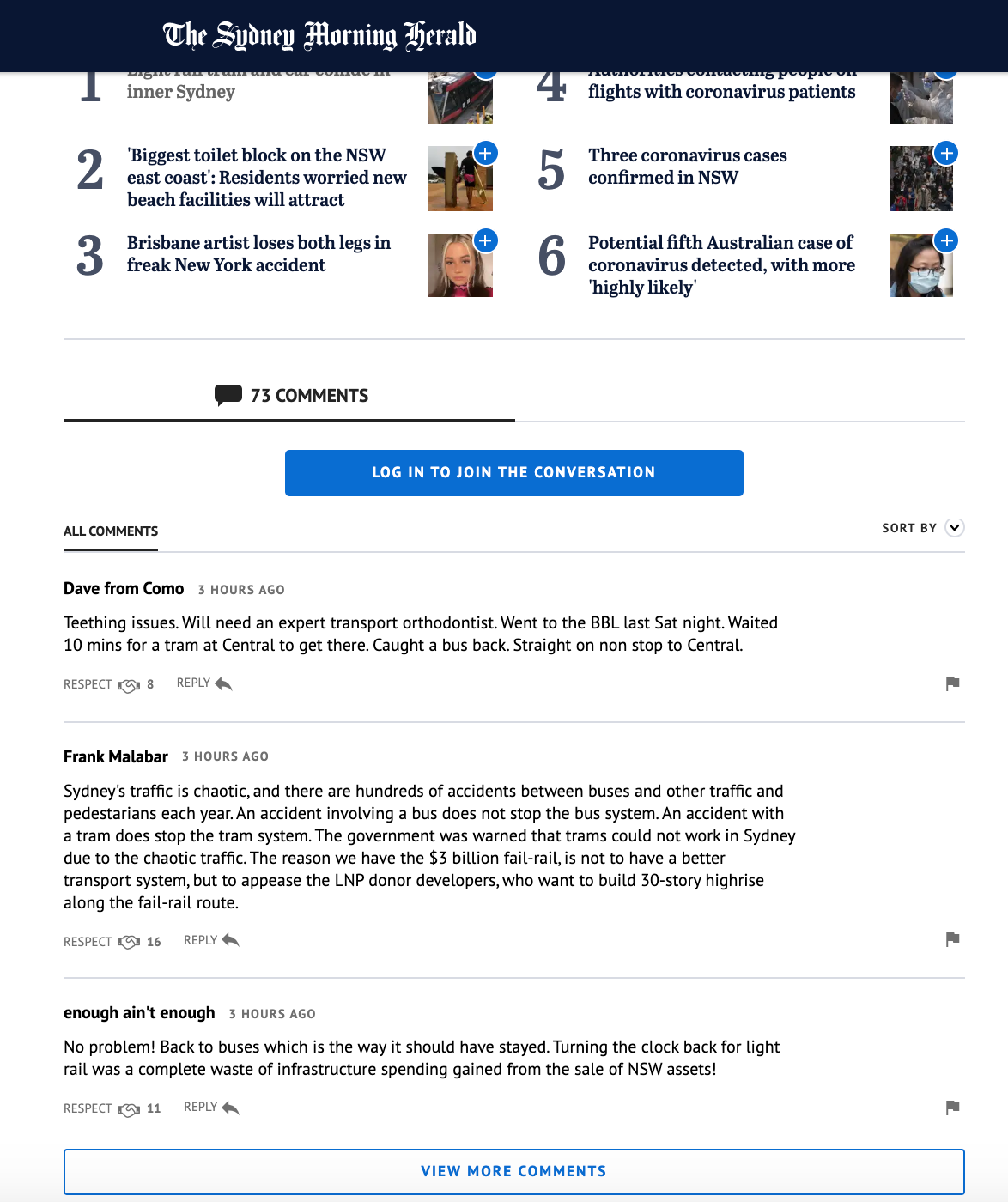 ✅  The publisher uses this opportunity to encourage users to create a free account but lets all visitors see comments (content and value discovery helps conversion rates)
✅  Involves the audience in your story
---
Le Monde - Content recommendations

Your visitor has got to the end of a content, meaning they've clearly been engaged and interested in what you've shown them so far. The challenge now is to help them consume more content and stay on your site.  
Le Monde demonstrates a solution - offer a list of popular articles on the same topic at the end of each content.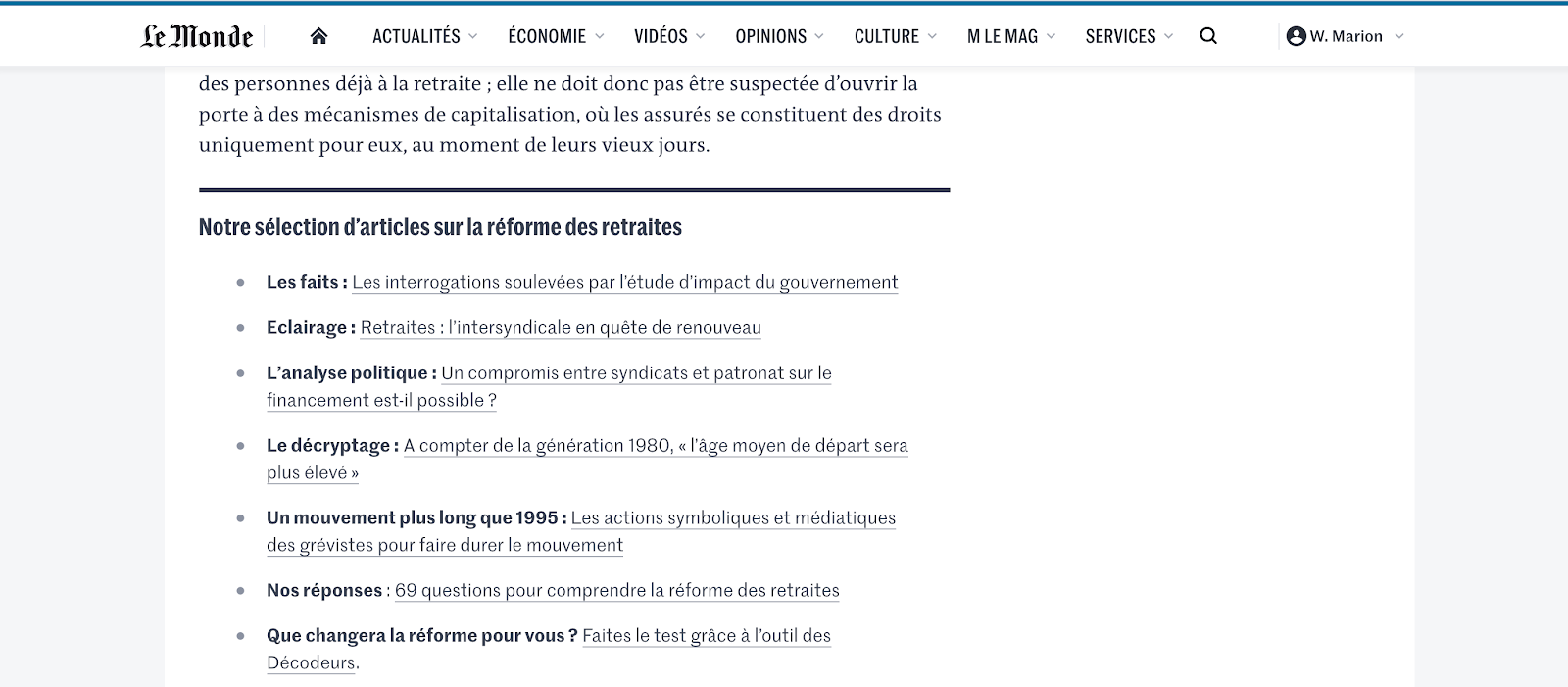 ✅  Easy-access links to continue engagement
✅  Adapted to the user's interest in this first content
---
Men's Journal - Interactive content

Just as we've discussed getting a user involved in your content through commenting, games and debates, you can integrated interactive, conversational formats into the articles themselves that encourage further engagement.
Men's Journal often adds questions into their content, offering multiple choice answers (even easier to reply with just one click) which has the dual benefit of increasing engagement and collecting first-party data to learn about their audience.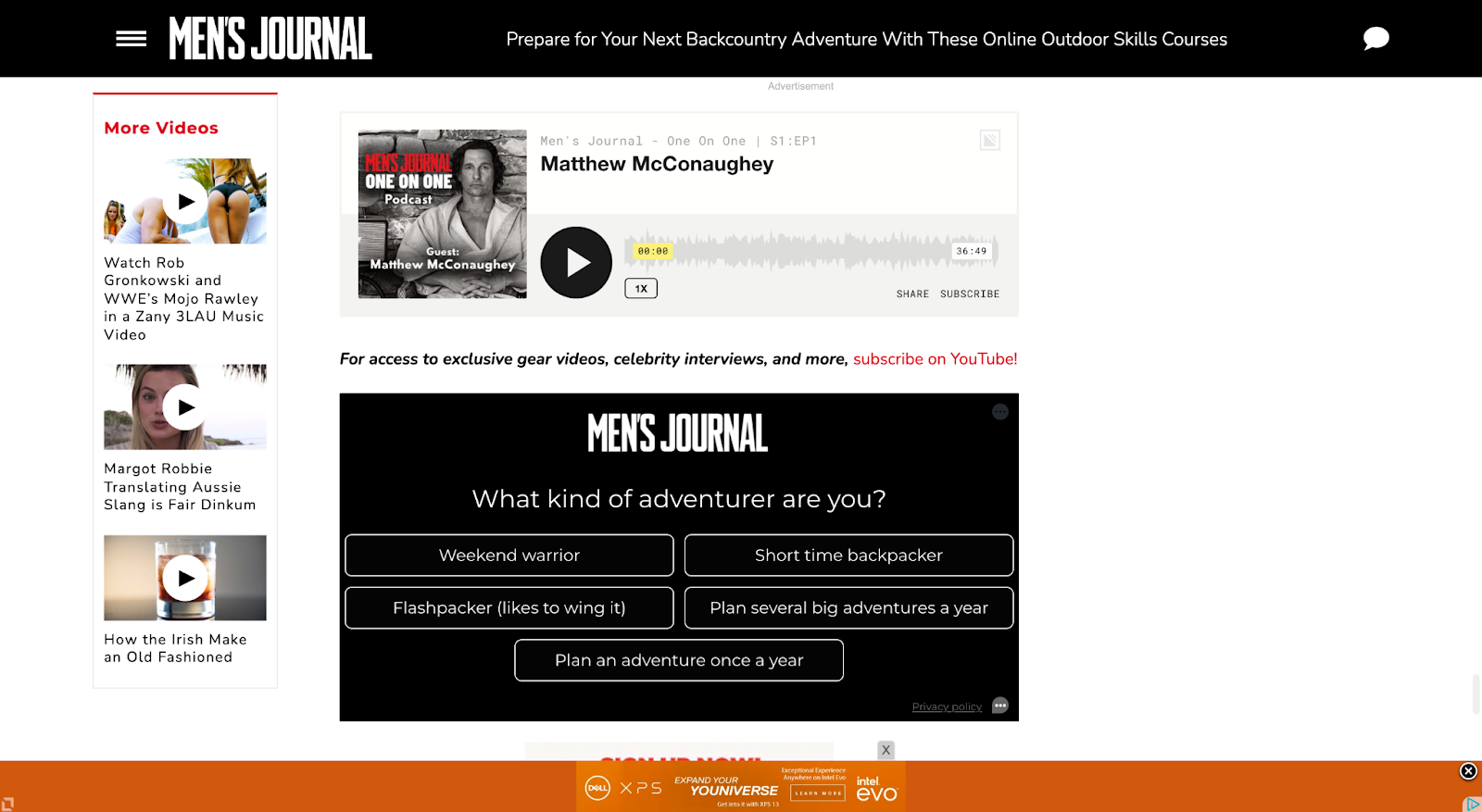 ✅  Keep interactive content simple - i.e. not too many questions and make answering simple
✅  Vary conversational formats, such as personality tests, quizzes, single questions, etc.
✅  Make use of data collected to improve and personalize the user experience which will (again) support in increasing engagement rates
---
You may also be interested in: