In today's digital world, paywalls play a vital monetization role for many online publishers. One of the oldest and first wall models is the hard paywall, which blocks access to all content and requires that every visitor to the site subscribes in order to get past. This subscription model can be hugely beneficial for the content producer, generating income without depending on print or ad-revenues, ultimately gaining loyal members who pay for your content.
The Financial Times, for example, established a paywall back in 2002 and has now reached a mighty 650,000 digital subscriber base (data from FT in April 2019).
But, are hard paywalls effective for every publisher?
Although hard paywalls are increasingly rare, they can be an ideal tool for many online publishers. However, a paywall on your site needs to be optimized to suit your unique business, with its own content, audience and goals. And this applies to every aspect of the wall, from design and messaging to the subscription funnel. That's why we've come up with a list of possible areas of improvement for your hard paywall, each with concrete examples and a view of how you can achieve this improvement with the Poool paywall platform Dashboard.
When we talk about 'optimizing a hard paywall strategy', what precisely do we mean?
Many would jump into thinking that optimizing a hard paywall is simply about increasing the number of conversions. However, conversion is only the final step in the user journey and many more areas need to be considered in order to optimize every angle of your hard paywall strategy.
Let's consider the steps that a user goes through to convert. For each, we can translate them into KPIs, making the steps easier to analyze and so optimize:

Step 1: Reading a premium article - This is all about the (non-subscribed) users who try to read a premium article and the visibilities of these article.
KPI = Percentage of traffic on paid vs free articles & percentage of users exposed to the wall per month
Step 2: Seeing the paywall - This refers to when users are confronted with your paywall.
KPI = Percentage of paywall visibility on-page
Step 3: CTR (clicking through the funnel) - This one's pretty self explanatory. How many users click onto the wall and go through the subscription process
KPI = CTR
Step 4: Conversion - The final step. How many users end up becoming a subscriber?
KPI = The conversion rate
This article will work through each of the 4 steps, with the goal of optimizing every aspect of your hard paywall.
Before we start, remember that (sadly) there's no one-size-fits-all paywall that will work wonders for every single publisher. These KPIs are here to help you to optimize your wall for your business, your content and your audience.
Interested in finding out what other types of paywalls there are (like metered, freemium and dynamic)? Take a look at our 'What is a Paywall?' article!
---
Step 1: Reading a premium article
KPIs:
Percentage of traffic on paid vs free articles
Percentage of users exposed to the wall per month
This translates into the visibility of paid content. To be clear, paid content are pages labelled as 'premium'. So, here, we're comparing the number of visits on paid articles to the number of visits on free articles (not premium).
We analyzed this KPI in our Digital Media Review (DMR), a quarterly publication that provides data analysis from over 75 publishers, with a focus on paid content and gaining subscribers. After its first year, we summarized 10 key insights from the DMR, with the first 2 relating to paywall visibility.
Insight #1: Premium and online subscriptions are taking up increasingly more space in publishers' strategies.
Insight #2: And, therefore, readers are more frequently presented with a paywall.
In short, this shows how the more articles that include a paywall, the more users will see the paywall. If more users see your paywall, you've got a greater chance of having a high conversion rate.
Increased visibility = increased subscribers
What's more, we found that the traffic in the conversion funnel and the conversion rate seems to correlate with the visibility of paid content. On a website with lower than 10% visibility of paid content, the number of visits to the subscription page is very low. Conversely, media with 10-40% visibility of paid content have a significantly higher number of visits to the subscription page (and so a higher conversion rate).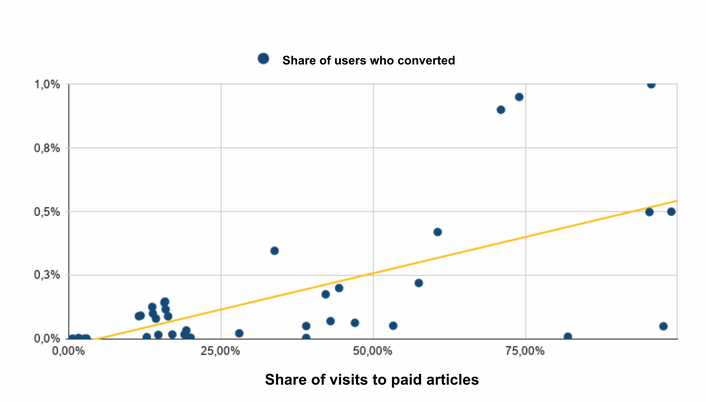 The Financial Times (yet again) provides a great model here. In order to access any article, a user has to subscribe. Therefore, their premium content visibility is extremely high, helping them to have gained a very large number of digital subscribers.
Actionable advice: We'd recommend increasing the visibility of your paid content which will, in turn, increase the number of users who see your paywall. However, you should test this KPI and analyze its results in order to find the optimal visibility rate for your business, audience and content. The Financial Times strategy, for example, might not work as well for your company.
---
Step 2: Seeing the paywall
KPI:
Percentage of paywall visibility on-page
This refers to the visibility of the paywall on premium pages. I.e. what percentage of users who are on a premium article actually see your paywall? We've found that the average is 30-60%, however this differs hugely across publishers and there are many different wall designs to choose from in order to help make your paywall more visible.
Trying out different visibility designs
The Boston Globe's paywall acts like a banner that covers the lower section of the screen and blocks a user from scrolling down. This would result in an extremely high visibility rate and is considered a rather aggressive approach that ensures every visitor to this page is confronted with the paywall.
Le Figaro however, uses the paywall to cut a reader off mid-article, allowing them to discover part of the content and so helping to show the value of subscription.

Alternatively, Rosetta Stone (a language learning platform) doesn't allow any access to the site without a user subscribing - i.e the paywall acts as their landing page. This is a fairly risky strategy as a user doesn't have any idea of the value being offered in exchange for subscription, but it's definitely an approach that is more suited to an e-learning platform than a news journal site.
Overall, if your paywall is at the bottom of a long page and a user needs to scroll all the way down in order to see it, your visibility rate is going to be low. Conversely, using a paywall that stops a user from scrolling at all (like The Boston Globe) would result in an extremely high visibility.
Special offer pop-ups
To increase the visibility of your subscription offers in general, you can also consider banners and pop-ups that present discounts, sales or your most popular offer to a user. This can not only be a great way to show more users the paywall (and funnel) but also speed up the conversion process as the pop-up could skip the 'paywall' and 'choosing an offer' stages, which ultimately makes subscribing even easier.

The Wall Street Journal, for instance, presents this pop-up to users, wherever they are on the site, promoting a very low subscription offer and reassuring users (in bold) that they can cancel anytime.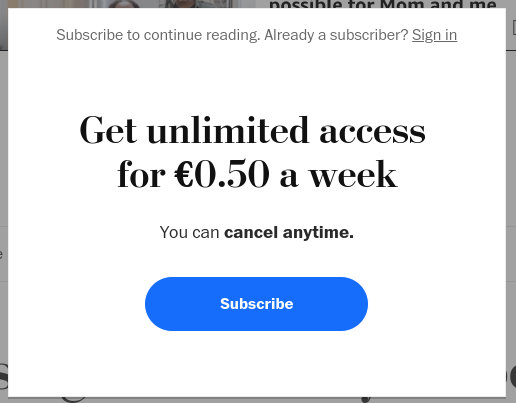 Actionable advice: try out a variety of designs and paywall placement to see which brings you the highest paywall visibility rate. As usual, A/B testing is key here. You can also take a look at how other companies integrate their paywall into a page to see what's possible, whilst bearing in mind that their strategy might not work as well for you. We published an article series analyzing 9 publisher's paywalls which might prove useful here, as well as the white paper that followed it where we directly compare these walls at every stage of the conversion funnel.
---
Step 3: CTR (clicking through the funnel)
KPI:
The click through rate refers to how many of your users actually click on the paywall and go to the subscription process. Optimizing in this area can be done in a variety of ways, but we're going to focus on wording choice and making your paywall more dynamic.
Trying out different wording
Words hold a great deal of power, particularly for the emotive language used in marketing and advertising. The choice of wording can be the difference between losing a user's attention or persuading them to subscribe. What's more, the tone and word choices need to align with your brand personality and audience. Emojis, for example, aren't fitting for every content producer, but might work well for companies with a younger audience.

The Athletic, for example, highlights that this is a 'limited time offer' at 'only $1' to hook the reader and persuade them to subscribe now rather than wait.
Medium's paywall is personalized to include the registered user's name (the site employs a register wall before the paywall) which draws our eyes to the wall and makes us feel that we're being directly addressed by the company.
In the Poool paywall platform Dashboard, you can customize every word, color, logo and more in each wall employed in user journeys thanks to our no code design builder! Simply add 'blocks' into the design, editing and configuring it to match your strategy. You can then see your design by clicking on 'preview'.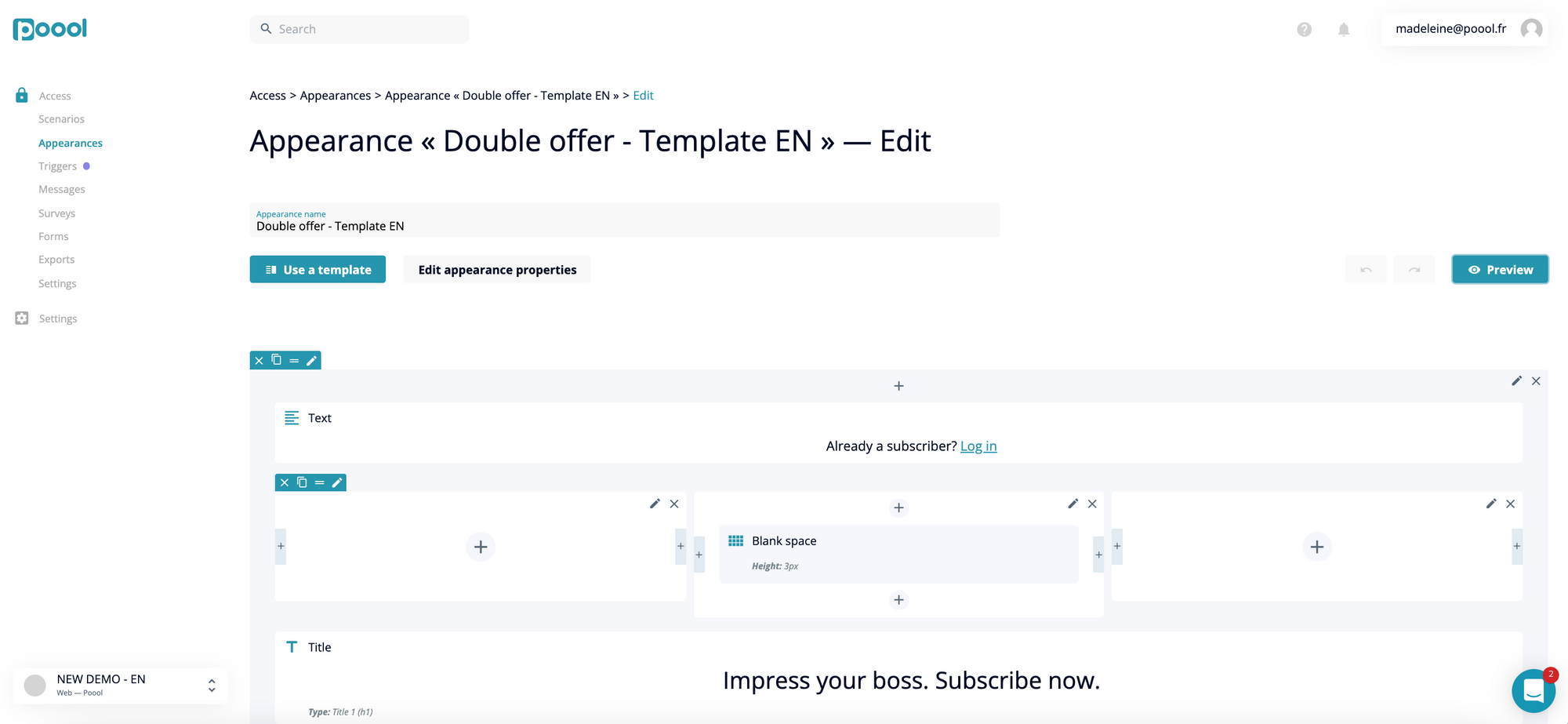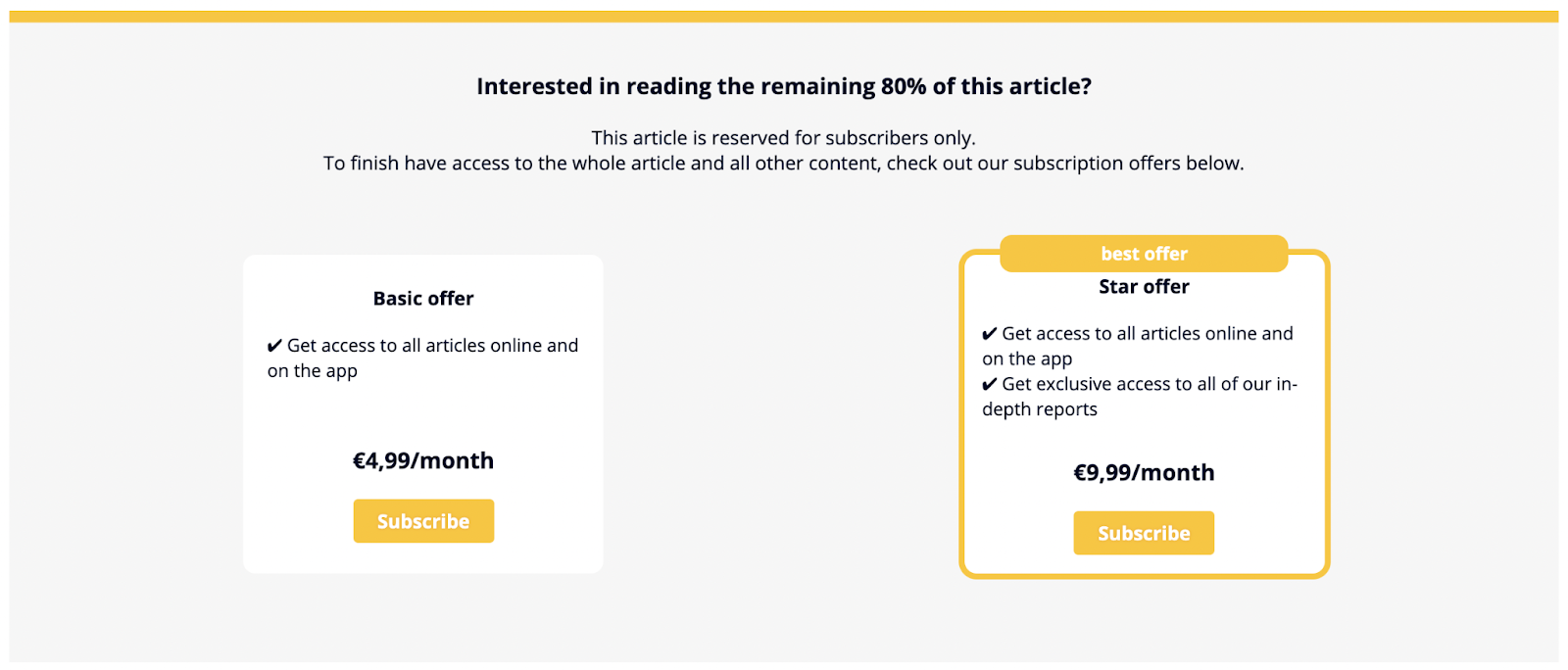 After creating a few 'Appearance' options, you can then A/B test them within a scenario, altering the percentage of users who see each one, with results and analytics appearing straight back into the Dashboard.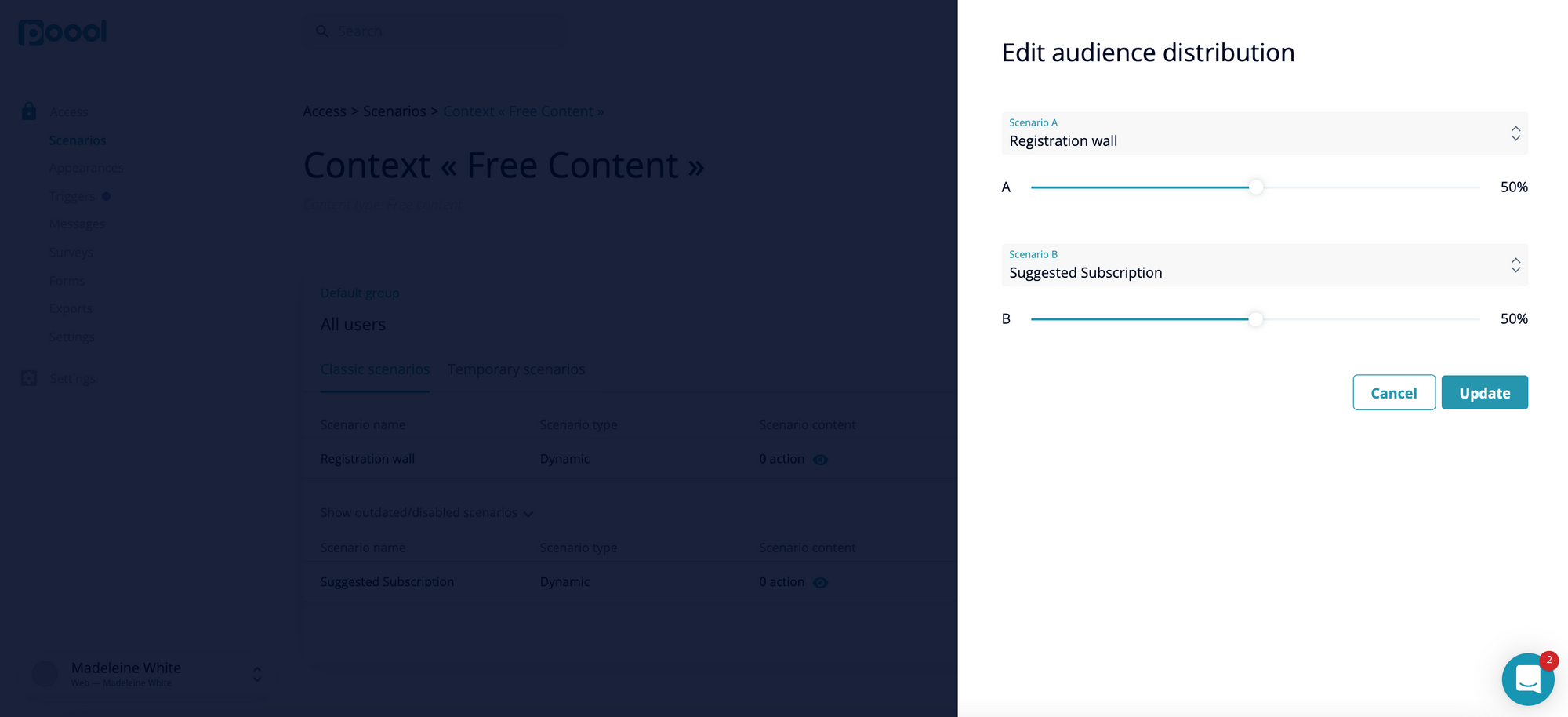 Our new script also allows you to employ a variety of wall formats, including full blocking 'sticky' walls, which prevent scrolling, banners or pop-ups.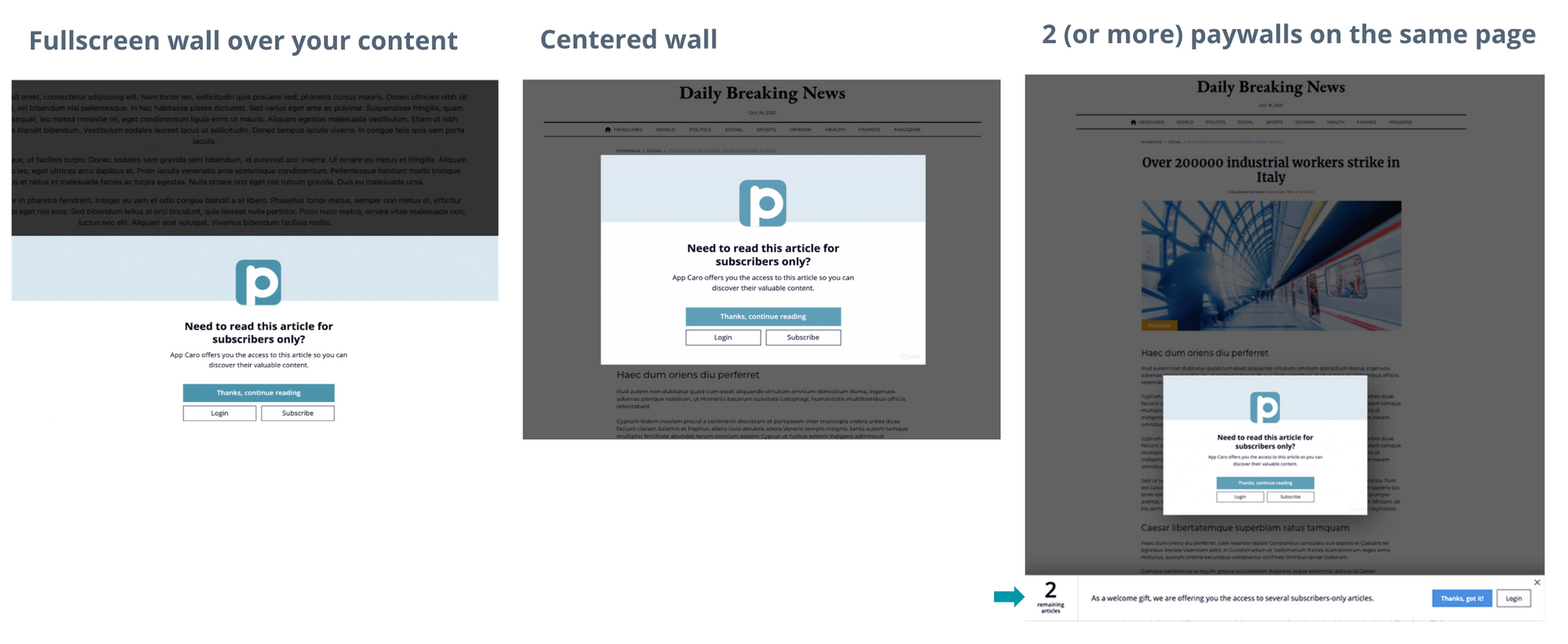 We can see Poool's paywall design in action on Welcome To The Jungle website where they're successfully employing a registration wall to cut a reader off mid-article. This is an optimal point to present the wall given that the user is (hopefully) enjoying the content and wants to register in order to continue reading. It's also got a high visibility rate as only one scroll is required before you see it on the page.
Interested in using Poool's paywall platform to monetize your content and turn readers into subscribers? Let's book you in for a free demo!  

Making your paywall more dynamic
What is a dynamic paywall?
A dynamic paywall adapts itself to the user and their context, providing a different experience based on their audience grouping. We call this audience segmentation. It means that, as a publisher, you can group your audience based on such things as device used, location or content type, and design different versions of the paywall to be presented to each user depending on their context. In this way, you can find the optimal paywall for each context and present every one of your users with a paywall which has the highest chance of persuading them to click on it and subscribe.

The way that you segment your audience can be anything that matches your strategy and business model, but let's look at 3 commonly employed examples: segment your audience based on content-type, device or location.
Depending on content-type
This involves grouping your audience based on the type of content that a user is reading when faced with the wall. This is often employed by publishers using a freemium paywall model which splits their content into free vs premium (find out more about paywall types here). In this instance, the scenario for a user on 'free' content wouldn't involve a paywall, whereas the 'premium' articles scenario would.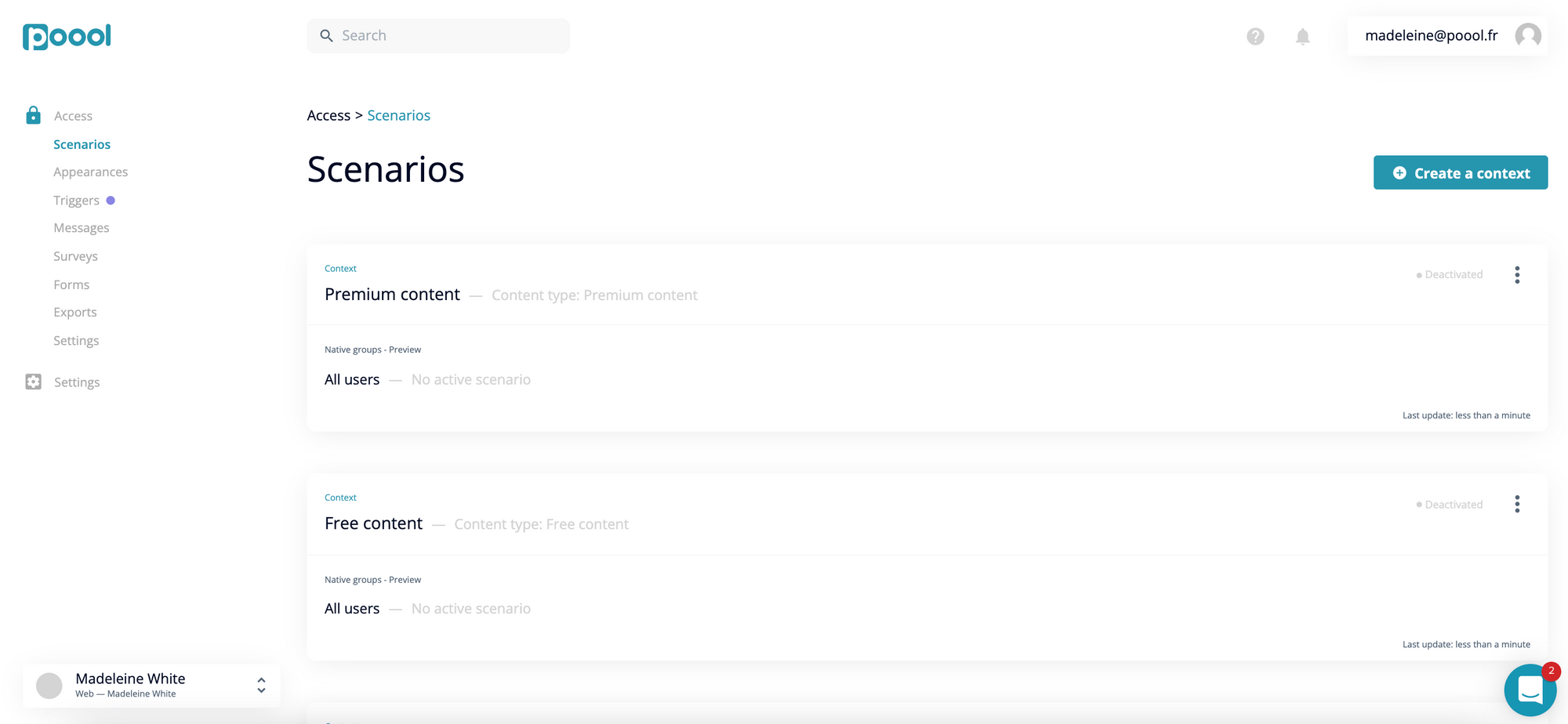 Alternatively, for a hard paywall model, you could decide to employ a different scenario depending on the content topic. A user trying to access an article discussing business would therefore be shown a different paywall than a user wanting to read a sports article. The example below, from Poool's paywall platform, shows (in the green text) that users in the 'Business' context will be shown appearance 1 whilst those in the 'Sport' context will be shown appearance 2.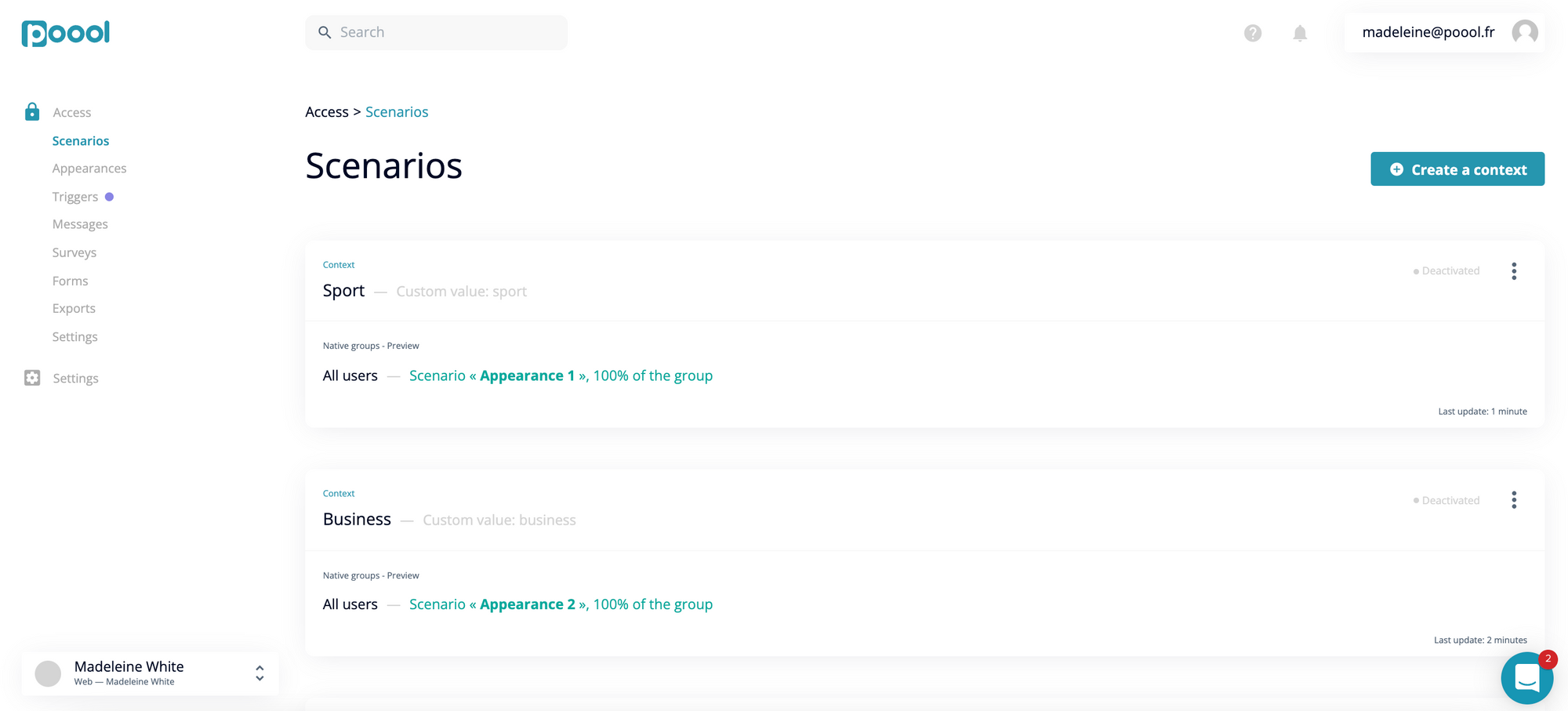 Depending on device
This refers to creating a different scenario for users on a desktop compared to mobile.

In this example, we've not only segmented according to device, but are also carrying out A/B tests on each to see which scenario is optimal for that context. On desktop, we're testing different appearances, and on mobile we're testing different widgets.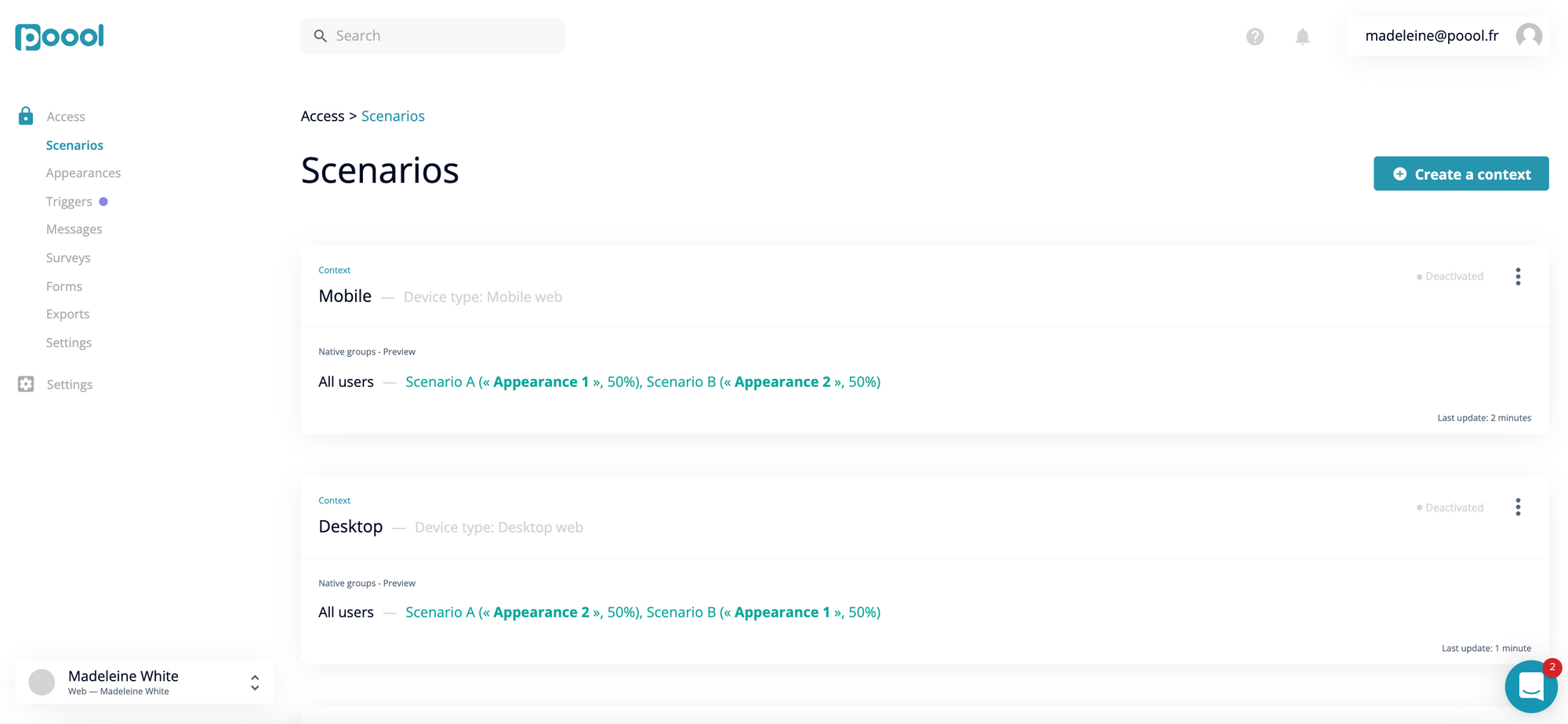 Fancy seeing Poool's paywall platform and Dashboard in action for yourself? Let's book you in for a free demo!

Depending on location
This is a very useful context, especially for content producers who have an international reach. Even the very simple alteration of currency can make an important difference for your user.

We can see below that The Financial Times, despite being a British publisher, adapts the currency to Euro when the user's location is within the Eurozone.
Interested in seeing the whole user journey from reader to subscriber on The Financial Times website? Find our dedicated analysis of every step to subscription here.

Within the Poool Dashboard, we can select any country as a context and design a specific scenario to be shown to a user when accessing your site from that country.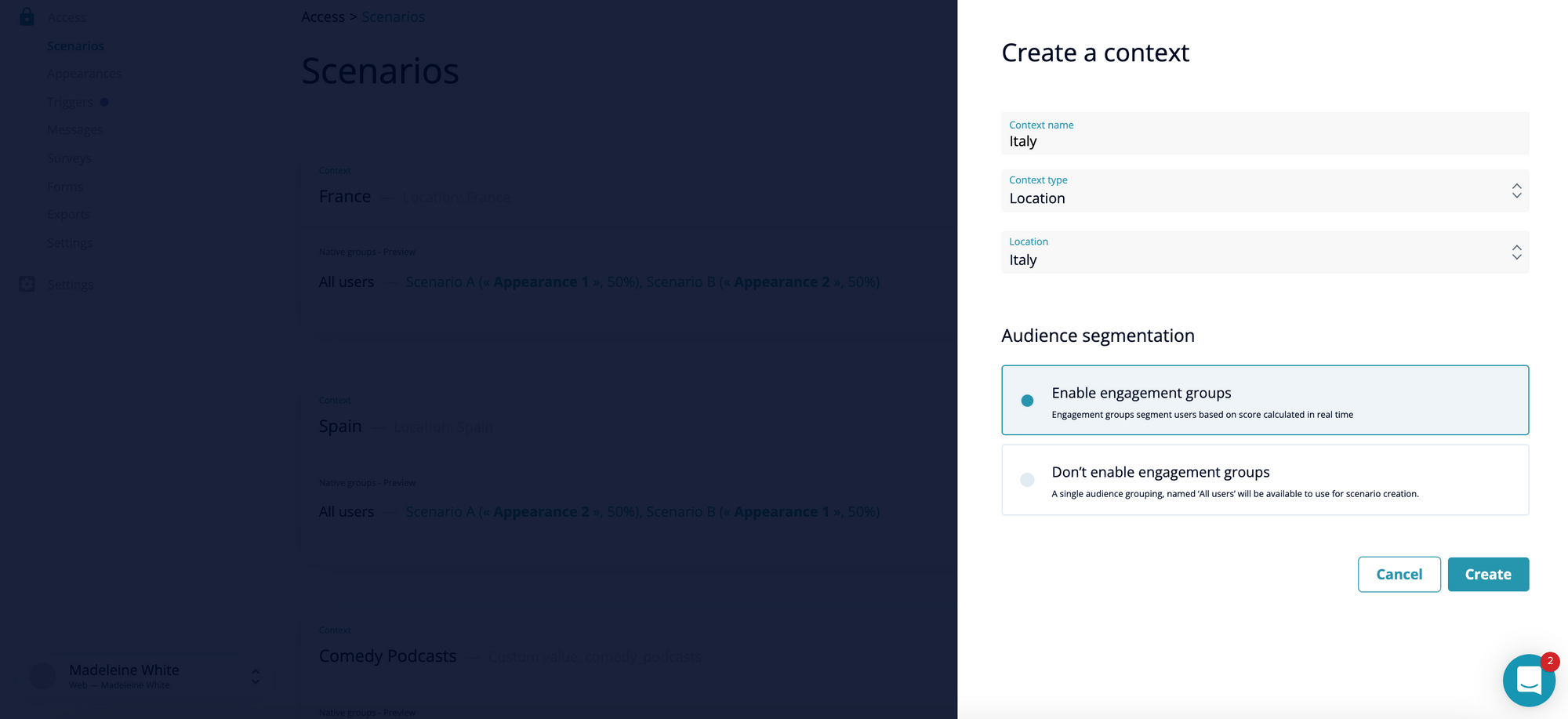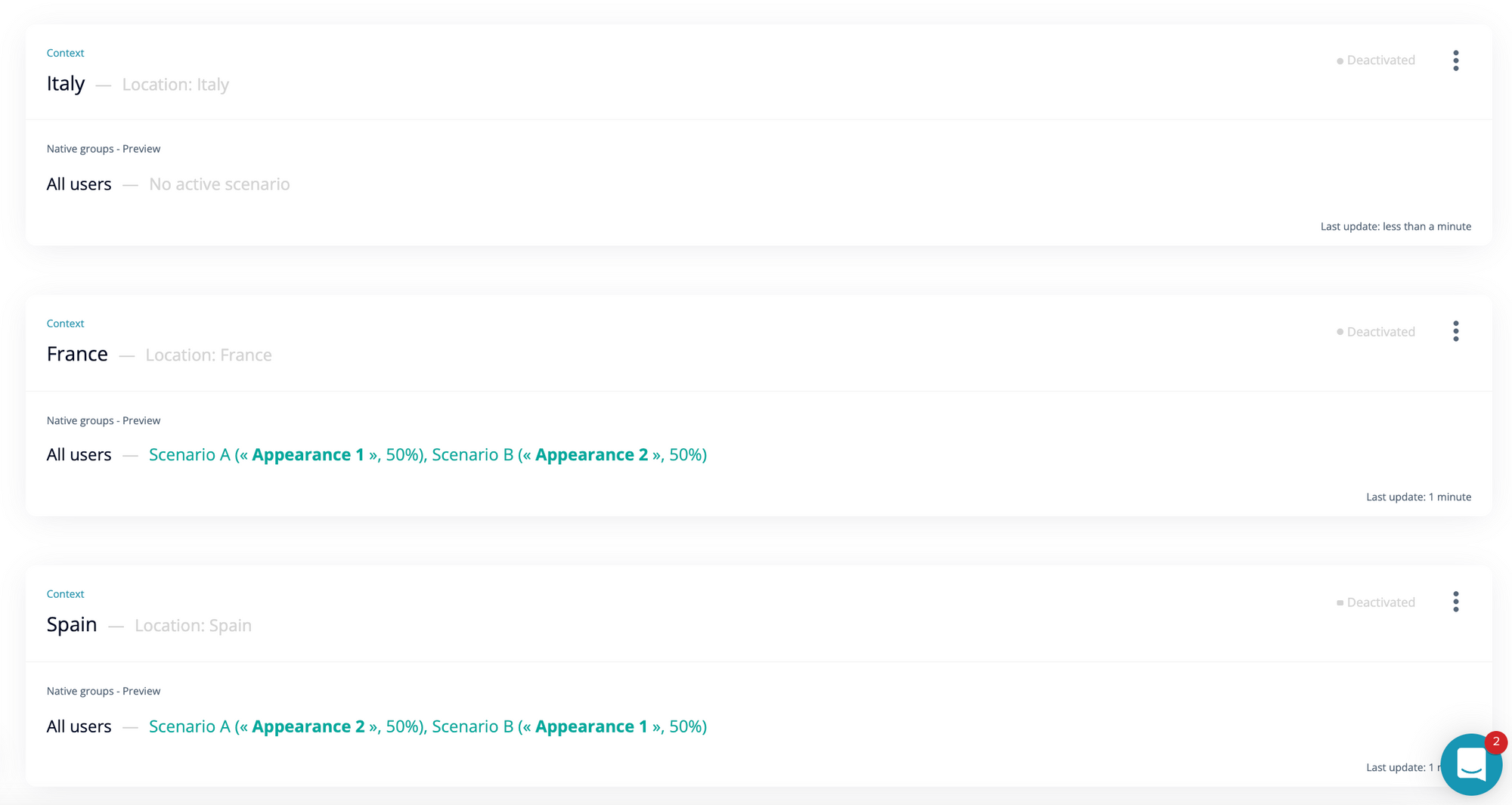 Actionable advice: personalization is becoming increasingly important; it's now an expectation of users online, rather than something that makes you stand out from the crowd. That said, the way that you utilize a dynamic wall can make a huge difference for a user and finalize their decision to subscribe to you over a competitor. We'd recommend trying out some of the segmentation factors above, but also experimenting with custom segmentations (that can be defined in the Poool Dashboard) as this allows you to customize the dynamic wall to match your business goals and strategy. A/B test with different contexts, as well as within different contexts (e.g. test two appearances within the same group).

Finally, even if you choose not to employ your wall dynamically, ensure that you have a mobile friendly version that is adapted to the device throughout the funnel (not just at the paywall stage).
---
Step 4: Conversion
KPI:
The paywall is only the first step in the conversion funnel, and we're certain that you want users to get further than simply clicking on the wall. So, how can you optimize the funnel as a whole and make sure your readers become subscribers?

Present subscription offers directly on the wall
What better way to improve the funnel than to shorten it. Reduce the time, effort and clicks needed to subscribe and highlight straight away that you have a variety of offers available with different pricing options.

The Financial Times is a great example here too. A user selects the article that they want to read from the home page and is presented with this screen. The article title is the only part of content presented, with the subscription offers placed right below.
They even sometimes add a banner in between the article title and offers that allows the article to be unlocked in just two minutes.
Digiday also takes this 'offers in the paywall' approach. This wall blocks content mid-article and includes their 3 offer options, skipping the offer page stage of the conversion funnel.
Integrate payment into the wall
How about going one step further and adding payment into the paywall? This takes out yet another step and speeds up the process making it even quicker and easier for your reader to get back to the content.

This is possible to achieve within the Poool Dashboard through the 'Form' widget. When you go to 'Scenarios' and start building a user journey, you can select which widgets to add. Select 'Form' from the list on the right and then choose '1 click payment' (like below) in the form settings.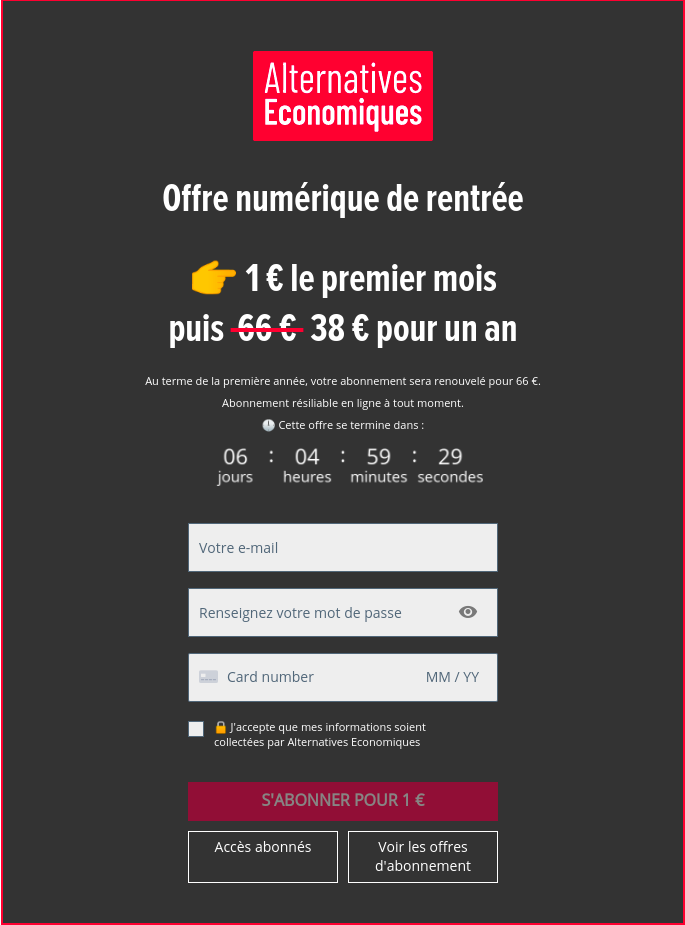 Collect email addresses in the paywall
For such a small change, integrating an email address collection box into the paywall can be hugely beneficial. Not only does it shorten the funnel and allow you to take steps out of the conversion process, but it also means that you collect valuable first-party data at the first opportunity.

Not all users will make it through the whole funnel. However, if a user gets to the payment stage before changing their mind, you've already collected their email address. You're now able to send a little, personalized email reminding them to subscribe, or even just email them asking why they left.

The paywall for Netflix is directly on their landing page and includes email address collection. This has the added benefit of skipping some of the funnel steps if the email address was previously registered, making their resubscription even easier. If a user gets past this stage, but then doesn't complete the subscription, they're sent an email reminder which also highlights the benefits of Netflix.
See the whole of Netflix's subscription journey in this article!

Using the Poool paywall platform and Dashboard, you can collect users email addresses in the paywall itself using the 'Form' widget. Remember that you can alter messaging and appearance of this widget in the relevant sections from the left and then by selecting the 'Form' widget as the one you want to modify.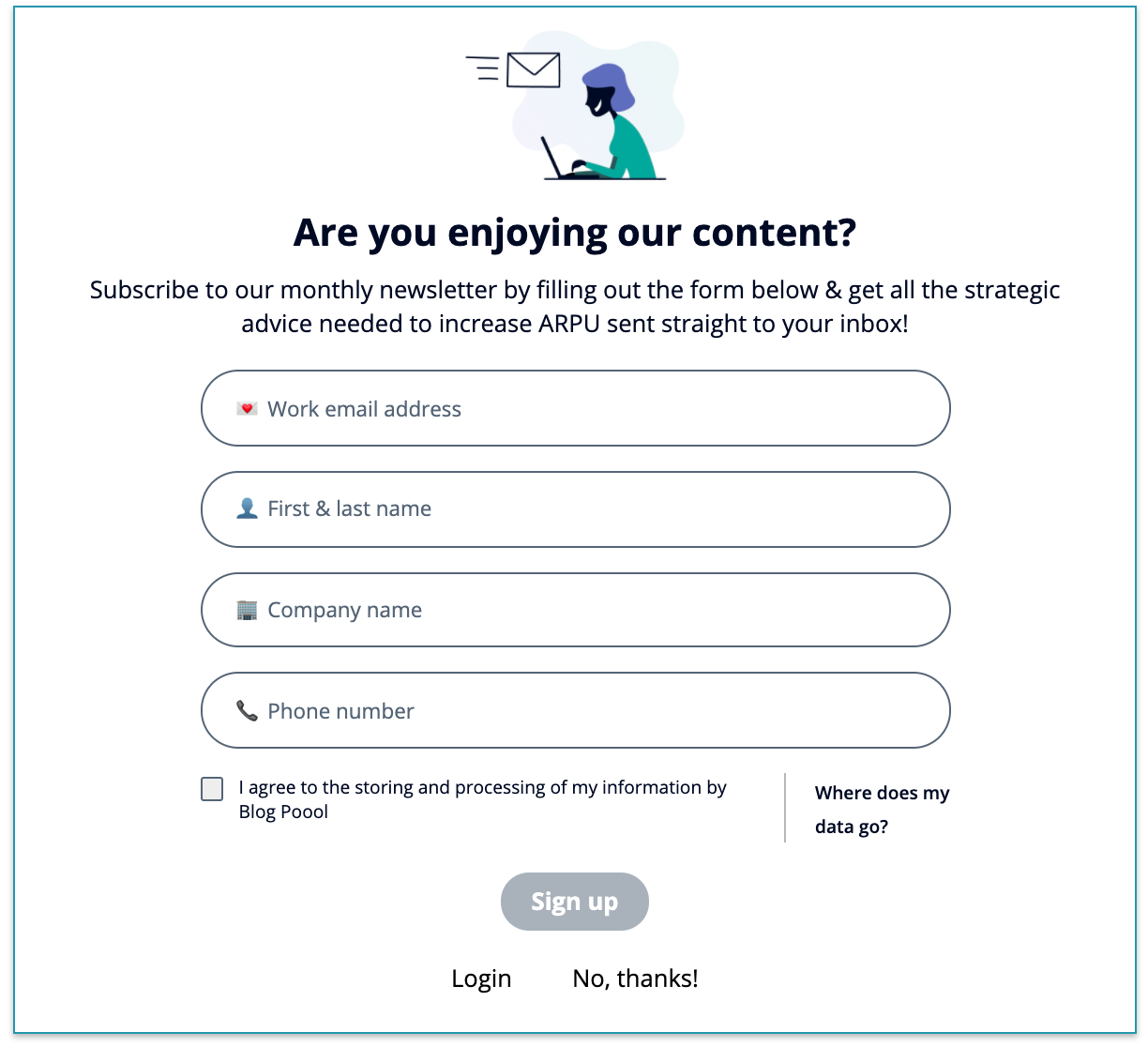 Offer sign-up with existing social accounts
It's highly likely that your user already has either a Google, Facebook, Apple, etc account. So why not make use of this to shorten the process even further.

Although they use a registration wall instead of a paywall, Skill Share sign-up is a good example. It provides multiple options to get started (including simply using their email address) and so speeds up the process by not only including Facebook/Google/Apple sign up but also integrating this into the landing page itself, taking out a step in the funnel.
Actionable advice: Overall, there's a lot of options for your hard paywall and conversion funnel as a whole. For each of the alterations discussed, we highly recommend A/B testing, analyzing and then optimizing not only now but constantly. What works now may not be as effective in a few months (unfortunately). Keep in mind the wider view of the user's entire journey. For example, if you ask for registration before presenting the paywall, you could automatically fill out some of the form areas, as you've already collected this information, further simplifying the process.

An overlooked area to remember here is post-subscription. Small actions such as sending the reader back to the article that they wanted to read, sending an email and billing confirmation can make a huge difference. As we expect you'll know, it's a lot easier (and cheaper) to retain readers rather than acquire new ones, so this stage of conversion should definitely be up for optimization too. A KPI to track here is the post-subscription reading rates.

For more information on reducing your churn rate, take a look at this article which discusses churn modelling and provides actionable advice to reduce churn.

Once more, always remember that there is no one-size-fits-all paywall. The Financial Times may have seen huge success thanks to their strategy, but the main reason why it's worked so well is because they have adapted it to their business, content and audience (and continue to do so). This is why testing is so important.

Psst, you can A/B test and analyze results directly in the Poool Dashboard! Book a free demo just here.
---
Still not sure how to get started in optimizing your paywall? Or just interested in getting some more personalized advice? Book a meeting with the team!

You can also take a look at our paywall platform product here and read more about paywalls, registration walls, cookie walls, strategies and more on Poool's blog.