Given the value of 1st party data, it's becoming increasingly popular for publishers to ask users to register on their website. A registration wall does just this, blocking access to content and requiring registration before continuing.
Once a reader has created an account, their behavior can be analyzed across devices, providing important and actionable insights to the content producer. What's more, registration brings a user one step closer to subscribing, so it can also play a huge role in a paywall subscription strategy. For readers, having an account on a site means more personalization, ultimately improving their user experience as a whole, and so encouraging them to subscribe.
This is why we're back with a new article series! Our first one covered the user journey to subscription (including The Washington Post, Netflix and Audible) whilst this one will analyze the journey of an anonymous reader into a registered user. We aim to see what motivates readers to become members and how the different publishers employ a regwall.
By now we hope you're aware that the most important aspect to turn readers into members, and even subscribers, is your value proposition and content. This is what our series is all about, understanding the number of clicks, scrolls, amount of information and time taken for a reader to create an account, but also to understand the value proposition and why the publisher wants users to do this action.
Remember, any online content-producer can employ a registration wall, including editorial publishers, broadcasters, e-learning platforms and more. To highlight this fact, our 'From content to registration to content' series includes a wide range of different publishers.
We'll cover:
To find out more about registration walls, see our blog post on 'What is a Registration Wall?'. You might also like our other article series on the subscription conversion funnel, with a white paper to summarize our findings, available here.
---
Interested in implementing a registration strategy with the same success as these digital content producers? Poool have a simple, flexible platform to allow you to do exactly this, and without the need for tech support at every turn!
Book a demo
---
So, let's start.
Today: Glassdoor
Glassdoor provides information about jobs and companies for job seekers, employees, employers and recruiters. They work off the contribution of their users, asking them to anonymously submit their salary and review their company. They also allow users to research and apply for jobs using their site.
We'll analyze:
The user journey to register
Glassdoor value proposition
Why Glassdoor uses a registration wall
---
The user journey to register:
5 clicks are needed to register and view content on desktop and the same on mobile
no scrolling is needed to see the registration form in its entirety on desktop, mobile or on the app
9 (obligatory)  fields need to be filled out to create an account
So, step by step.
STEP 1 - The users arrives on the website and is immediately required to register.
Contrary to previous content producers analyzed in this series, where users were confronted with the registration wall only after having spent a bit of time of the site, Glassdoor presents users with the form as soon as they arrive (on the landing page itself).
This is an interesting move as the landing page doesn't highlight Glassdoor's value proposition nor do they allow users to discover content before needing to register. So, although it means Glassdoor can collect data from the moment a user arrives on their site, they risk user's abandoning registration due to lack of understanding of the company and of what they're offering the user in exchange for registration.
In order to access content, users are therefore required to register, either with their google or facebook account, or manually by entering their email address and setting up a password.
Offering the option of registering with an existing social account is a simple way to facilitate the process and reduce the amount of information required from the user.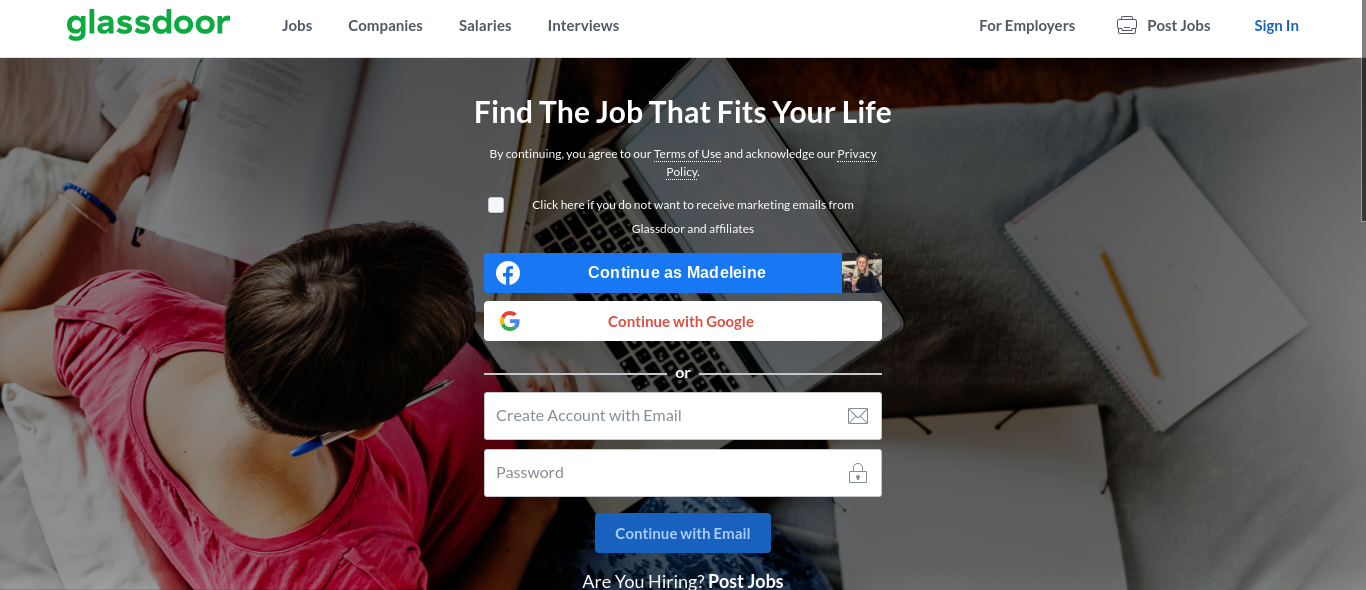 Note that even if we try to click on one of the headings in the menu, we're presented with a popup registration wall. This time, the value proposition is clear and we're informed of the benefits of registering on Glassdoor's website.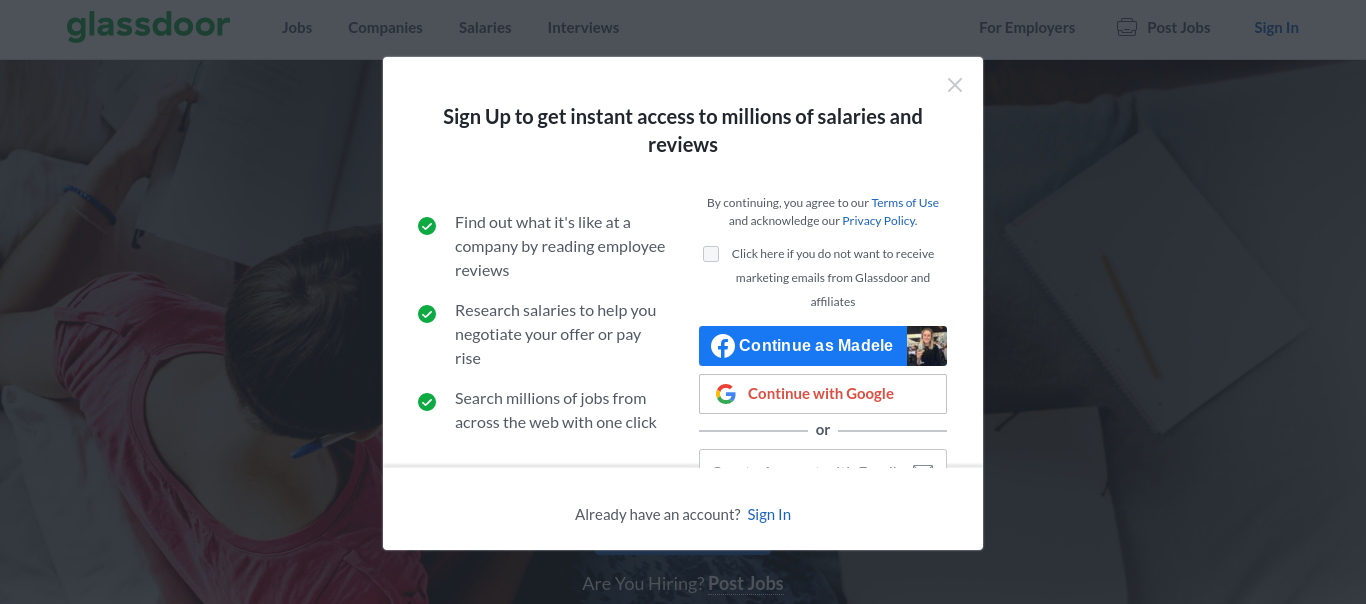 STEP 2  - The user has to provide information about their profession.
This step is divided into 3 parts. Users must provide:
Their job title and location. After this, and within the same step, they need to specify their employer and what type of contract they have
Information about their salary, which we're reassured will only take a minute and will remain anonymous
A rating of their employer and what type of work they do, but this step isn't mandatory
A best practice employed here is the green progress bar at the top of the forms which shows users how far through the process they are. It reassures us that account creation won't take too much longer. However, there is a lot of (obligatory) information required - it's clear after registering that this data feeds into the content that Glassdoor provides, but it's not always obvious at the registration stage which may lead to users abandoning the process.
What's more, they're asking for fairly sensitive information (salary and reviews of their company) without a huge amount of understanding of what Glassdoor is giving them in exchange nor what they do with this data.



STEP 3  - Account creation confirmation.
Now it's time to confirm the user's account via an email link.
They highlight here that our data is a 'contribution' to their site, which isn't clear enough before this stage. However, they thank us and confirm our account creation (after account activation) with an email which is definitely a good start to our user experience on their site.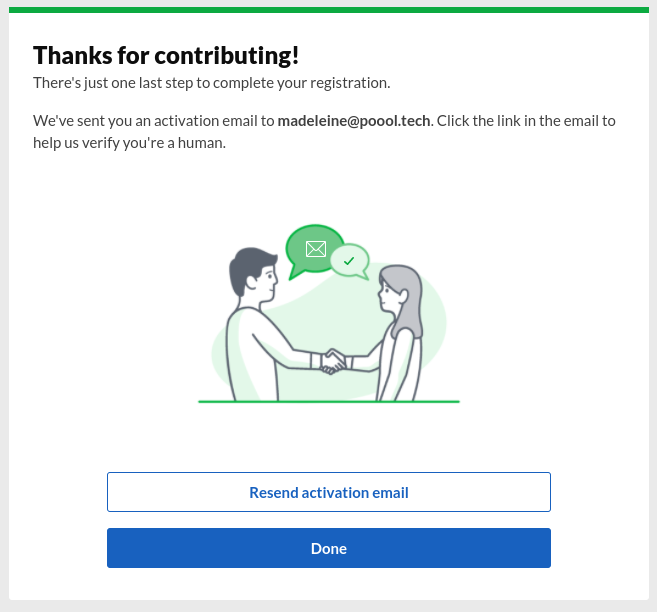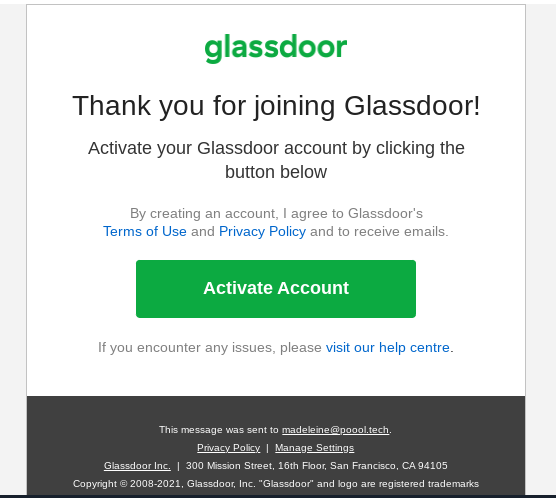 STEP 4 : Accessing content.
Users can access content in two different ways (the first page we're sent to depends on the path taken to access content):
If users activate their account via the email sent to them, Glassdoor sends them to an account page which recommends that they upload their CV and cover letter. This is very fast and easy to do and makes applying for jobs simpler in the future
However, if a user decides to skip the account confirmation step and click directly on 'finish', they're redirected to a page entitled 'Your dashboard', where they can access the job offers according to the filters they have previously filled in. In this case, they will also have to import their CV and cover letter but not immediately.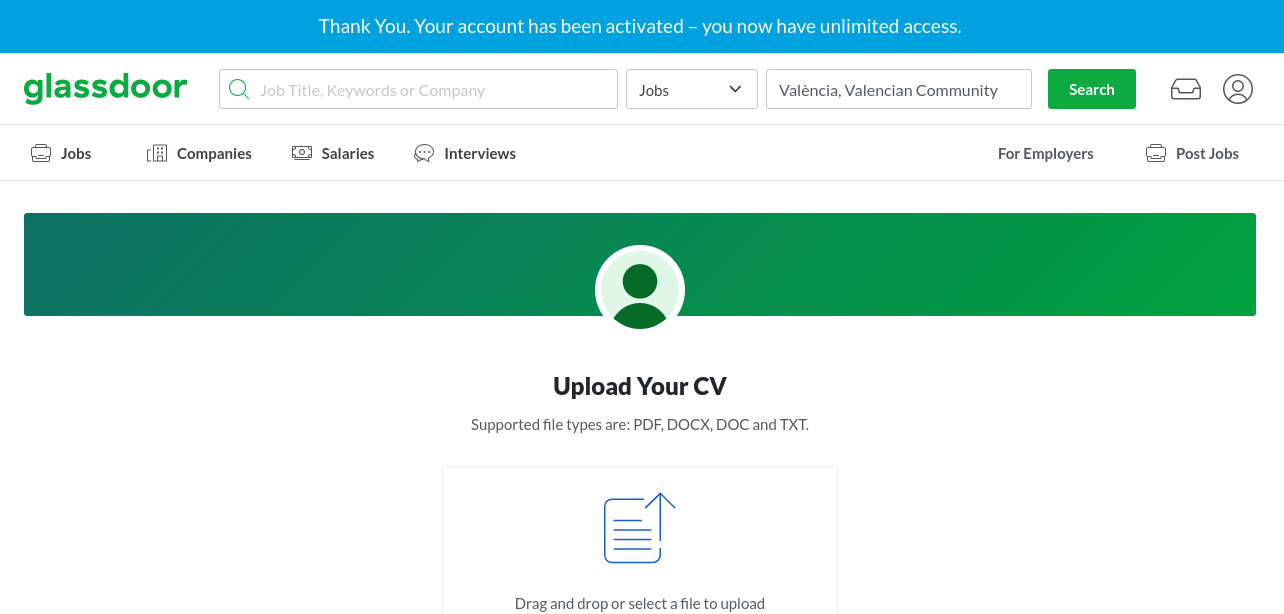 Users are also sent a welcome email which highlights some of the key content areas that Glassdoor provides to help the user to discover the site.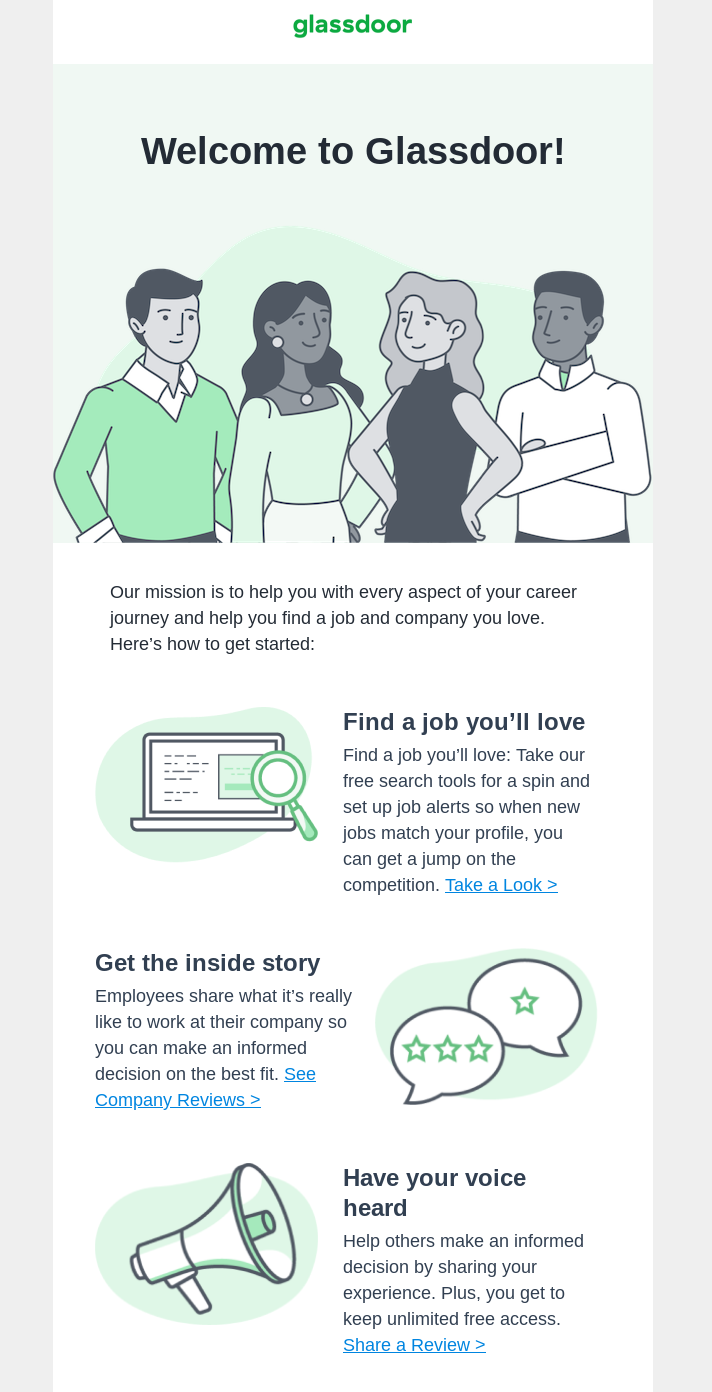 ---
Value proposition
It's very important to analyze the publisher's value proposition too, as it shows what a registered user is or isn't entitled to.
The value proposition of Glassdoor isn't very clear at all as users are required to register on the landing page itself, before even having a chance to preview content or find out about what they get in exchange for creating an account. It's only once they finish the process that their value proposition can be understood through discovering content.
This makes the long account creation process quite risky because users aren't aware of why they're needing to provide all of this information. In fact, the reason is because it contributes to Glassdoor's content and allows them to continue to provide insights into jobs, salaries, etc for their audience. However, this is only hinted in the registration process rather than explicitly explained.
Glassdoor value proposition:
Users have access to job offers that match their profile
Users can use the platform without ever being forced to pay or leave
Users can access content for free but may be asked to provide more information about their profession in order to access more content
User's data is used by Glassdoor to provide insights and content for their audience (anonymously)
---
Why does Glassdoor use a register wall?
There isn't just one answer here and we can only assume, but we imagine that integrating a regwall meets several goals simultaneously.
Collect first-party data (see our 'First-Party Data and Registration Walls' white paper)
Provide insightful content that's gathered from a wide range of professionals in various job roles and companies - i.e. the information provides through registration gets used to improve the content that the user now has access to
Improve the user experience - creating an account means they have a personalized account space and home page with content that matches their interests as well as their uploaded CV/cover letter to apply to jobs with ease
Targeted advertising - by requiring account creation
Track interactions with the site and learn about a user's wants, needs and interests
---
What about on mobile?
It's exactly the same journey on mobile. Interestingly though, on the app we aren't required to register from the moment we arrive on the site. The 'Skip' button in the top right corner allows us to access content without creating an account. However, we are later blocked and asked to register.
Again, we're offered the option of registering with Google or Facebook but also with Apple for iphones. The forms are adapted to fit onto the phone and placed at the top of the screen so that they can still be seen when the keyboard is up.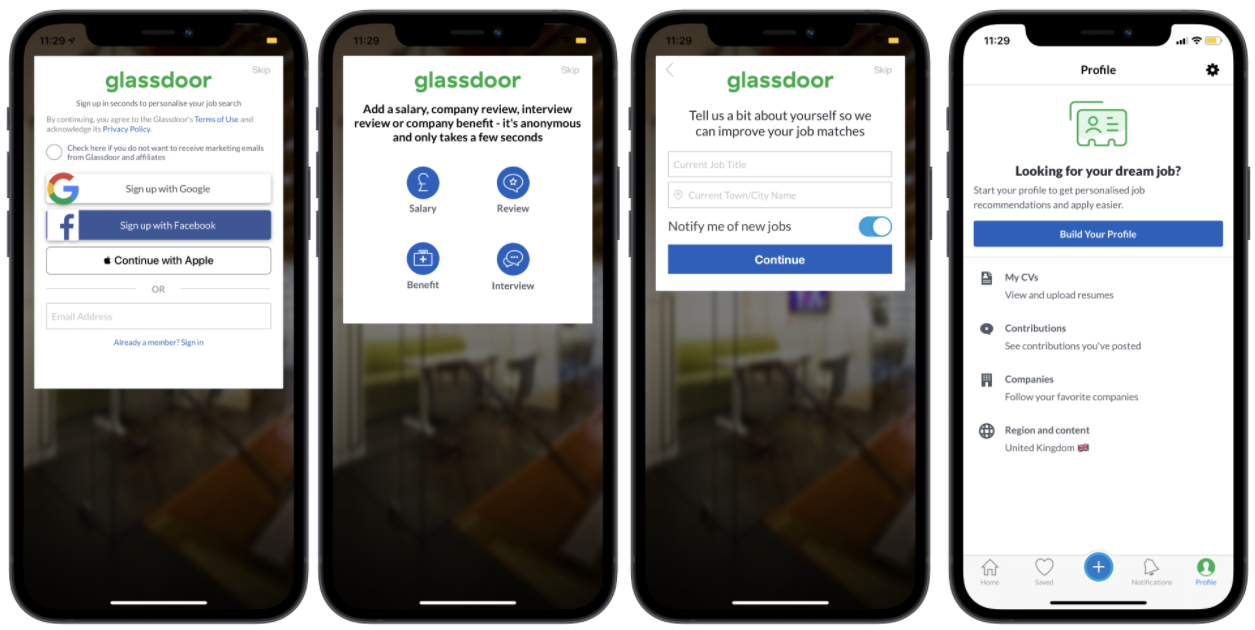 ---