Given the value of 1st party data, it's becoming increasingly popular for publishers to ask users to register on their website. A registration wall does just this, blocking access to content and requiring registration before continuing.
Once a reader has created an account, their behavior can be analyzed across devices, providing important and actionable insights to the content producer. What's more, registration brings a user one step closer to subscribing, so it can also play a huge role in a paywall subscription strategy. For readers, having an account on a site means more personalization, ultimately improving their user experience as a whole, and so encouraging them to subscribe.
This is why we're back with a new article series! Our first one covered the user journey to subscription (including The Washington Post, Netflix and Audible) whilst this one will analyze the journey of an anonymous reader into a registered user. We aim to see what motivates readers to become members and how the different publishers employ a regwall.
By now we hope you're aware that the most important aspect to turn readers into members, and even subscribers, is your value proposition and content. This is what our series is all about, understanding the number of clicks, scrolls, amount of information and time taken for a reader to create an account, but also to understand the value proposition and why the publisher wants users to do this action.
Remember, any online content-producer can employ a registration wall, including editorial publishers, broadcasters, e-learning platforms and more. To highlight this fact, our 'From content to registration to content' series includes a wide range of different publishers.
We'll cover:
To find out more about registration walls, see our blog post on 'What is a Registration Wall?'. You might also like our other article series on the subscription conversion funnel, with a white paper to summarize our findings, available here.
---
Interested in implementing a paywall and subscription strategy with the same success as these digital content producers? Poool have a simple, flexible platform to allow you to do exactly this, and without the need for tech support at every turn!
Book a demo
---
So, let's start.
Today: The Harvard Business Review
The Harvard Business Review is a digital magazine published by Harvard Business Publishing, written by management and business experts. They employ a metered registration wall on their website which then leads us to a metered paywall.
We'll analyze:
The user journey to register
The Harvard Business Review's value proposition
Why The Harvard Business Review uses a registration wall
---
The user journey to register:
3 clicks are needed to register and view content on desktop and the same on mobile
no scrolling is needed to see the registration form in its entirety on desktop and mobile and no scrolling on the app
4  fields need to be filled out to create an account
So, step by step.
STEP 1 - The users arrives on the website
A user arrives on the Harvard Business Review website and wants to read an article. They can access 2 articles freely without having to register.
Usefully, and a good practice for improving the user experience, is the addition of a banner at the bottom of the screen that informs us of how many articles we have left as an anonymous user as well as once we register.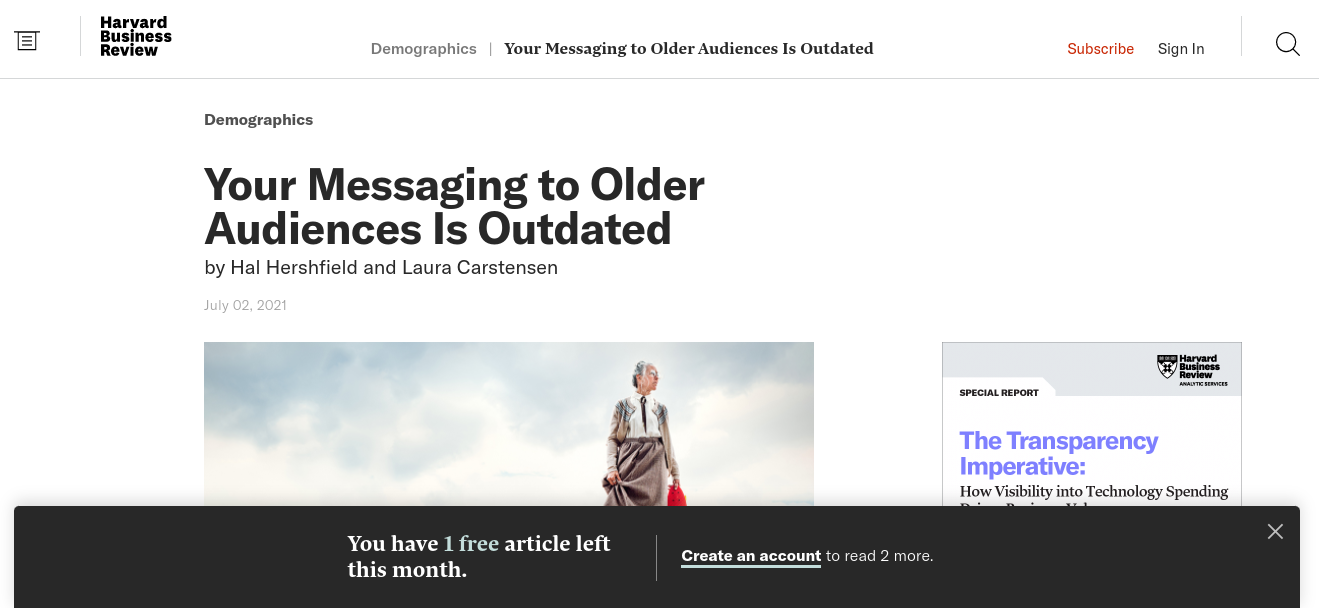 STEP 2  - The user is blocked by a registration wall.
If a user wishes to continue reading articles on the website, they need to register as a user. A registration wall appears on their third article that forces the user to create a free account in order to continue. The wall is very visible on the page, appearing after just the first paragraph, and includes the form within the wall itself.
This is a brilliant way of shortening the amount of time taken to complete the process and reducing the number of clicks required.
No scrolling is needed to see the whole form, a user is only required to fill out 4 fields.
First name
Last name
Email
Password
One limitation of this form is that we aren't given the possibility of registering with an existing social account, such as Google or Facebook, like many sites offer.
STEP 3  - A user can access content.
Once the form has been completed, the reader is redirected back to the article where they were blocked. This makes the user experience very pleasant and the whole process takes very little time, allowing a consumer to get straight back to reading content.
However, The Harvard Business Review only allows registered users an additional 2 articles per month. After this point, they will be blocked again by a paywall and required to pay for access (subscribe).
---
Value proposition
It's very important to analyze the publisher's value proposition too, as it shows what a registered user is or isn't entitled to.
The value proposition of The Harvard Business Review  is very clear. Even before the user creates an account, they're made aware of what they have access too via the banner at the bottom of their screen and on the wall itself.
Users can use the platform to access a limited number of articles without registering
Users can read more articles if they create a free account
After registering, they will be presented with a paywall after accessing a certain number of articles
Registration is free and very easy.
---
Why does The Harvard Business Journal use a registration wall?
There isn't just one answer here and we can only assume, but we imagine that integrating a regwall meets several goals simultaneously.
Allow content discovery whilst getting value from the user
Collect first-party data (see our 'First-Party Data and Registration Walls' white paper)
Track interactions with the site and learn about a user's wants, needs and interests
Improve the user experience
Targeted advertising - by requiring account creation
---
What about on mobile?
It's exactly the same journey on mobile, same steps, same time, same information required. This is extremely important given that a large percentage of internet browsing is now done on mobile.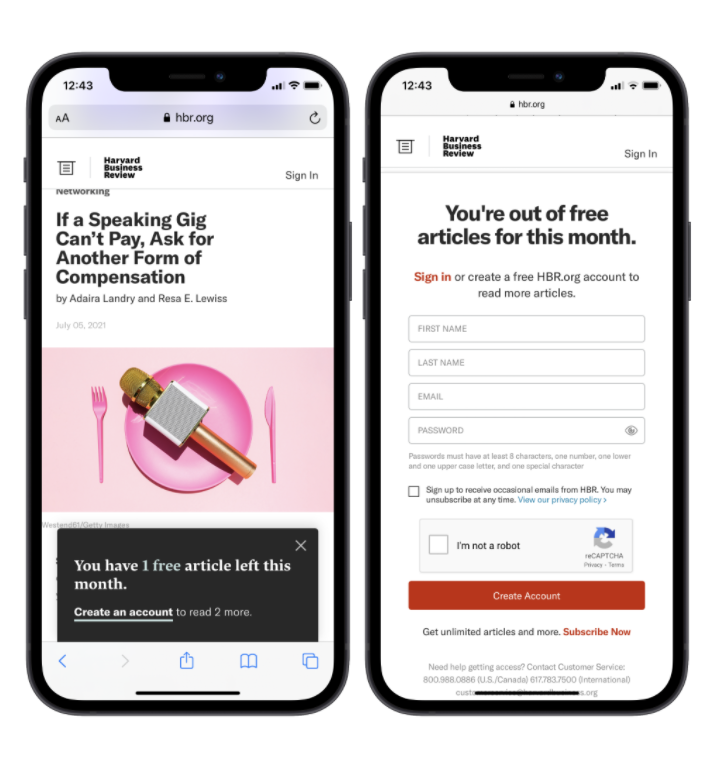 ---